Pilates and Yoga are great for you, but I wondered – was that enough of a workout? That's how I found a PiYo workout!
If you've wanted to like a low-impact class, but never found a good match – you might love PiYo too!
Each PiYo workout includes core work, flexibility, and strength moves! Plus the music and flow kept our minds busy and hearts pumping.
PiYo Workout Benefits:
improves flexibility
torches calories
burns fat
builds long and lean muscles
allows you to go low-impact to protect your joints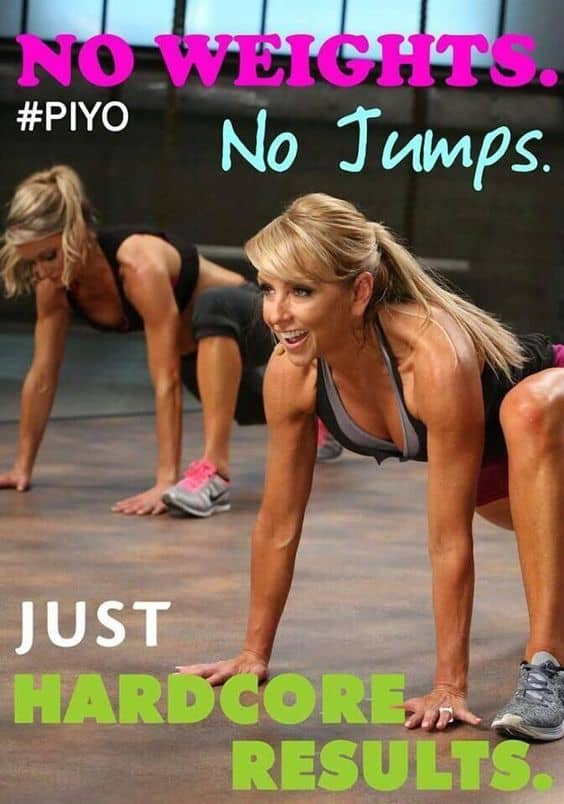 So we were so excited to see it available on DVD or to stream on Beachbody on Demand.  While it's not like doing a live class, we still had a lot of fun with it.
You might also like PiYo Meal Plan: 5 Days of Meals + Take Out Options!
Chalene Johnson has said PiYo blends:
sports training
core conditioning
dance
stretch
athletic drills
The reason it combines all 5 practices is to help you burn a ton of calories while creating lean muscle.
Her description is so accurate — PiYo combines so many fitness principles it's crazy. Each PiYo workout kicks our butts but in a good, new way.

Our Personal PiYo Review
What We Love About PiYo
It works those small muscles that often get missed
You don't need any equipment
You're building lean muscle versus looking bulky
It really makes you tighten your whole core – helps your abs and low-back!
You're constantly moving and flowing through the moves
Since you're flowing through the routines, our heart rate was high like a cardio workout
It's unique and something fun to mix into a routine or do on its own
We love that it's low-impact – gotta protect the knees!
If you stream your workouts, there are live classes you can do as well!
We did a live PiYo workout with Chalene and about 40 others last year, and we fell in love with it.
The unique workout DVDs are no different. We've never dreaded a certain move or workout like some other programs.
What We Didn't Like
Some of Month 1's workouts could be longer by 5-10 minutes for a challenge
Some of the workouts aren't actually PiYo; they're more interval based.
If you've done a live class, the music isn't as fun on the DVDs.
PiYo Frequently Asked Questions
Chalene Johnson answered a ton of PiYo FAQs.
This 5-minute video is great to help you decide if it's for you, and also see if you like her personality.
Who is it for?
Someone brand new to fitness or just returning to working out
People that want to do pilates or yoga but still want to feel a burn of a workout
Someone wanting to lose weight but not wanting to do a lot of jumping
Normal exercisers wanting to add in variety
Someone wanting a fun workout
Is it like Yoga?
Sort of – it's a faster pace than yoga but does include yoga moves. You are not holding any of the moves very long. If you're looking for a traditional yoga workout, I would suggest the 3 Week Yoga Retreat. There are also some really great yoga workouts coming to Beachbody on Demand each month.
You might also like Yoga for Beginners: The Foundation to Poses, Flow and More
PiYo Workout Length
I actually wish there were some longer workouts (which I never say!). Each PiYo workout ranges from 25-48 minutes.
Most are right at that 30-minute mark, but some of them in Month 1 are just super short.
You could do a hybrid of PiYo with another workout like Insanity Max 30 or TurboFire if you're an advanced exerciser.
How long is the PiYo Calendar?
There is a basic and strength calendar, and both calendars are 8 weeks long.
What equipment do you need for a PiYo workout?
Nothing. I personally like to have a yoga mat for stability though. You can use just your body weight for all of the workouts. If you choose to get the 2 advanced strength workouts, you can use sliders (included with the strength workouts).
What's Included?
You'll receive 9 workouts on 3 DVDs in the PiYo base kit for $59.95. 
PiYo Align: The Fundamentals: This workout breaks down the proper form of each move. This is one you will want to do in the beginning, but not something you'll use a lot.
Define Upper Body: Your triceps, shoulders, and arms are going to get a killer workout with different types of planks and pushups.
Define Lower Body: This workout really stretches out my legs and also leaves them feeling like jello (in a good way). Get ready to perfect your downward dog.
Sweat: This is by far my favorite PiYo workout – it's 38 minutes long. It's a full-body workout with a great mix of core stabilization, upper and lower strength moves, and flexibility training.
Core: You'll work your core standing and on the ground. You'll also receive "Hardcore on the Floor" if you order from a coach like us — which is my favorite of the two!
Buns: A killer lower body workout! It's short but intense. Get ready for squats, sumos, and lunges.
Strength Intervals:  This is not really a pilates or yoga workout to me, but it's a good change. It mixes resistance training using your body weight in with cardio moves.
Drench: This is like the "Sweat" workout on steroids. Be prepared to shower and wash your hair after.
Sculpt: This is not really a "pilates and yoga" workout in my opinion, but it does challenge your whole body! Your legs, triceps, and buns are going to be on fire.
You also receive:
Quick Start Guide: It outlines how to get the maximum results in 8 weeks.
PiYo 60-Day Workout Calendar
Measuring tape for tracking your progress
Get Lean Eating Plan
Buns Workout
24/7 Online Support

If this post helped you, make sure it says Kalee at check out or look up 1001548. :)
The All-Access Pass allows you to stream any Beachbody workout for a monthly membership, and you can even download any of the meal plans.
With the Pass, you also get access to any NEW Beachbody workout too! If you're interested in streaming you can check out the details here. 
PiYo Results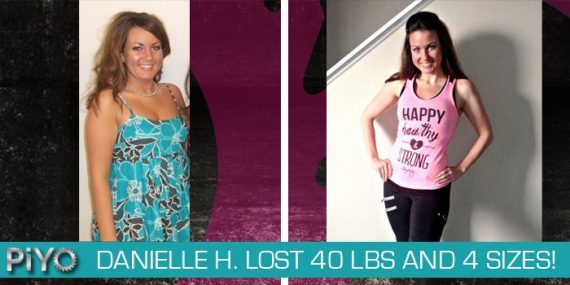 You Might Also Like: Skip the Gym! 15 Reasons to Work Out at Home
What's the calorie burn like? Is it good for weight loss?
I personally burned anywhere from 170 with the first basic workout (about 18 minutes) to 400 in the longest workout called Drench. This is higher than my normal yoga class calorie burn since you are constantly flowing through movements.
Typically you want to have a 250 calorie deficit between your workouts and meal plan to burn 1 pound per week. Between the workouts and the meal plan, you can definitely lose weight doing PiYo. If you are wanting fast results also check out the 21 Day Fix. You could do it first then PiYo.
Does any PiYo workout have meditations or salutations in it?
No
What's the PiYo Meal Plan Like?
It's very simple to follow and broken down into food groups. Here's our review of the full meal plan. It's very similar to the 21 Day Fix meal plan with containers if you've done that program. The only difference for us was that we got 1 extra vegetable (or green container) a day with PiYo.
Would a man do this workout program?
Every man is different, but I would say T25 or P90X3 may be a better choice. P90X3 has yoga and pilates in it as well, and is just a little more targeted to men and women than PiYo.
Who can do PiYo? Is it challenging?
Anyone – it's low-impact so even those with knee problems may enjoy PiYo. I can see a teenager doing it to someone in their 60s. It does have a lot of balance training in it, but there is a modifier and chair options for beginners.
I know it would be challenging for a beginner. I know some high-impact, HIIT cardio junkies will say PiYo bored them…but I find it challenging! Even as you improve your cardio and train with free weights, you still can be weak in smaller muscle groups and flexibility. PiYo helps hit those areas as well as getting in a little cardio to make a more-rounded fitness level in my opinion.
You might also like one of our PiYo Hybrids!
If you think PiYo would be the perfect workout for you – we'd love to have you join our challenge!
We do one every month with daily accountability, meal ideas, and prizes!! You'll automatically get an invite by ordering through any link on this page and having us as your coaches. Questions? Email us at thegirls@soreyfitness.com
If this post helped you, make sure it says Kalee at check out or look up 1001548. :)
We're both full-time coaches here to help you! 
Your PiYo Workout Ordering Options
You can order any option through us below and also get access to our 21 Day Challenge with additional help, support, and prizes.
Just click any link below & email us at thegirls@soreyfitness.com to let us know you're in for the monthly challenge!! Can't wait to talk to you more!!
Challenge Pack
Sign up to Coach & Get the PiYo Challenge Pack
Thinking of coaching? You'll get 25% off! Learn More Here
Did our PiYo review help you decide if it's a good fit?
Copying any part of this post is a violation of intellectual property. The opinions and answers shared above are my own and should not be copied in part or full for another blog. If it is copied, you will be contacted by our legal team.