PiYo Workout Review [What You Need to Know]
This post may contain affiliate links. All opinions shared are my own. As an Amazon Associate I earn from qualifying purchases. Click to view our full disclosure.
Beachbody's PiYo combines high intensity cardio yoga-flows with bodyweight resistance strength training to help you burn crazy calories and tone every inch of your body! The exercise program is called PiYo because it combines pilates (Pi) and yoga (Yo). In our PiYo review, we look at the workouts, results, calendar, and cost of the at home workouts.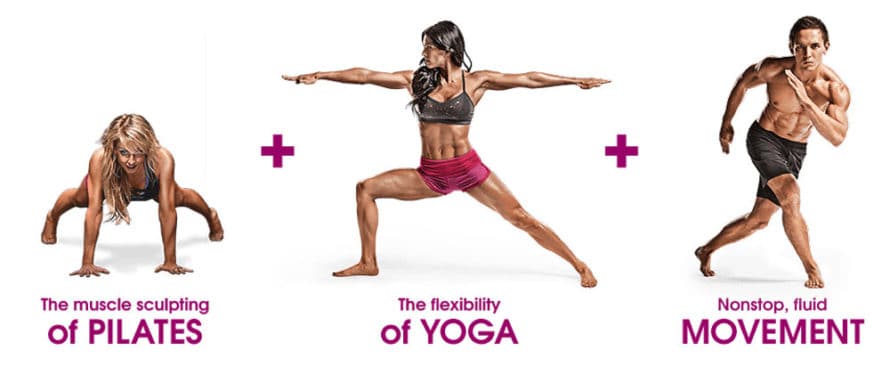 What is PiYo?
Chalene Johnson's PiYo program blends aerobics, pilates, and yoga into one fast-pace endurance, low-impact total body workout workout! The workouts focus on flexibility, torching serious calories, burning fat, building long and lean muscles, and protecting your joints through low-impact moves.
What to Expect from a PiYo Workout
The workouts are a fun twist to Pilates and Yoga classes. The workouts are set to pop music and have you flowing through moves. Chalene Johnson, the inventor of the program, includes sports training, core conditioning, dance, stretching, and athletic drills into the routines to get you max results quicker!
You can do these workouts even if you're not experienced in pilates or yoga. You'll learn basic moves like Downward Dog, Crescent, Child's Pose, and Warrior in class.
Who Should Try Beachbody's PiYo?
Someone brand new to fitness or just returning to working out
People that want to do pilates or yoga but still want to feel a burn of a workout
Someone wanting to lose weight but not wanting to do a lot of jumping
Normal exercisers wanting to add in variety
Someone wanting a fun workout
We also ranked it as one of our top workouts for women over 40!
Is PiYo Effective for Weight Loss?
PiYo is effective for weight loss. The workouts are low-impact but high-intensity which means you'll burn significantly more calories each class compared to a traditional Pilates or Yoga workout. PiYo also includes a meal plan which will help your weight loss efforts.
Is PiYo good for beginners?
PiYo is great for a beginner or anyone looking for a low-impact workout due to joint mobility issues. There is a modifier in every workout, and you will still feel the challenge following the modifications. There are also intermediate and advanced options shown making it perfect for all fitness levels.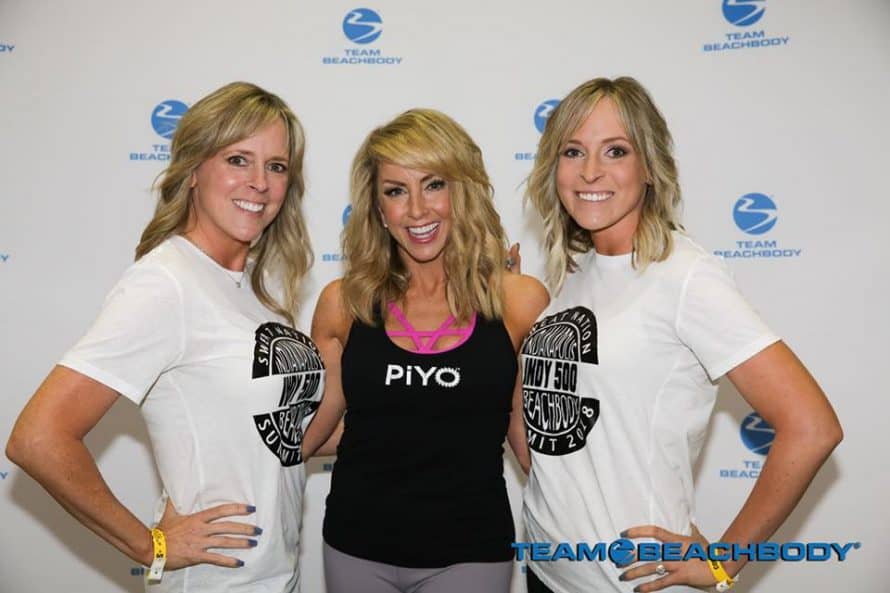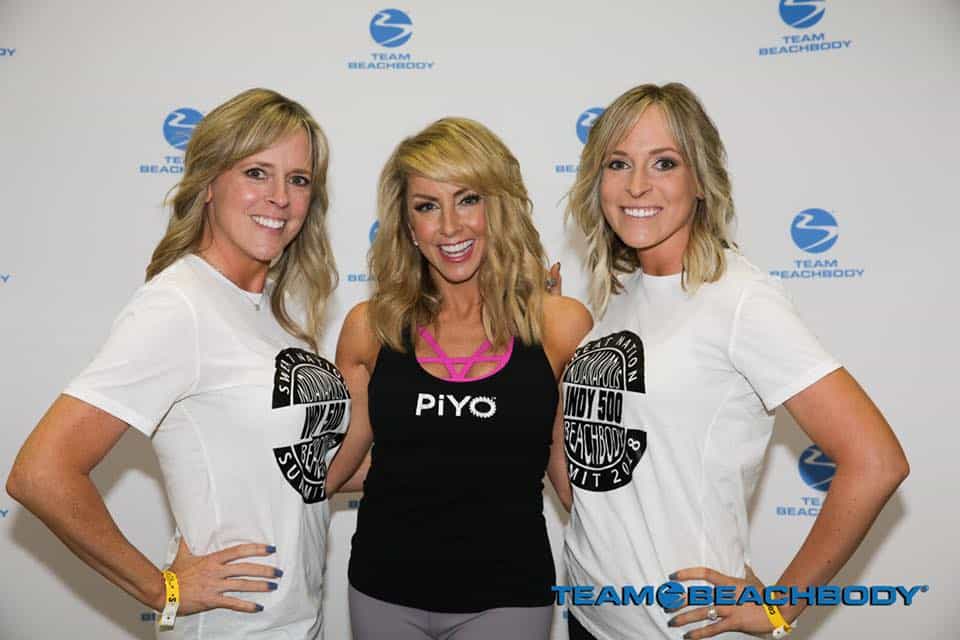 How Many Days a Week Do You Do PiYo?
PiYo is a 60-day program spread across 6 weeks. You'll workout 6 days a week. Most of the workouts are about 30 minutes, but they range from 25-45 minutes.
What do I need for PiYo?
You'll need only basic equipment for PiYo. For the basic program, you'll want a yoga mat and possibly a towel. For the advanced workouts in the PiYo Strength calendar, you'll also need the Beachbody Strength Slides.
Do you wear shoes for PiYo?
While you can wear shoes with PiYo, we preferred to do the classes barefoot. Going barefoot helps you build strength in your foot muscles and really feel grounded in the moves. You could wear shoes if you have a foot ailment or just prefer to though.

PiYo Results
You can expect to flow through the moves to burn calories and hold moves for a couple of counts to tone your whole body. You can expect to see results in just 1 round of the workouts and meal plan.
Has anyone lost weight with PiYo?
People's PiYo results are amazing. We've seen people lose 10 to 15 lbs in 60 days with PiYo and Shakeology. The classes challenge you with cardio flows and body weight exercises helping you to burn calories, tone up, and improve your flexibility all in 30-60 minutes a day.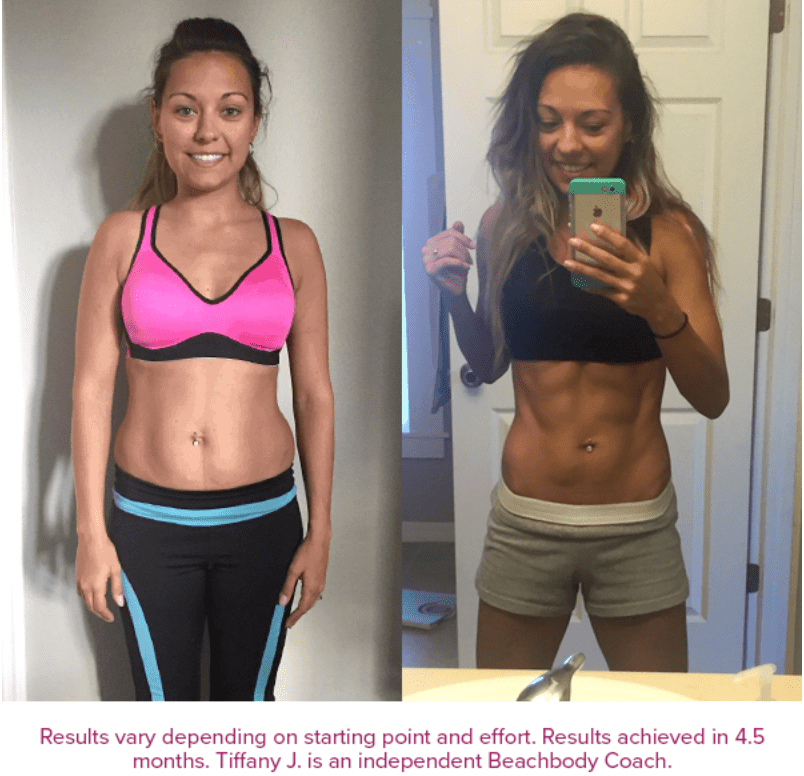 Is PiYo a good workout?
PiYo is a great high-intensity, low-impact workout for those looking to lose weight, tone up, and improve their flexibility. Along with stretching, it mixes in cardio intervals, bodyweight strength training, and allows your joints to skip the pain of a high impact workout.
How many calories do you burn with PiYo?
The average person will burn 250 to 400 calories during a PiYo workout. This number depends on many factors, and we recommend a fitness tracker to calculate your personal calorie burn.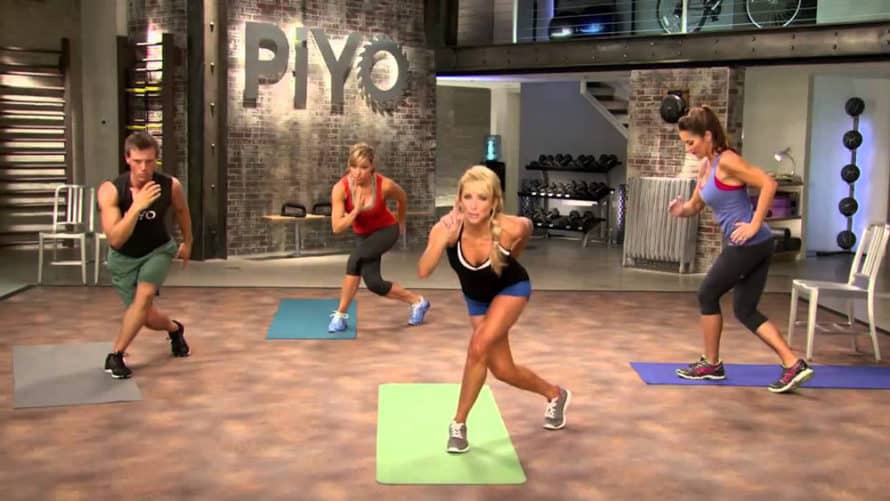 PiYo Workouts
We love that every day is a great workout that includes effective dynamic conditioning to help you see great results in less time!
How long are PiYo workouts?
The workouts range from 25-45 minutes. Most of the workouts in the 60 day program are around 30 minutes.
PiYo workouts & lengths
1. Align: The Fundamentals (40 minutes)
This workout breaks down the proper form of each move. This is one you will want to do in the beginning but not something you'll use a lot.
2. Define Upper Body (20 minutes)
Your triceps, shoulders, and arms are going to get a killer workout with different types of planks and pushups.
3. Define Lower Body (20 minutes)
This workout really stretches and leans out your entire lower body! Get ready to perfect your downward dog.
4. Sweat (35 minutes)
This is by far my favorite workout – it's 38 minutes long. It's a full-body workout with a great mix of core stabilization, upper and lower strength moves, and flexibility training.
5. Core Strength (30 minutes)
Chalene combines standing and floor exercises to give you a strong core and sexy abs!
6. Buns (28 minutes)
A killer lower body workout with squats, sumos, and lunges to build a firm booty and lean legs! It's short but intense.
7. Strength Intervals (22 minutes)
This is not really a pilates or yoga workout to me, but it's a good change. It mixes high-intensity movements and resistance training using your body weight in with cardio moves.
8. Drench (48 minutes)
This is probably the hardest workout of the entire program! It's nonstop body-carving from start to finish, and it will burn some serious calories! Be prepared to shower and wash your hair after.
9. Sculpt (30 minutes)
This is not really a traditional PiYo workout in my opinion, but it does challenge your whole body! Your legs, triceps, and buns are going to be on fire.
10. Hardcore on the Floor (30 minutes)
This is bonus ab-centric workout isn't just crunches. Chalene includes planks, side planks, and bears to tone your entire mid-section!
11. Full Body Blast (30 minutes) – Deluxe Workout
I love this one to get in a total-body workout quickly! This workout uses strength slides, but you can also use paper plates.
12. Strong Legs (30 minutes) – Deluxe Workout
I love to add in this leg workout even if I'm doing another program like LIIFT4. It really focuses on muscular endurance which can help lean out your legs!
What is a Strength Slide?
A strength slide is a plastic plate that you can use on carpet or hardwood to help you get the most from core and lower body moves!
How often should you do PiYo?
While the program's calendar suggests working out 6 days a week, you can always go at your own pace. You can follow the calendar at your own speed or mix in PiYo workouts with your current exercise routine for extra cardio, flexibility, and bodyweight exercises.
PiYo Workout Schedule
There is a basic and strength calendar, and both workout calendars are 8 weeks long. Both calendars include 6 workouts a week, and they range from a focused area like Buns to a flowing routine like Drench. The Basic Calendar is perfect for your first round, and then you can always push harder in your second round with the Strength Calendar.
No matter which PiYo Workout Schedule you pick, you will see some hardcore results by the end of the program if you stick with it!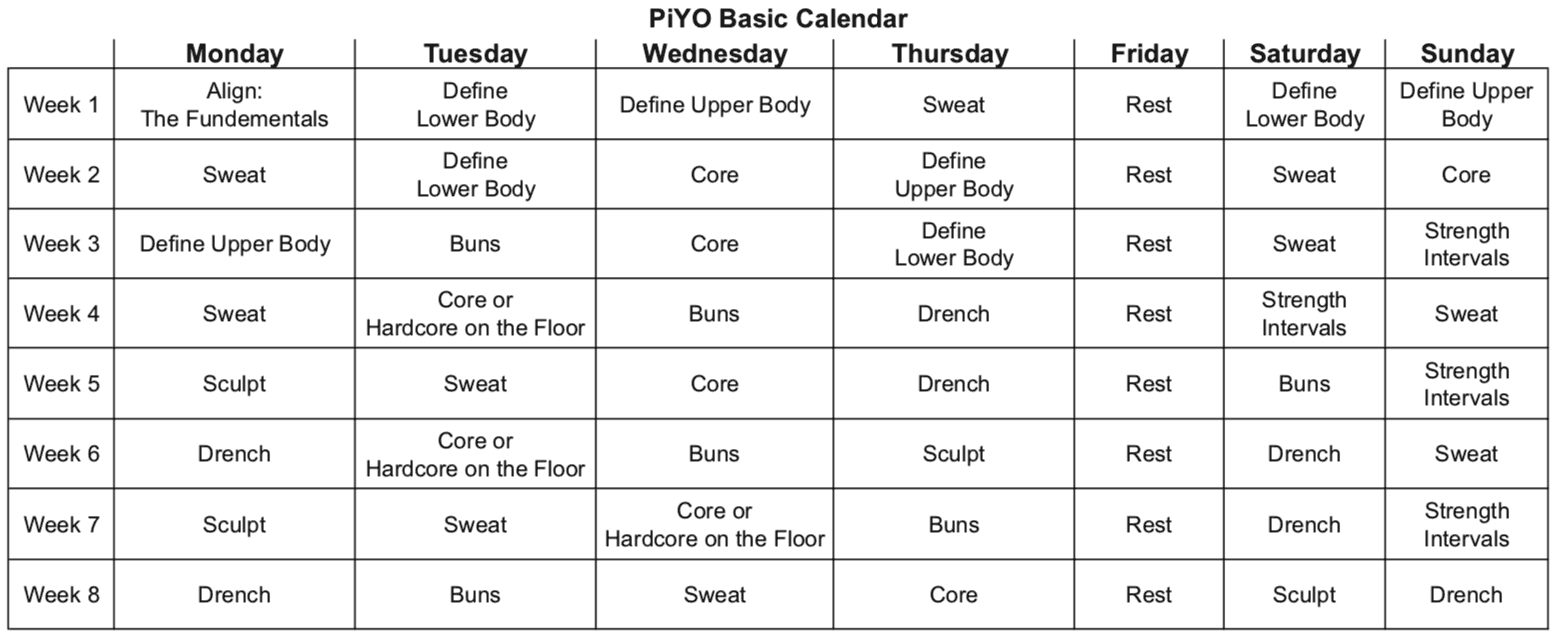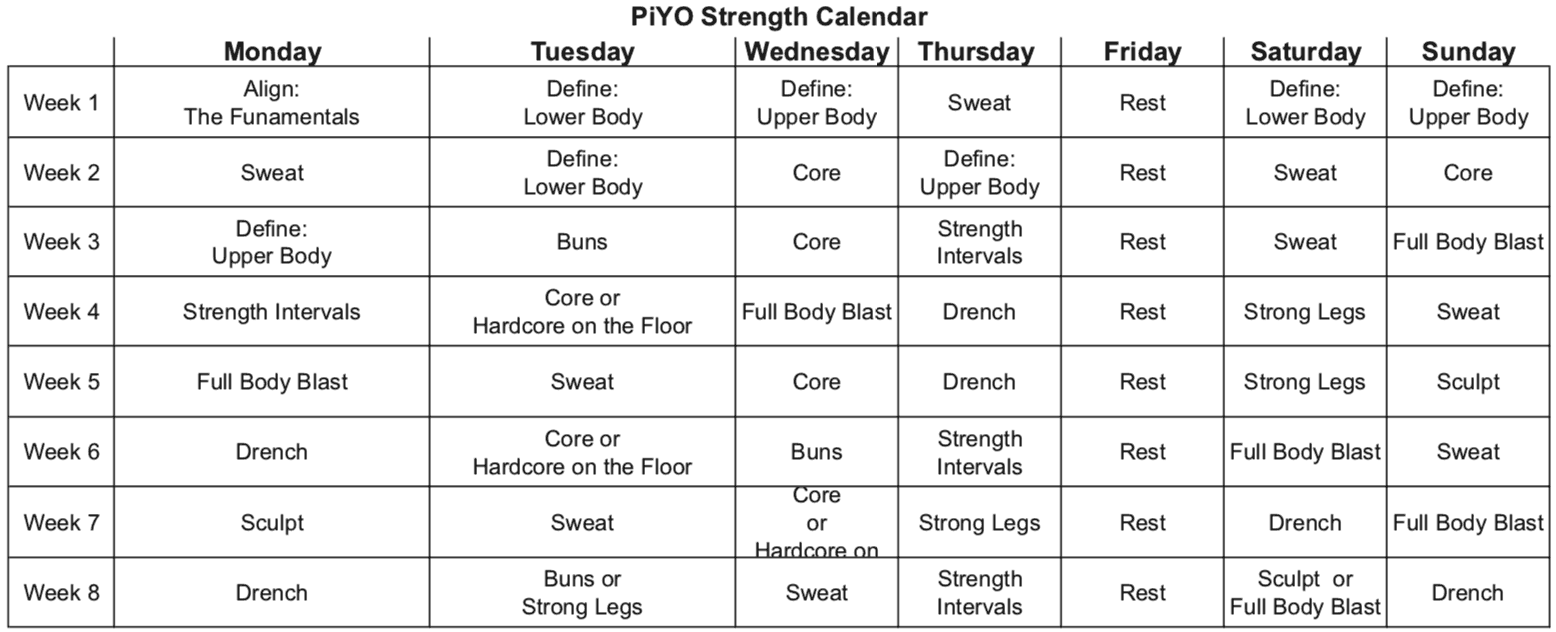 PiYo Pros
It works those small muscles that often get missed
You don't need any equipment
You're building lean muscle versus looking bulky
It really makes you tighten your whole core – helps your abs and low-back!
You're constantly moving and flowing through the moves
Since you're flowing through the routines, your heart rate will increase like a cardio workout
It's unique and something fun to mix into a routine or do on its own
We love that it's low-impact – gotta protect the knees!
If you stream your workouts, there are live classes you can do as well!
PiYo Cons
Some of Month 1's workouts could be longer by 5-10 minutes for a challenge
Some of the workouts aren't actually PiYo; they're more interval based.
If you've done a live class, the music isn't as fun on the DVDs.
If you're looking for a workout that is similar to PiYo, we'd recommend Barre Blend, Xtend Barre, or XB Pilates.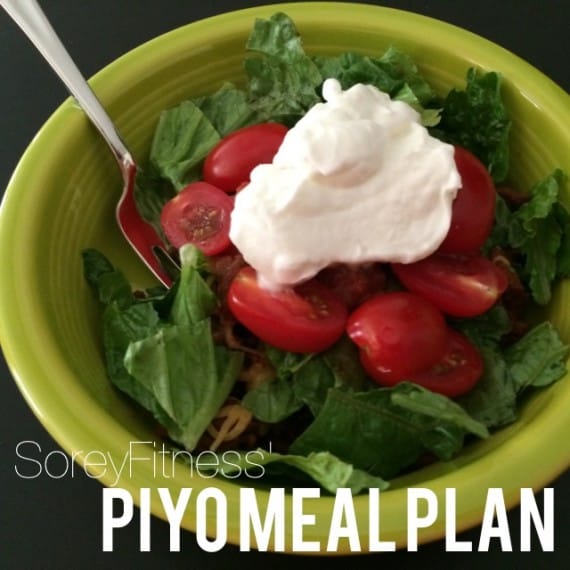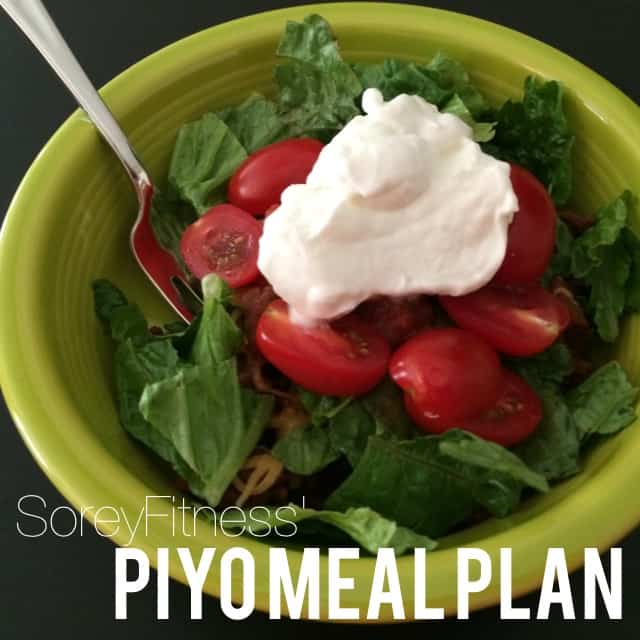 PiYo Diet
In order to see the best results, we recommend following the Ultimate Portion Fix or 2B Mindset. Originally the PiYo nutrition plan followed the Ultimate Portion Fix plan because it came out right after the 21 Day Fix, and Beachbody saw how successful the diet was!
The original PiYo Meal Plan uses a simple formula to help you see how many calories you should eat each day. It also breaks down how many servings of each food group you should eat each day.
The food groups are:
Vegetables
Grains and starches
Fruit
Lean protein
Healthy fat
No matter what plan you choose, you will want to follow a proper diet full of nutritious foods in order to burn off excess fat and see muscle definition.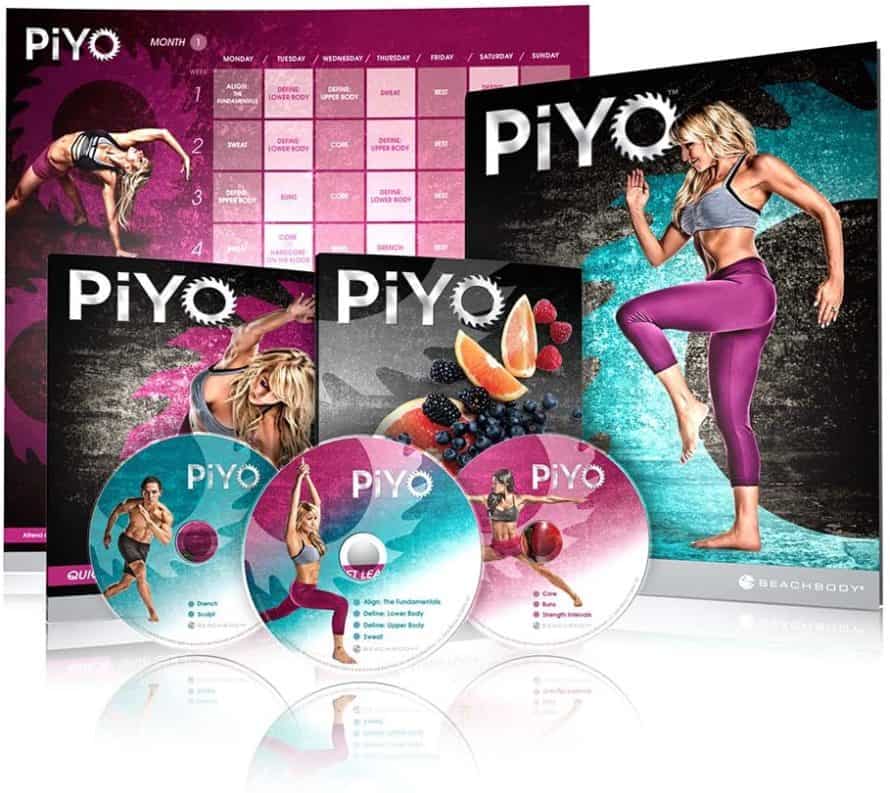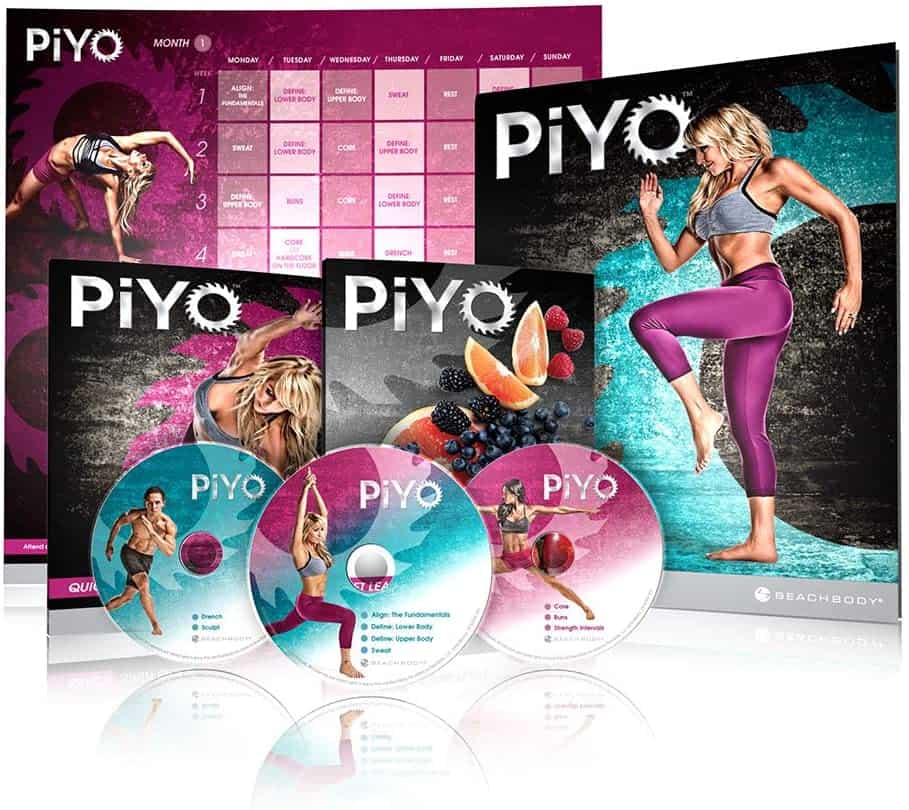 PiYo DVDs
Surprisingly, PiYo is one of the last Beachbody workout programs that you can still get on DVDs!
Can you get PiYo online?
You can stream PiYo workouts through Beachbody on Demand anywhere there is an internet connection. Beachbody on Demand is available on streaming devices for your tv, phone, and tablets.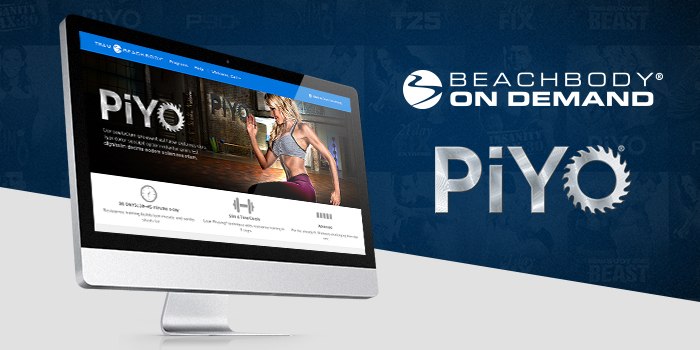 What is included with PiYo?
PiYo is now on Beachbody on Demand! This will allow you to stream all of the original workouts plus about a dozen live PiYo classes and 100s of additional workouts!
You'll also receive digital access to:
Quick Start Guide
All of the Workouts
60-Day Workout Calendar
Get Lean Meal Plan
Online Support
1. 12 Workouts + Access to all of Beachbody on Demand
The modifier is great in all of the workouts, and don't worry if you have to modify to go slower at first. You'll get stronger every time you do the workout.
In addition to the PiYo workouts, you'll also get full access to Beachbody on Demand which includes Barre Blend, ChaLEAN Extreme, TurboFire, and more Beachbody programs!
2. Quick Start Guide
The Quick Start Guide helps you learn the basics. It's really not a ton of new information since you're also reading this post, but it may be helpful as you get started!
3. PiYo 60-Day Workout Calendar
The wall calendar is both helpful and motivating as you start this at home workout program.
4. Get Lean Eating Plan
The nutrition guide helps you learn not only what to eat but the right portions and servings of each food group that will fuel your body the best!
If you struggle with your diet, we highly recommend using 2B Mindset or Ultimate Portion Fix as well though. Other nutritional programs we love are Noom and Nutrisystem.
5. Online Support
Along with anything you order, you receive a Beachbody Coach like my mom and me. We offer daily support, monthly bootcamps, recipes, ebooks with meal plan tips, and much more! You can get us as your coach by emailing us at thegirls@soreyfitness.com if you're not already working with someone.
How much does PiYo really cost?
There are a few options when you order.
You can also choose to a non-workout supplement option: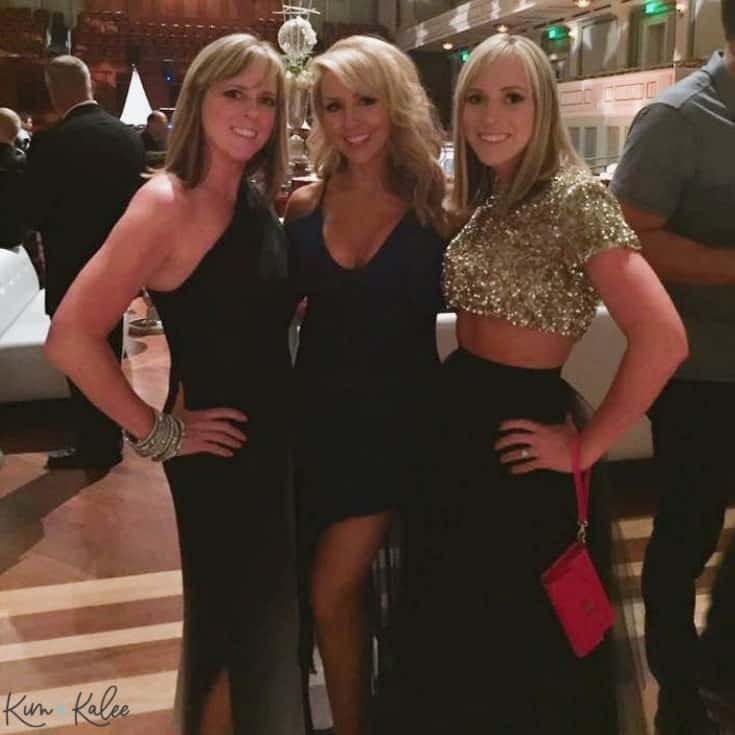 Should You Consider Beachbody Coaching?
If you're looking into Shakeology or another Beachbody supplement, coaches get 25% off their orders! We also make 25% commission on any orders placed through our website, and we never have to have inventory on hand! You can learn more about coaching here or Sign up to Coach for Free with the PiYo Challenge Pack!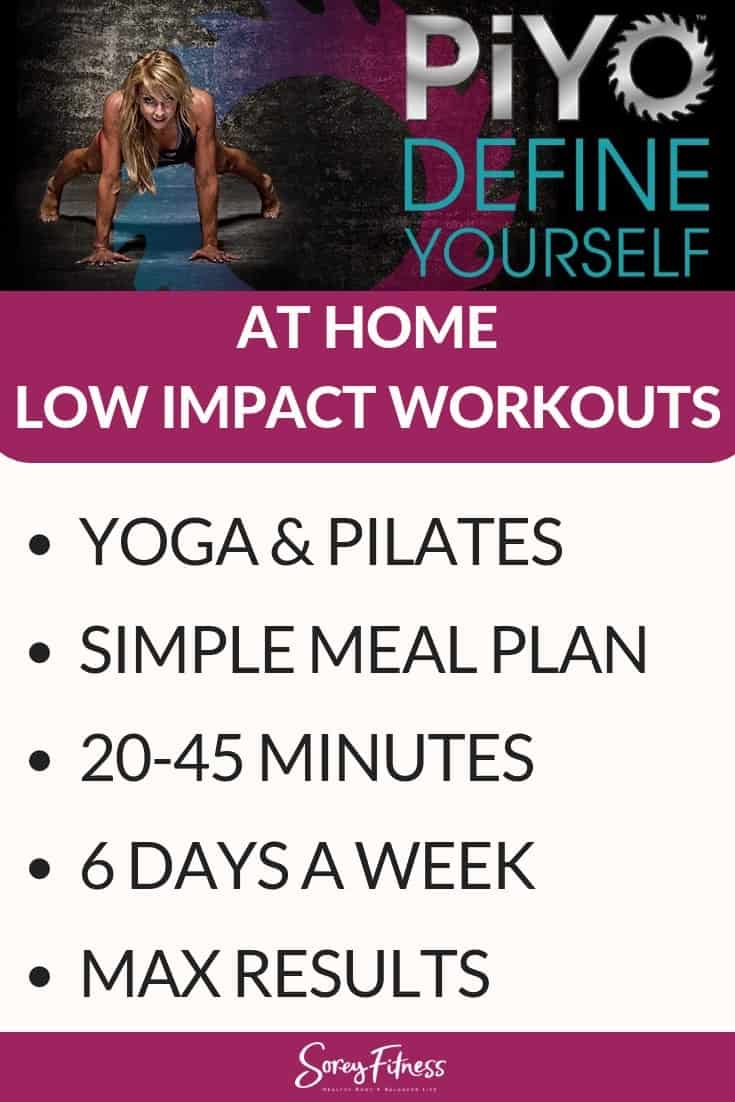 PiYo FAQs
What year did PiYo come out?
It was launched Wednesday, June 18, 2014 during Beachbody's Coach Summit event.
Is PiYo or 21 Day Fix better?
It depends on your goals. PiYo focuses on burning calories while improving your strength and flexibility through dynamic movements and fast-paced cardiovascular mixes. The 21 Day Fix combines classic cardio intervals, strength training with dumbbells, and active recovery workouts. Both programs are effective in helping you lose weight and tone up.
You may also like our 21 Day Fix PiYo Hybrid that combines the two programs!
Is PiYo like Barre?
While both programs focus on low-impact, high-intensity moves, PiYo is not like Barre. It doesn't require a Barre and focuses on dynamic movements and flows found in pilates and yoga. If you're looking for a Barre class that burns crazy calories, we suggest Barre Blend.
Is PiYo good for seniors?
PiYo is an intermediate at home workout program which dynamic movements and fast-paced cardiovascular mixes. Its focus on improving flexibility, balance, and strength could be beneficial to active seniors since the classes are also low-impact. With that said seniors should always consult their doctor before starting a new fitness program.
Is PiYo better than yoga?
It depends on your fitness goals. PiYo is going to offer more cardio and movement than traditional yoga. If you're looking for a workout that combines flexibility, cardio, and strength, we would suggest PiYo over yoga.
Is PiYo a HIIT workout?
While there are some higher intensity interval series in the program, we wouldn't call this program a HIIT workout.
To Recap:
PiYo workouts are a blend of Pilates and Yoga and offer a high-intensity workout while staying low-impact. All you need is about 30-60 minutes to start burning calories, building lean muscle, and improving your flexibility. The program is available on Beachbody on Demand and DVD. It also includes a basic nutrition guide to help you get started with your healthy eating.
Other Resources You Might Like