Turbo Jam is one of my favorite workouts and really the first cardio workout I enjoyed! It is intense, but it's dance-based so it's fun. It also worked more of my muscles to tone them than I ever thought a cardio workout would because you're constantly squatting, twisting and turning!

Turbo Jam FAQ
What are the workouts like?
It's a mix of kickboxing and dancing. It's definitely a cardio workout, but it does include toning moves like squats, lunges, and punches.
How many calories will you burn?
Typically I burned about 10 calories per minute, but you can burn up to 1,000 calories in an hour! It just depends on your weight, height, and current fitness level. I've been working out for years and am short so my calorie burn will be smaller than say a beginner with 50+ lbs to lose.
Who is this workout for?
Turbo Jam is a great workout for beginners wanting to lose weight, tone their muscles (versus building big muscles) and have fun. Some beginners have even lost 10lbs in 10 days with the workout and meal plan.    
How many days do you workout?
You workout 6 days a week for 20-50 minutes.
What equipment is required?
You don't need any equipment for Turbo Jam! You will just need about 6 feet of room to do the routine. If you want to make the workouts harder, you can wear weighted gloves.
Can you use the 21 Day Fix meal plan instead?
Yes of course! You can view the 21 Day Fix guide here.
Can I use this workout for the 21 Day Challenge?
Yes! We host a monthly 21 Day Challenge with daily accountability, support, and prizes for max results.  Just email us at thegirls@soreyfitness.com to be included.
What's included?
Turbo Jam includes:
5 Workouts:

Learn & Burn

Turbo Sculpt (40 minutes)

Turbo Jam 20 (20 minutes)

Cardio Party (45 minutes)

Ab Jam
Plus you'll also receive a Quick Start Guide, Calendar, and a meal plan.
If you order from this post, you'll also have me as your coach along with 3 BONUS gifts.
10 Day Turbo Results Eating Plan

Turbo Sculpting Gloves

Punch, Kick & Jam Workout (50 minutes)
You can also choose the Challenge Pack to include everything above PLUS Shakeology and 30 days of live streaming of other workouts for a better variety.
Are their deluxe/advanced Turbo Jam workouts?
Yes, and they are included in the calendar below. We love a variety of workouts, and the advanced DVDs are really great to challenge yourself.
The Turbo Jam Elite Program includes:
5 New Workouts
Fat Blaster (30 minutes)

3T  – Totally Tubular Turbo (35 minutes)

Cardio Party Mix 3 (50 minutes)

Lower Body Jam (30 minutes)

Cardio Party Mix (30 minutes)
Plus 2 FREE gifts to keep!
Turbo Sculpting band

Thigh Toning Band 
What is the next step after Turbo Jam?
I love Turbo Fire. It's a more intense version of this workout and includes short HIIT workouts as well! Get information on Turbo Fire here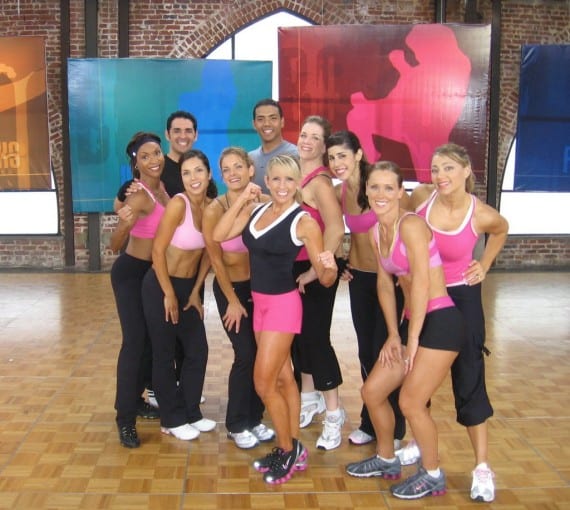 Turbo Jam Calendar
WEEK 1
Monday Cardio Party 3
Tuesday Totally Tubular Turbo
Wednesday Punch, Kick, and Jam plus Ab Jam
Thursday Fat Blaster
Friday Cardio Party 2
Saturday Booty Sculpt or Cardio Party Remix 
Sunday Semi-Rest:Ab Jam – 10 minutes
WEEK 2
Monday Cardio Party + AB Jam
Tuesday Booty Sculpt Turbo Jam Live
Wednesday Punch, Kick & Jam + AB Jam
Thursday Fat Blaster (30 min.)
Friday Totally Tubular Turbo
Saturday Lower Body Jam
Sunday Cardio Party 2 + AB Jam
WEEK 3
Monday Cardio Party Remix
Tuesday Fat Blaster
Wednesday Booty Sculpt
Thursday Punch, Kick, Jam w/gloves
Friday Turbo Sculpt + Ab Jam 
Saturday Cardio Party 1 + Fat Blaster
Sunday Rest
WEEK 4
Monday Cardio Party 1
Tuesday Turbo Sculpt
Wednesday Punch, Kick, Jam w/gloves
Thursday Fat Blaster + Totally Tubular Turbo
Friday Cardio Party 2
Saturday Lower Body Jam
Have you tried Turbo Jam before?