LIIFT4 Review | What You Really Need to Know
This post may contain affiliate links. All opinions shared are my own. As an Amazon Associate I earn from qualifying purchases. Click to view our full disclosure.
Beachbody and Joel Freeman's LIIFT4 workout builds muscle and burns fat in just 4 days a week! We outline the workouts and meal plan below!

What is LIIFT4?
LIIFT4 combines strength training and high intensity interval training (HIIT) to build muscle and burn fat! The Beachbody on Demand at home workout program focuses on isolating muscle groups to build lean muscle and see results in just 60 days!
(Know you want it? Get Beachbody on Demand or view the other ordering options)
Why We Love It
We've completed the program multiple times since it launched, and we keep coming back to it! The moves are simple to understand, but they are always a challenge! It's also really nice that you don't have to repeat a workout (until you go back through it like we have!)
We love that the program is just 4 days a week, 30-40 minutes a day too! We actually saw better results with this program than any other program we've tried!!
Below is my own before and after photo from completing this program!
You can also view more LIFT4 Before and After Photos.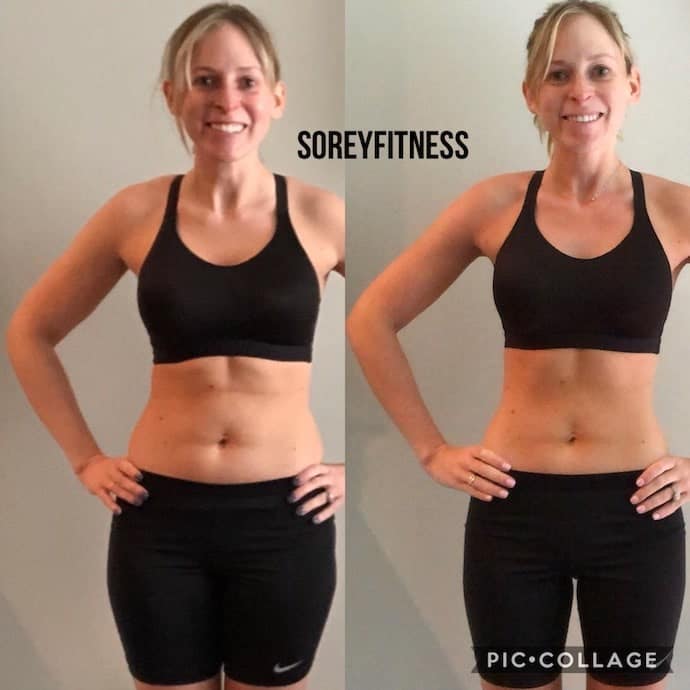 Who will love this program?
Women looking to tone up and get a sculpted body.
Men looking to build mass and get ripped.
Intermediate to advanced exercisers.
Someone who gets bored doing the same routines (new workouts every time!)
Anyone looking to get in a tough workout in just 30 minutes
How long are the LIIFT4 workouts?
They range from 30-40 minutes. You can see how long each workout is, plus the full schedule here!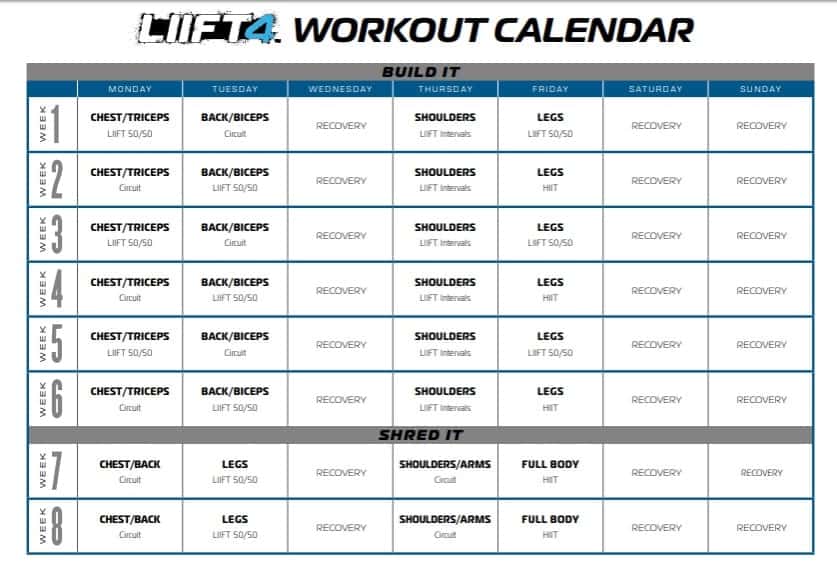 This is just a screenshot of the workout calendar. You'll receive a clearer, larger one on Beachbody on Demand.
The LIIFT4 Workouts
The set-up of the workouts may change week to week, but the basic plan is to lift first and end with cardio. You do 4 days of strength and cardio, and you get 3 recovery days to do your favorite activities or rest.
If the idea of not working out 5-6 times a week freaks you out – no worries. You can either do a workout from the Beachbody Yoga Studio or choose a hybrid calendar like our Barre Blend LIIFT4 Hybrid!
In weeks 1-6, you'll focus on Back & Biceps, Chest & Triceps, Shoulders, and Legs.
In weeks 7-8, the order changes a bit to Chest & Back, Arms, Legs, and Total Body HIIT.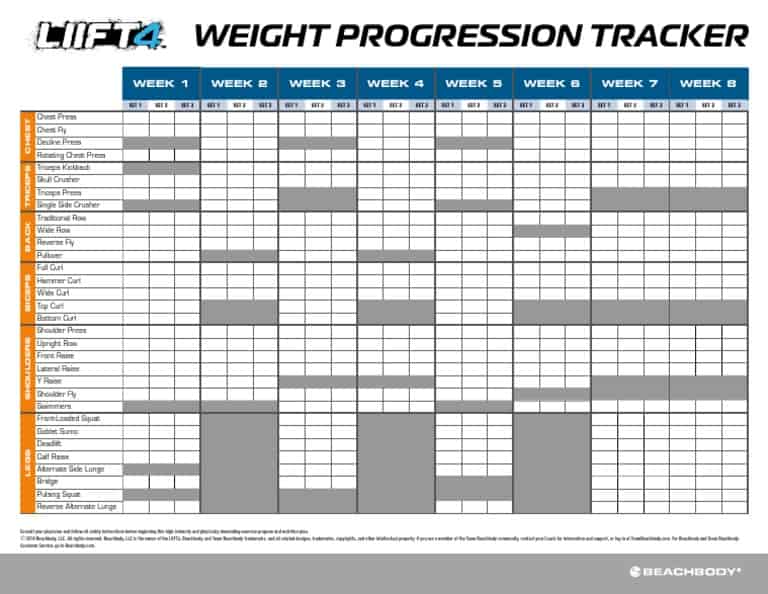 One way to continue to challenge yourself and see results is to track your weight selection for every exercise. We highly recommend printing a sheet and tracking your progress!
Within the schedule, there are 4 unique types of workouts:
50/50 – Half the workout is lifting and the other half is HIIT training followed by core work. For example, you'll do a quick 2-minute warmup, focus on 2 moves like rows and bicep curls and repeat those 2 moves 3 times. Then, you'll do 3 HIIT moves in intervals of 60, 45, and 30 seconds. You'll repeat the HIIT moves 3 times as well. Then, you'll finish with abs and a cool down.
Circuit – Your whole workout will be lifting weights. You'll do 2 rounds of 4 exercises and have a burnout at the end along with core work.
Intervals – This is where you'll do 2 strength moves followed by a 30 second HIIT move. Strength Intervals are always on Shoulder day.
HIIT — HIIT means just that — all cardio! Get ready for every other leg day to blast your lower body with plyo moves (modifier provided).
What equipment does LIIFT 4 take?
You'll need 3 sets of dumbbells (light, medium and heavy) or a set of adjustable dumbbells.
We loved using our Selecttechs most days with this program.
You can also use resistance bands instead of bands. These are so helpful if you're traveling!
Read more on the equipment here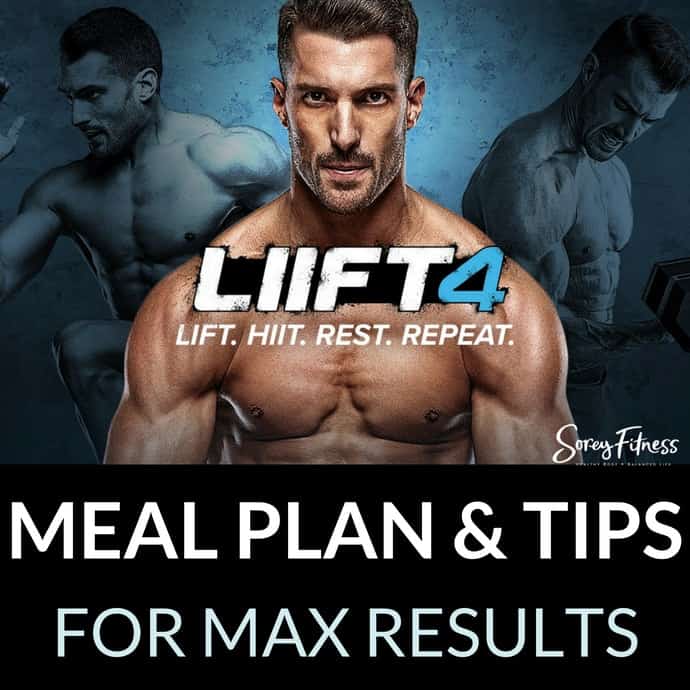 The LIIFT4 Meal Plan
The nutrition plan uses the portion control containers and puts an emphasis on the Beachbody Performance Supplements – Energize and Recover.
You'll be eating 30% protein, 40% carbs and 30% healthy fats.
The plan also includes a cheat day!
Once a week, you can indulge yourself in your favorite foods or have a drink! Get our tips & tricks to a cheat day without hurting your results!
What is Included? How much is it?
There are a few ordering options for this program. You can choose to get the workouts and meal plan or to add in the recommended supplements.
It includes:
Beachbody on Demand + VIP Access
Shakeology
Pre- & Post Workout Supplements
2 Shaker cups
Resistance Bands
Meal Plan
Workout Calendar
You could also choose just to do the workouts + Shakeology or the workouts + Energize and Recover.
If you're not looking for any supplements, we'd recommend a Beachbody on Demand membership.
This allows you to stream the program, have access to 100s of other workouts, and also print the calendar, tracker, and meal plan.
Is LIIFT4 on DVD?
No, this program is exclusively on to Beachbody on Demand.
If you haven't tried streaming with it yet, it's really awesome and easy to use. You get access to hundreds of workouts, can download a week's work, and even stream to your TV with the right device. You can start a free trial now!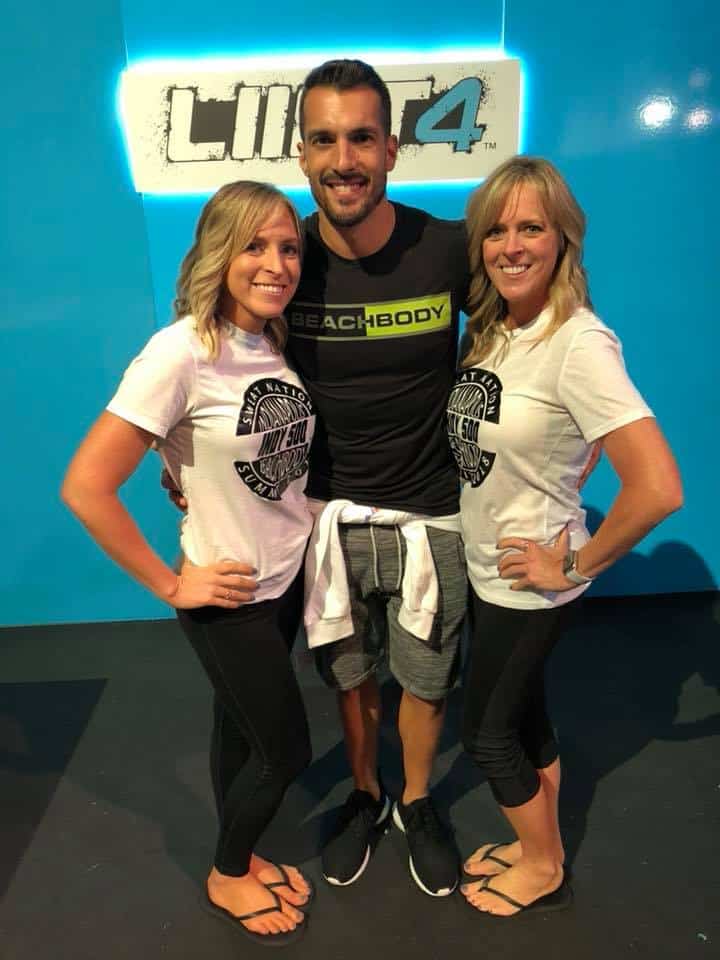 If you're considering Beachbody Coaching, we'd love to chat! You can also learn more about how to become a coach or how coaches make money here!
To Recap:
LIIFT4 is an effective total-body workout program focusing on strength training and HIIT to build lean muscle and burn fat. The workouts can easily fit into most people's schedule at 30-40 minutes a day, 4x a week!
You may also like:
Still have questions? Let us know using the form below!