10 Rounds Review & Sample Workout
This post may contain affiliate links. All opinions shared are my own. As an Amazon Associate I earn from qualifying purchases. Click to view our full disclosure.
We absolutely love Joel Freeman's workouts! So when we heard about his new high-intensity boxing program, 10 Rounds, we couldn't wait to try it! It's designed to help you total body strength, agility, speed, and endurance and has some killer intense burn-out rounds! We also loved that the workouts are just 30-40 minutes and can burn around 500 calories each!!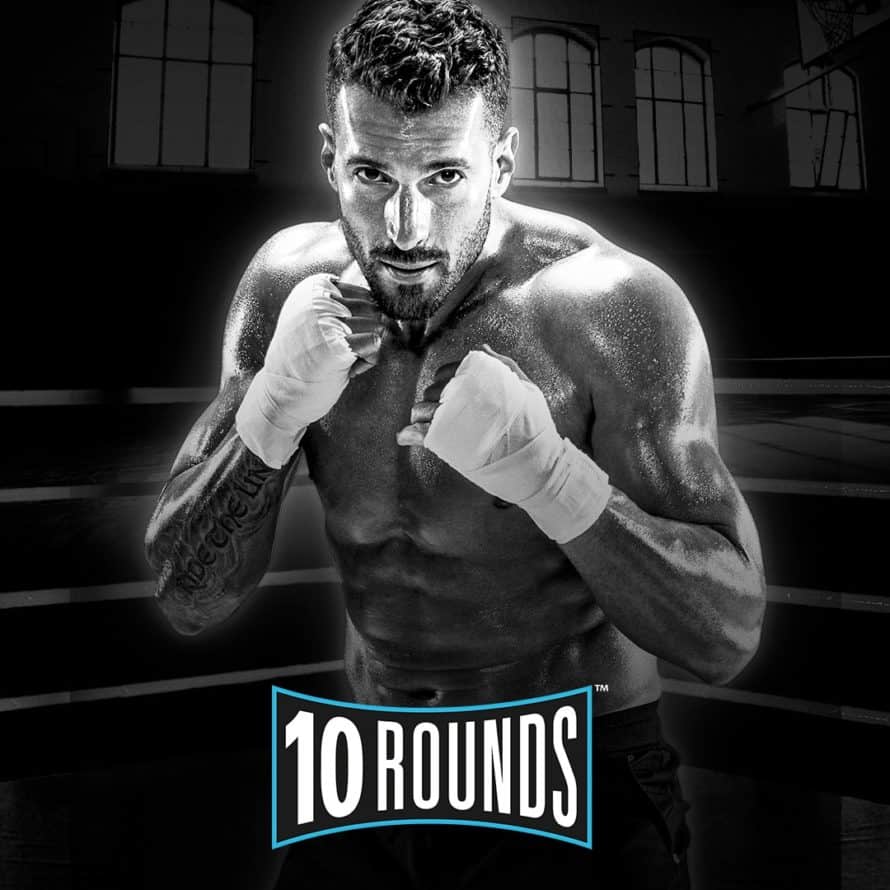 What is Beachbody's 10 Rounds Workout?
Beachbody's 10 Rounds boxing program combines technique, repetition, and intensity for a full body workout! You'll do box 3 times a week and strength train 2 days a week to increase your power and strength for a total body transformation.
Each day you'll get a brand new, unique workout shot in real-time across 56 cities in the United States.
If you're unfamiliar with Joel Freeman, he's created an MMA-style workout Core de Force and strength training program LIIFT4 for Beachbody before this program. If you loved Tony Horton's workouts, we feel like Joel will be a great fit for you as well! His humor is similar, but not quite as corny as Tony. (We love you though, Tony!) We recently interviewed Joel about his workouts, and it was a fun of fun!
Who will love it?
Men and women looking for an intense boxing workout at home.
Women looking to tone up.
Men looking to get ripped.
Intermediate to advanced exercisers.
Someone looking for unique workouts each day.
Anyone looking to get in a tough workout in just 30-40 minutes.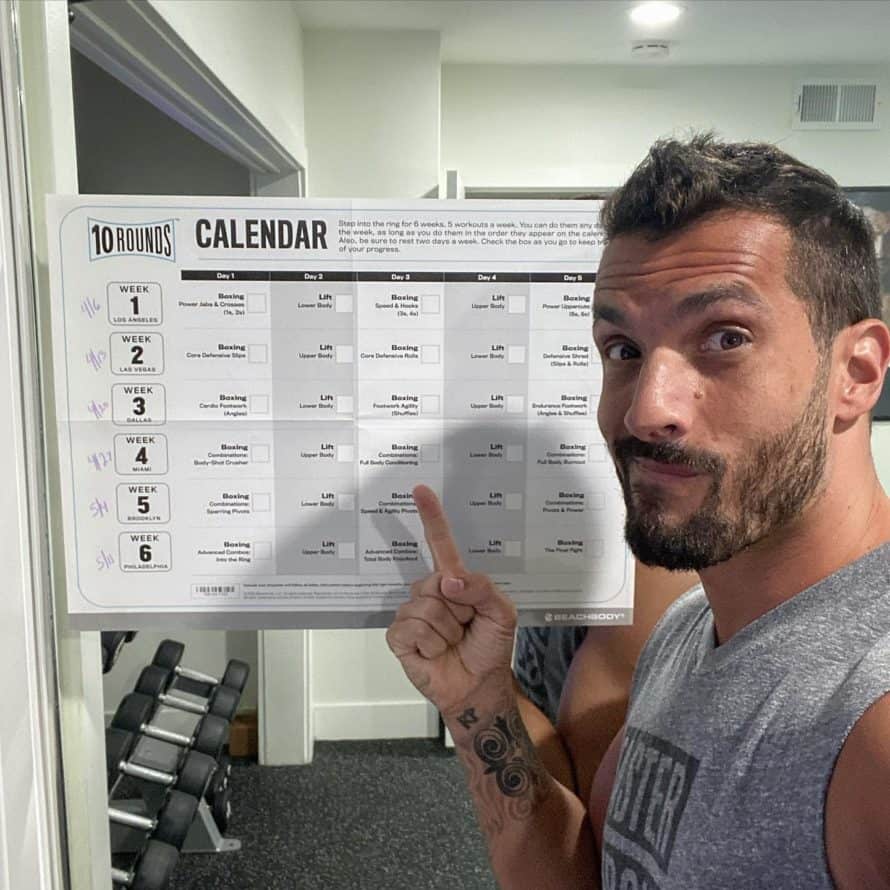 10 Rounds Workouts
Each week you'll box for Monday, Wednesday, Friday and strength train Tuesday and Thursday. You'll have the weekends off! The workouts range from 30-40 minutes. The workouts are filmed in Los Angeles, Las Vegas, Dallas, Miami, Brooklyn, and Philadelphia.
What equipment is required?
You'll need:
Light, Medium and Heavy Dumbbells
a small towel
10 Rounds Sample Workout
Sample Workout from TeamBeachbody on Vimeo.
Are the strength workouts like LIIFT4?
LIIFT4 is one of my favorite workouts ever. If you've not tried it – I totally recommend getting Beachbody on Demand today and trying it out. With that said, the 10 Rounds strength workouts aren't like LIIFT4. These strength workouts focus on muscle endurance, core work, and unilateral movements to help improve your boxing. LIIFT4 is hypertrophy training versus endurance.
What's included with 10 Rounds?
All the Workouts
Get Started Guide
Workout Calendar
Nutrition Guide
Ultimate Portion Fix Meal Plan (7-Days)
2B Mindset Meal Plan (7-Days)
Vegan 2B Mindset Meal Plan (7-Days)
Online support through your Beachbody Coach like us! (We'll hold you accountable!)
BONUS:: With your Beachbody on Demand membership, you'll also get access to 40+ other popular workouts including Joel's other programs and popular workouts like 80 Day Obsession and Morning Meltdown 100!
You can also add on Shakeology or workout supplements with a challenge pack.
Ordering Options
You can also sign up to be a Beachbody Coach for free with any challenge pack!
If you'd like us as your coach – It should say Kalee Dillard as your coach. If not, her Coach ID is 1001548.

10 Rounds Results
These before and after photos even surprised us! They were so awesome! Participants followed the workouts and either Ultimate Portion Fix or 2B Mindset for 6 weeks for these results.
Will Beachbody's 10 Rounds be on DVD?
No, this program was shot in real time and is only be available on Beachbody on Demand and not on DVD. The streaming service is really convenient and user-friendly though! You get access to hundreds of workouts, can download a week, and even stream to your TV with the right device.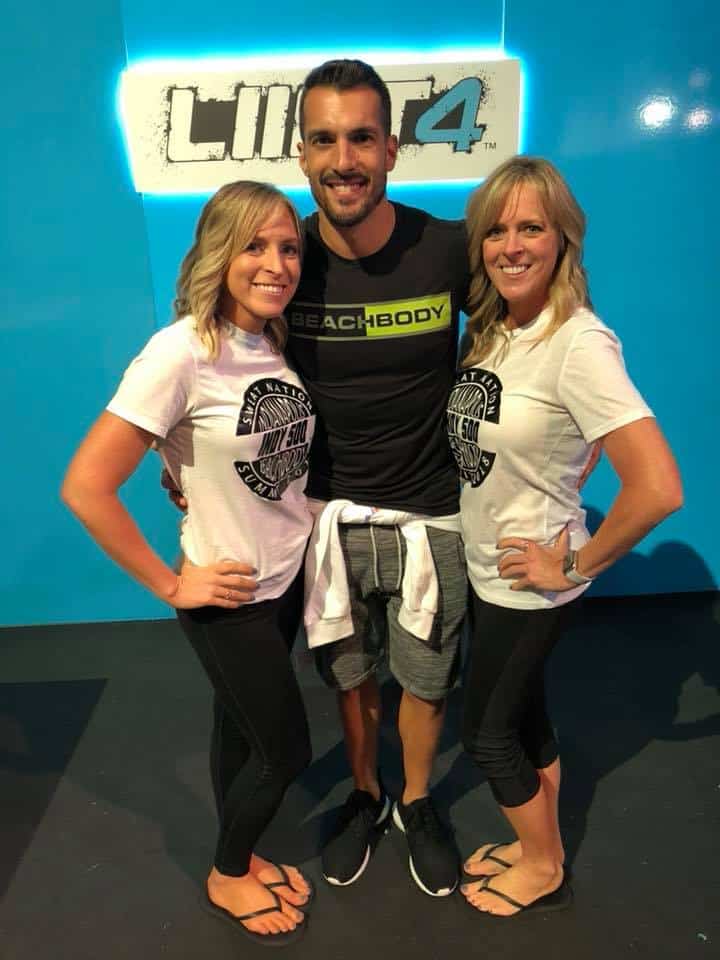 Should You Be a Beachbody Coach?
My mom and I have been Beachbody coaches since 2011 when we fell in love with TurboFire and ChaLEAN Extreme. We love the accountability of sharing about our workouts and the amazing community Beachbody offers online! Plus, as coaches we get 25% off and earn an extra income in our spare time! If it sounds like something you might let – let us know by using the form below or email thegirls@soreyfitness.com. We're happy to help and are an Elite Beachbody Team.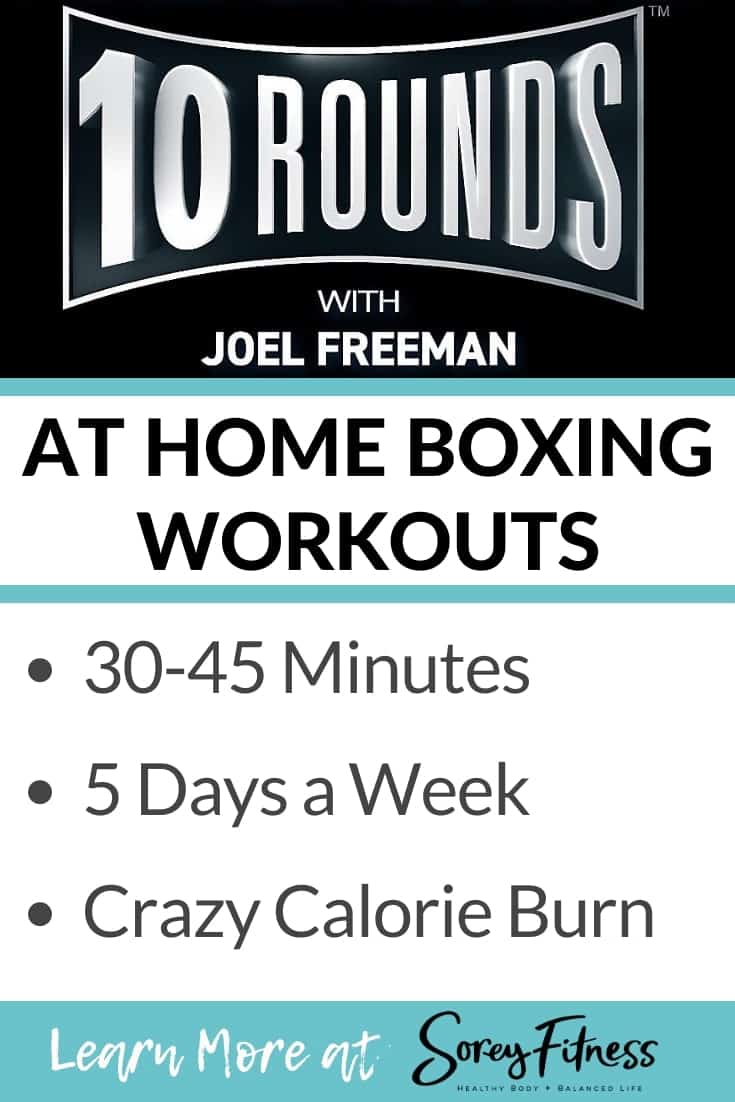 TL;DR
To recap, Joel Freeman's 10 Rounds program includes boxing and strength training workouts. The workouts are 30-40 minutes long, 5 days a week, and you'll just need dumbbells, a resistance loop, and a small towel to complete them! You can expect to see full body results with unique workouts each day on Beachbody on Demand. If you're on the fence, you can also try out the 10 Rounds Sample Workout.
Additionally, you can get full access to the program with a challenge pack or a Beachbody on Demand membership. You can also sign up to be a Beachbody Coach for free with any challenge pack!
Have questions? Contact us using the form below!