ChaLEAN Extreme Workout Review and Schedule Calendar
This post may contain affiliate links. All opinions shared are my own. As an Amazon Associate I earn from qualifying purchases. Click to view our full disclosure.
Are you ready to finally lose weight and tone up at home? We've found the answer! The solution is the ChaLEAN Extreme workout schedule which blends lifting heavy and lighter weights through a 90-day program.
The best part?
Every strength training video is under an hour, effective, and challenging.
Below we'll review the program and provide a free printable calendar.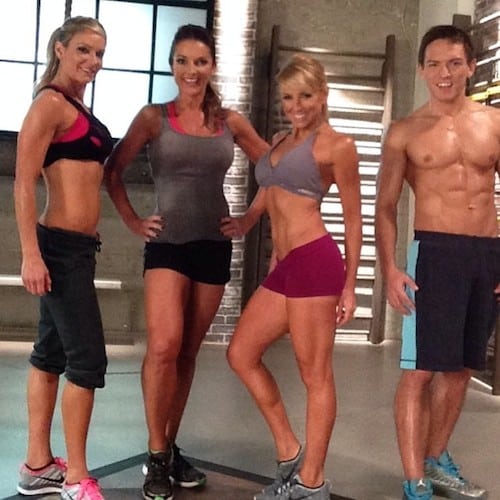 What is ChaLEAN Extreme?
While Chalene Johnson is known for her cardio workouts, ChaLEAN Extreme is one of my favorite strength training programs. The 90-day program is broken into three phases to get your max results.
Each workout focuses on lifting as heavy as you can, but she varies the reps each month. In month 1 and 3 you'll lift moderately-heavy weights for 8-12 reps, and in month 2 you lift your heaviest weighs fro 6-8 reps.
I know the idea of strength training can be scary for women because they worry about bulking up.
But here's the deal:
Muscle burns fat and boosts your metabolism.
Chalene actually says you can lose up to 60% of your body fat using the program throughout the 3 months; however, I started noticing results in the first 30 days.
You might also like ChaLEAN Extreme or P90X : How to choose?
Workout Chalean Extreme Printable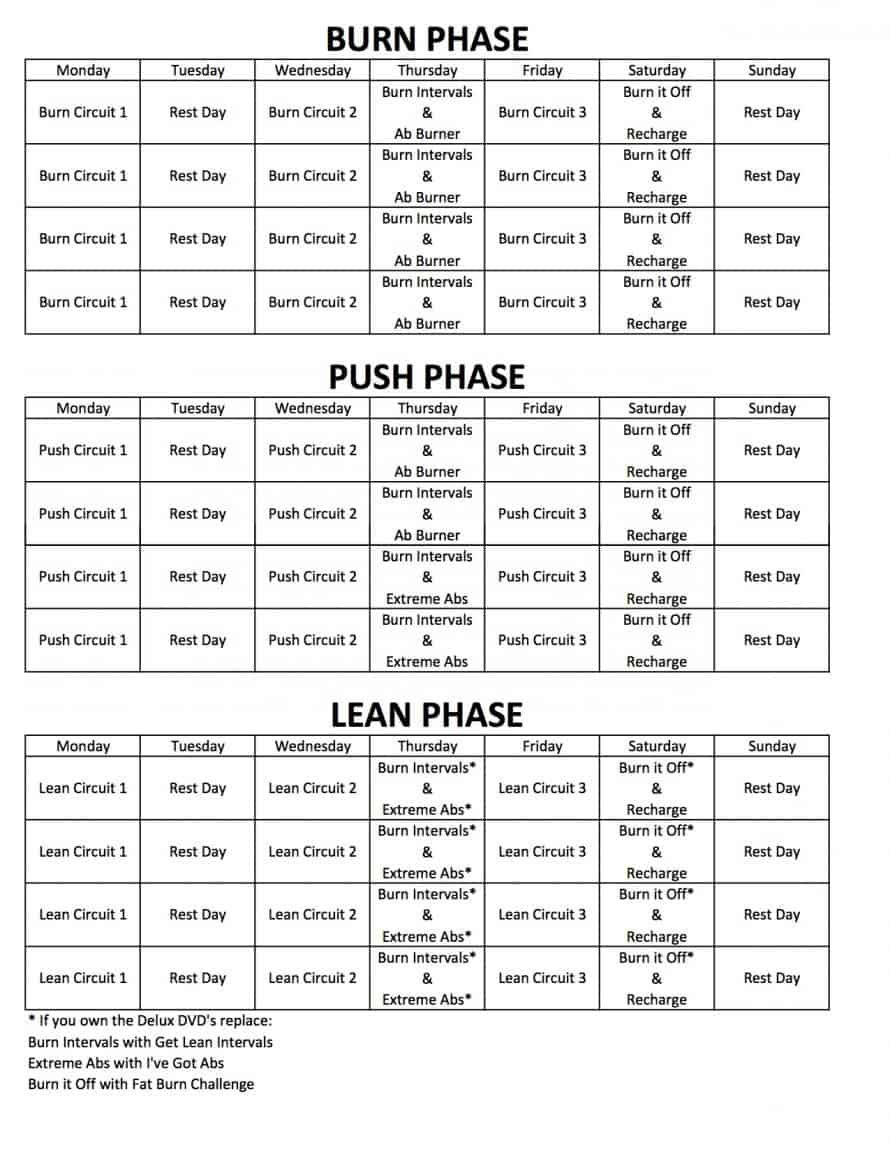 ChaLEAN Extreme Hybrid Calendars
How long are the ChaLEAN Extreme Workouts?
Burn Basics, 22 minutes
Burn Circuit 1, 36 minutes
Burn Circuit 2, 38 minutes
Burn Circuit 3, 32 minutes
Push Circuit 1, 33 minutes
Push Circuit 2, 35 minutes
Push Circuit 3, 35 minutes
Lean Circuit 1, 45 minutes
Lean Circuit 2, 39 minutes
Lean Circuit 3, 38 minutes
Burn It Off, 27 minutes
Recharge, 21 minutes
Burn Intervals, 46 minutes
Ab Burner, 10 minutes
Extreme Abs, 16 minutes
The ChaLEAN Extreme DeluxeDVDs
Get Lean Intervals- 41 min. sub for Burn Interval
Fat Burn Challenge- 32 min. sub for Burn it Off
I've got abs- 15 min. sub for ab burner or extreme abs
What I Liked: My ChaLEAN Extreme Review
Unlike P90X, ChaLEAN Extreme has shorter strength training workouts. After about 45 minutes, I am finished with my workout for the day, and my muscles are shaking! Chalene incorporates multiple muscle groups at once. For example, a sumo squat with a frontal raise with a 12-pound weight; this helps to burn more calories and tone several muscles in one move.
She also mixes in Extreme sets of 3 additional reps. Studies have shown your muscles work the hardest when you are focused on them and lower them slowly. After you complete a set of one exercise, Chalene makes you go and do 3 more intense, slow reps to totally fatigue the muscle to see changes in your body faster.
Along with the extreme sets, the strength training is designed for women's problem areas. I have tried Cathe Friedrich, Jillian Michaels, and Tony Horton's P90X workouts over the past 5 years, and nothing works my jiggly areas better than ChaLEAN Extreme. You do a lot of shoulder and tricep work to help give you toned arms that help your waist and hips look smaller.
I also love to switch up my workouts simply because doing the same workout feels like a waste of time. I do not feel like my muscles are getting the same challenge they used to only doing one strength training workout.ChaLEAN Extreme gives you 3 workouts per phase. After a month you get 3 brand new workouts. I love only doing the same DVD 4 times!
This may sound dumb, but I also like the "gym" they work out in. I tried P90X first, and the videos are so dark! I love the bright colors of the workout.
I also like that Chalene shares tips on your form and pacing to make sure you get the most out of each move.
You may also like Chalene Johnson: Her Workouts, 30 Day Challenge, and Podcast
ChaLEAN Extreme Results
I wish I had thought to take a before picture of myself when I started strength training, but I never imagined I'd see a huge difference since I was already close to my goal. Since I didn't take pictures, I also want to showcase two other women's ChaLEAN Extreme Results.
You can do the workout at any age & fitness level! My mom & I both do ChaLEAN Extreme and have seen great results! We are 18 years apart!
I've mentioned P90X a little bit which is another strength training program. You can see a full comparison of P90X and ChaLEAN Extreme here.
ChaLEAN Extreme contains 3 phases: Burn, Push, and Lean.
You'll vary your rep range, weights, and exercises in each phase. The Burn and Lean months are 10-12 reps with a moderately heavy weight. Push is about lifting heavy weights with proper form for 6-8 reps.
The Lean phase is the longest workouts and includes compound exercises where you work for multiple muscle groups at once.
ChaLEAN Extreme Meal Plan
You also receive a meal plan with the workouts; however, I prefer the Portion Control approach made famous by the 21 Day Fix.
If you were to follow the ChaLEAN Extreme Meal Plan it basically is a high-protein, low-ish carb meal plan.
Shakeology is also a vital part of our results and energy. If you haven't tried it before, check out our Shakeology review here.
What to Know Before Starting the Chalean Calendar
Modify each workout to suit your needs.
Remember to stay hydrated!
Fuel your body with proper nutrition!
Consider supplements.
I love to drink Energize before my workout for an extra bump in energy and Recover after my workout to restore balance to my muscles. Recover also contains BCAA's which can help you burn more fat and build more muscle! Check out my review of the supplement line here.
You might also like PiYo Workout by Chalene Johnson – Pilates and Yoga Fusion
Now you have the calendar, but do you have the motivation to commit for 90 days?
We'd love to help you get started with our 21 Day Challenge.
You get to use ChaLEAN Extreme as your workouts, and we just help tailor in your nutrition and help you stay accountable!
What if the Cardio Isn't Hard Enough?
I didn't feel like the Cardio ChaLEAN Extreme days were as intense as the strength workouts. You can always add in another cardio based program like TurboFire or Insanity. Get the Insanity CLX Hybrid or TurboFire CLX Hybrid here. If you want more variety or lifting heavy isn't for you, I'd suggest the 21 Day Fix. You'll still have strength workouts in it, but it also has cardio, pilates and yoga.
Did this review and calendar help you?
What other questions do you have?
You may also like: