Jillian Michaels 30 Day Shred: Your Guide to The 30 Minute Workouts
This post may contain affiliate links. All opinions shared are my own. As an Amazon Associate I earn from qualifying purchases. Click to view our full disclosure.
Jillian Michaels 30 Day Shred was one of the first month-long programs I did at home. Below you'll find my complete guide to the program as well as some affiliate links to Amazon.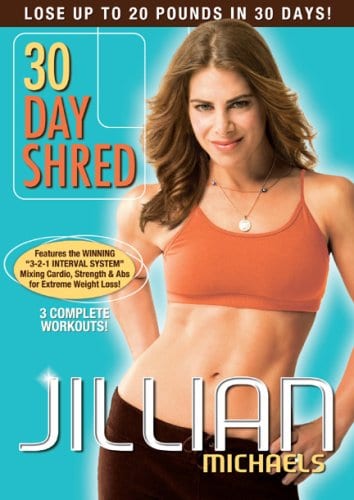 The DVD includes 3 20-minute total body workouts. Each workout is a level of difficulty and progresses through the month.
The program is great for someone just starting, but they may need to take additional breaks or modify the moves. There is also a modifier showing each move too.
Before doing this program, I had been using Tamilee Webb's DVDs that were 10-15 minutes and focused on 1 area of the body like upper body or lower body. I love her workouts too by the way! You could add in a short 10 minute one after Jillian's workout if you're feeling strong.
Anyways, the 30 Day Shred was the first time I did a full-body workout at home including cardio!
Even with years of experience now, this program is simple to follow and effective.
Her 3-2-1 Interval System
She focuses on getting in a total workout – strength, cardio, and ab work – with the 3-2-1 system. Since you're using your whole body, the number of calories you burn is higher than other workouts.
Each 30 Day Shred workout uses circuit training.
3 minutes you'll focus on strength training. In each workout, she performs two exercises for 45 seconds each, twice.
2 minutes is a cardio blast.
The last minute is for core work.
Jillian is known for being a tough trainer, and these workouts are no exception.
You should expect to work hard for those 20 minutes with no rest between each move. The idea is to get in the max workout you can in a short period of time.
Jillian Michaels 30 Day Shred Schedule
I suggest doing each level for 10 days.
If you feel like level 1 is too easy, you can always do 15 days of level 2 and then 15 of level 3. However, I like doing 10 days at a time because:
It keeps you from getting bored
It keeps changing up the moves for your body
If a move feels easy in level 1, you could consider giving it more of your energy (jump higher, add resistance, etc)
If you feel like you are still really sore from yesterday's workout consider going for a walk instead. Then you can get back to the DVD tomorrow.
This will help you from over-training and limit the risk of an injury.
Equipment Needed
You'll need 2 dumbbells. I like a 3-5lb weight as a woman. If you don't have any weights, consider using two cans of food or water bottles for resistance.
I also liked having a mat for some of the moves, but it's optional.
You might also choose to go a little heavier if a level feels easy or if you've been doing the program a long time.
Jillian Michaels 30 Day Shred Calories Burned
The 30 Day Shred Calories Burned will be different for each person. The number of calories you burn depends on your weight, age, and fitness level.
With that said, if you weigh about 150lbs, you can expect to burn around 160 calories per workout.
One way to know how many calories you are burning is to invest in a heart rate monitor like a FitBit or Apple Watch. It will track your heart rate as well, and it will help you stay in that fat-burning heart rate zone.
You can also see how many calories you've burned after each workout – talk about some motivation!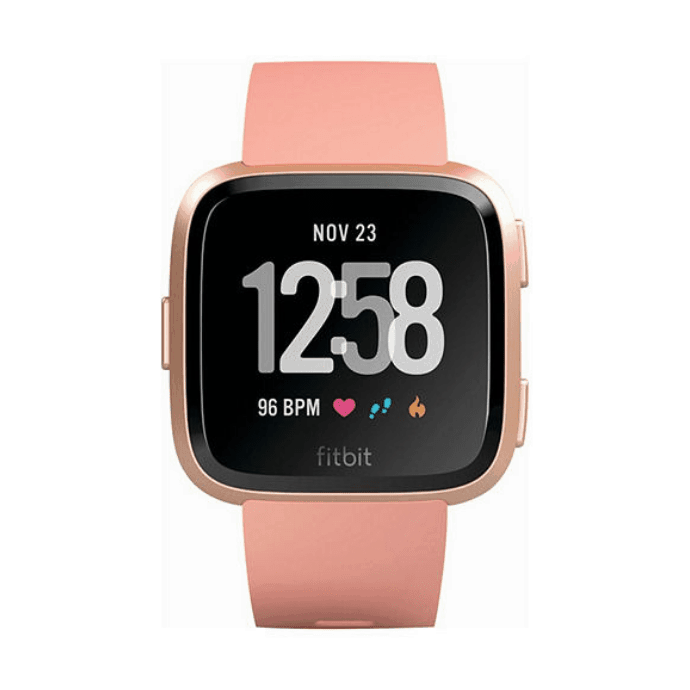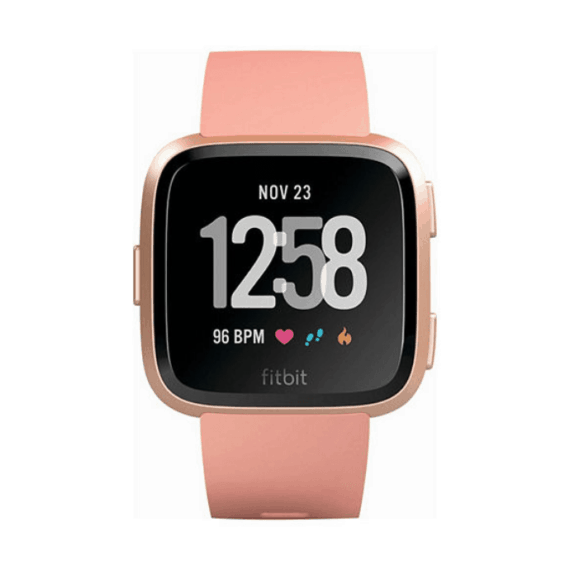 Tips to Starting Jillian Michaels 30 Day Shred
Take your measurements before you start (hips, waist, chest, arms, and legs)
Put your workouts on the calendar and make it a non-negotiable
Stock the house with healthy foods
Listen to your body – if you feel light-headed or too sore, stop.
Look up proper form of each move if you aren't sure how to do an exercise
Watch your knees! Your knee shouldn't be past your ankle when you do lunges or squats.
Taking your measurements can help you see your results even if the scale doesn't move. Our weight can vary up to 2-5lbs in a day because of hormones, water, digestion, and several other factors. So your measurements are a better way to track your results.
If you do weigh, choose to do it the same day of the week at the same time of day.
Stocking the house with healthy foods -and tossing the junk- will help you stay on track. Also, keeping snacks on hand can help you avoid temptations while you're out!
Jillian Michaels 30 Day Shred Meal Plan
My copy didn't include any kind of meal plan, but I found a PDF for the 30 Day Shred Meal Plan here.
With that said, any healthy, balanced diet will help you see max results.
Another book I love is Joy Bauer's book 90/10. It has a little science in it, plus 2 weeks of meal plans. I still use it 10 years after buying it. It also allows you to have a small treat each day! Even with a treat, my mom lost 10lbs and I lost 6lbs!
The best thing to remember is to find a meal plan that works for you.
You never want to go below 1200 calories, and you never want to do something so strict that you overindulge later on. Balance is key!
If you want something a little more intense, her Master Your Metabolism book is really good too. It also talks about the containers our foods are in and how the environment can affect our weight loss too!
What's After the 30 Day Shred?
It really depends! Did you enjoy the circuit workouts in the program? Did you like Jillian's attitude, or do you think you'd prefer someone less hardcore?
Whatever you choose, mixing up your workout routine can help you see better results faster. The workout should be challenging but not overwhelming.
If you love Jillian…
BODYSHRED
She has a full-system with a specific meal plan and workout calendar with called BODYSHRED. Each workout is 30 minutes, and it follows the same 3-2-1 method. The workouts are harder though so it would be a great next step. The whole program is 60 days, and it focuses on strength training each day with alternating muscle groups.
Each workout is 30 minutes, and it follows the same 3-2-1 method. The workouts are harder though so it would be a great next step. The whole program is 60 days, and it focuses on strength training each day with alternating muscle groups.
Body Revolution
Another option is her Body Revolution. It's 90-days. It's broken down into 3 phases, and it also includes 30 minute workouts. You also get a calendar and meal plan with it!
If you're looking to try a new trainer…
Something similar to the 30 Day Shred would be Shaun T's T25 or Autumn Calabrese's 21 Day Fix.
Both are interval based, and still at that intermediate level of exercise. Both have a great modifier, and each workout is 25-30 minutes long.
If you're looking for something different, you might enjoy the 3 Week Yoga Retreat, PiYo (pilates and yoga) or a fun dance workout.
I have done so many home workouts, and I consider myself a pro now!
We also have a new streaming service where you can stream over 700 workouts!
I know 700 workouts could be intimidating to find the best fit for you – so feel free to email us for help!
You can check out my favorite home workouts here, or email me at thegirls@soreyfitness.com to talk about what is next in your fitness journey!
Our 21 Day Challenge
You also might like our 21 Day Challenge where we set you up with a program based on your time and goals and hold you accountable.
This really is the best next step after Jillian's program because we can find the perfect workout and meal plan for your time and goals.
Have you tried Jillian Michaels' 30 Day Shred? What did you think?