Free Printable T25 Calendar: Alpha, Beta & Gamma Schedules
This post may contain affiliate links. All opinions shared are my own. As an Amazon Associate I earn from qualifying purchases. Click to view our full disclosure.
Shaun T's Focus T25 calendar is designed to give you maximum results in less time! Below, you'll find the free printable T25 calendars – including the alpha, beta, gamma phases, and Pure Strength hybrid workout schedules.
We also answered a few FAQs on the Beachbody program, as well as, the T25 and B25 BODi Blocks. (Updated 2023)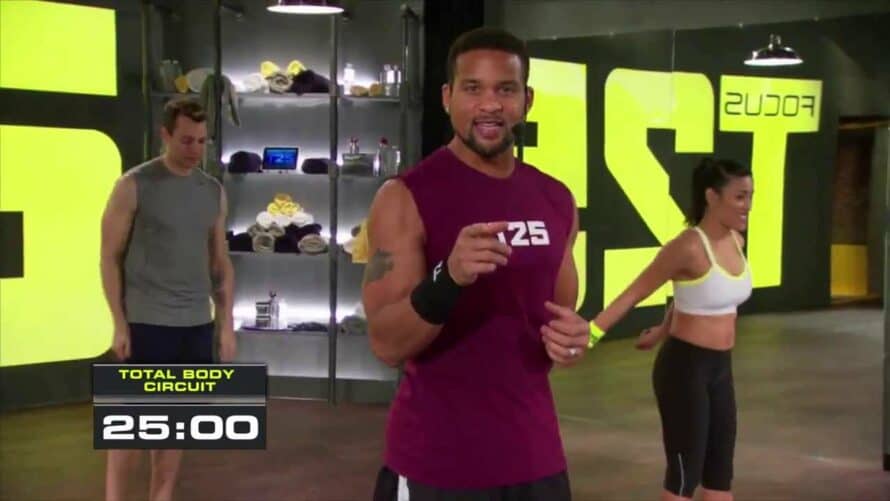 How many days a week do you do T25?
T25 is 5 days a week with a double workout on Friday. Some choose to do the 2nd workout on the sixth or seventh day of the week.
What Equipment You Need for Focus T25
You'll just need resistance bands or dumbbells for T25. You may also like having a mat, but it's optional.
How long is T25?
Each T25 workout is 25 minutes, and the base program of Focus T25 is 10-weeks long. There is also an advanced 3rd phase, Gamma, you can add after completing the Beta Schedule. This 3rd phase would make the whole workout program 14 weeks long.

Does T25 Work?
Shaun T's Focus T25 is very effective. It's intense workouts focus on high intensity intervals to maximize the 25 minutes you're exercising.
If you're on the fence, check out our 6 clients T25 results and before and after pictures. You can also grab our full T25 review here.
T25 Workout Calendars
In each phase, you have 5 workout scheduled days. On the 5th day, you'll do two workouts.
Month 1 of the T25 Schedule is the Alpha Calendar.
You'll do these 6 T25's Alpha Workouts in month 1.
T25 Alpha Cardio – traditional interval training.
Speed 1.0 – focuses on speed, agility, and stability.
Total Body Circuit – Cardio mixed with total body resistance.
AB Intervals – Works your whole core.
T25 Lower Focus – Cardio mixed with lower body exercises.
Stretch – Ah finally a break. This will become your best friend!
Month 1 of the T25 Schedule is the Beta Calendar.
Month 2 introduces 5 new T25 Beta Workouts.
Each workout builds on last month's program.
T25 Core Cardio
Speed 2.0
RIP't Circuit
Dynamic Core
Upper Focus
Core Speed
Focus T25 Core Cardio is one of my favorites of the whole program.
Is there a 90 Day t25 Schedule?
Yes, after you finish Alpha and Beta you advance to the Gamma workouts. T25 Gamma focuses on using more weights and building strength. You could also repeat the first two months for a longer workout schedule.
What is focus T25's Gamma Phase?
The Gamma phase includes 4 additional Shaun T workouts that are designed to be done after the Alpha and Beta schedules. The T25 Gamma workouts are designed to reduce body fat and build lean muscle.
The strength training workouts focus mostly on your biceps, triceps, shoulders and back.
T25 Pure Strength Calendar
If you're wanting an even longer T25 Schedule, the PURE STRENGTH calendar is for you! It's designed to build lean muscle and blast fat! It's a great addition to do after the Gamma phase.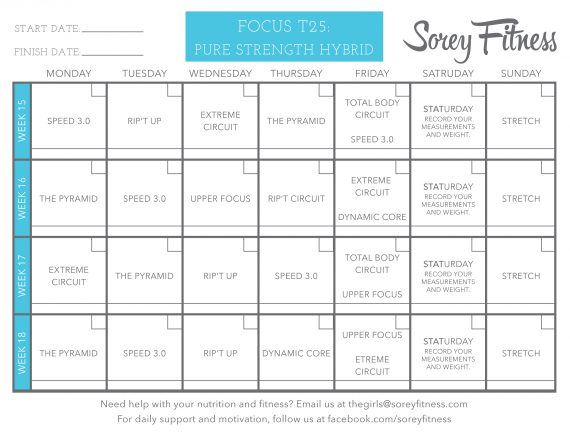 Do I have to do 2-a-days on Friday like the calendar shows?
No, you could skip the 2nd workout or do it on Saturday or Sunday instead.
What should I do after T25?
If you like Shaun T, definitely check out his Super Blocks on BODi, Transform 20, or Insanity Max 30 after the T25 workout for a challenge!
If you're looking for a change, but you like a quick, intense workout look at the 21 Day Fix.
IS T25 sold on DVDs anymore?
No, T25 is exclusively on BODi (formerly Beachbody on Demand). You can stream the entire workout program and also have access to 1000s of other workouts with 1 BODi membership.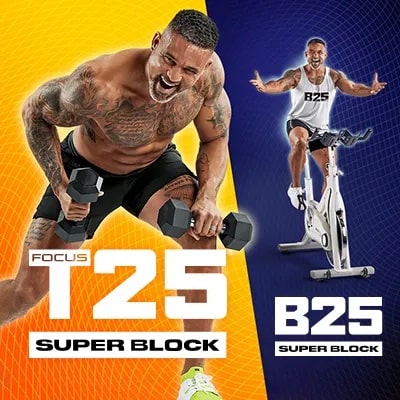 B25 and T25 Super Block Workouts
In 2023, Shaun T created 3 weeks of new T25 workouts, as well as, cycling classes (B25) exclusively for BODi. The workouts are 25 minutes, 5 days a week.
What are the new BODi T25 Workouts Like?
Shaun T's newest T25 Super Block is similar to the original workout program. The 3-week program includes 5 25-minute workouts per week and focuses on cardio, total body strength training, and dynamic core work to challenge you each day.
What are Shaun T's B25 Workouts Like?
B25 combines what we love from T25 with cycling classes using the BODi Bike. Shaun T will focus on cardio and strength workouts with challenging climbs and off-bike weight lifting — along with his signature intense cardio.
Note: We do not have a T25 workout schedule printable for the new BODi block, but you can download one when you sign up for BODi.
If this post helped you, make sure it says Kalee at check out or look up 1001548. :)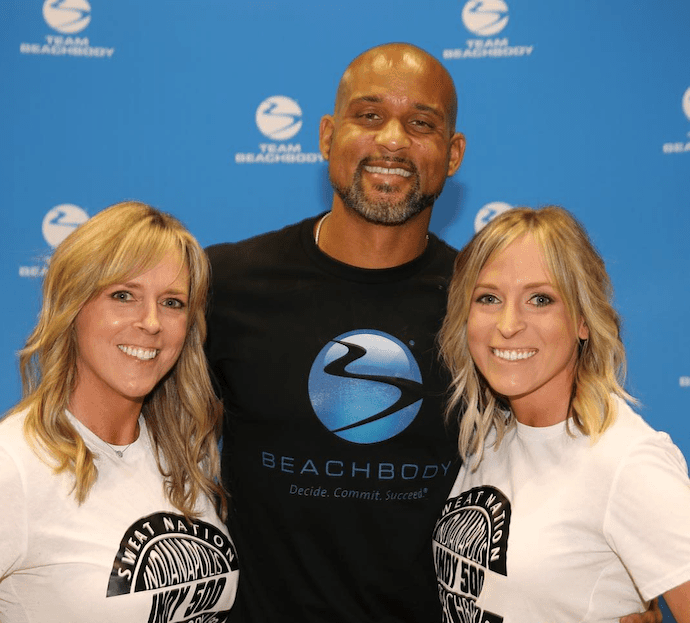 If you don't have a free Beachbody coach, we help you get the best results and cheer you on each step of the way. One of the perks of having us as your coach? Our 21 Day Challenge!
Do you have questions? We'd love to talk about your fitness goals. You can email us at: thegirls@soreyfitness.com. You can learn more about Beachbody Coaching here!
Need this calendars later? Save this post to Pinterest!