Insanity Max 30 Review & Results
This post may contain affiliate links. All opinions shared are my own. As an Amazon Associate I earn from qualifying purchases. Click to view our full disclosure.
INSANITY MAX 30 workouts effectively burn calories and fat while giving you a leaner physique in just 30 minutes a day! The 60 day at home program combines cardio, HIIT, and strength training to get you max results faster than ever!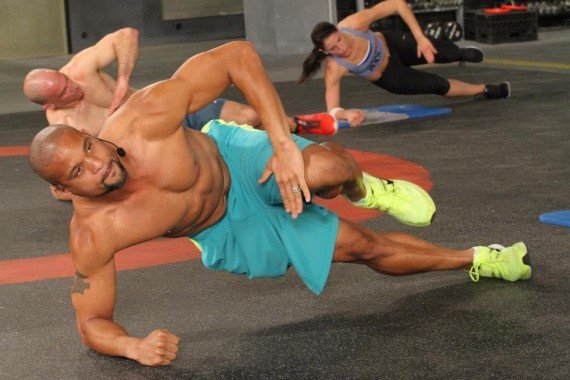 What is Insanity Max 30?
Shaun T's INSANITY MAX: 30 is the craziest 30 minute workout program that will help you into the best shape of your life! The at home program include 12 unique workouts, a calendar, a nutrition guide, and additional bonuses. Plus, it requires no equipment and is available on Beachbody on Demand!
Do the workouts require equipment?
You don't need any equipment! It's a great workout if you travel or don't have a home gym!
What are the workouts like?
You'll workout for 30 minutes 5x a week. There is an additional 2 minute cool down after each workout. The workouts incorporate HIIT or Tabata training to help you burn more fat than traditional cardio. Shaun T expects you to "max out" each day at say 5, 7, 10 minutes and so on. With each workout, you'll get more fit.
Month 1 Workouts:
Cardio Challenge – This is considered your fittest and focuses on cardio endurance. It's a lot of lower body moves to get the heart rate up.
Sweat Intervals – This one felt like I was also toning muscle, but there are only 3 breaks in the whole thing.
Tabata Power – You'll be using your body to strength train. Get ready for plyo exercises, pushups, and some killer tricep and ab moves.
Tabata strength – While you're working your whole body – you feel your chest, triceps, shoulders, and quads kick in!
Friday Fight: Round 1 – Thankfully tomorrow is a recovery workout. This has plyo moves, push-ups, squats, and burpees!
Pulse – You'll be recovering with stretching, planks, and squats.
Month 2 Workouts:
Cardio – You do 3 moves for 30 seconds each with a break after. Power moves will kill you!
Sweat – You'll do exercises for 45 seconds with a 15-second rest. The resistance training is tough on it too.
Power – Hardest workout ever.
Strength – It's 4 rounds of doing a moves 45 seconds with a 15-second break. Expect lower body moves, push-ups, and core moves.
Friday Fight: Round 2 – Again – it's better to let you be surprised, but there are only 2 water breaks.
If you struggle with month 2 too much, go back to month 1 and build up to month 2.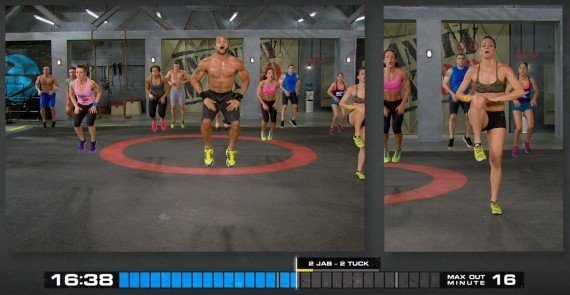 Remember you can modify every single move. This is not a beginners workout, though. If you're looking for results, but you're just getting started try T25 or 21 Day Fix instead. I promise neither program is easy or will let you down.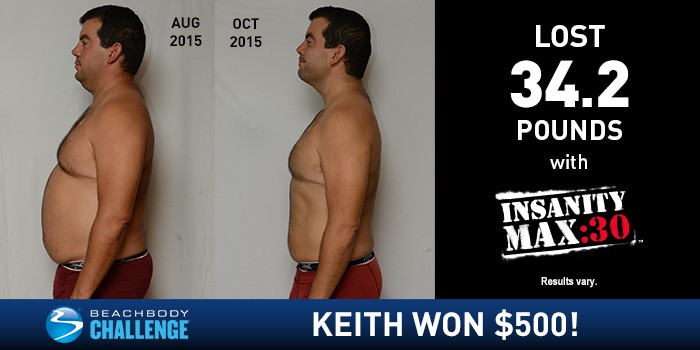 Insanity Max 30 Results
Insanity Max 30 before and after photos will shock anyone! This type of functional fitness gets you leaner and stronger each day. Why? You'll be maxing out everything you have to give to improve your strength, agility, and endurance!
Lauren Plenger lost 15.5 lbs. in 60 days.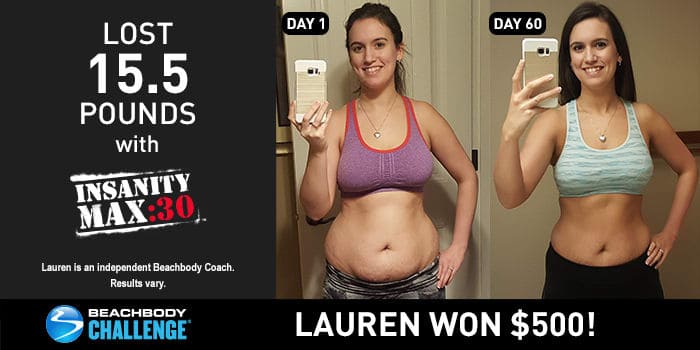 Lauren loved that the program was only 30 minutes. She works full-time and is a mom so 30 minutes fit well with her schedule!
Angie Vargas lost 6 lbs. in 60 days!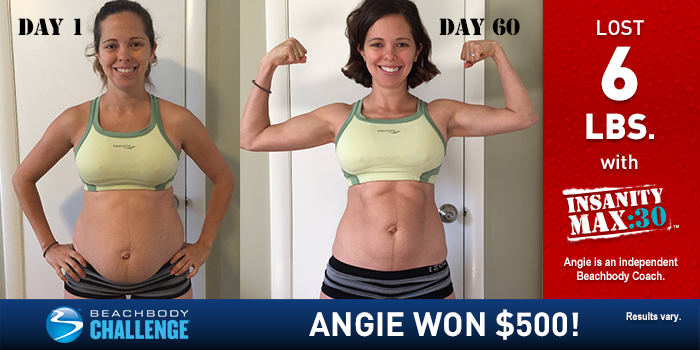 She also loved that the workouts were just 5 days a week giving her time for her two kiddos!
Tiffany lost 11.2 pounds and 4 sizes in just 60 days!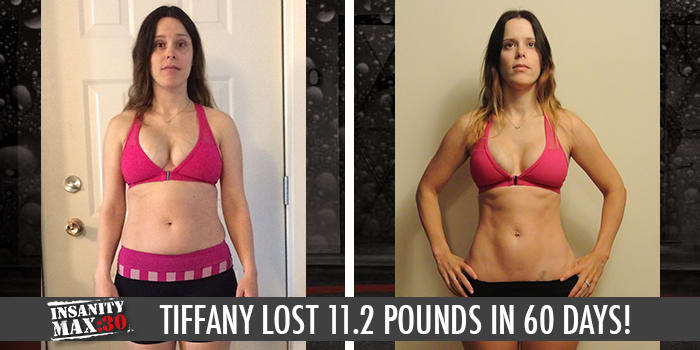 Chris lost 34 lbs. in 60 days!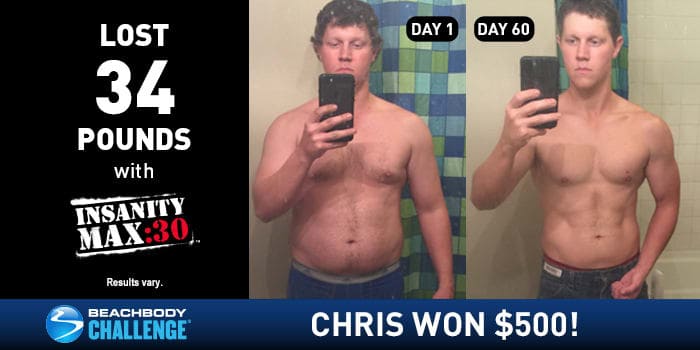 Besides the physical results, this program helped Chris have more energy to keep up with his 3 children!
Is it good for weight loss?
Absolutely! It's good for weight loss because it's a ton of cardio. It's designed to help you lose weight and burn body fat compared to building muscle.
While you'll burn a ton of calories working out, your nutrition will play the biggest role in your weight loss. We recommend the 2B Mindset or Ultimate Portion Fix eating plan.
How hard are the workouts?
This is an advanced workout, and it will definitely challenge you. The whole concept of the workout is to "max out" by going as hard as you can for as long as you can. Shaun T calls this "Maxing Out," and each day you write down how long you went without taking a break.
What is included with Insanity Max 30?
The program is available exclusively on Beachbody on Demand now! You can choose a challenge pack with supplements or just to stream the workouts.
If you choose the Insanity Max 30 Challenge Pack, you'll receive:
Access to all of the Insanity Max 30 workouts (including deluxe workouts!)
Full access to 40+ additional Beachbody programs
A nutrition guide including an "eating on the go" plan
A workout calendar to track your progress
30 day supply of Shakeology or workout supplements
You'll also get my mom and me as your accountability coaches!!
How much does it cost?
If you choose the challenge pac k option, it's $160 for Challenge Pack that includes everything listed above. You can choose the Shakeology Pack or the Workout Supplement pack, and they're the same price.
You can also choose to just stream your workouts with a Beachbody on Demand membership. It's $39.95 a quarter or $99 for the year.
Which is better Insanity or Insanity Max 30?
Out of the two Shaun T workouts, I personally like Insanity MAX 30 the best. I loved the modifier in it, and the 30 minute workouts were so convenient!
With that said, my husband really preferred the original and lost 40 lbs with it compared to around 10 lbs with this program. So if you have an hour to commit and are an advanced exerciser, you may enjoy Insanity more. You can view his Insanity Results here.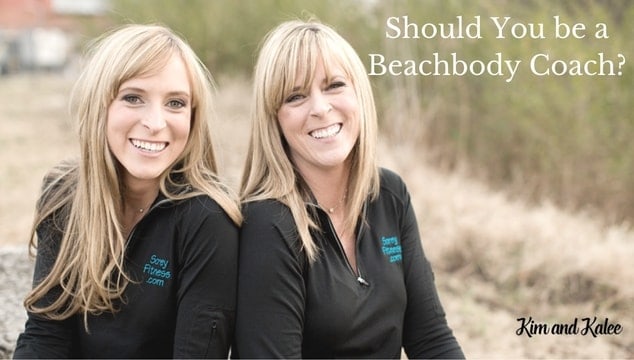 Beachbody Coaching
You're tackling a really hard workout – why not take on an extra income opportunity with it? You can save 25% off all of your orders and make 25% commission as a coach. We actually are full-time coaches now, and we'd love to help you start your own online business helping others.
To Recap
Insanity Max 30 is an effective, total-body workout program for advanced exercisers. It's designed to help you burn fat, increase your endurance and strength, and increase muscle definition without needing any equipment! It also includes a nutrition guide, an accountability coach, and access other workouts on Beachbody on Demand.
Order your Shakeology Pack, Workout Supplement pack, or Beachbody on Demand membership to get started!