Honest Transform 20 Review (2023) Shaun T's Beachbody Workout
This post may contain affiliate links. All opinions shared are my own. As an Amazon Associate I earn from qualifying purchases. Click to view our full disclosure.
Super Trainer Shaun T's new program, Transform 20, is a total body workout! This nonstop 20-minute workout is a game changer and a great way to lose weight and tone up at home in less time than ever before! For our Transform 20 review we tried the step program that combines old-school step aerobics and resistance training into the daily workouts!

If you've not tried it yet, there is a Transform 20 Sample workout below, or it's also lot like Insanity Max 30 without breaks. While it's challenging, you don't have to be super coordinated in order to do it, and you can choose to use the exercise step or not.
What type of workout is Transform 20?
Transform 20 is a fast-paced extreme Beachbody program created by Super Trainer Shaun T. The 6-week program includes a different, extreme 20 minute workout each day with no breaks to help you get to your fitness goals! T20 offers a total body transformation! It uses an aerobic step and also has strength workouts included.
Transform 20 is perfect for someone:
looking for an intense workout that's quick
that loves Shaun T's workouts
wants to tone up and get shredded
anyone looking for a no-excuses workout
that loves full-body workouts using no weights (just body weight!)
How hard are the Transform 20 workouts?
I'm not going to lie – these workouts are killer. There is a lot of jumping and endurance-style moves that will have you soaked in sweat in under half an hour. The moves are pretty easy to learn, but the pace he has you do them is what makes it so hard. There are no breaks, and as soon as you think you've got your pace down he adds in a "Transformer."
What's a Transformer?
It's a single move that Shaun T wants to you go all-out on for 1 minute. He'll have you do 3 "Transformers" in each workout. Ab crunches on your step or mountain climbers are two examples of Transformers. The good thing is that by doing this hard work even for a short time, you'll see results quickly!
Can Beginners Do Transform 20?
Yes, beginners can try to do these workouts by following the modifier in every workout. Keep in mind the workout is intense though. Beginners should always go at their own pace and not worry about keeping up with the advanced exercisers in the workout.
Do you need weights for Transform 20?
You will want to have free weights for this exercise program.
Equipment List:

Can you use any step for Transform 20?
You can choose to purchase a step like Shaun T's, use a gym-style step (left side of the picture), or no step at all. Shaun T has said it doesn't matter what type of step you use; however, we've found that most people liked using the Beachbody step or one with the same dimensions.
The Transform 20 step is 11″L x 27″W x 4″H. If the Amazon step is sold out, here are a couple more step options available on Amazon – 1 Step and 2 Step. All 3 are very similar to the Beachbody one. You can also order the Beachbody step here.
You can also use a step riser if you want to intensify the workouts.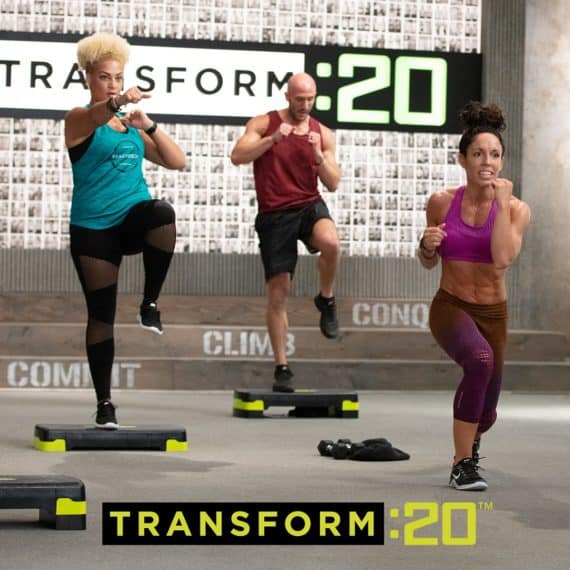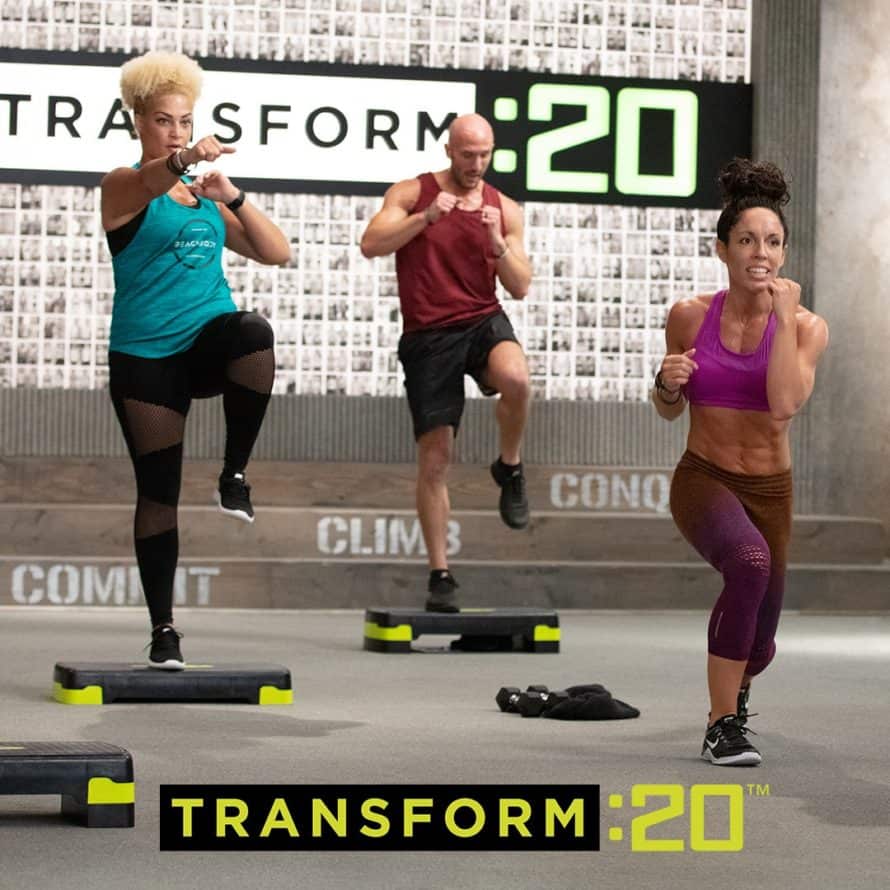 Transform 20 Cast & Music Details
There are 5 women and 4 men in each of the workouts, and you see the same cast members each day. I have to admit – the music in the program is pretty annoying! It's very robotic, and Shaun T does these weird voice-overs in each "song." The voice-overs made it hard to hear his cueing as well.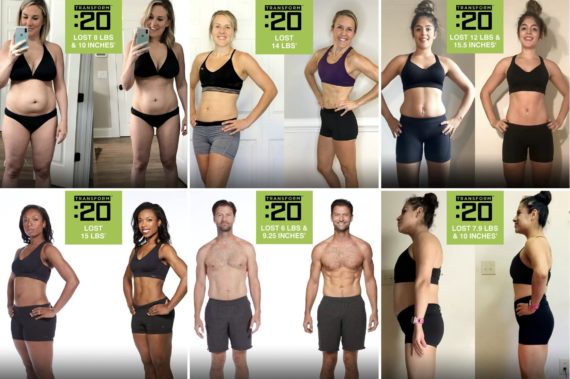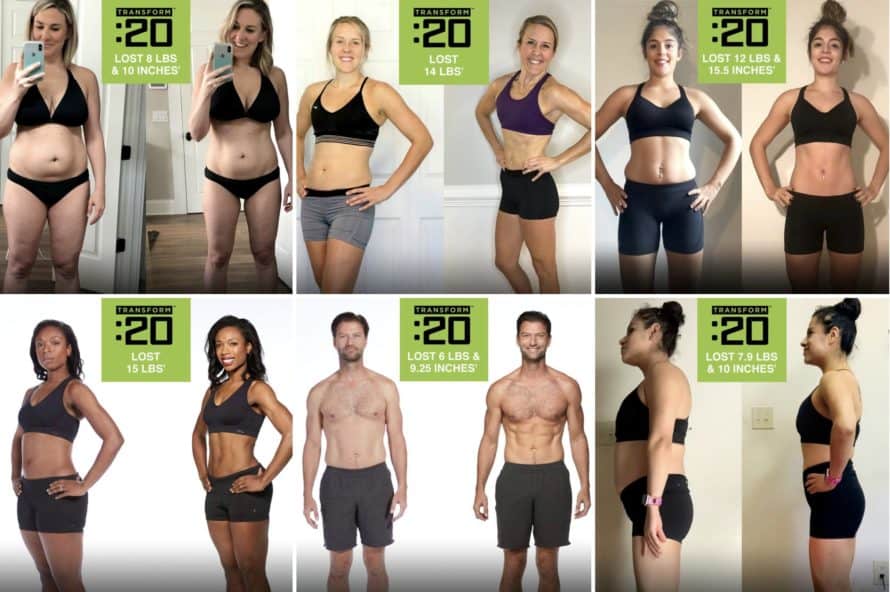 Transform 20 Results
If you're looking for a program to help you lean out, this is definitely a great choice because it's quick but effective. Each of these before and after photos are from the test group and after just 1 round of the program. They also did not use the bonus strength workouts; however, they are still a great choice to incorporate.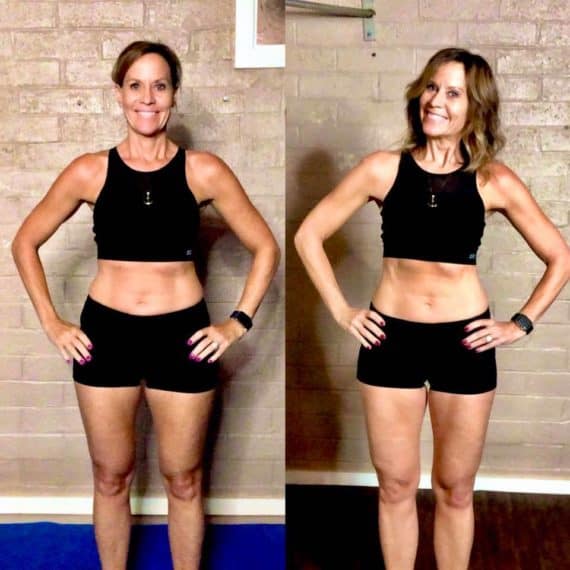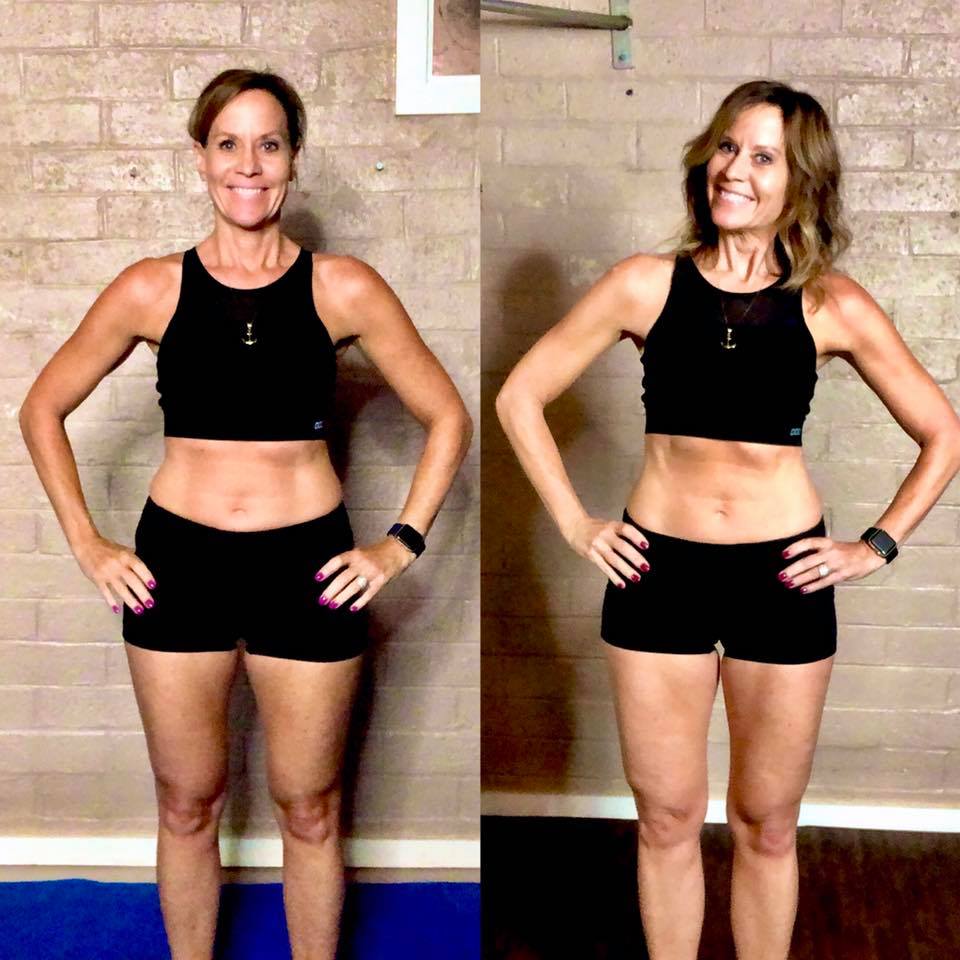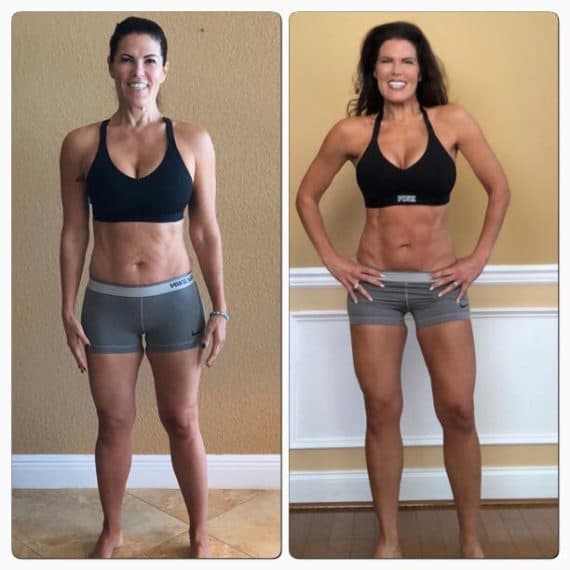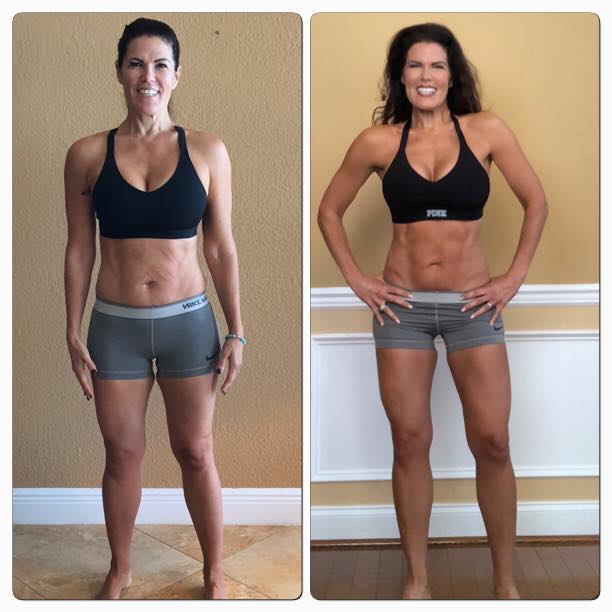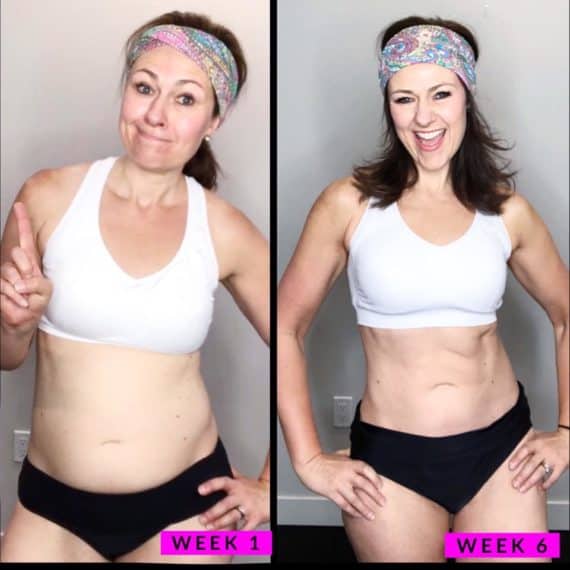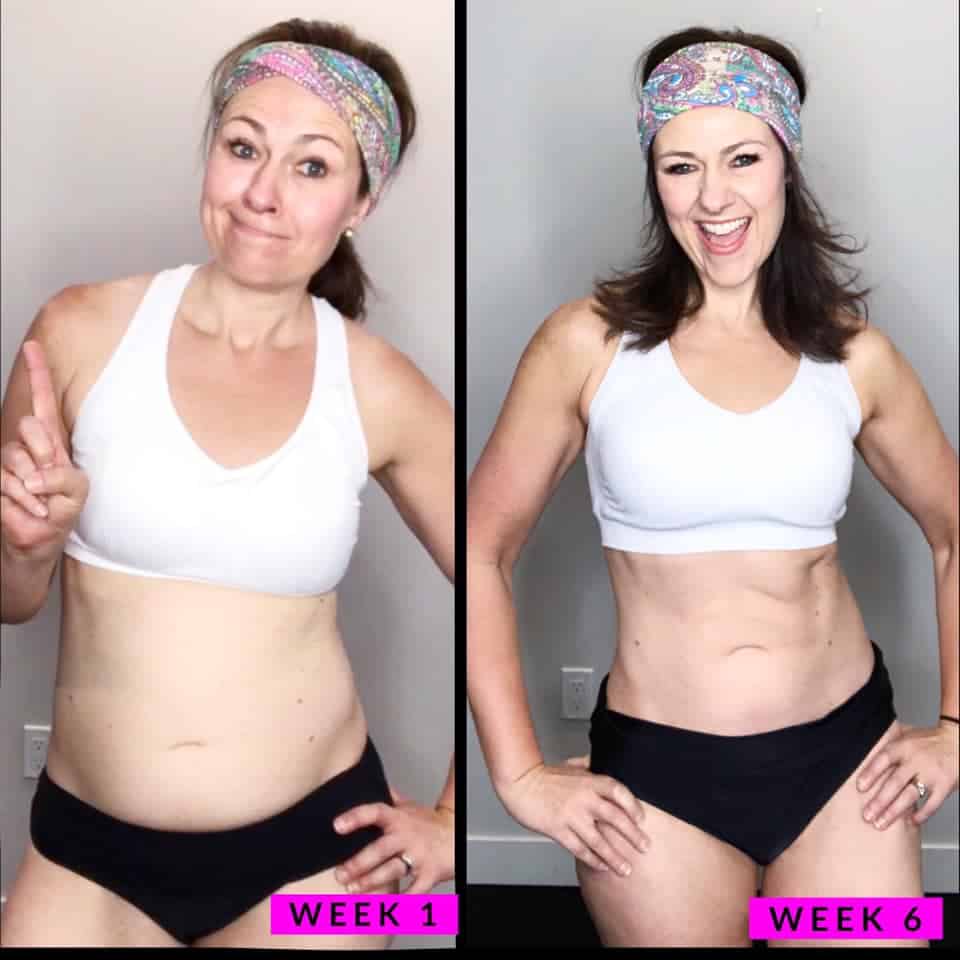 How to Get Maximum Results From the Exercise Program
Along with the intense workouts, it's important to incorporate a meal planning. Beachbody offers 2 in-depth nutrition programs, 2B Mindset and Ultimate Portion Fix (containers).
The other thing you'll want to do to see maximum results is to talk to your free coach (that's us!) so you can be part of our online community of amazing women.
What Workout Supplements are Recommended For This I
ntense Fitness Program?
We use and recommend the Energize and Recover Beachbody Performance Supplements, as well as, daily Shakeology for the best results. Energize helps you push through each new workout and Recover helps with muscle soreness the next day.
Transform 20 Workouts
The workouts are exclusive to Beachbody on Demand. Just like 80 Day Obsession and LIIFT4, this workout program was filmed in real time and each workout is unique!!
It's a 6-week program broken down into three 2-week phases. The 3 phases are called Commit, Climb, & Conquer. You'll workout 6 days a week for 20 minutes a day.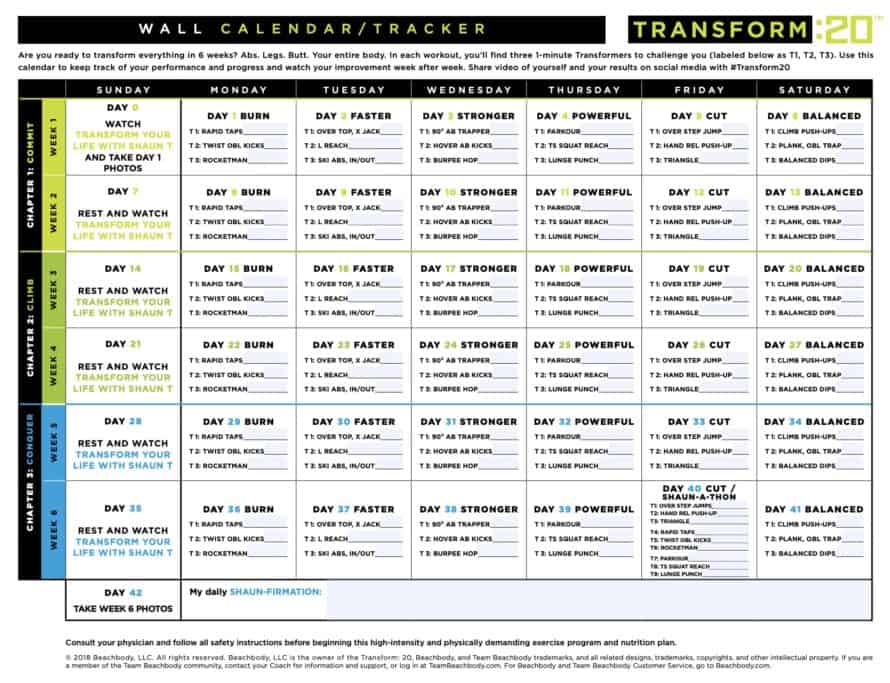 Transform 20 Calendar
While every workout is filmed live and doesn't repeat, the type of workout is similar each week. The 6-week program consists of 6 types of step workouts that you'll do for 6 weeks. There are also additional strength workouts you can mix in. In the last week of the program, you'll do a SHAUN-A-THON which is an epic conclusion to an intense program!
6 Types of Workouts
Burn – Get ready to blast fat and rev your metabolism with this cardio workout!
Faster – This fast-paced aerobic workout helps you torch fat and increase your endurance.
Stronger – This is a slower paced strength workout that helps you tone your entire body!
Powerful – Get ready for plyometrics and strength moves to build muscle and power. There is also a low-impact option for each plyo move.
Cut – HIIT training with muscle burning isometric holds and pulses to get you shredded!
Balanced – An active recovery workout designed to help your flexibility, core and overall performance.
Bonus Workouts
Shaun T also included upper body moves, core balance work, and lower body workouts in the bonus section!
10 Min Abs
10 Min Best Butt
10 Min Cardio
10 Min Recovery
15 Min Abs
20 Min Abs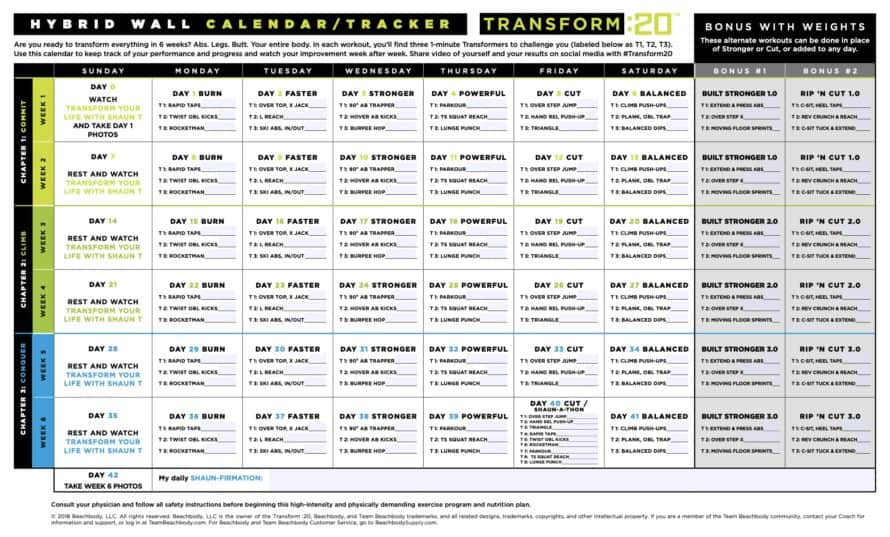 Bonus Strength Workout Hybrid
Shaun T also included strength workouts to mix in during your first round, or you can always make a hybrid out of them. All of these bonus workouts are included with BOD for no additional fee! You can sub them into the original workout calendar as seen above or add them to another workout for a greater challenge!
Strength Workouts
Built Stronger 1.0
Built Stronger 2.0
Built Stronger 3.0
Cardio with Weights
Rip 'N Cut 1.0
Rip 'N Cut 2.0
Rip 'N Cut 3.0
You may also like our LIIFT4 Hybrid!
Are the workouts low impact?
The workout isn't being listed as a low-impact workout. It can be modified to be low-impact though.
How many calories do you burn in Transform 20?
I burned between 160-200 calories per workout. Your calorie burn will vary based on your heart rate and physical size. The most accurate way to track your calories burned is with a heart rate monitor or fitness watch.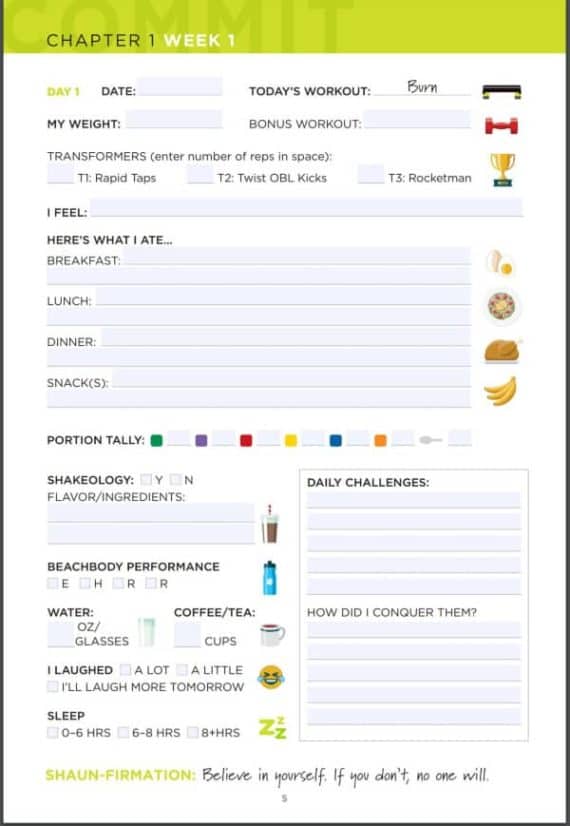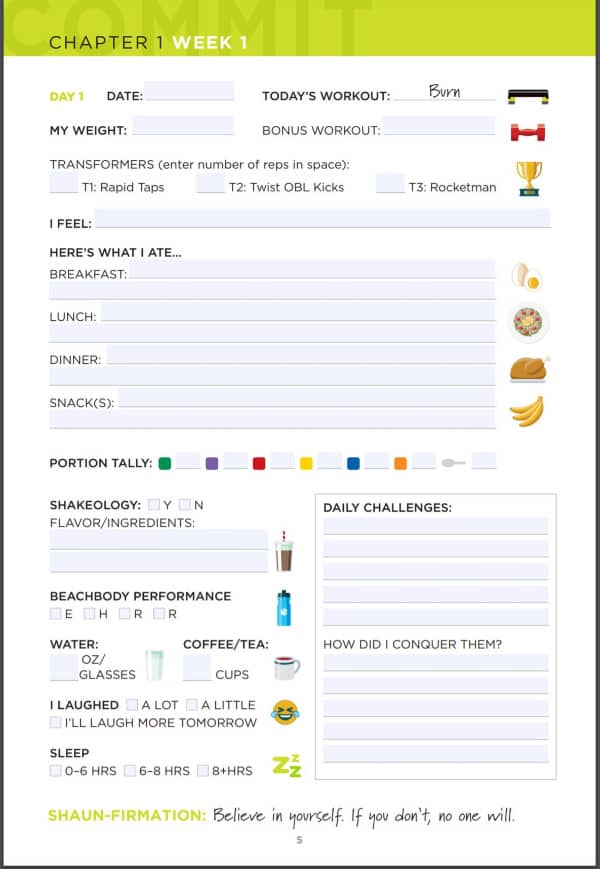 Transform 20 Meal Plan
The nutrition plan uses the portion control containers and the Beachbody Performance line. You'll be eating approximately 30% protein, 40% carbs and 30% healthy fats. Shaun T doesn't include a cheat day with this program, but he does talk about how nothing is completely off limits.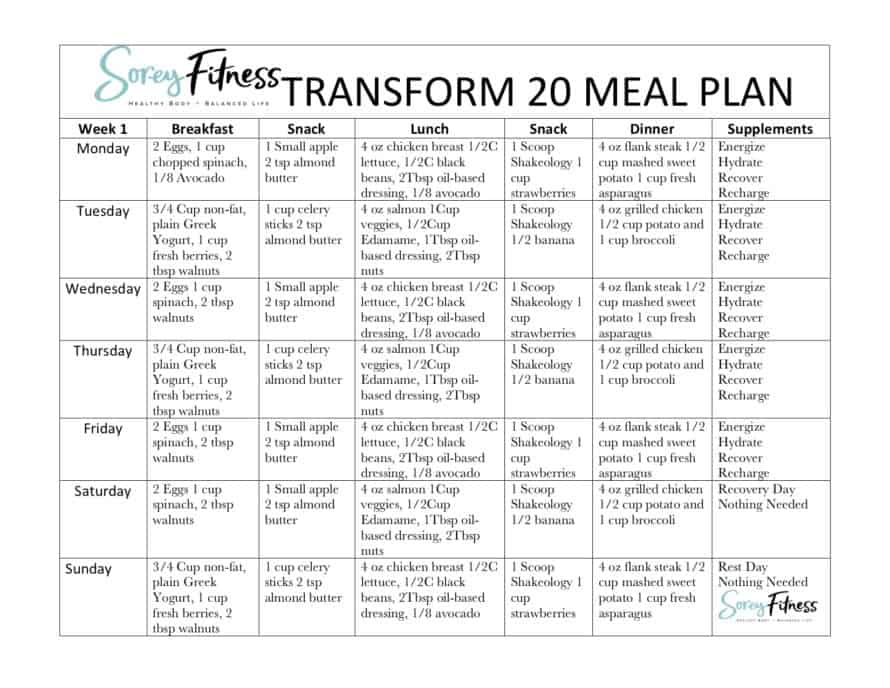 You can also choose to follow the 2B Mindset. We had several friends that were breastfeeding, and they found the 2B Mindset to work better for them.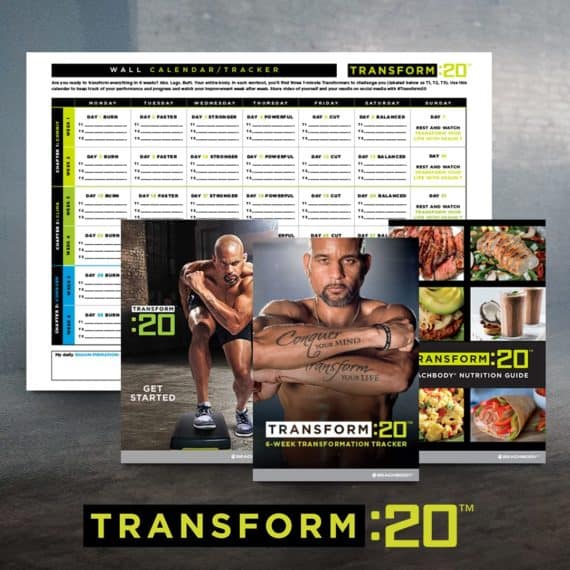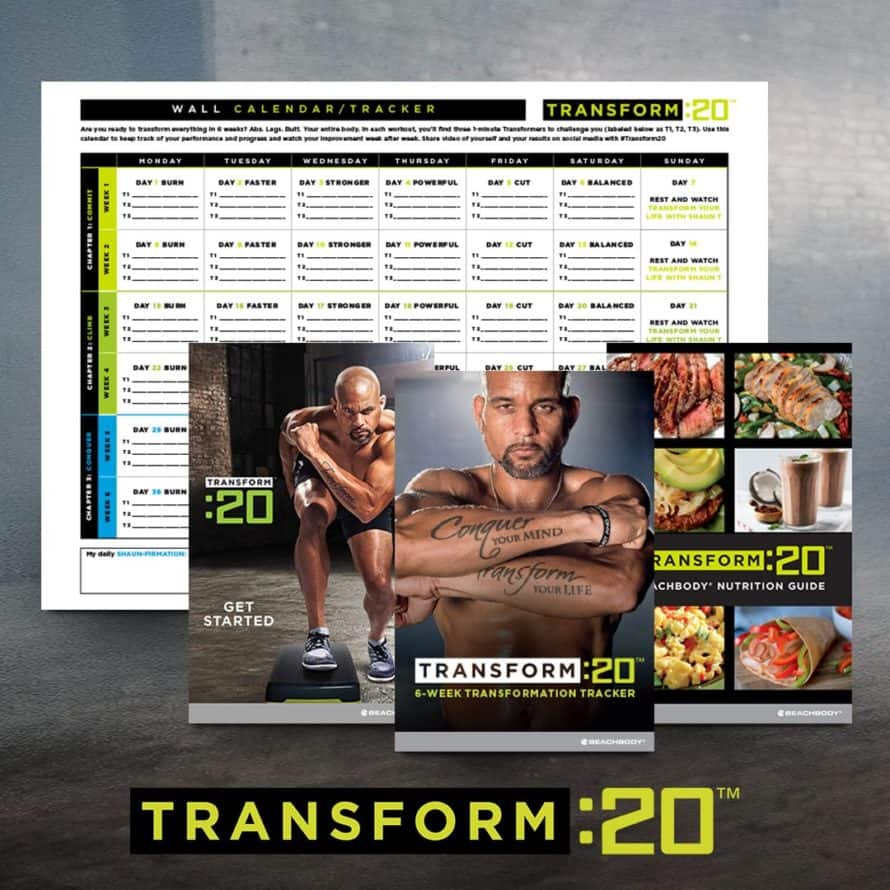 What's included with Transform 20? How much is it?
The program materials include:
2 prep workouts
36 unique workouts
6 bonus weighted workouts
6-week transformation tracker
Basic Beachbody Nutrition Guide
2 wall calendars (samples seen above)
You can also choose an option that includes the workout step, Shakeology, or workout supplements.
If you have a Beachbody on Demand membership, you can try the workouts for no additional cost!! You'll want a T20 completion pack if you want to add on the step and supplements.
If you don't have a Beachbody on Demand membership yet, you can choose to get just the membership or a challenge pack. Below we'll outline the pricing of all of your options!
There are different options to choose from. With the pack options, you'll be able to choose convenient single serving packets or a monthly serving tub.
Transform 20 Ordering Options:
Does Transform 20 come in DVDs?
No, this workout is only on Beachbody on Demand. Since the workouts are all unique, it wasn't really feasible to do them on DVD. It also seems like Beachbody is moving away from DVDs as a whole.
Luckily, streaming is pretty easy to use! You can even stream to your TV through a streaming device. With your streaming membership, you get access to 700+ of workouts and their nutrition guides. You can start a free trial now! After the 14 day trial, it'll renew unless you cancel. It's $59.85 a quarter (about $20 a month) until you cancel. You can also upgrade your membership to annual at any time. Annual membership is $99 a year and can also be cancel at anytime.
Try A Transform 20 Sample Workout
Still not sure this workout is for you? Try a sample workout with Shaun T now!
Should You Be a Beachbody Coach?
We started Beachbody Coaching in 2011, and it's been life-changing for us! Coaching has helped us physically and financially*. It offers us support and friendships we never would have made otherwise, and we've also met Shaun T a few times!! We're also happy to help with any questions, and you're welcome to join our online challenge group! Send us a message at thegirls@soreyfitness.com. We're happy to help and are an Elite Beachbody Team.
*Beachbody does not guarantee any level of success or income from the Team Beachbody Coach Opportunity. Each Coach's income depends on his or her own efforts, diligence, and skill. See our Statement of Independent Coach Earnings located at "Statement of Independent Coach Earning" for the most recent information on our Coaches' actual incomes.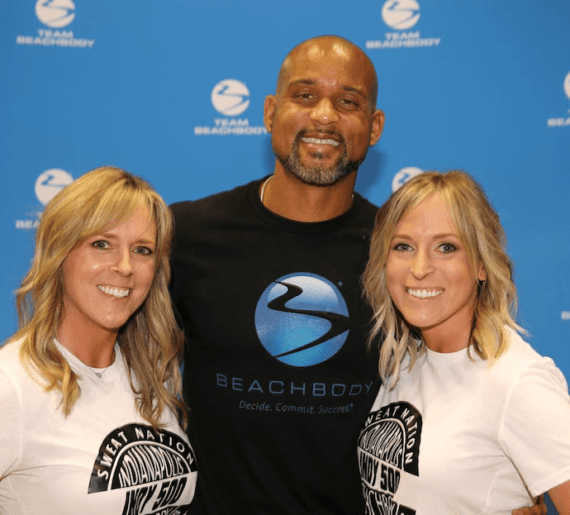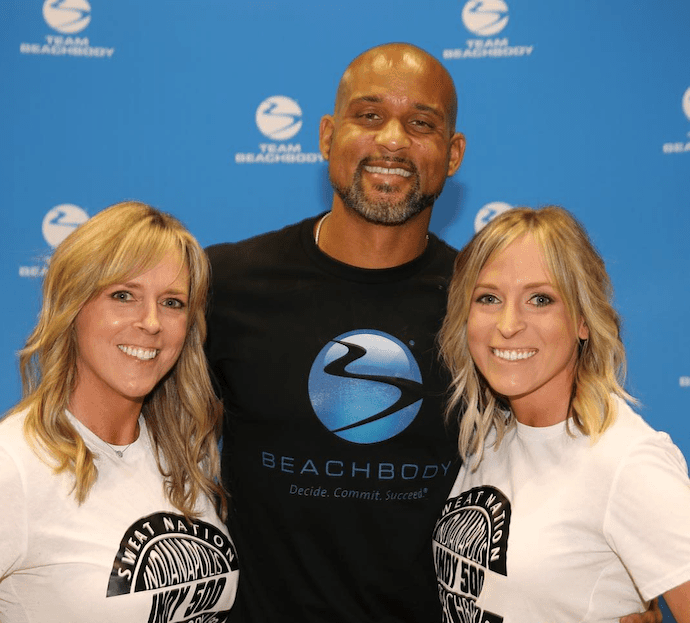 Shaun T's Transform 20 Recap
People lose 3 to 7 lbs in the first week
Uses a workout step (can be bought with it or on its own)
Modifier Included
20 Minutes a day
6 workouts per week
It's a 6 week program
Workouts include three 60 second drills to track your progress
It contains no repeating workouts
No DVD option
If this is your first time doing Shaun T's home workouts, he's an amazing personal trainer, and you can stream his other workouts (like Hip Hop Abs, Let's Get Up!, Insane Focus, Focus T25,) with your membership as well!
You may also like our LIIFT4 T20 Hybrid, 21 Day Fix Extreme or Body Beast after completing this program!
Need help? No problem! Just Email Us at thegirls@soreyfitness.com or reach out to us using the form below as well! We'd love to hear from you!