Shaun T says the Insanity workout program crams in a year's worth of results in 60 days! I didn't believe until my husband dropped 40lbs before the 8 weeks were up! We'll look at: why the Insanity workouts work, what the calendar looks like, and how you can try it too (for free!).
(Need the calendar? Scroll down to the bottom)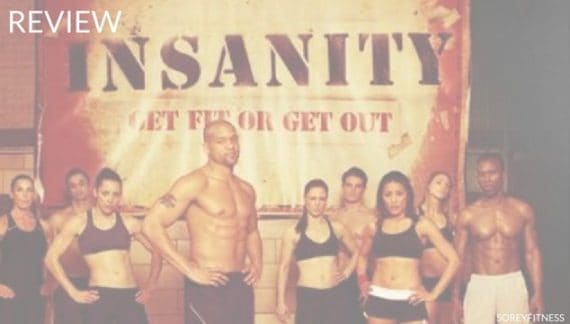 What is Insanity Workout?
The workout program is based on Max Interval Training. This just means you're working out as hard as you can for 3 to 5 minutes, and then you get a short break after.
The reason this high-intensity interval training (HIIT) works so well is that it forces your body to adapt over time. It's also been shown HIIT workouts burn up to 9x as much fat as traditional cardio.
What about strength training?
Shaun T mixes in total body resistance moves to leave your muscles burning and toned up by the end!
Do you need dumbbells or anything?
Nope! The workouts do not require a gym or any equipment. You literally can do this workout anywhere.
Now you don't even need the DVDs! You can stream the workouts and download the meal plan on Beachbody on Demand! (The DVDs are still around though)
Preview:
Who Should Do Insanity Workouts?
It's an advanced workout so you shouldn't just jump into it because of the results others have seen. You could definitely injure yourself if you're not careful.
There is NO modifier offered.
People that have been working out for awhile that want to up their endurance, agility, and strength should try it!
It's an extreme workout that will leave you challenged.
It's also a great choice if you're focused on muscle definition versus muscle mass. For mass check out Body Beast!
You do need 60 minutes in month 2.
That's a lot of time compared to other popular programs. If you need a shorter workout but the results people see have you sold on Insanity check out Insanity MAX 30.
MAX 30 is tough, but it's 30 minutes a day versus 45-60 and just 5 days a week. You'll still see amazing results; I'd at least check out both and see what works best for your schedule.

Insanity Calendar
Download Your Insanity Calendar Here
The Insanity schedule is 8 weeks long and broken down into 2 phases. We wanted to take this breakdown of the calendar a bit further though so you know what to expect.
Each phase includes a rest day and a fit test.
Here's the deal:
Day 1 you'll do a fit test. This fit test is your starting point, and you'll do it every 2 weeks on Monday.
Why a fit a test?
I loved having this as a benchmark to mark my progress. The scale and measurements are just 2 ways to track your results. The fit test is the best way to see improvements in strength and endurance.
The Insanity Schedule
You'll workout 6 days a week with a rest day on Sunday. You also get a cardio recovery day on Thursdays. This isn't a walk in the park workout, but it is less cardio-based than the others. You'll focus on strength, flexibility, and balance.
Month 1: 30-45 minutes
The first month is intense HIIT training, and the workouts are 35-40 minutes long. This is really all I needed (I honestly love Insanity Max 30 instead because it's HARD for 30 minutes and that's it).
Month 2: 60 minutes+
The second month just goes up a notch. The workouts are similar to month 1, but they are longer at approximately 60 minutes each day. I found my results to be just as good with month 1's workouts, and the hour-long exercises were just too much for me long term.
How long are Insanity workouts?
Month 1's Workouts
Fit Test (30 Minutes)
Plyometric Circuit (42 Minutes) – killer leg workout
Insanity Cardio Power and Resistance (40 Minutes)
Pure Cardio Circuit  & Cardio Abs (55 Minutes)
Cardio Recovery
A Recovery Workout: Insanity Core Cardio Balance (37 Minutes)
Month 2's Workouts
Insanity Max Interval Circuit (56 minutes) + Fit Test
Max Interval Plyo (55 minutes)
Insanity Max Cardio Conditioning / Max Insanity Conditioning + Abs (65 minutes)
Max Recovery (47 minutes)

Insanity Results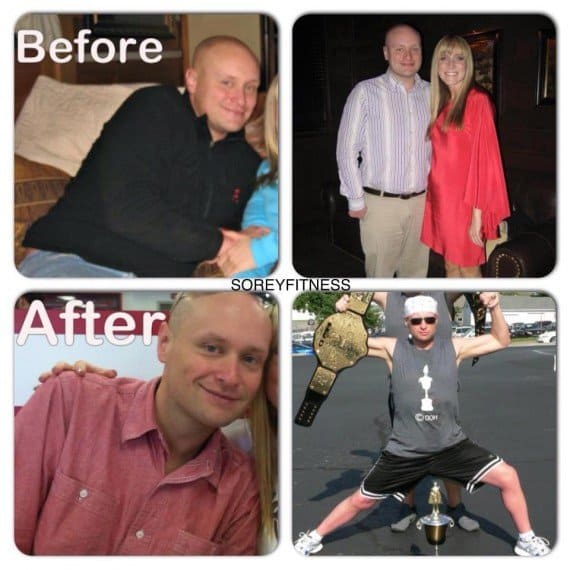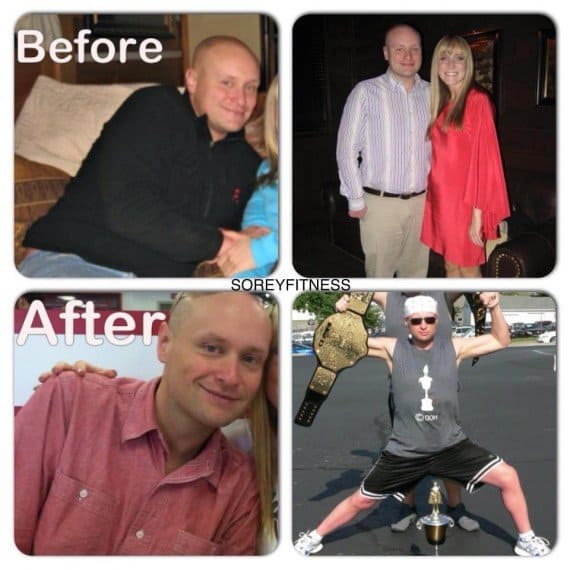 Jake's Insanity workout results blew me away.  In just 2 months, he lost over 40lbs!
Then again, you can burn up to 1,000 calories in an hour doing the workout. I should have known he would transform his body in 2 months.
He followed the Whole 30 versus the Insanity meal plan; however, I think anyone can see results with a healthy diet.
We've also had so many clients see amazing results with this workout in our 21 Day Challenge. You just have to make sure you're eating enough to make up for those hard workouts!
Women See Insanity Results Too
Erica hated to look at herself in the mirror and said enough is enough and started the program. She's now lost 20 inches overall, and she can fit into clothes she hasn't worn since before getting pregnant with her son.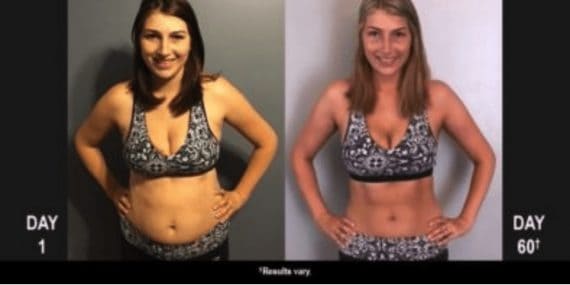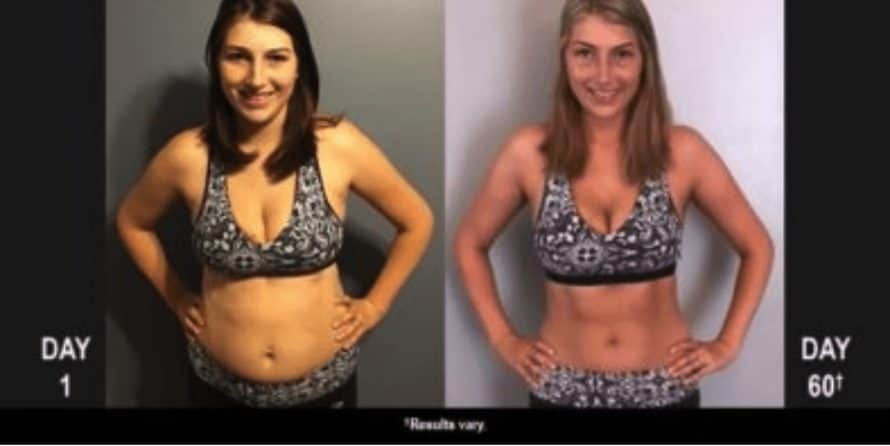 Stream Every Insanity Workout Online
You can get each Insanity Workout Free for 2 weeks with Beachbody on Demand!
Beachbody on Demand is like Netflix for workouts! With a membership, you can stream over 700 workouts from Beachbody including all of Shaun T's workout programs! You'll also receive access to any new programs automatically for no additional charge.
After the 2-weeks it's $39.95 per quarter, and you can cancel at any time (including during the free trial!).
So not only can you try Insanity in those 2 free weeks, but you'll also receive access to:
T25
Shaun Week
Cize
Hip Hop Abs
P90X3
21 Day FIX and 100s of others!
Learn more about Beachbody on Demand here.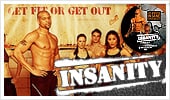 Ordering Insanity on DVD
You can also always get the DVDs instead with printable nutrition plans and calendars.
With the DVD option you'll receive:
10 Workouts (listed above)
Full Nutrition Guide
Online Support
Insanity Calendar
BONUS Fast & Furious Workout
Challenge Pack Option
The challenge pack also includes 30 days to stream tons of workouts online (which I love), a club membership with a meal planner, and 30 days of Shakeology.
I recommend Shakeology as your breakfast or snack during the Insanity program to help replenish your bodies nutrition and help with your energy during these extreme workouts. You can read why we love Shakeology here.
Both options include a 30-day money-back guarantee and t-shirt when you submit your 60-day insanity results after completing your workout results.
You also receive personal coaching from us if you sign up using either of the links below. Feel free to email us at thegirls@soreyfitness.com to talk more about your goals and help you with any interval circuit workout.
How many calories do you burn in an Insanity workout?
The advertisements will say you can burn up to 1000 calories in an Insanity workout. This number to me is too high. You may be able to in a month 2 workout if you're the right weight and everything is perfect – but the "up to" part of the statement is more accurate.
HIIT training burns about 160 calories every 10 minutes for an average weight adult (150lbs or so). So Month 1's estimate might be 500-640, and Month 2 960 calories on the HIIT days.
Keep in mind you'll do intense cardio some days and also have recovery days which will be a smaller calorie burn.
Intense cardio workouts can burn a little over 300 calories, and recovery days will be a little shy of that at around 250 calories.
Is Insanity workout good for weight loss?
Totally! With the crazy amount of calories you burn in each Insanity workout, it's a great program for weight loss IF you are aiming to lose the last 5-15lbs.
If you're new to exercise, I would recommend the 21 Day Fix or T25 for the best weight loss results.
The reason for the variation is that Insanity workouts are advanced and require you to eat a lot to fuel your body. This is a hard concept for someone just getting into working out.
Both the 21 Day Fix or T2 meal plan is more realistic for someone looking for weight loss. Plus, the workouts are 25-30 minutes long and still so effective (check out the results for 21 Day Fix or T25!)
Plus both workouts offer a modifier and teach you proper form to each move.
Insanity's Nutrition Plan
You will still see great results especially if you're following the program's meal plan or the Portion Fix diet. I actually use the Portion Fix diet with every workout now!
A basic rule is 40% protein 40% carbs and 20% healthy fats. You'll also want to stick to whole foods for maximum energy. That means skipping fast and processed foods. If it's in a box, it's not a whole food.
Since you're training in intervals, your calorie burn with this workout will be pretty darn high – especially since it's so intense! If you need help figuring out your insanity calories check out my calorie formula here or Google calorie calculators.
Insanity Workout Review
Other Quick Things to Know
You don't need fancy equipment or weights.
If you have bad knees or don't like high-impact workouts, this max workout probably isn't for you. A great low-impact option is the 21 Day Fix.
If you've never worked out before – this probably isn't for you.
To further my point above, proper form is not really taught in this workout. Shaun T will point out certain corrections, but the program as a whole doesn't go over form like a personal trainer would in my opinion. Hammer and Chisel, T25 and the 21 Day Fix all teach proper form better.
You'll also be able to track how much more fit you are with the fit test.
Expect to lose inches and gain muscle definition versus muscle mass.
Sleep is as important as your nutrition and fitness.
The Insanity Workouts Cheat Sheet
The workouts are based on interval max training which has been shown to burn up to 9x more fat than traditional cardio. You'll go all out then recover with a 30 second recovery interval.
On top of Insanity max interval training, Shaun T mixes in compound moves – which means you're basically working your whole body in one move.  This keeps your heart rate high and all of your muscles engaged.
You'll workout 6 days a week on the program with Sundays off. Thursday is your recovery day, but don't let that fool you. The squats in it are killer! Don't skip it! It has great stretches and strength moves to maximize your results and also give you a well-rounded approach to your fitness level.
So much of the max workouts are mental as well. You have to listen to your body and know how far you push yourself safely. I love my heart rate monitor to make sure I'm not going TOO crazy.
There is a recovery week in between month 1 and 2. Some people are tempted to skip it after doing intense extreme workouts for 4 weeks. Don't fall into this trap though! Your body needs that time to recover and prepare for the next 30-day calendar. People often see weight drop off during this recovery week because your body is finally settling in and knows these interval workouts are going to make them stronger and not kill you.
Need something a little less INSANE? Check out Beachbody T25
Ready for your own Insanity before and after?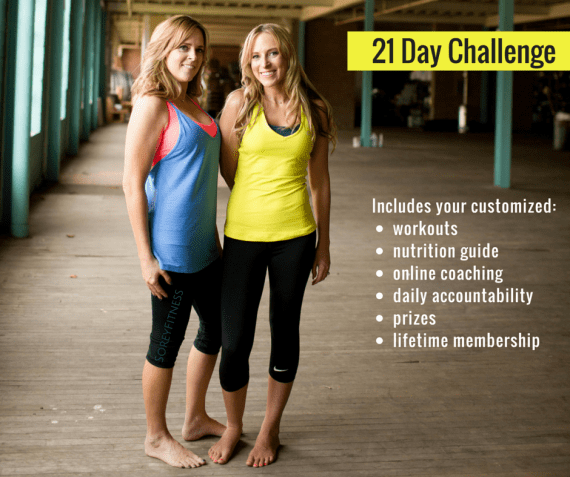 Do you own Insanity and just not made it through it yet? Are you wanting to try it the first time? Either way – we'd love to have you join our 21 Day Challenge we run every month. Just apply here or email us at thegirls@soreyfitness.com
5 Tips For Getting Max Insanity Results
1. Follow a healthy diet to see results – Please know even with insane, extreme workouts you will NOT see the results shown in the videos or pictures if you don't follow the meal plan.
2.  Commit to it – Some days you will be sore, tired, or busy. If you're wanting to change your body in just 60 days, it's going to take all 60 of them working hard and committing to your workouts and nutrition.
3. Plan Your Workouts – You need to know the length of each workout and the calendar. For example, Wednesday's you'll be doing a shorter workout but adding in abs.
4. Prep, prep, prep! The program is hard enough, but if you don't have a plan it may feel impossible. Plan out your workouts. Meal Prep. Join a group like our 21 Day Challenge
5.  Know That It Won't be Easy – You're asking for a major overhaul if you're attempting insanity. The program is designed to get you the best body of your life; if it was easy everyone would do it.
If you commit the workout results will speak for themselves.