Insanity Asylum Review [Calendar, Results, Equipment & Workout Tips]
This post may contain affiliate links. All opinions shared are my own. As an Amazon Associate I earn from qualifying purchases. Click to view our full disclosure.
Our Insanity Asylum review looks at whether you can lose weight and tone it up in just 30 days. We provide the Insanity Asylum calendar, show results and give workout tips.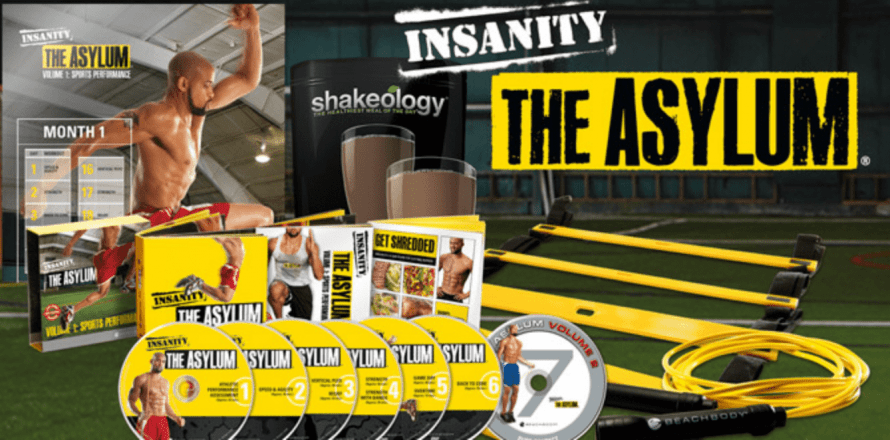 Who should do Insanity Asylum Vol. 1?
An advanced exerciser who:
wants results fast.
enjoys compound moves (2 moves in 1).
is looking to improve their coordination and agility.
wants more power and speed.
finished Insanity or Insanity Max 30.
wants to get leaner and ripped.
needs to be challenged to their max.
If you're not fully dedicated, are a beginner or have heart or joint issues – this workout is NOT for you. We would suggest looking at T25.
Insanity Asylum Calendar

Insanity Asylum Results
Insanity Asylum Before and After
Kristin's Insanity Asylum Results: Lost 23 pounds and 20 inches in 60 days!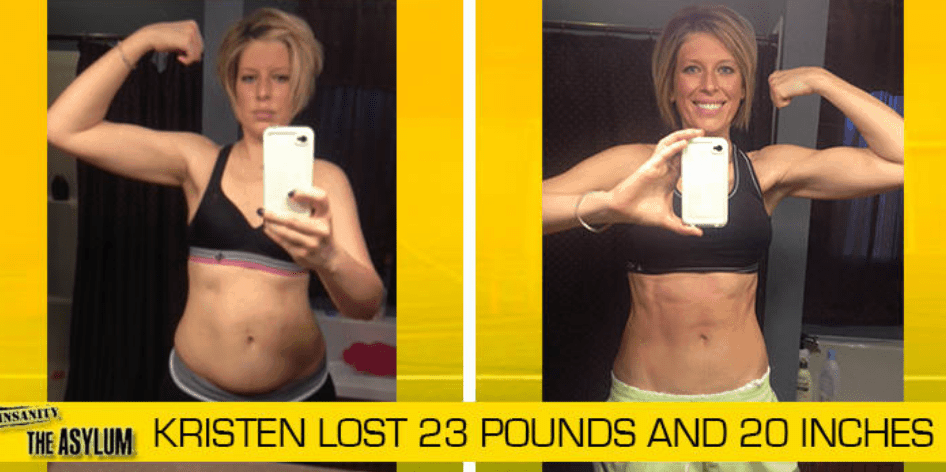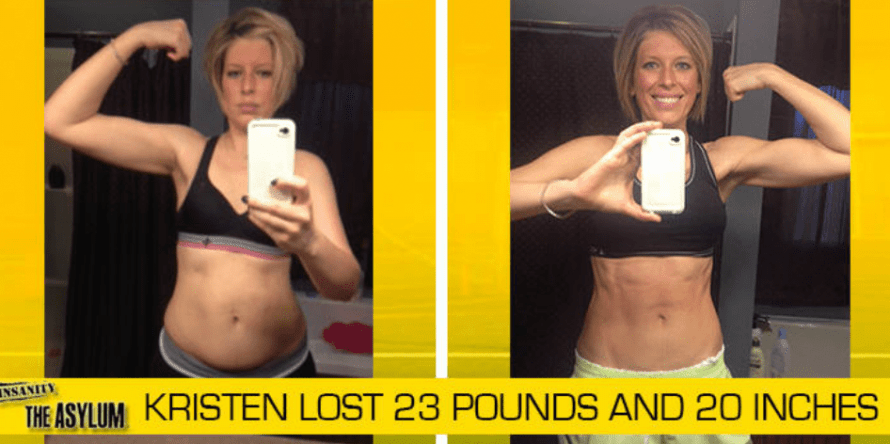 Emily didn't lose a ton of weight, but her Insanity Asylum before and after is amazing!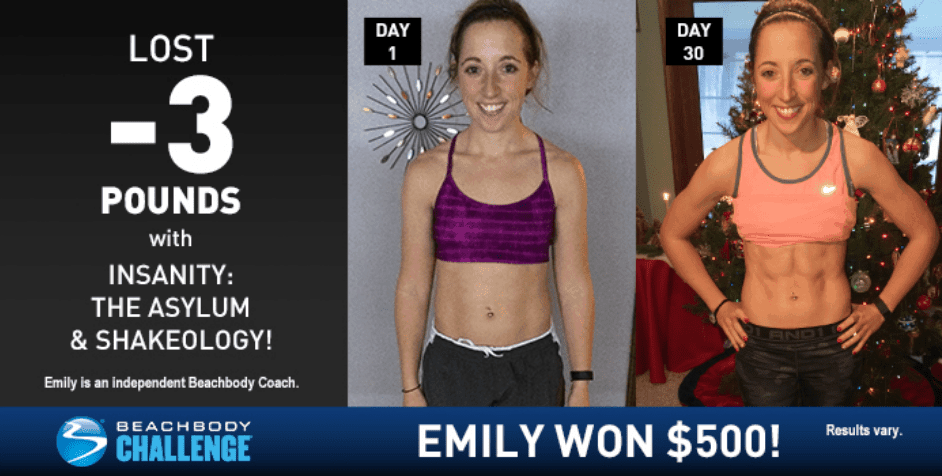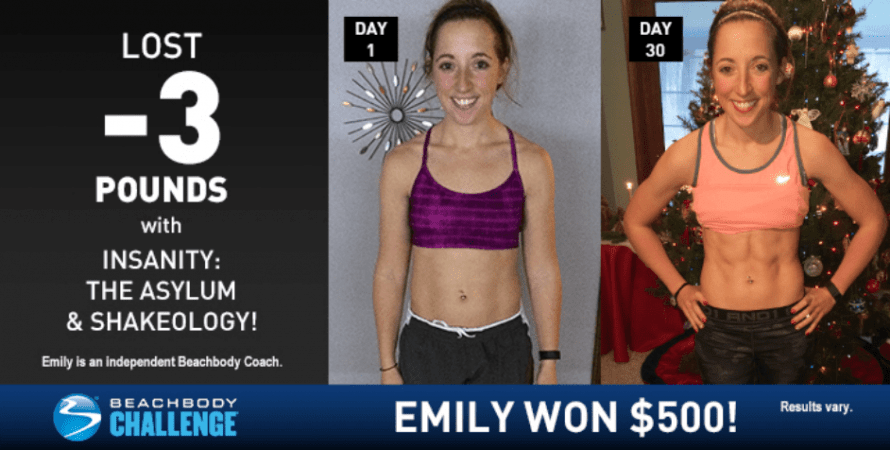 Emily was going to the gym nearly 2 hours a day before she started the Asylum. Then she decided to give this a shot. Now, she's in the best shape of her life and works out less than she did!
Guys also get great results!

Insanity Asylum Equipment
You'll need:
dumbbells
agility ladder (included below)
speed rope (included below)
You may also chose to use bands, chin-up bar and a mat.
Because you'll be jumping so much, you'll also need enough room for the jump rope and ladder.
How Long are Insanity Asylum Workouts?
Most of the workouts are 40-60 minutes.
The only shorter workouts are Relief, 25-minute Fit Test and bonus workouts. There are also no breaks in the Asylum.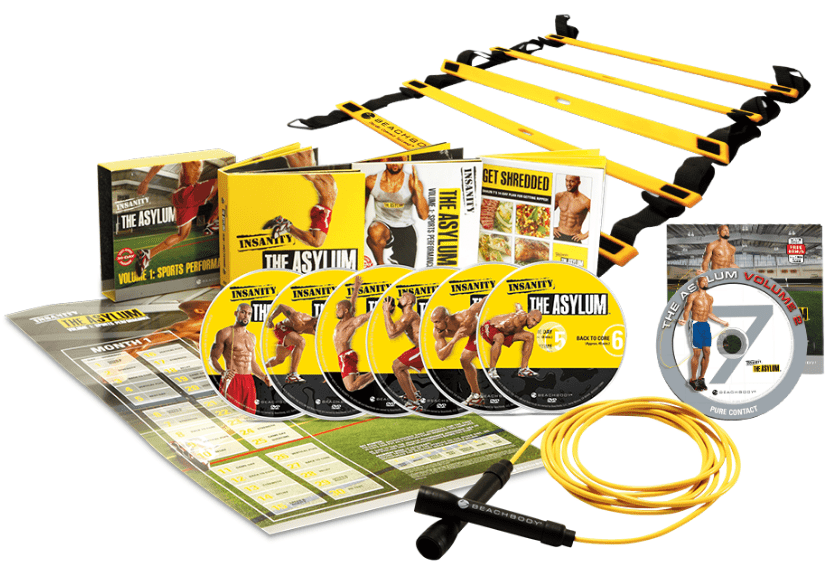 What's Included?
6 Workouts:
1. Speed & Agility–  45 Minutes
2. Vertical Plyo — 40 Minutes
3. Relief — 25 Minutes
4. Strength — 50 Minutes
5. Back to Core — 45 Minutes
6. Game Day –60 Minutes
You'll also receive:
Agility Ladder
Speed Rope
Insanity Asylum Calendar
Nutrition Plan
Fit Test (25 Minutes)
2 BONUS Workouts

Overtime – 15 Minutes
Pure Contact
It should say Kalee Dillard is your coach; if not you can look me up with the ID 1001548. By having us as your coach, you'll receive tips, meal ideas, & access to our year-round accountability group with support & prizes.
The challenge pack also includes Shakeology which is a great addition to the meal plan. It's packed with super foods, vitamins and can help you fuel through your workouts. Find out why we drink it every day here.
Pre- and Post Workout Supplements
We highly recommend the Performance Stack for the best results. It includes a pre- and post- workout supplement.
The pre-workout helps you push through your intense workouts longer, and it's be shown to give BETTER results over time too!
After your workout, Recover helps with muscle recovery and soreness. This will help you push harder tomorrow and build those lean muscles!
Insanity Asylum Speed and Agility

Insanity Asylum's Speed & Agility is day 1! The video gives you a sneak peek of what to expect.
This is a great way to see if you're ready for this program, or if you should choose another one. We love Insanity Max 30 if you want intense but struggle with this workout.
Speed & Agility is 45 minutes of hardcore cardio drills. The workout starts with the rope and then adds in the agility ladder within just the warm up!
Workout moves include:
high-knees
criss-cross jump rope
1-2 scissors jump rope
squat jumps
push ups
mountain climbers
bear crawls
The calorie burn is pretty high too. It depends on your weight and fitness level, but people burn about 400-600 calories with an Insanity Asylum workout.
Why Insanity Asylum Vol 1 Works
Shaun T combines a hardcore workout with a lean diet plan to get you results.
Most programs only focus on 1 area – fitness OR nutrition. Insanity Asylum results are so shocking because it brings the two together. You'll burn 1000 calories per day with your workouts, and then the meal plan is designed to help you lose fat like crazy.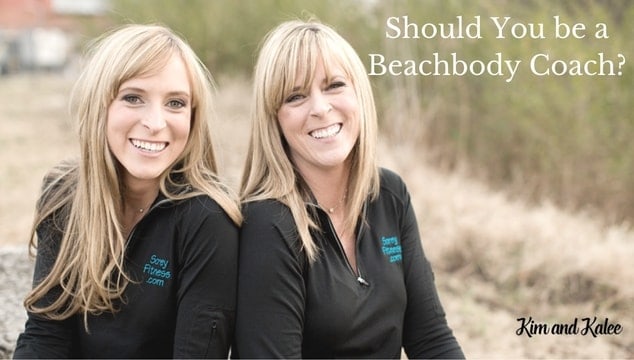 Beachbody Coaching
Did you know you can save 25% as a coach on every order? That means if you fall in love with this workout or the supplements, you'll be getting the BEST deal out there when you re-order!
You also earn 25% commission anytime someone orders through your website, and there is no sales quota or fee for canceling!
So you could always become a Beachbody coach for extra accountability, for a better deal or to make some extra cash!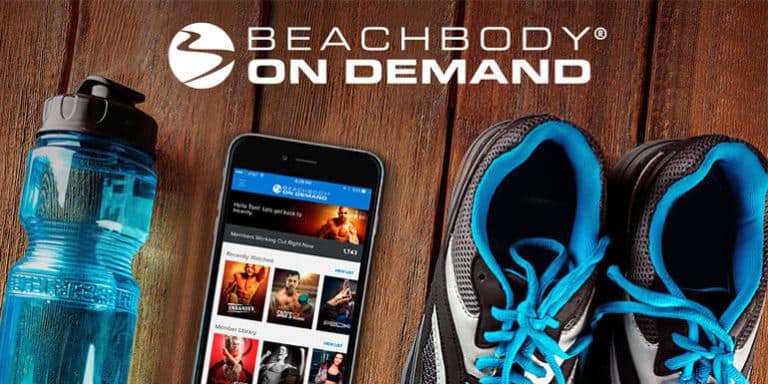 Beachbody on Demand
You can also now stream ALL of this program and download the nutrition guide and Insanity Asylum calendar! With a membership to stream, you'll also receive access to 700+ workouts and access to our private accountability group! You can learn more about streaming here.
It should say Kalee Dillard is your coach; if not you can look me up with the ID 1001548. By having us as your coach, you'll receive tips, meal ideas, & access to our year-round accountability group with support & prizes.
Did this Insanity Asylum review help you?