Diet For A Healthy Outlook: 90% Diet 10% Splurge
This post may contain affiliate links. All opinions shared are my own. As an Amazon Associate I earn from qualifying purchases. Click to view our full disclosure.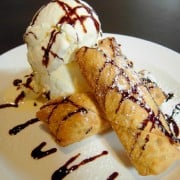 Being on a diet and living a healthy lifestyle filled with whole foods and fun physical activities are two different things.
Being on a diet suggests that one day you will not be on the diet. Becoming healthy for a lifetime is not the same as jumping on the wagon for a little while and hopping off as soon as it stops at Temptation Station. Living a healthy lifestyle means following a do-able meal plan and fitness program you enjoy for the long haul.
With that said, it's fair time in Tennessee, and with that comes the infamous fair foods!! Walking tacos, deep fried Snickers, fried corn on the cob…well, you get the picture.
My advice…eat well /clean/whole foods 90% of your day and budget your calories for a fair treat. Of course, you aren't going to eat a fried Snickers every day of the fair, but one isn't going to kill your diet or fitness goals. Depriving yourself of a once-a-year treat usually ends up with you sabotaging yourself later with "justified" eating.
For some people, 10% can mean having a small indulgence each day (see meal plan 3), while others may want to save their calories for a special meal once a week. Either idea has been proven to not sabotage your healthy habits or effect your workout the next day! WOO HOO! The main thing is you want to create a diet that works for you long-term instead of going on a very strict diet, getting stressed out, and eating everything in site only to repeat the cycle. That type of cycle is not only dangerous to your health, it is dangerous to your confidence and mind! Enjoy food and realize how it affects your behavior. This way you will be able to address any unhealthy cycles you may experience and improve how you handle them.
So eat well, make good choices through the day, work out and have your fried Snickers one night at the fair and enjoy!!! You can then look forward to next year's fair and shouldn't feel like you've just ruined your healthy lifestyle with that one treat =) If you would like a book to reference I love Joy Bauer's 90/10 Diet.