Brazil Butt Lift Review – The Workouts & Printable Schedules
This post may contain affiliate links. All opinions shared are my own. As an Amazon Associate I earn from qualifying purchases. Click to view our full disclosure.
Are your hips and butt your problem area? Beachbody's Brazil Butt Lift workouts help tone, lift and tighten your bum naturally!
We'll look at: Brazil Butt Lift Results, how the workouts are designed for max results, and what we liked and hated about the program.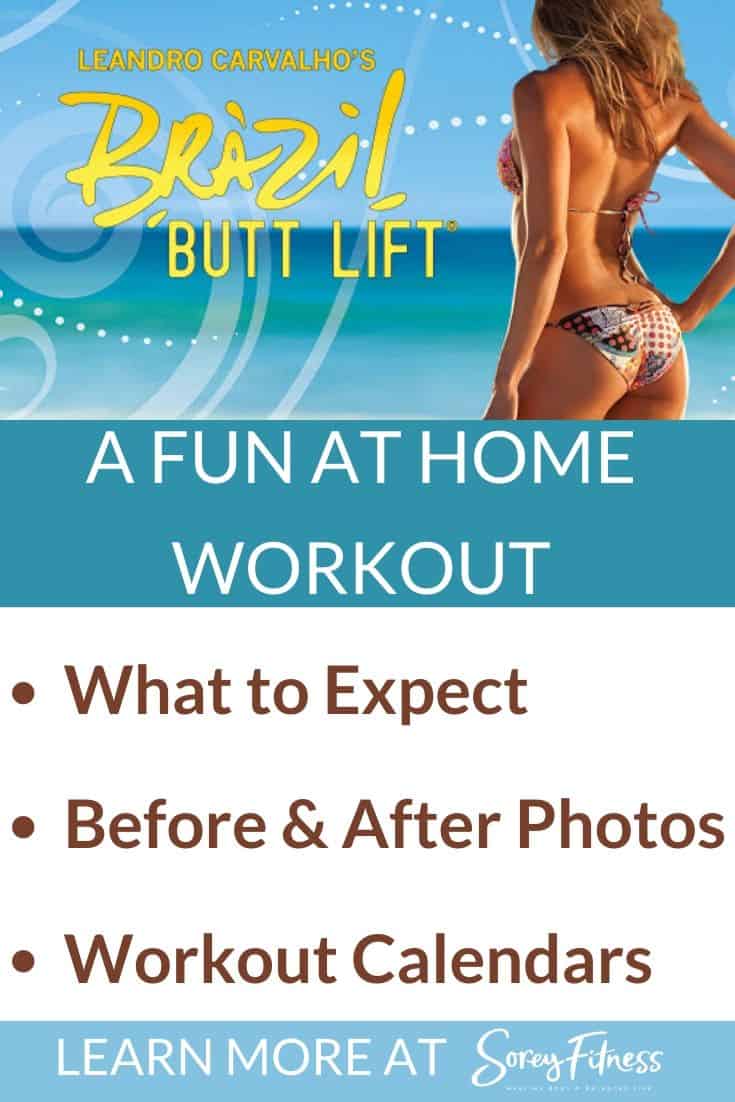 Let me be honest:
My fascination with the workout started when I saw the infomercial while actually working on a finance class group project and was secretly like, "I have to have that!" in a room full of guys.
(Own it Already? Scroll down for the Printable Brazil Butt Lift Calendars)
What is the Brazil Butt Lift Workout?
Beachbody's Brazil Butt Lift workout is a 60 day plan that includes workouts and a nutrition plan to help you tone and lift your booty!
The at home workout routines focus on the 3 muscles in the butt — the gluteus medius, maximum, and minimus — to help sculpt your body without surgery!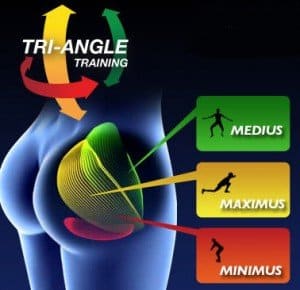 The minimus is what my great-grandmother calls the "shelf" between your butt and leg.
The medius is the middle and usually where women struggle either with having a curve there or lack of definition.
Most workouts just target one or two areas and don't cause the muscle to fatigue so you don't see changes as quickly. Plus you can end up with one area getting stronger, but if the rest is sagging who cares?!
If this looks too old school, check out our Beachbody Workout Comparison to find a better fit!
The workouts and the overall program is not designed to knit-pick your imperfections, though. It's actually a lot of fun and even deceivingly hard!
Leandro Carvalho's mixes dance moves with squats and lunges to make it fun during each workout.
I admit I was SO glad to do this workout at home alone instead of a gym because of some the dancing. I had a blast with all of the workouts, though — both cardio and strength.
What We Loved
Great program to tone your lower body

The cardio and eating plan can also help weight loss
Awesome exercises to work the butt without overtraining your thighs

Only workout out their specifically designed to work the 3 areas of the butt

Easy breakdown of the workouts, nutrition, and support
4 Customizable calendars to work with your current butt and goals
30 Day Money back guarantee
What We Hated
High & Tight

and

Bum Bum are the only real sculpting workouts.

The workouts are 40-60 minutes which can be tough. 21 Day Fix workouts are just as good and 30 minutes.

Leandro Carvalho is kind of goofy. If you like a cheerleader trainer, I don't think it'll bother you.

The sets and music are outdated.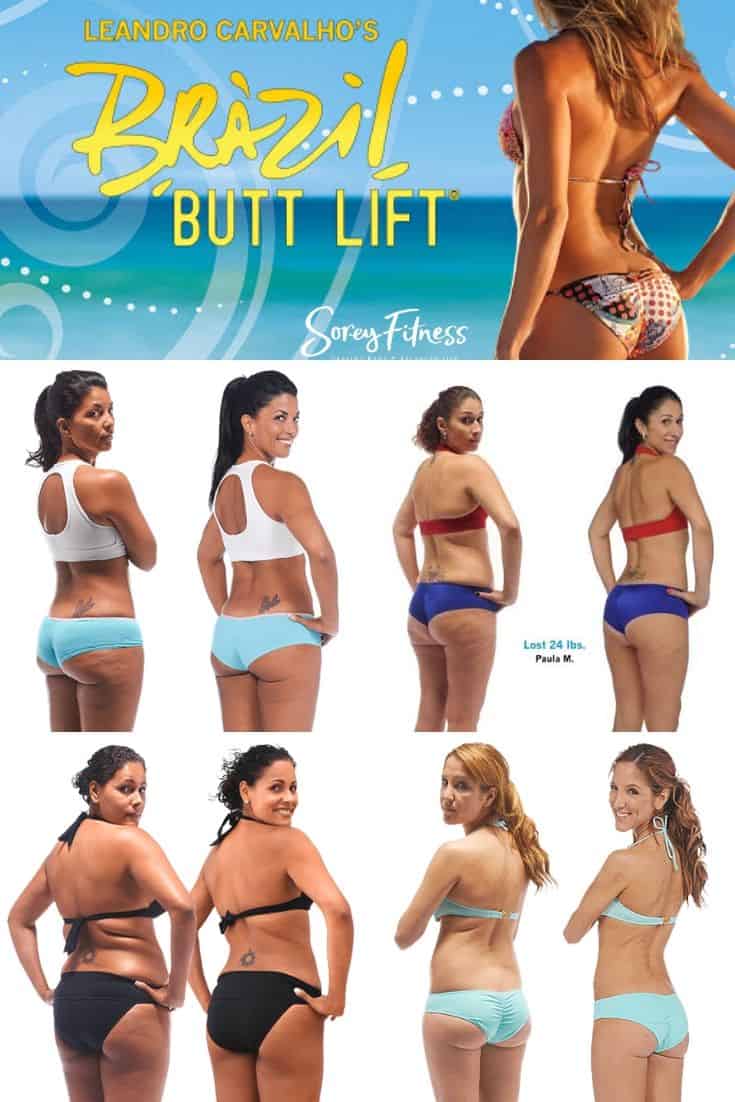 Brazil Butt Lift Results
Leandro does a really good job working in other problem areas like the muffin top, thighs, and belly while you recover from the lower body moves.
Plus the nutrition guide and cardio help you burn even more fat and calories than just some random squats, lunges, and leg lifts.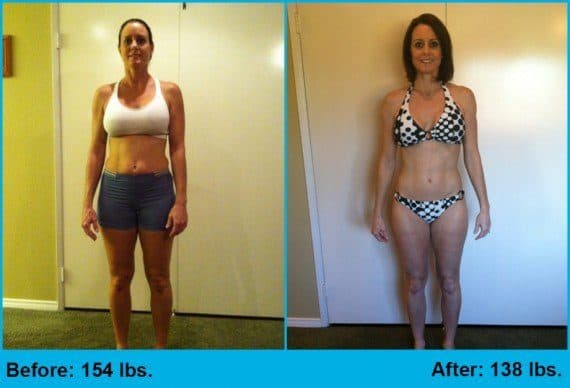 "The greatest benefit was the fact that I started to eat healthier and stay away from sugary sweets once I started drinking Shakeology. With Brazil Butt Lift my back problems seemed to go away as my back got stronger. My posture got better, my butt got round and lifted too. The cellulite burned off my legs and butt and I lost 15 lbs.!" — Michelle M.
3 More Amazing Brazil Butt Lift Before and After Pictures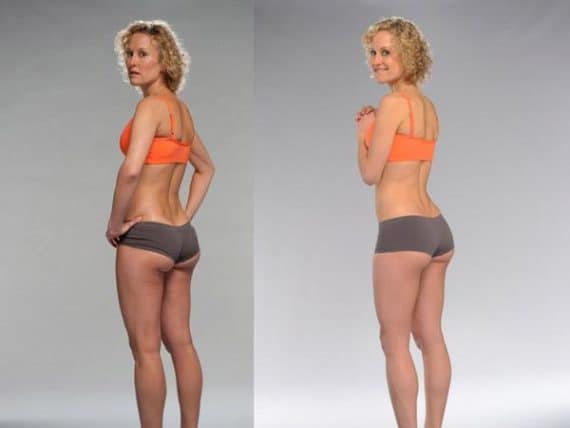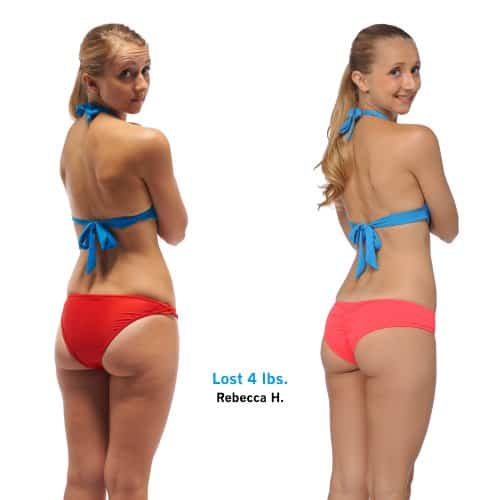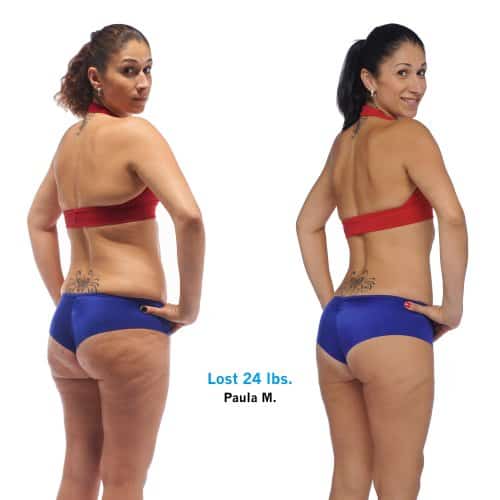 4 Different Brazil Butt Lift Schedules
Alone with moves to tone each muscle in our booties, there are also 4 different workout calendars.
The reason for the different schedules is because everybody is different.
Our bodies all require something special to get to our goals.
For me, I wanted to slim and lift my butt. My others, they'll just want a rounder bum.
If you aren't sure which schedule you'd like, the included guide helps you figure out which one you are if you aren't sure, and it outlines EVERY workout for 60 days for max results for YOUR body.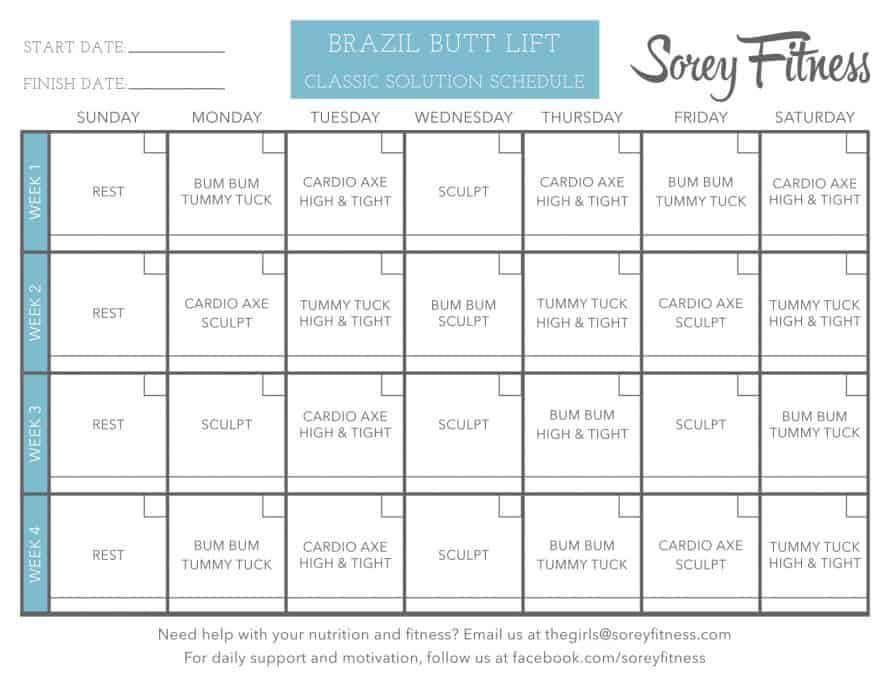 Print Your Brazil Butt Lift Calendar
What's Included in Brazil Butt Lift?
You get 6 workouts that fit within all 4 schedules offered in the program.
Booty Basics – An introduction to the program and how to use proper form to really target the butt. (20 minutes)
Bum Bum – Cardio workout with lower body resistance moves mixed in. (35 minutes)
High & Tight – Get ready to break out the ankle weights for this strength workout! (35 minutes)
Sculpt – Build lean muscle (no bulk) all over with this intense workout. (50 minutes)
Cardio Axe – Fun, fat-blasting cardio workout ….probably my favorite! (30 minutes)
Tummy Tuck – Working those abs and core for 20 minutes! (20 minutes)
You also get a few bonuses!
They include:
Nutrition Plan – Your nutrition is about 70% of your results with any workout, and this will help you reach your goals.
Triangle training workout cards – These are perfect if you have to travel because it lists each of the moves and how to do them so you don't have to be limited to a DVD.
The 4 "BOOTY MAKEOVER" schedules – This is so critical to getting the results you want because it uses what you already have to get you to your goals.
Measurement Tracker and Tape Measure to watch your results
6-day Supermodel Slim Down – This is 6-days of nutrition broken down by meal and also has a specific workout guide for the week as well…it's tough and has a lot of fish, but it does work!
Bum Bum Rapido – a 10-minute cardio blasting workout.
Free Online Support on Team Beachbody and from a coach like me.
Leandro's Secret Weapon Workout – 20-minute total body workout!
30-Day Money-Back Guarantee
What Other Equipment Do You Need for Brazil Butt Lift Workouts?
You'll want a sculpting band and a workout mat.
You may also want an additional resistance band a few of the moves and possibly ankle weights as you add to the intensity of the workouts.
The butt exercises don't require heavy weights or anything like that.
How long are Brazil Butt Lift Workouts?
Brazil Butt Lift is a 60-day program, and you'll need about an hour a day. Sometimes it's 2 short workouts on 1 day. On those days, you can choose to them back to back or at different parts of the day. You workout 5 to 6 days a week.
If an hour is too long, I would recommend the 21 Day Fix! It's more f a total body workout, but it really helped my weight loss and toned my whole body. I also really love the eating plan included with it.
Can it get rid of cellulite?
It can help cellulite. To be 100% honest, some of us will always have a little even if we were 3% body fat, hydrate like crazy, and full of muscle. Some of it is genetics, but yes – this program (and any strength based program) can help.
How hard is it?
I would say it's a beginner to intermediate workout. You can make it easier by modifying the moves and increase the intensity of bigger movements or more resistance.
How Do You Make the Workouts Harder?
If you want to make it tougher, you can add in heavier resistance bands, 1lb ankle weights or even 5lb adjustable ankle weights. I personally have the 5lb ankle weights so I can adjust and grow with this program along with my other workouts I like at home.
Don't let the bright set and dance moves throw you off, these workout exercise videos are hard. Especially if you are using the ankle weights.
You'll be laughing one second and wanting your momma's workout the next because it's so tough.
It's because you're making those 3 areas of the butt, along with other trouble spots that usually get overlooked, fatigue and push to their limits.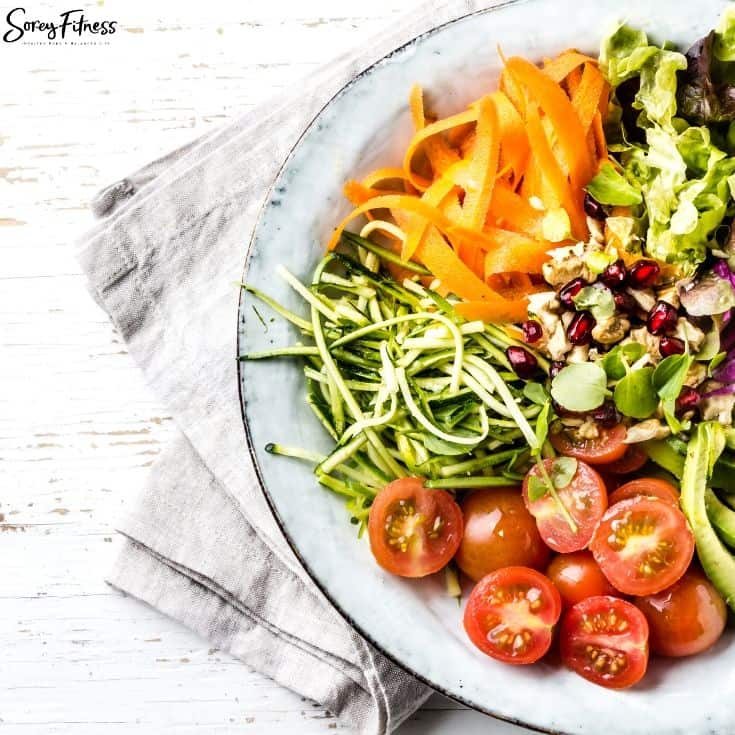 The Meal Plan
The meal plan is flexible which I loved. Nothing was ever off limits, and it does include a sample meal plan and recipes. You can choose to follow the meal plan or another plan. I aim for 1400 calories a day personally, and I modified the plan to include less fish.
You can drink Shakeology on the plan, but it's also not required. I do my shake at breakfast or lunch.
It also includes Supermodel Slim Down
The 6-Day Slim Down is a lower calorie plan which also helps with bloating.
It's a full meal plan you can follow to jumpstart your weight loss in the first and/or last week of the fitness program. You shouldn't do the slim down plan long-term, though.
You may also like our Keto Quick Start Guide or Sugar Detox.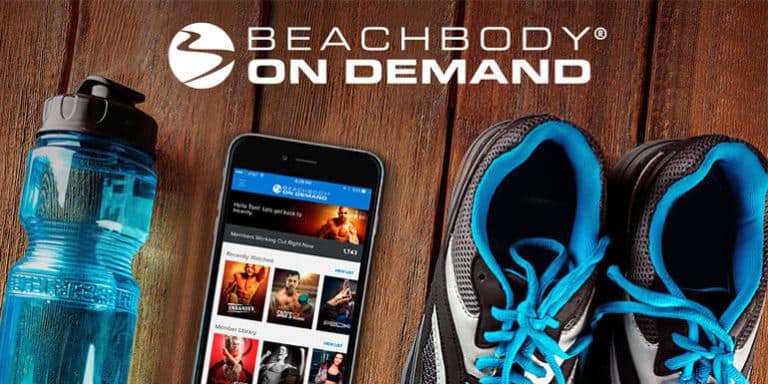 Is Brazil Butt Lift on Beachbody on Demand or DVD?
Brazil Butt Lift used to be offered on DVD, but Beachbody is limiting their DVD production. So now Brazil Butt Lift workouts are exclusively on Beachbody on Demand.
The good new is – Beachbody on Demand is super simple to use, and you'll get access to not only this program but 100s of other workouts like the Country Heat, Barre Blend, and Morning Meltdown 100!
I've been there big booty, legs burning, and needing some accountability and we'd love to help you too!
Brazil Butt Lift Workout Schedules
Need another review? Check out You Beauty for sample moves.
Email us if you're just starting the workout or need more motivation. Email us at thegirls@soreyfitness.com