Morning Meltdown 100 Review & Calendar – a Beachbody Workout Guide
This post may contain affiliate links. All opinions shared are my own. As an Amazon Associate I earn from qualifying purchases. Click to view our full disclosure.
Wake up and workout with Beachbody's 100-day workout program, Morning Meltdown 100 (MM100)! Super trainer Jericho McMatthews combines strength, cardio, and flexibility into 100 unique workouts. Plus, we love the live DJ Jesse Blake, who plays music based on the target bpm (heart rate) for each month! Keep reading for the workout calendar and how to stream the morning workouts with a Beachbody on Demand subscription.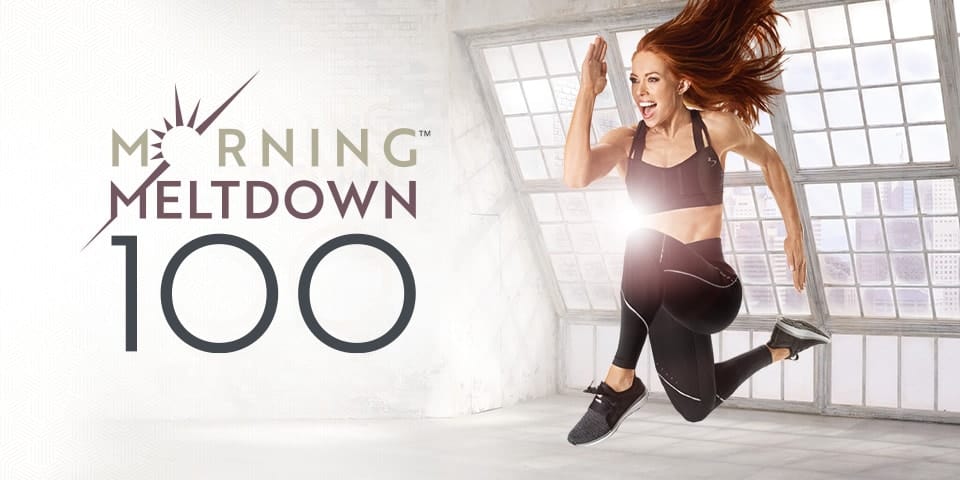 What is the Morning Meltdown 100?
Morning Meltdown 100 is a 100-day high-intensity cardio and resistance training workout program by Jericho McMatthews. The Beachbody on Demand program combines strength training, yoga, cardio, martial arts, and flexibility. The best part? Every workout is unique! So you never have to do the same workout twice!
Is Morning Meltdown 100 for beginners?
Totally! While the program is listed as an intermediate-level, a beginner could follow the modifier the whole program and see results! With that said, always consult your doctor before starting a new workout.
Are the workouts really hard?
We found MM100 to be a true intermediate Beachbody program. Each week the workouts get a little harder to keep your body challenged. If you feel like it's too easy to start, we suggest doing two workouts a day in the first phrase. On the other hand, if you feel like the workouts are too hard, drop to the modification and go at your own pace.
Does MM100 have to be done in the morning?
While working out in the morning can boost your mood and create a habit of working out, you can do these workouts anytime of the day!
What equipment does it take?
The Morning Meltdown 100 Calendar
MM100 is broken up into 5 phases of 20 workouts. You will be working out 6 days a week, but some workouts are active recovery workouts. So you'll be stretching or doing something restorative those days. You also get a few rest days throughout the program.
How long are the workouts?
They range from 20-30 minutes.
Morning Meltdown 100 Workouts
There are 10 different types of workouts in the program. Unless stated, you just need enough room to move around for the workout.
Cardio Meltdown –

This workout focuses on increasing endurance and blasting calories.

Upbeat Strength – This is your ultimate upper body workout to tone your shoulders, chest, back, and arms.

Requires light, medium, & heavy weights
Core Inferno –

You'll work your whole core in this session.

Requires light and medium dumbbells.
Total Body Badass – This is your total body workout including light weights and plyometric (jumping) moves.

Requires light and medium dumbbells.
Freestyle Flow – Jericho combines yoga and mobility in this restorative workout. Mat optional.
Lit Cardio – This HIIT workout torches fat!
Downbeat Strength –

This is your lower body workout focusing on quads, hamstrings, and booty.

Requires light, medium, and heavy dumbbells.
Fight Club –

Get ready for a killer cardio and core workout using martial arts disciplines.

Meltcon –

This is another total-body strength workout that also gets your heart rate pumping!

Requires light, medium, and heavy dumbbells.
Re-Vibe –

Join Jericho for a refreshing yoga-inspired flow and stretch class.

Mat optional.
Try a Morning Meltdown 100 Sample Workout
If you're still not sure about this home workout, why not try a free 20 minute sample workout!
Jericho has included some of her favorite moves from all of the workouts into this one sneak peek!
Is MM100 on Beachbody on Demand?
Yes, it is exclusively on Beachbody on Demand! It's not available on DVD.
If you've not tried Beachbody on Demand yet, you can get hundreds of home workouts with your membership! You can also download any workout's meal plan and calendar. Plus, you can even stream to your TV with the right device.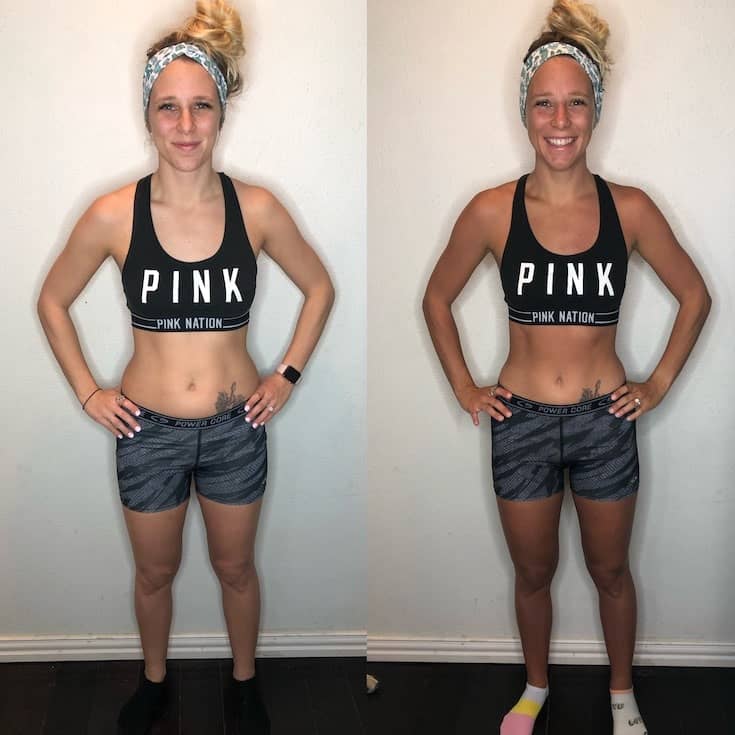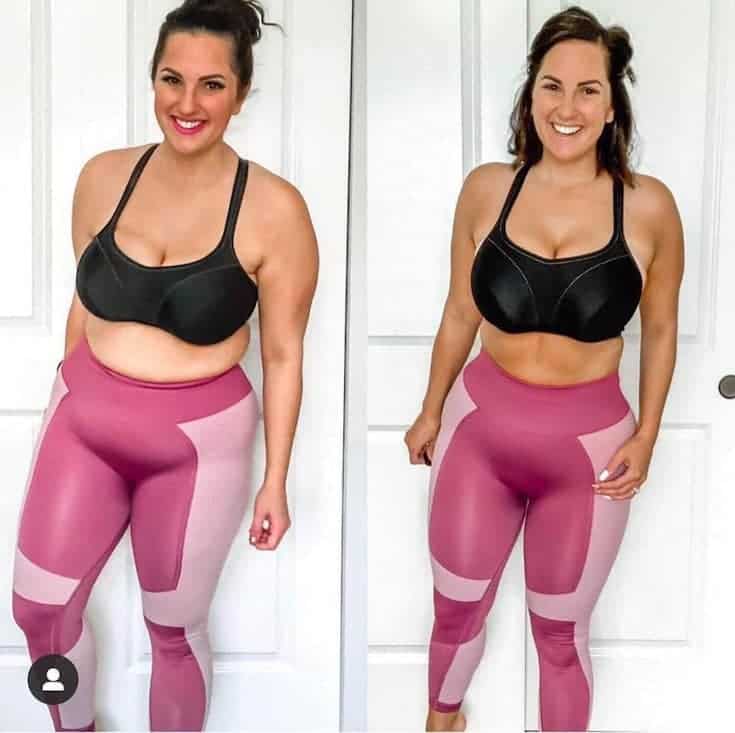 While we have a post devoted to just Morning Meltdown Before and After photos, we also wanted to showcase a few examples of the amazing results here in our main review!
Morning Meltdown Meal Plan 101
There is a nutrition guide included with this program, but we recommend using either Ultimate Portion Fix or 2B Mindset for the best results. We put together a sample Morning Meltdown 100 meal plan if you need meal planning help!
Who will love it?
Someone looking to get into a fitness routine.
Men & women looking to lose weight, burn fat, & build muscle.
Anyone who gets bored with the same workouts – this will be the ultimate variety!
Someone looking for an intense 20-30 minute workout.
Who this program isn't for
Anyone looking to lift heavy weights (you'll lift light to medium weights often)
Someone that struggles to do 2-part moves. An example would be doing a lunge while doing an overhead press.
Men or women looking for a longer workout with breaks in between moves.
I would honestly say, if you've never worked out before not to go with this program either. I'd start with the 21 Day Fix.
How Much Does it Cost?
Like most Beachbody programs, you'll have your choice to buy a challenge pack or add it on to your Beachbody on Demand membership. You have 4 options to pick from – get in contact with us using the form below or use the quiz to find the best option.
To recap this post:
MM100 is a 100-day program with 20-30 minute intermediate workouts each day. You'll need dumbbells, an exercise mat, and Beachbody on Demand to do the workouts.
The program is included with Beachbody on Demand, but if you need the streaming service, you can grab a membership or a challenge pack.
You may also like our Morning Meltdown 100 Meal Plan, Core De Force Review, or Beachbody Coach Guide.
Have questions? Contact us using the form below!