Is a BODi Membership by Beachbody Worth It? (2023)
This post may contain affiliate links. All opinions shared are my own. As an Amazon Associate I earn from qualifying purchases. Click to view our full disclosure.
BODi by Beachbody now offers the largest fitness library, nutrition and mindset tools, but is a membership worth it? Below, we share what BODi is, how it's different than Beachbody, and our review of the platform.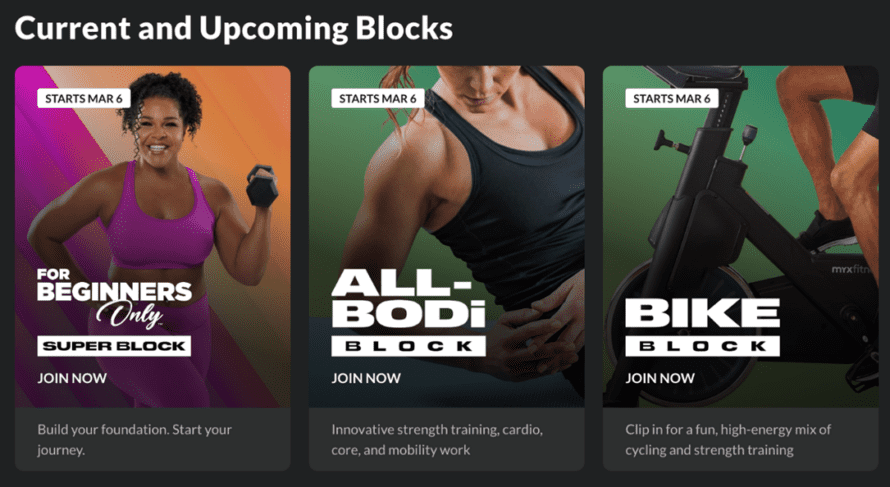 Table of Contents
Did you know Beachbody changed their name to BODi in 2023? If you have a Beachbody on Demand account, you can see the changes to BOD on this guide of BOD vs BODi.
Note: If you've been overwhelmed with dates or underwhelmed with the programs since 2020, these changes may pleasantly surprise you!
What is BODi?
BODi is the new Beachbody on Demand Interactive platform. It combines pre-record workout programs with new live workouts, BODi Blocks, and Super BODi Blocks every month. The membership also includes nutrition and mindset tools all in one platform.
What is included with BODi?
BODi includes access to 4 new BODi Blocks with new workouts every month, 100+ workout programs, and 1000s of live and on-demand classes you can take anytime. The fitness streaming service also includes new nutrition and mindset tools. You can access the service 24/7 from the BODi app on your phone or favorite streaming device.
Update April 2023: We aren't sure if it'll be included for no additional charge, but Amoila Cesar does have a new program, Chop Wood Carry Water, coming out in July on BODi.
Quick Recap of What is Included with BODi
100+ complete fitness programs for every fitness level
Tons of variety including bootcamps, yoga, strength training, and more
Cycling Classes
Thousands of on-demand workouts
2 Eating Plans: Portion Fix Basics and 2B Mindset Basics
1000s of recipes
New live workouts
A BODi Coach to help support you and your goals
24/7 streaming across multiple supported devices
New workouts, recipes, and mindset tools being added every month!
How Do you Access BODi?
BODi is available inside your Beachbody on Demand app once you've purchased a membership. You can use it on your computer or laptop as well.
Go Back to Top
Do BODi workouts have music?
Yes, the Beachbody on Demand Interactive workouts include music thanks to a partnership with Feed.fm!
The Beachbody trainers will have a curated playlist for the workout, but you'll also be able to select a genre of music or a playlist of songs that match the intensity of the workout you're taking!
Each playlist will be set to the beats per minute (BPM) for the class whether you choose a country playlist or an 80's themed one!
Go Back to Top
BODi Schedule
BODi Blocks go live every 1st Monday of the month.
There are live classes throughout the day Monday through Friday.
Currently, the BODi schedule goes from Midnight to 7PM PST Monday-Friday. The classes are also recorded and put into the BODi library afterwards if you miss the live class.
Go Back to Top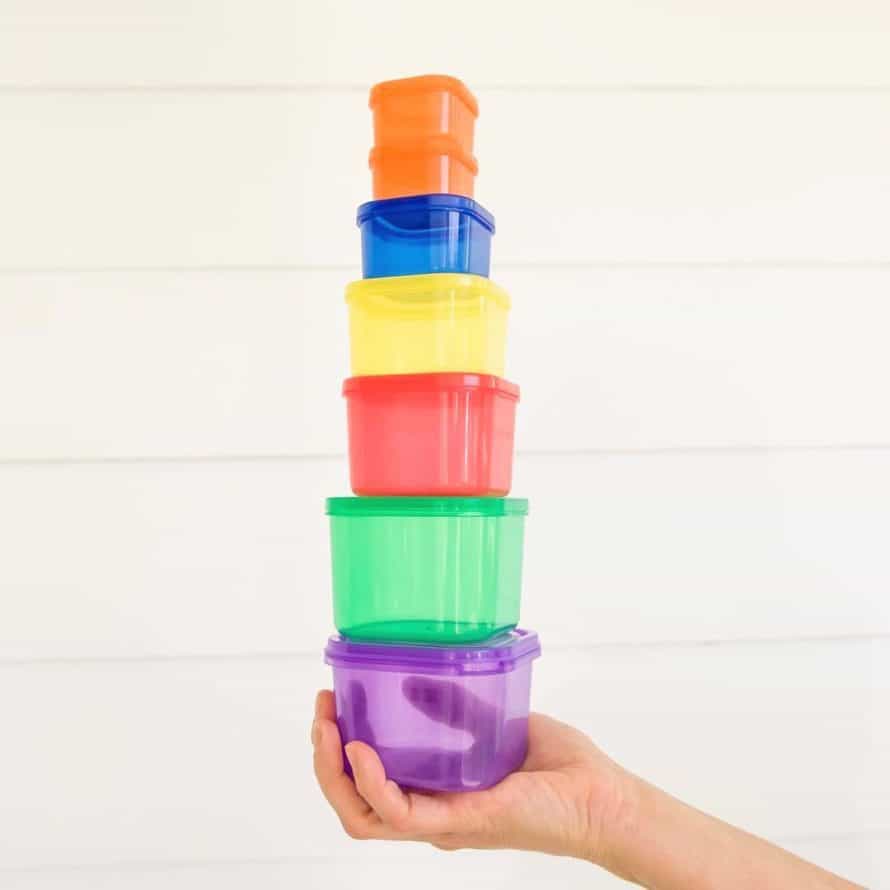 Nutrition
BODi also includes nutrition plans, accountability, and classes to help you hit your fitness goals. You'll have 2B Mindset and Portion Fix to choose from, as well as, new meal plans and recipes every month, plus expert advice and a supportive community to help you stay motivated!
Go Back to Top
What is a Bodi Membership?
A BODi membership offers everything you need to succeed. Each month you'll get access to 4 new BODi Blocks with unique workouts each day.
With the membership, you'll also have access to all of the workout classes and programs, as well as, BODi Nutrition and Mindset tools.
Update April 2023: Amoila Cesar's new program Chop Wood Carry Water will be released July – exclusively on BODi.
Want to learn more about BODi workouts? Check out our guide to Beachbody BODi Blocks.
Membership Options
You can use the code KALEETSP20 for $20 off the Collection or any pack!
You can also choose a BODi Day Pass for $7 to see how you like it before committing.
Go Back to Top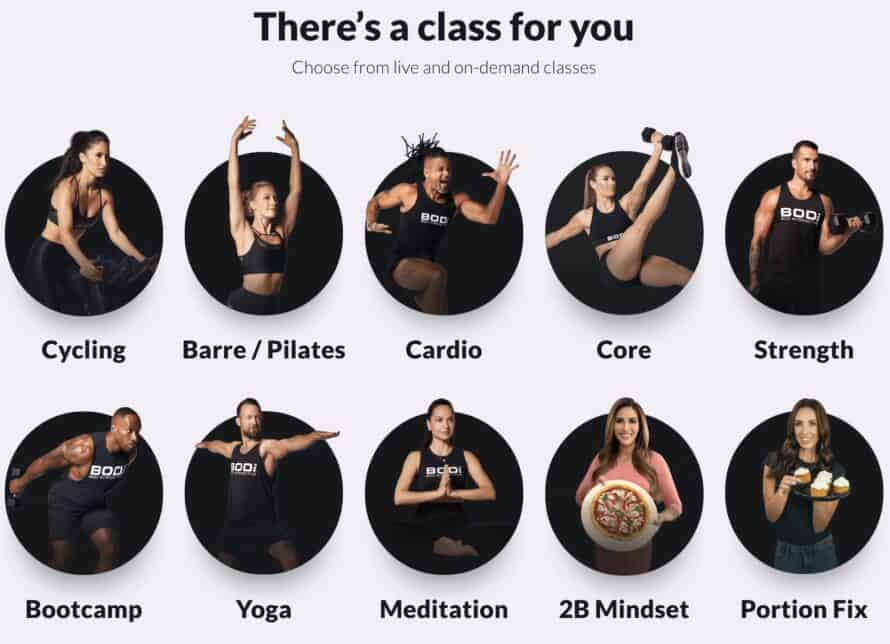 Who are the BODi Trainers?
The BODi platform still has the same Beachbody fitness trainers you know and love like Autumn Calabrese, Shaun T, Amoila Cesar, Jericho McMatthews, Elise Joan, Joel Freeman, Andrea Rogers, Idalis Velaquez, Jennifer Jacobs, and Megan Davies.
There are also new BODi Fitness trainers including Lacee Green, Briana Masson, Christina LaGrega, Davanna Law, Dyan Tsiumis, Eric Thomson, Jared Sklar, Jenn Padilla, Jenny Jaucian, Jesse Barton, Justin Flexen, Kristin Condon, Lee Jimenez, Miriam Alicea, Taj Harris, Vytas Baskauskas, and many more!
Did you say indoor cycling?!
Yes! BODi cycling classes offer an immersive cycling experience full of energy using the MYX 2.0 bike. The bike's touchscreen allows you to stream your workout and integrates your heart rate monitor to maximize your training!
Go Back to Top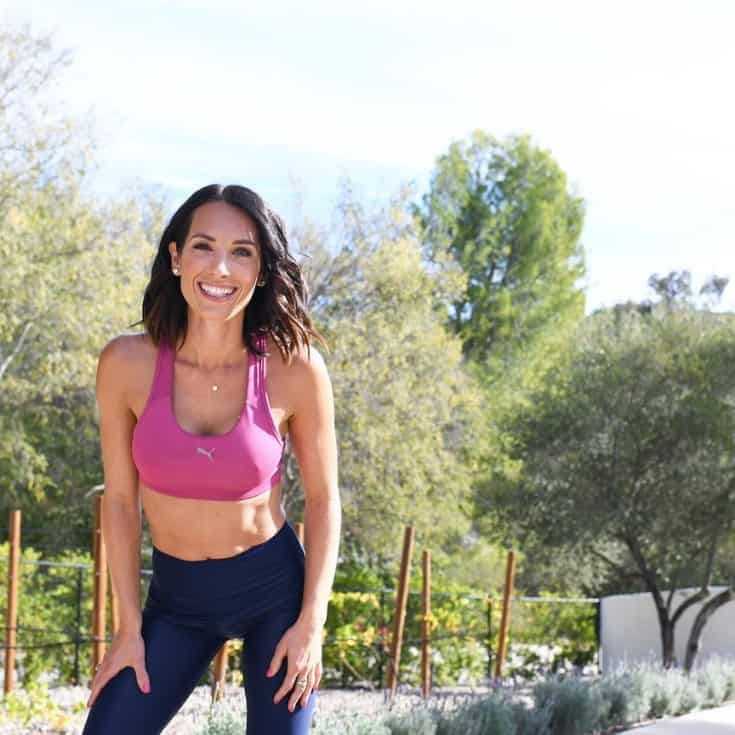 How much does BODi cost?
How much is a BODi membership? You have three subscription options.
| | |
| --- | --- |
| Subscription Length | Cost |
| 3 months | $89 billed every three months |
| 6 months | $119 billed every six months |
| 12 months | $179 billed every year |
The cost of a BODi membership varies depending on if you choose a BODi- Annual, 6-Month, or Quarterly membership. You can also choose a Day Pass.
An annual BODi Membership is $179/year, and this is the best deal!
You can also choose a 6-month BODi membership for $119.
A quarterly BODi membership is $89 and includes a 14-day trial.
A BODi Day Pass is $7 and allows you to try the platform for the day. With the pass, you have unlimited access and can stream 24/7.
Beachbody Coaches, BODi Partners, and Preferred Clients do not get a discount for BODi.
How much is BODi in Canada?
BODi in Canada costs $215/year. You can also choose a 6-month BODi membership for $143 or a quarterly membership for $107. The quarterly option includes a 14-day trial.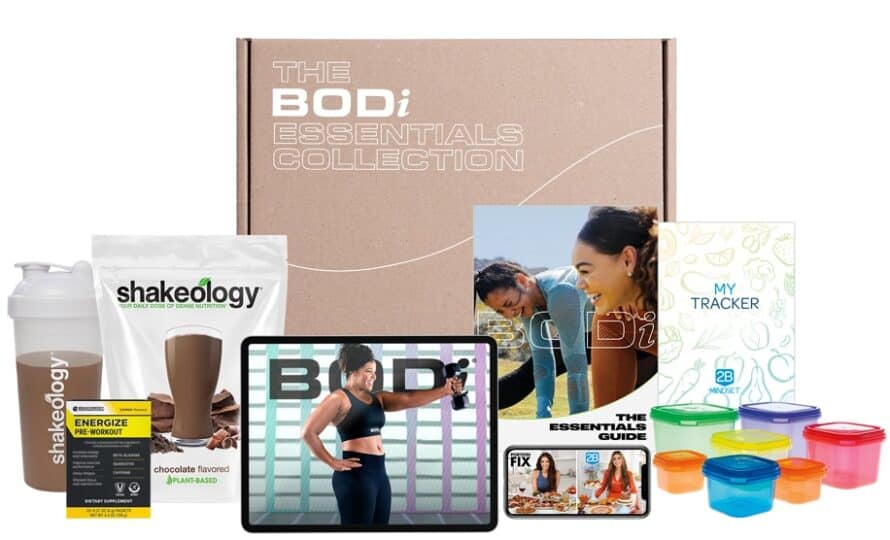 BODi Essential Total Solution Pack
The BODi Essential Collection is $219.95. It includes 20 packs of Shakeology, and 20 packs of Energize, and an annual BODi membership. It also includes 2B Mindset, Portion Fix containers, and a shaker cup.
Other Membership Options
You can also choose a BODi Day Pass for $7 to see how you like it before committing.
Super bodi Block Unlocks
Your BODi membership includes unlimited streaming to all of the workouts, nutrition resources, and mindset tools, but it does not include Beachbody Super Block unlocks.
These Super BODi Blocks can only be unlocked with either a qualifying home direct product or an additional charge of $29.95.
Your membership only gets you access to 4 (non-super) BODi Blocks without an additional charge.
You can learn more about Beachbody Super Blocks and the BODi schedule here.
Already have Beachbody on Demand? You can upgrade at a pro-rate now!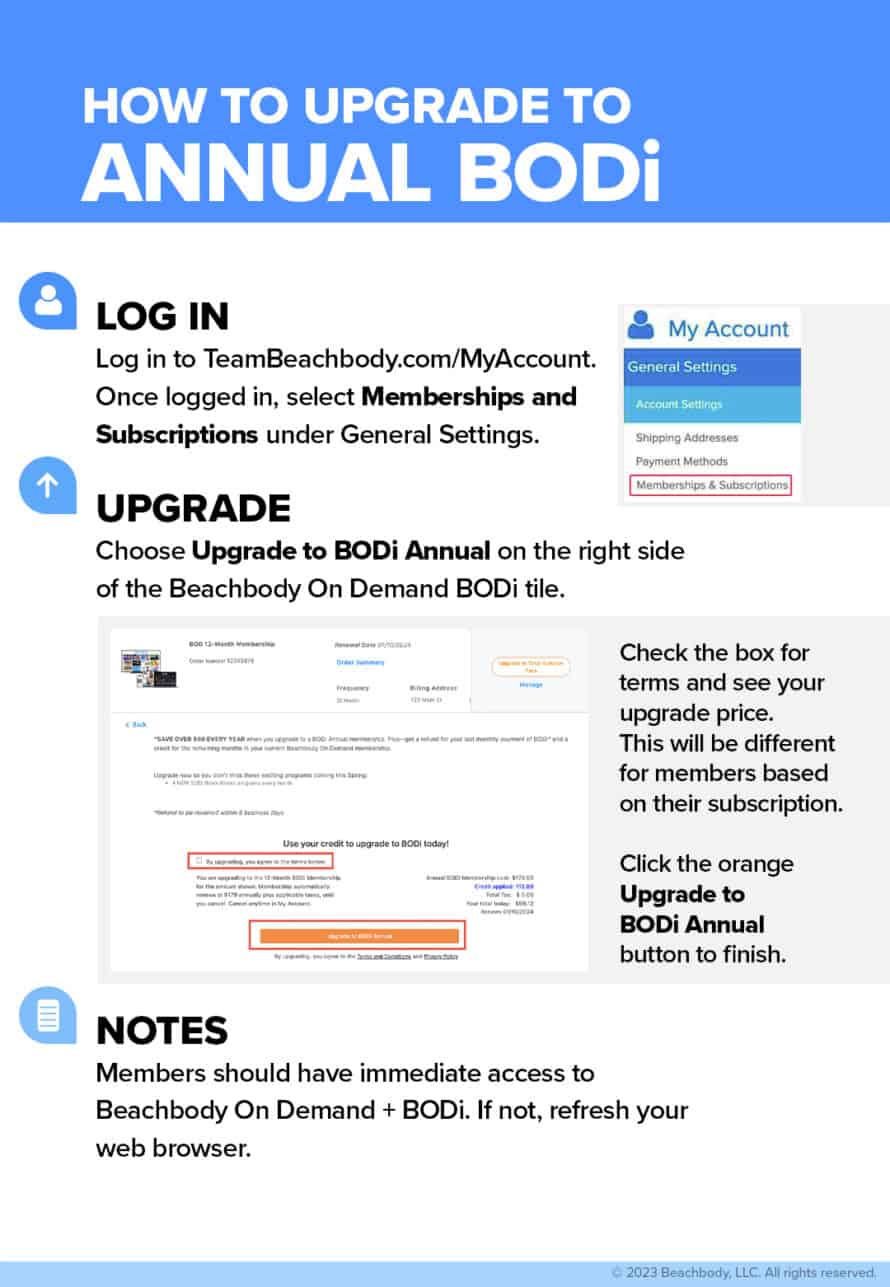 You'll want to login, click on Membership & Subscriptions, and choose to upgrade today.
Go Back to Top
How do the trainers "see" me?
If you join a live BODi workout you can share your video feed from your phone as you workout through the "BODcast" feature! This is optional, but it's a way to see your friends working out and possibly get shout-outs from the trainers!
BODcast uses your phone's camera (if you choose) to broadcast your workout to other exercisers — creating the ultimate virtual gym experience! If you've tried Muscle Burns Fat, we expect the set up to be similar but even better because it'll be in real-time!
You'll need to schedule and hop on early for the best spot in class which can include shout-outs from Beachbody's super trainers.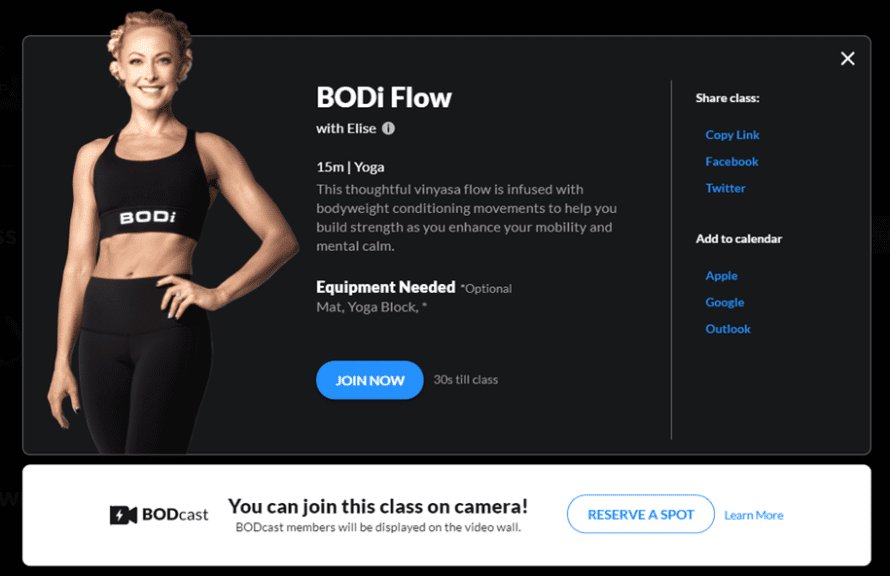 How to Join a Beachbody Live Workout
BODi class schedule is posted on the BODi app, and you can sign up 24 hours before the live class starts. There are 75 spots for each live class.
If the class is full – you can still join it live. You just won't be on the screen.
BODi Blocks don't allow for you to sign up because they're pre-recorded.
Go Back to Top
How to Cancel a BODi Membership
Canceling your BODi membership can be done online by signing into your Team Beachbody account.
Once you've logged in, locate your next BODi subscription (Renewal Date) & Select "Click for details".
Select "Cancel Membership" > Click, "Yes, Cancel" > Select your downgrade option.
Go Back to Top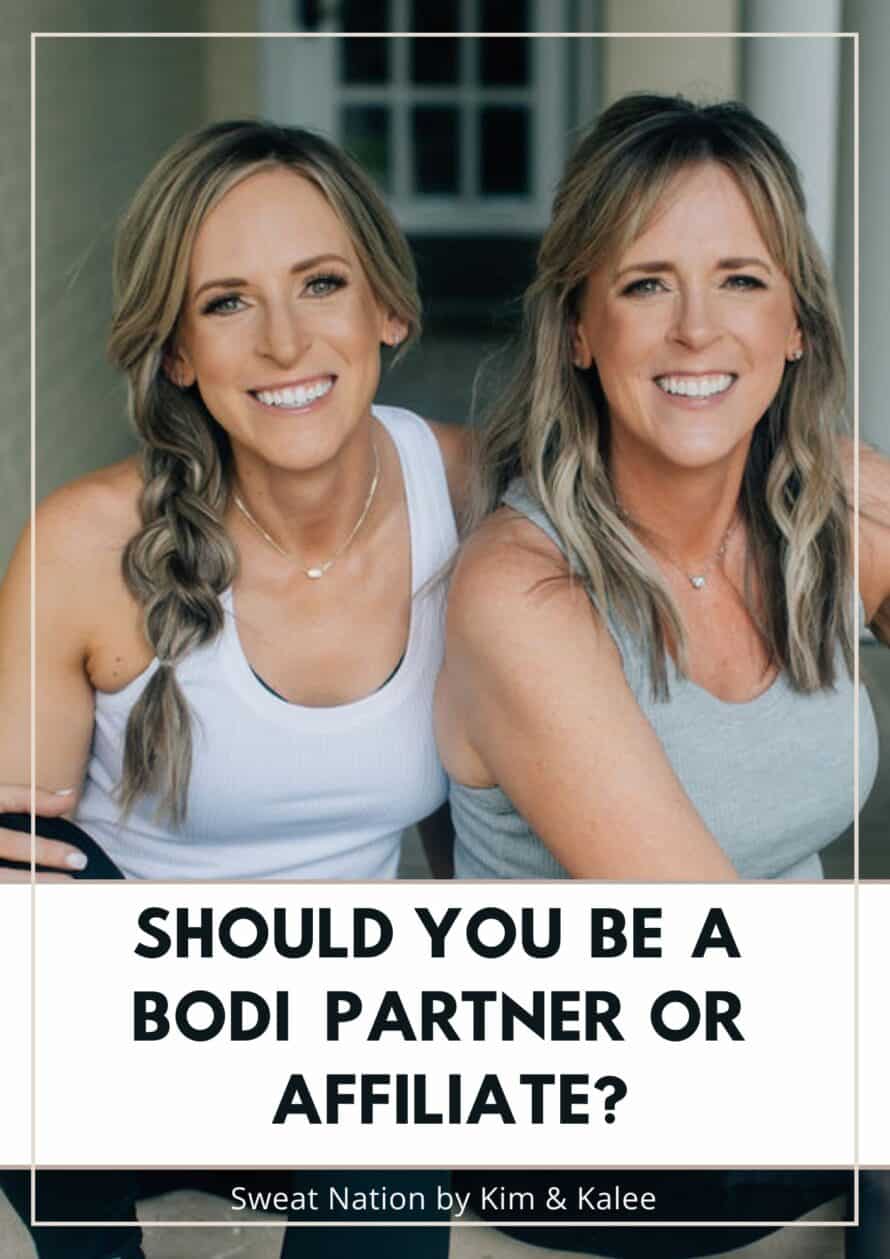 What are BODi Coaches?
BODi Coaches, Beachbody Coaches, and BODi partners are all the same thing. The rebranding of Beachbody has caused some confusion, but all 3 titles are affiliates who share the about workouts and supplements they love and help others get fit at home.
If you're interested in joining as an affiliate, we've been Beachbody Coaches since everything was on DVD. We'd love to help you see if it's a good fit. You can check out our guide to BODi Coaching or email us at thegirls@soreyfitness.com with any questions!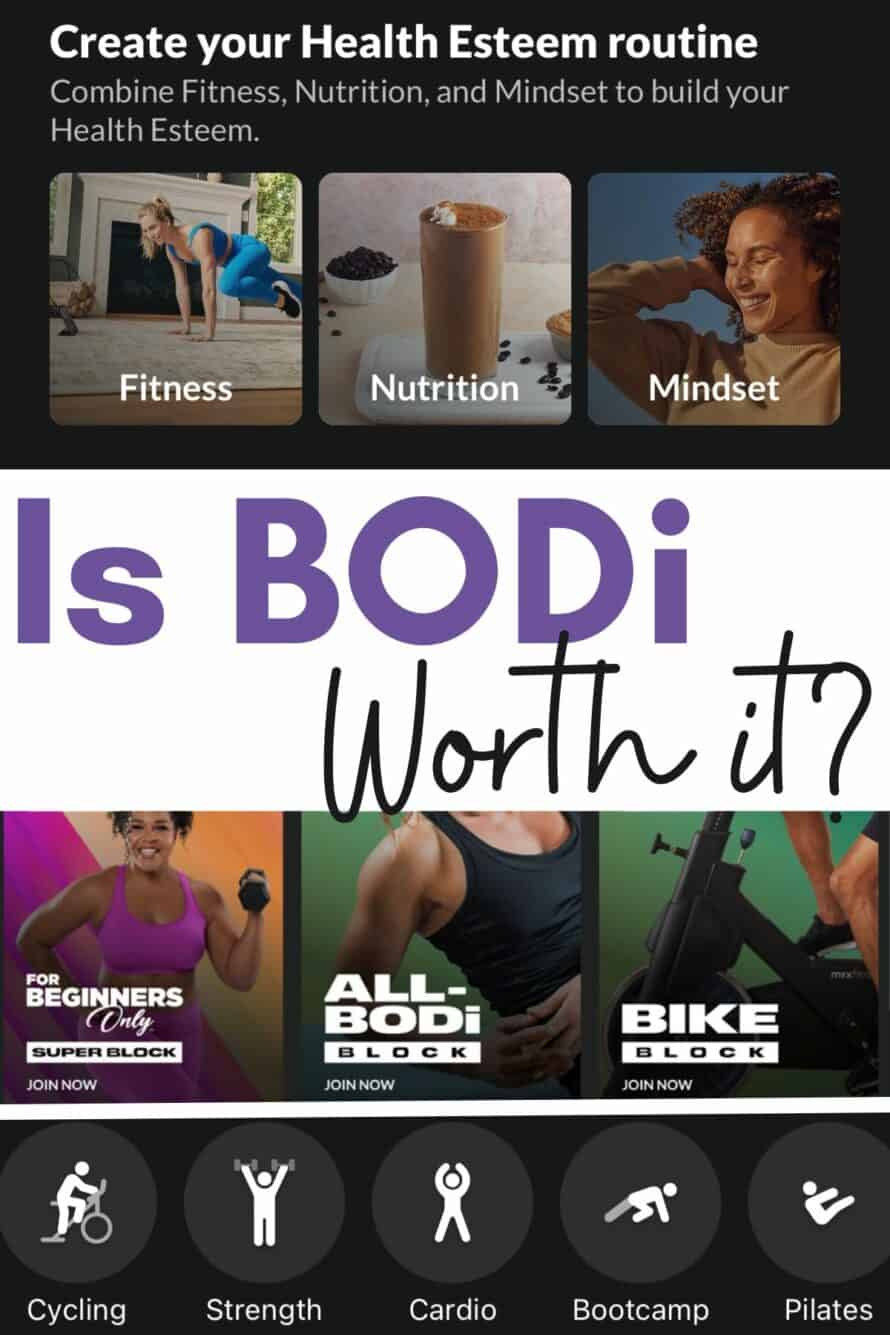 Is BODI worth the money?
For $179/year BODi is definitely worth the money. Your household can even share a membership. The platform is easy to navigate, the music and video quality is great, and the BODi Blocks every month are fun! Plus, you get access to 1000+ recipes, nutrition guides, and mindset tools.