Fire and Flow Workout with Jericho & Elise (Review)
This post may contain affiliate links. All opinions shared are my own. As an Amazon Associate I earn from qualifying purchases. Click to view our full disclosure.
We review Beachbody's Fire and Flow program with Jericho McMatthew's strength and cardio workouts and Elise Joan's restorative classes. The new 4-week program offers 25-30 minute workouts daily and helps you increase your metabolism while restoring your body and mind. Get 1st access here!

What is Beachbody's Fire and Flow?
Fire and Flow was created by Beachbody Super Trainers Jericho McMatthews and Elise Joan. The month long program includes 3 strength and cardio workouts with Jericho and 3 restorative and mobility workouts with Elise each week. You'll workout 6 days a week, 25-30 minutes a day for 4 weeks.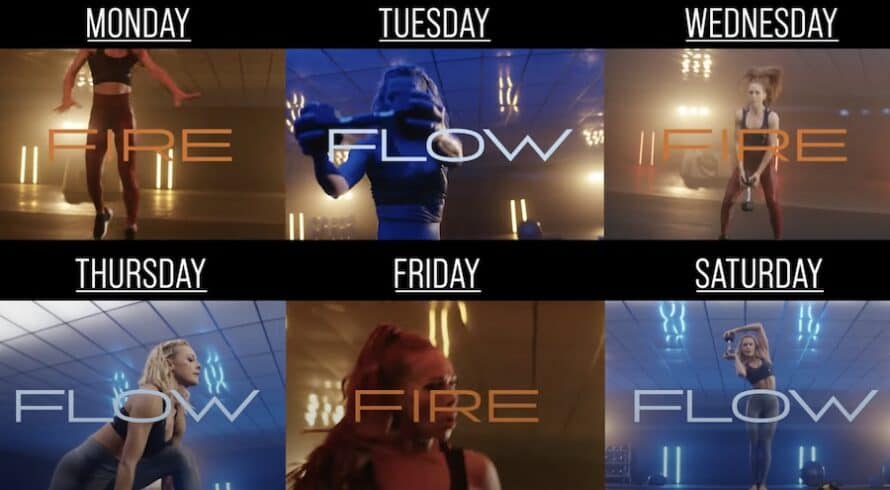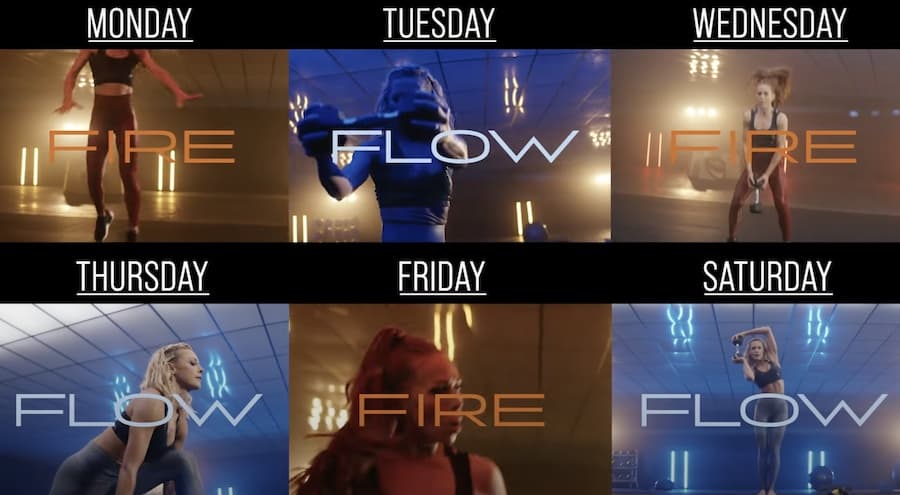 We love Jericho's high energy from Morning Meltdown 100 and Elise's positivity from Barre Blend — and this program gives you the best of both worlds to tap into your full potential!
Each week, the workouts advance to help you break through plateaus and challenge yourself. You also receive 8 bonus workouts that focus on abs, glutes, arms, and overall flexibility. The bonus workouts are short and can be added in anytime!
You can also add in the 4-Week Journal to help you track your habits and start journaling with self-care prompts.

Is there a modifier?
Yes, there is a Fire and Flow modifier in each workout to help you adjust the moves.
What Equipment Do I Need for Fire and Flow?
You'll need light, medium, and heavy dumbbells along with resistance loops. You may also want a yoga mat.
We love our adjustable dumbbells and the Manduka Pro Series Yoga Mat.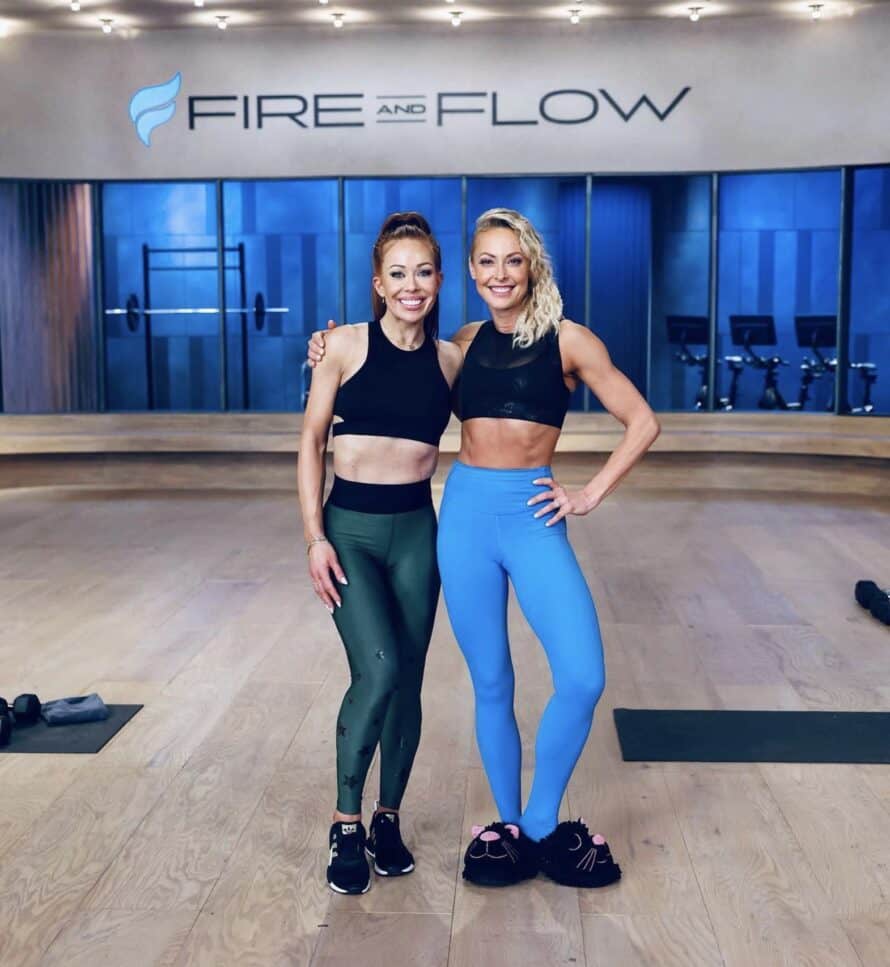 What is the Fire and Flow available?
It is now included for no additional cost for BODi (formerly Beachbody on Demand) members.
You can choose to stream 1000s of workouts with one BODi membership, or you can also bundle BOD with your favorite supplements for a discount!
Fire & Flow VIP Access Options
If don't have Beachbody on Demand – Choose one of the Total Solution Packs:
Already have Beachbody on Demand? Choose one of the options below!

Fire and Flow Before and After Photos
The test group of Beachbody coaches have had amazing Fire and Flow results! Here are just a few before and after photos!

Fire and Flow Meal Plan
Since it's a Beachbody workout, your options for a nutrition plan are either 2B Mindset or Portion Fix.
Fortunately, both have been around for years and are very effective! We prefer 2B Mindset, but both are healthy, balanced diets.
You may also like our 2B Mindset vs Portion Fix comparison.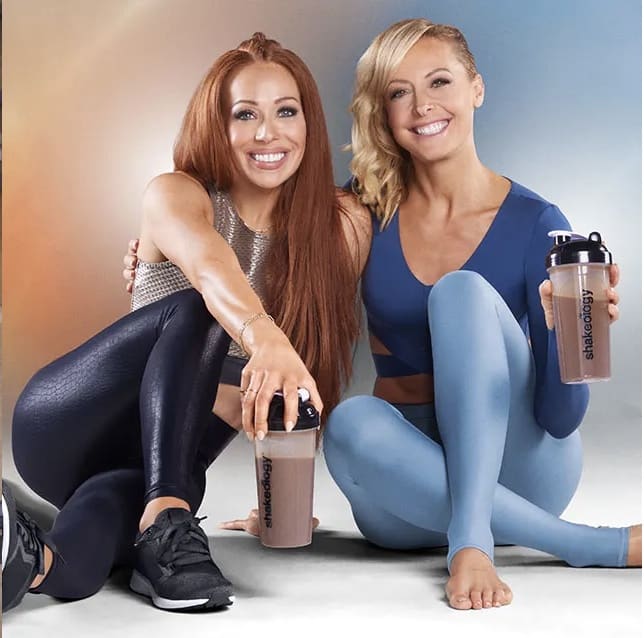 Supplements
We also love Shakeology to help with our energy, digestion, and lean muscle development.*
On Jericho's Fire days, we also really like to use Mixed Berry Energize before our workout and Recover after our workout.
Energize helps us give our all during the workout and Recover helps us replenish our body after class.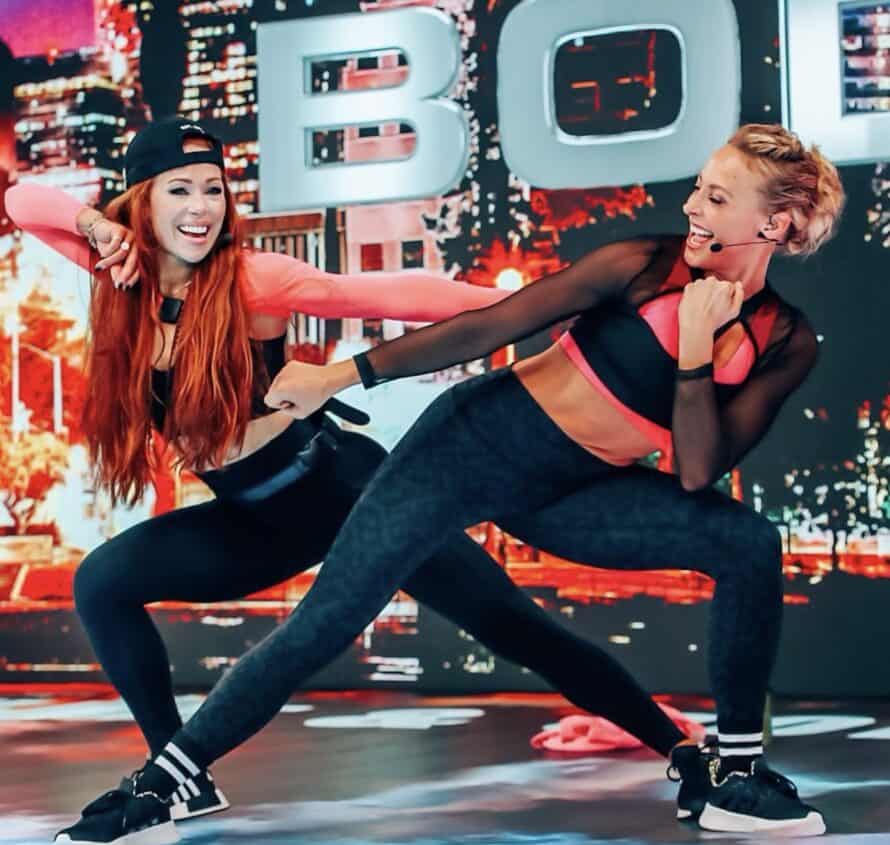 Fire and Flow Sample Workout
Ready to get started? Let us know using the form below!
You may also like our interview with Elise Joan!
Check out our Beachbody on Demand Review or TRY IT HERE
*These statements have not been evaluated by the Food and Drug Administration. These products are not intended to diagnose, treat, cure, or prevent any disease.
Pin this for later: