Beachbody's New 645 Workout Review with Amoila Cesar
This post may contain affiliate links. All opinions shared are my own. As an Amazon Associate I earn from qualifying purchases. Click to view our full disclosure.
Beachbody's 645 workout program combines strength training, cardio, and mobility training to get visible results and transform your entire body! Below, we outline what to expect from the fitness program's workouts, nutrition plan, and supplements!
There is also a sample workout at the bottom of the post or order it now!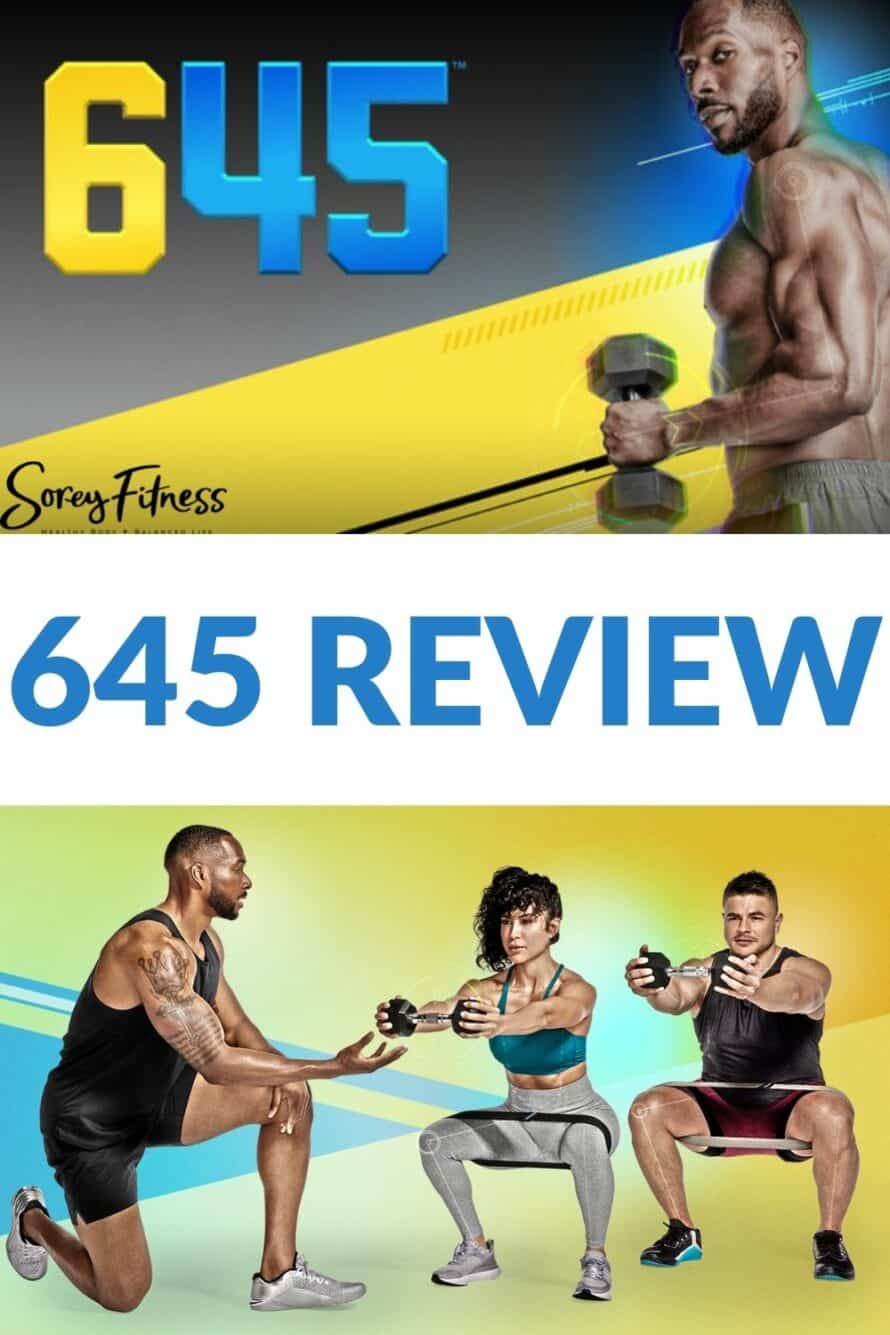 The strength workouts include heavier weights and the cardio classes burn a ton of calories, so you will see weight loss and increased lean muscle in just 13 weeks! Get a first access to the 645 Sample Workout and program!
What is 645?
645 was developed by Beachbody super trainer Amoila Cesar to help you get maximum results at home. The exercise program includes strength training, cardio, and mobility in 45 minute workouts. The 13-week program includes 6 workouts per week and has a personal training vibe to it to help you get maximum results the first time through.
What We Love
While this workout will keep you pushing to your limits, Amoila teaches proper form, focuses on not overtraining (which leads to injury), and includes a warm up and cool down with each workout. The mix of challenge and intentional focus leaves you feeling accomplished and ready to take on the world!
Coming Soon: 645 with Amoila Cesar
from
TeamBeachbody
on
Vimeo
.
How long is 645?
Beachbody's 645 workout program is 6 days a week, 45 minutes a day, for 13 weeks. It includes 4 stages to help you get maximum results in less time.
645 Workouts
The 645 exercise program includes modifications — making it a great program for multiple fitness levels! The workout program was shot in real-time, so you'll have unique workouts each day too! We love that each week includes different workouts because it allows Amoila to mix in different moves and challenges.
Weekly Schedule:
Monday – Strength
Tuesday – Strength
Wednesday – Mobility & Stability
Thursday – Strength
Friday – Strength
Saturday – Cardio 45
Sunday – Rest
Monday, Tuesday, Thursday, and Friday are strength training days. On these days, Amoila mixes in power and hypertrophy training and varies the rep patterns.
Wednesday is an active recovery day. The Mobility & Stability workout focuses on activation, stretching, and movement.
Saturday is called Cardio 45 which focuses on agility and calorie burn. This one sounds intense, but luckily Sunday is a rest day!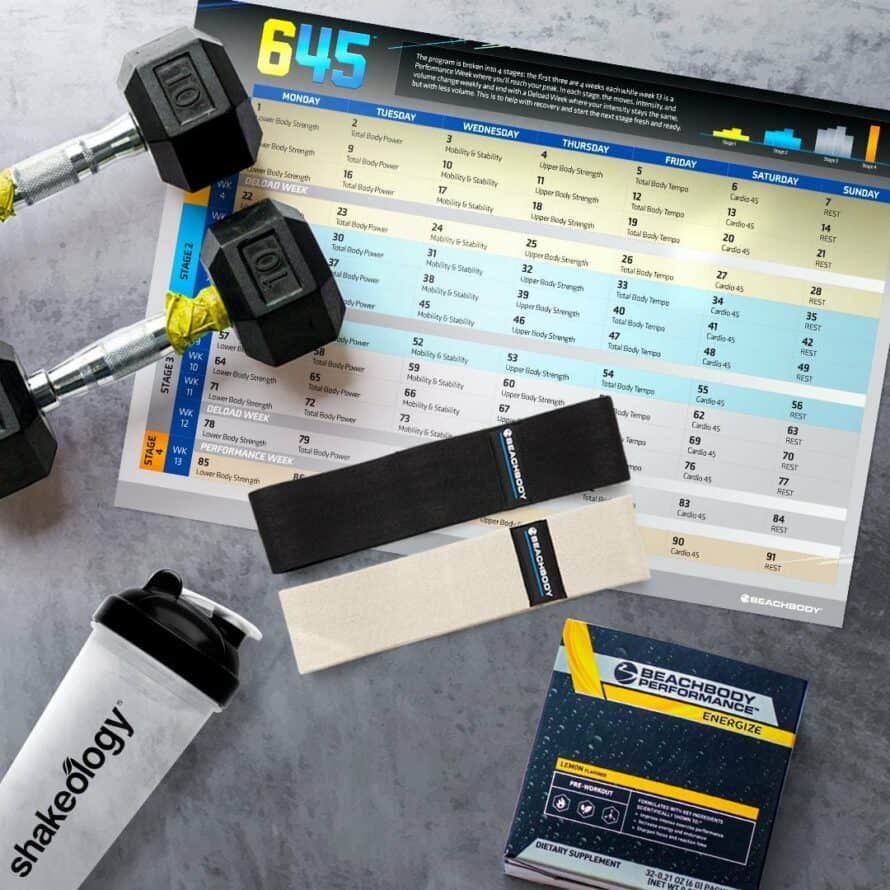 What equipment do you need for for 645?
You'll need light, medium, and heavy dumbbells, and resistance loops for 645 workouts. You may also want a mat and a foam roller.
The resistance loops are cloth covered for this program. No more rubber! Thank goodness, right?! These Power Loops are wider and stay in place so much better!
645 Before and After Photos
The results people got with Amoila Cesar's 645 workout are amazing!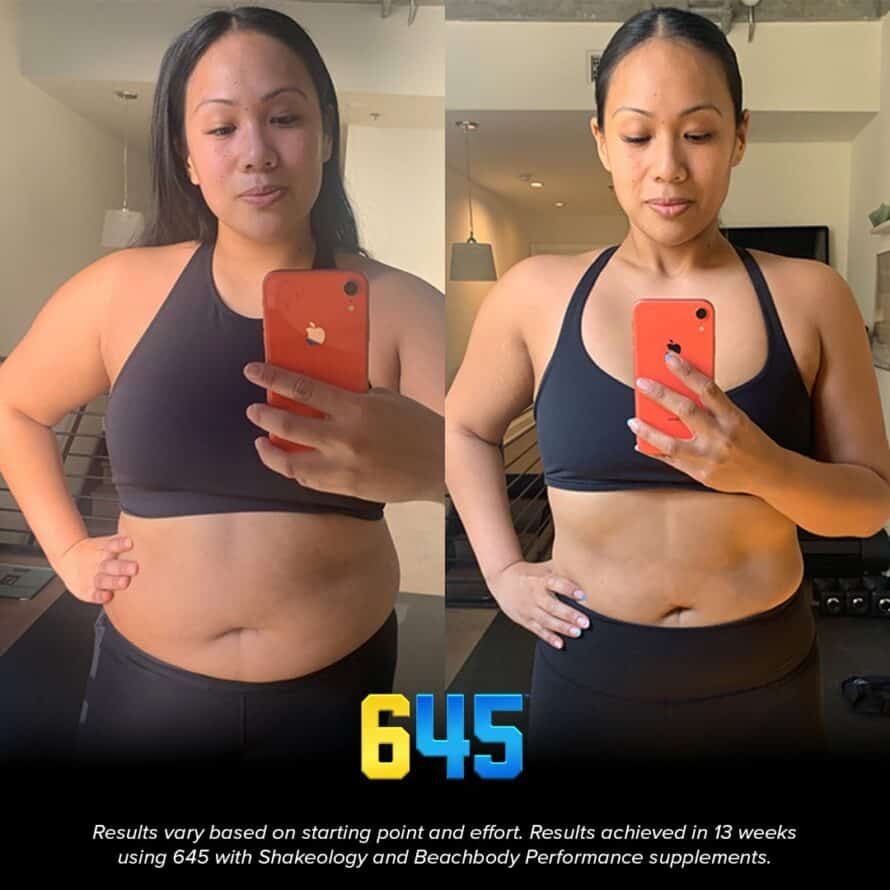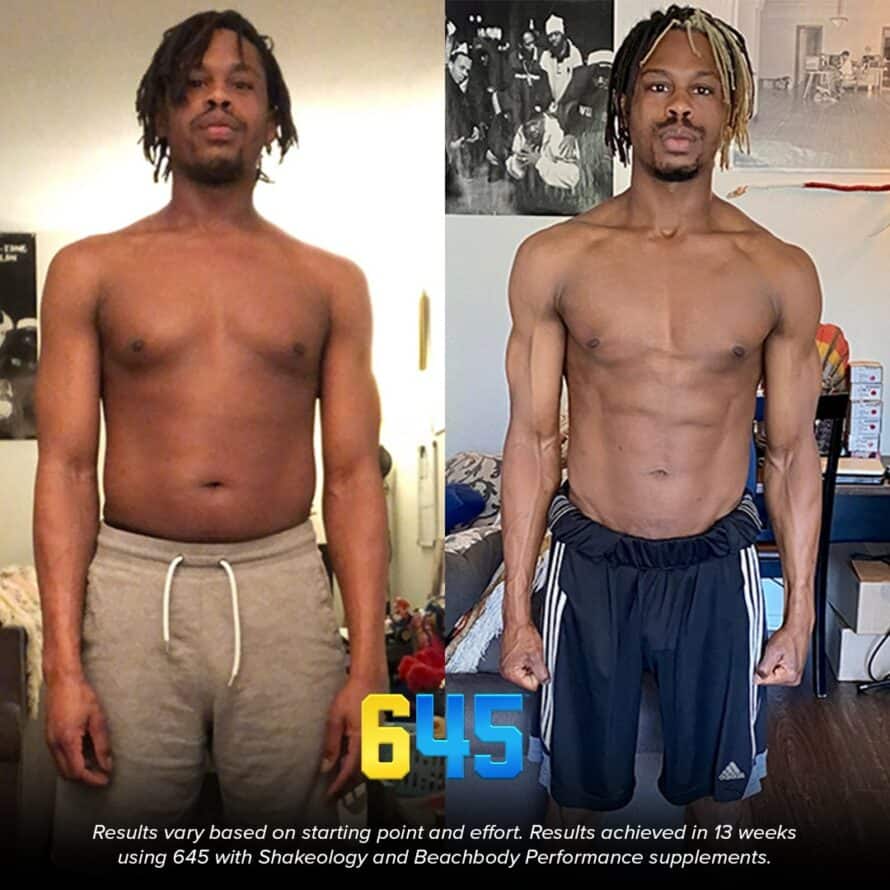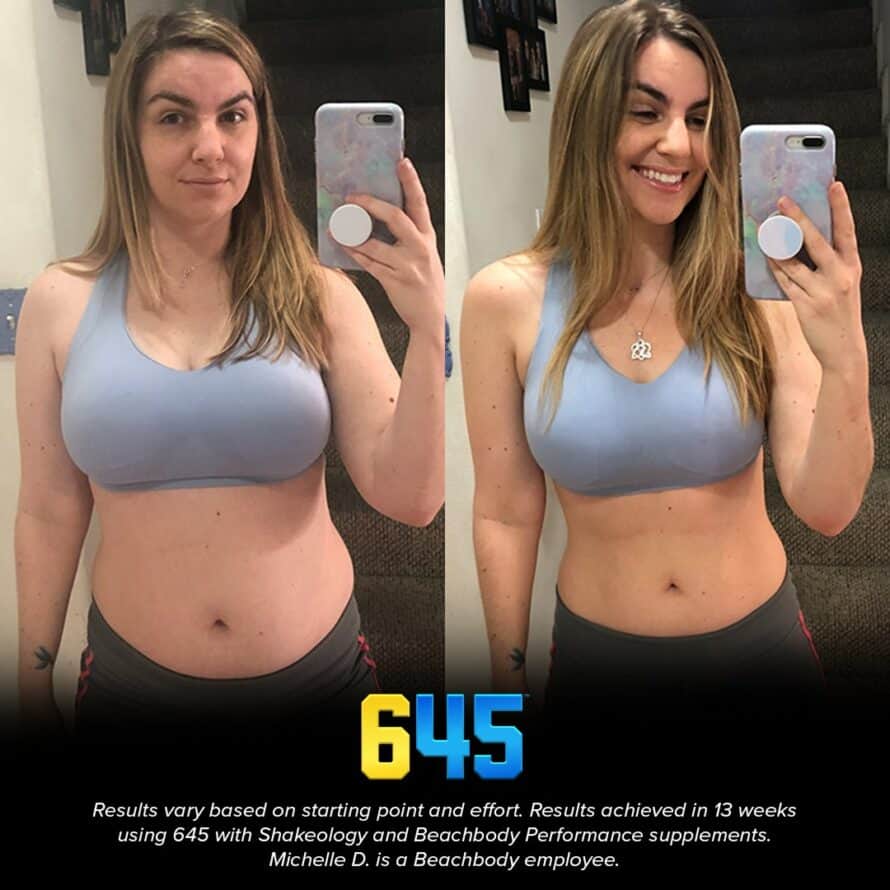 645 Nutrition
You can use either Beachbody meal plan — Ultimate Portion Fix (Fixate) with the portion control containers or 2B Mindset.
Both nutrition programs are focused on whole foods to help you get better results in less time.
We really like both programs; however, if you're looking for a macro approach (counting carbs, fats, and protein) for your eating plan, we recommend the Ultimate Portion Fix.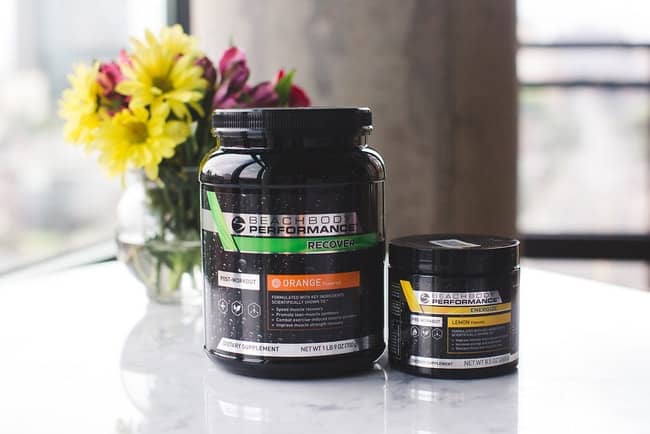 Recommended Supplements
The Beachbody Performance line is the best way to maximize your results and work towards your fitness goals! Energize helps kickstart your workout with more energy and focus, and Recover to help your body recover faster afterward.*
Beachbody's meal replacement shake, Shakeology, is also great if you're not big into meal prepping or vegetables! We love the chocolate! Shakeology is a nutrient dense shake with superfoods that helps support healthy digestion and weight loss.*
You can get all of the supplements along with your Beachbody on Demand membership with a Deluxe Challenge Pack when 645 launches!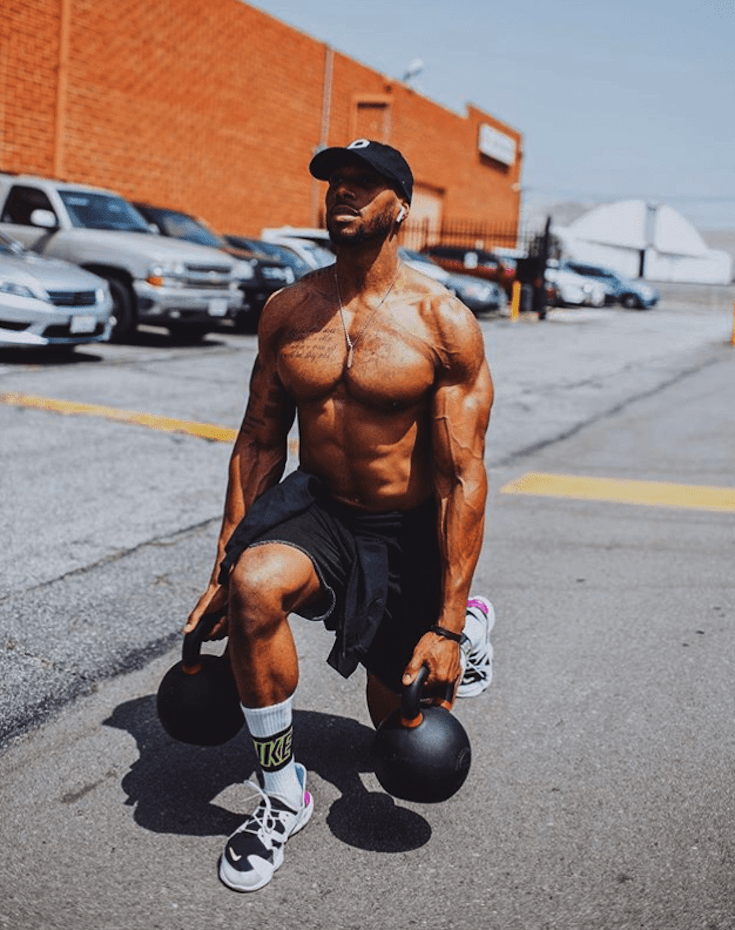 When does 645 come out?
Customer Launch & VIP Early Access – July 19, 2021
Available to all BOD members – Winter 2021
If you're considering coaching, we recommend the Performance Pack because it waives your coach sign up fee and gives you the workouts, Beachbody on Demand for a year, workout supplements, and a nutrition program.
Sign up to coach with 645 here – it'll say Kalee is your coach & the pack will be on the 2nd page.
Clients will be able to get early access to the entire program through a challenge pack or accessory bundle soon after. The Challenge Pack is a great way to get everything you need to jumpstart your healthy lifestyle and will be around $140-240 depending on the supplements you choose.
Amoila's other Beachbody workouts, 4 Weeks of the Prep and 6 Weeks of the Work, are on Beachbody on Demand now.

How can I order 645?
If you don't have Beachbody on Demand already, you'll need a Challenge Pack.
If you do have the streaming service, you'll want a Completion Pack.
Challenge Packs
Completion Packs
Other Options
If you have Beachbody on Demand and don't need supplements, check out these options:
Try the 645 Sample Workout
645 Sample Workout from TeamBeachbody on Vimeo.
You can also grab the 645 Challenge Pack here!
It Includes:
VIP Early Access
30-day supply of Shakeology, a science-backed superfood nutrition shake
Annual Beachbody On Demand access to 1,500+ workouts, mindful meditations, and delicious recipes to support your total health and well-being
Get Started Guide with Calendar, and Dumbbell Tracker
Power Loops
Portion Fix® and 2B Mindset® digital nutrition programs
Portion Fix Portion-Control Containers
2B Mindset Tracker
First 30 days of Nutrition+™ membership
Quick Start Nutrition Guide
Shakeology Shaker Cup
Free access to your personal Coach