Shaun T Hip Hop Abs Review – Great Beginners Workout
This post may contain affiliate links. All opinions shared are my own. As an Amazon Associate I earn from qualifying purchases. Click to view our full disclosure.
Shaun T's Hip Hop Abs is the perfect workout if you're not someone that LOVES working out. There is no reason to have to dread exercising.
We'll look at what the workouts are like, how many calories you burn, the results and how to get them for free!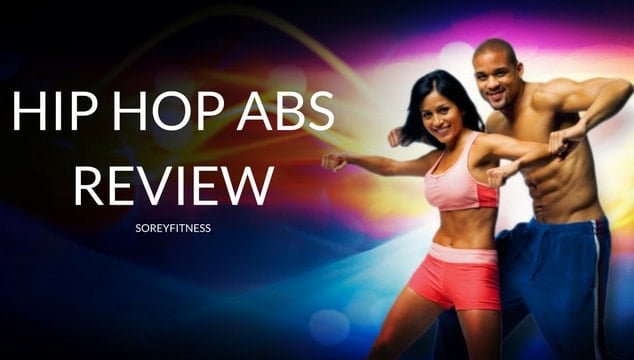 Hip Hop Abs Review
Does Hip Hop Abs Work?
Yes, the program definitely works. You'll see some amazing results below as well.
The main thing with any weight loss or toning up goal is that you are moving every day in some way and eating healthy. Hip Hop Abs just makes it fun to workout versus something you dread.
How much is Hip Hop Abs?
You can get Hip Hop Abs free for 2 weeks with Beachbody on Demand.
Beachbody on Demand is Beachbody's streaming service which is set up similar to Netflix. You literally just click a workout, stream it and sweat it out! You can learn more about streaming your workouts here or start your free 2-week trial!
With Beachbody on Demand, You Get…
Access to all the Hip Hop Abs Workouts
Downloadable calendar and nutrition plan
Access to 700+ other workouts including every Shaun T program!
Autumn Calabrese's Fixate Show
Exclusive bonus streamable workouts
What's Included?
You'll receive access to 9 unique workouts:
Secrets to Flat Abs (13 minutes)
Fat Burning Cardio (30 minutes)
Ab Sculpt (25 minutes) You won't be doing crunches and sit-ups either. Shaun T mixes in moves to incorporate your abs without hitting the same old muscles over and over. Variety is key!
Total Body Burn (45 minutes)
Hips, Buns, and Thighs (25 minutes)
Learn to Dance with Shaun T!
Take It to the Dance Floor
Hip Hop Groove
Last Minute Dance
You also will receive digital copies of:
Step-by-Step Nutrition Guide
Results on the Run diet guide (Fast food guide)
6-Day Slim Down plan
30-Day Workout Calendar
Access to our 30 Day Challenge group
You'll also have me as your coach to help you!
How Long is Hip Hop Abs?
Most of the workouts are at the 30-minute mark. Some of the advanced workouts are up to 45 minutes though.
The calendar is 4 weeks long, and you can repeat it as long as your still feeling challenged.
Don't expect Tupac music.
It's more pop-based hip-hop. The workouts also came out in 2003 so it's older music.
Cize has more hip hop music in my opinion featuring songs from Missy Elliot and others.
How many calories does Hip Hop Abs burn?
Every body's calorie burn is different based on their height, weight and current fitness level.
To give you an idea the Harvard Medical School's health publication, "Harvard Heart Letter," states a 155 lb. person can burn 260 calories doing high-impact aerobics for 30 minutes.
Your Hip Hop Abs Calendar
The hip hop abs schedule was super easy to follow, and you can add an additional rest day as needed.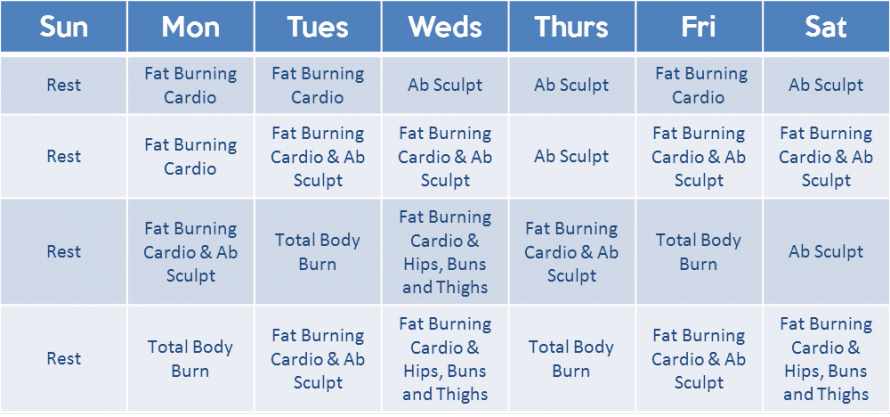 Hip Hop Abs Nutrition
The workouts include a nutrition guide as well. I personally think you could just follow any healthy eating plan though. The main thing is you want to make sure you're eating the right amount of healthy foods to hit your goals.
A simple way to figure out how many calories you should eat in a day is to take your goal weight and multiply it by 12.
What Do Hip Hop Abs Results Look Like?
Weightloss (10-15lbs depending on your goal)
Toning around the waist, butt, and thighs
A flatter belly
Improved cardio, endurance, and agility
Finally a fun workout habit
Hip Hop Abs Before and After Photos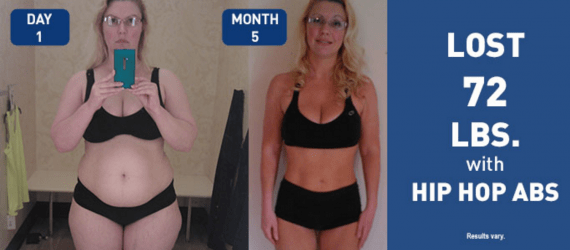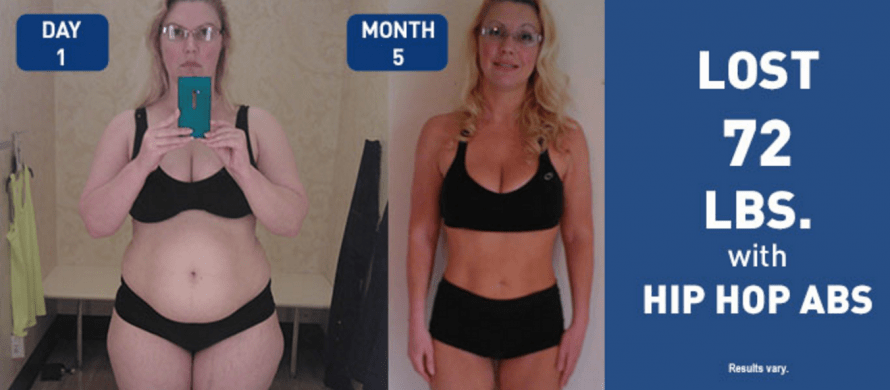 "I felt more like I was going to a dance party than through a grueling workout. The HHA videos took away my fears of judgment, stress, rejection and failure I felt were inevitable at that point when considering a traditional gym workout…In less than 6 months I lost 72 pounds going from 216 to 144 and cut my body fat in half." – Sarah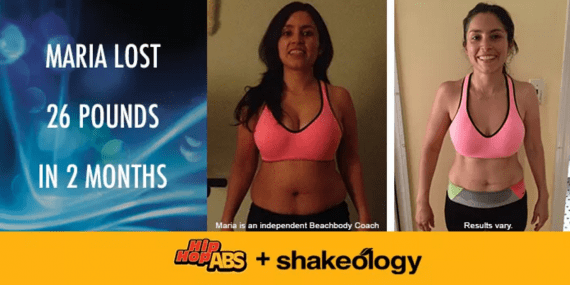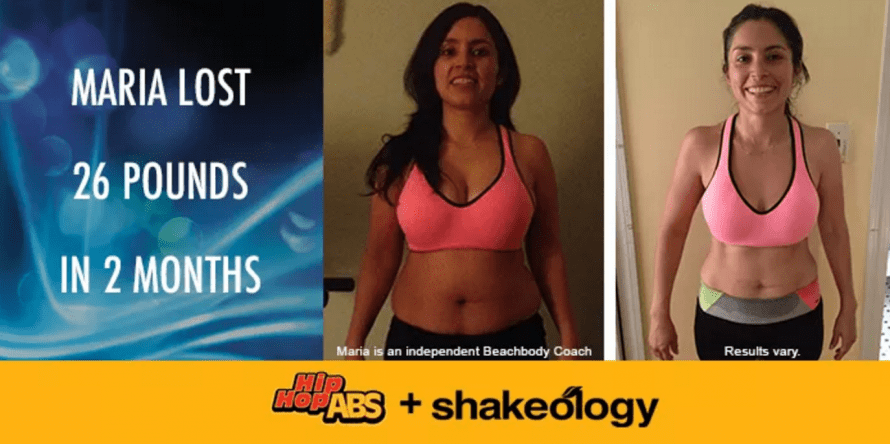 "Hip Hop Abs is fun and it doesn't really feel like you are working out, but you're building your body stronger each time you do it." – Maria
What Others are Saying
This is an awesome ab workout. The best part is not even realizing you are getting a great ab workout while having fun dancing. "Yes", I feel it the next day & "yes" I get a good sweat going. – Justin
I absolutely love Hip Hop Abs!!! If you're debating whether to buy it do yourself a favor. I am on week 10 and have lost 20lbs so far and 6 inches from my waist. – Kristin
It's hard finding time to exercise being a mom of 2 little ones, but these videos made me actually want to find that time. If we're being honest, I HATE working out, hate going to a gym, and hate dancing because I'm uncoordinated and have no rhythm. However, that being said, I liked these enough to do them daily, and I actually felt more coordinated after doing it. – Emory
Hip Hop Abs vs Cize
I personally like Cize's studio and music better. It came out in 2015 so the music is newer too.
I found I burned the same about of calories as well.
The set up in Cize is a little different than Hip Hop Abs workouts. With Cize you learn a move at a time, and then put it all together to "Cize it up!" at the end doing the 8-count all together.
Here's a peek at what Cize looks like:
Also see: CIZE: Shaun Ts New Workout 4 Week Dance Program
Hip Hop Abs Versus Insanity
These two workouts are not alike at all except that they are at home workouts by Shaun T.
Insanity is a boot camp inspired workout similar to football drills.
Also see: Insanity Workout Calendar & An Amazing Insanity Before and After
Similar workouts to Hip Hop Abs would be:
Also, if you're looking for a short Shaun T workout, check out our Transform 20 review!
You can stream all of the workouts using Beachbody on Demand.
Will you try Shaun T's Hip Hop Abs workout?
I'd love to include you in our next challenge group and help you reach your goals! I've done this program and several other Beachbody programs. I'm here to help you.