YouV2 Beginner Workout – Beachbody's 30 Minute Dance Workouts
This post may contain affiliate links. All opinions shared are my own. As an Amazon Associate I earn from qualifying purchases. Click to view our full disclosure.
Are you frustrated with staying consistent with your workouts? Aggravated at yourself for never getting a handle on healthy habits? It's not you – it's just the wrong approach! YouV2 helps you slim down in a fun, easy way!
YouV2 is a simple approach to healthy living. It includes easy-to-follow 30-minute workouts and no strict dieting!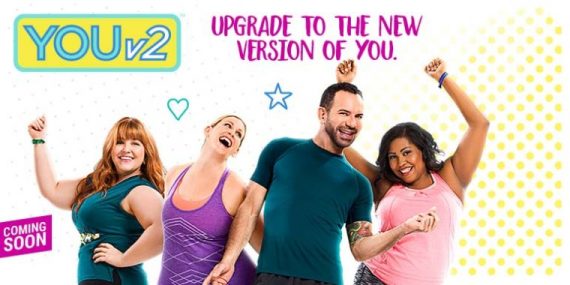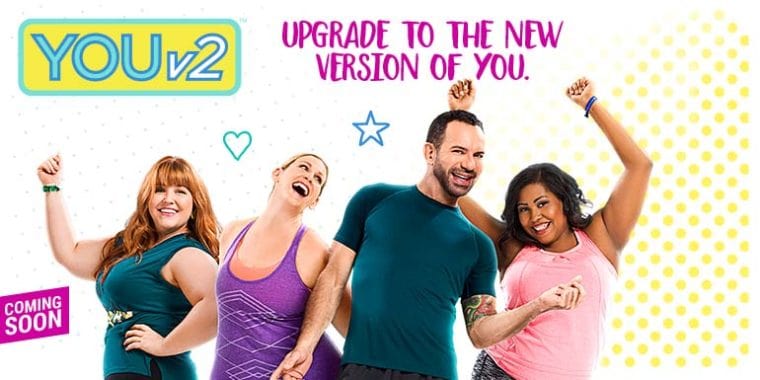 If you've ever been frustrated with:
super thin cast members
music with bad language
hard choreography
long workouts
complicated diets
boring workouts
Then this new beginner dance workout is perfect for you.
YouV2 means You Version 2 – 1.0 is absolutely amazing, but why not feel better and have some fun working out to hit You 2.0?
The YouV2 Workouts
4 Step-by-Step Energizing Dance Routines
2 Body-Sculpting Classes
All Low-Impact
No Equipment Needed
All of the workouts are about 30 minutes (28-34 minutes)
There are also REAL women working out in the video, and they're losing weight right with you.
The workouts are all set to 80's and 90's music, and they are all about 30 minutes long. If you prefer country music – check out Country Heat which is also a beginner workout & 30 minutes!
You'll be working out 5 days a week with 1 rest day, but you can always choose to fit your busy schedule. The program is meant to be fun and also help you see weight loss results in as little as the first week!
Here's a sneak peek of the beginner dance workout!

Your Workouts include:
| Move Your Body | Let's Get Loud | |
| --- | --- | --- |
| Work It! Shake It! | She Works Hard for the Money | |
| Rock It Out | Hit Me With Your Best Shot | |
| Sweat Sensation | Good Vibrations | |
| Sculpt Shack | Love Shack | |
| Believe, Achieve & Tone | Believe | |
The workouts are also low-impact – so you won't be jumping or killing your knees. You can always intensify the workouts with bigger motions as you get stronger.
The program is 4-weeks, but you can always do another round or bump up to another workout like 21 Day Fix or Brazil Butt Lift. You could also do another dance workout like Country Heat or LET'S GET UP!
With Beachbody on Demand – You Can Stream Hundreds of Workouts
The YouV2 workouts will be on Beachbody on Demand, and with the Beachbody on Demand Membership or Challenge Pack you'll get access to hundreds of Beachbody workouts.
Basically, with On Demand you can stream hundreds of workouts (like this one, Country Heat, etc) from your computer, Apple TV, iPhone, Roku, or even an HDMI cord.
You can learn more about Beachbody On Demand Here. We absolutely love it, and it allows you to try different programs for a year!
How Many Calories Does YouV2 burn?
Every body's calorie burn is different based on their height, weight and current fitness level.
To give you an estimate the Harvard Medical School's health publication says a 155 lb. person can burn 260 calories doing high-impact aerobics for 30 minutes.
The heavier you are, the more calories you'll burn as a general rule.
If you've been eyeing the 21 Day Fix or another workout, start here.
YouV2 will help you build up your fitness level to be able to do other popular at home workouts like the 21 Day Fix or Cize.
In just 4 weeks, you'll see a difference in your strength, endurance, and coordination.
The YouV2 meal plan is super simple.
The plan is a balanced diet focused on simple grocery shopping, meal prepping, and recharging on the weekends. You won't be following a strict meal plan – but a healthy lifestyle!
It's focused on 3 Healthy Habits.
Unlike the 21 Day Fix or other diets, you'll just use these 3 simple healthy habits:
drink more water
no eating after 8 pm
make one snack a healthy snack.
Then add one new healthy habit each week.
Each habit is super easy to follow and creates a lasting change versus yo-yo dieting.
Week 2 adds in a YouV2 Breakfast recipe from the nutrition guide.
In Week 3, you'll add in a YouV2 Lunch recipe, and by Week 4 you'll add in a dinner-approved recipe.
We love this simple approach because it creates lasting habits. It isn't about losing the weight fast and putting it back on – it's about finding what works for life.
The YouV2 nutrition guide includes delicious recipes.
Since you'll be adding healthy snacks and meals, the nutrition guide includes simple recipes that are super tasty!
You'll also get a sample week of meal plans!
Do you need Shakeology?
It's recommended as your healthy snack, and it's something we drink daily.
It's helped our digestion, energy, cravings and even our hair! It is optional though! You don't have to buy or drink it.
We've found it to be well worth the money though because of the high-quality ingredients and convenience.
You can check out our full Shakeology review here.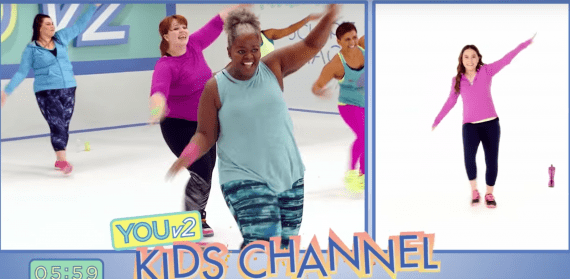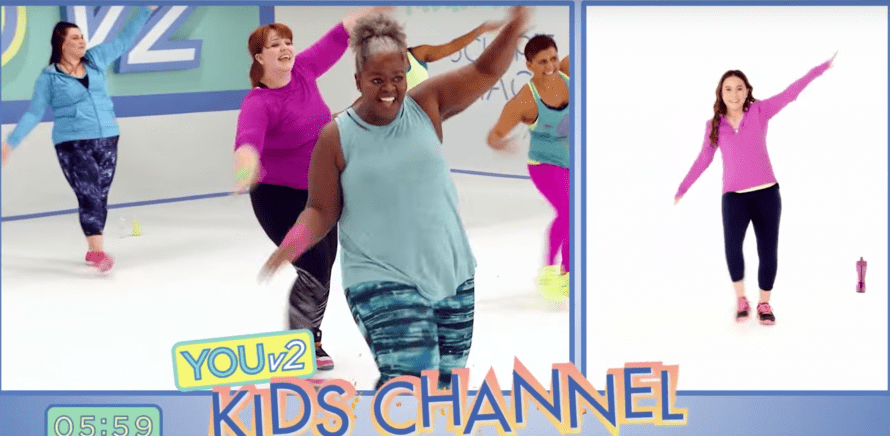 Your Kids Can Join You!
One of the things we loved about this specific dance workout is that your kids can join you too!
If you're using Beachbody on Demand, you can split the screen to have the workout on part of it and a kid following on the other side!
As a mother-daughter fitness team, this was such a game changer for us! As a kid, I loved working out with my mom, and this is a fun way to include them too. Plus the music in this program is more kid-friendly than some of the songs in Cize or other dance workouts.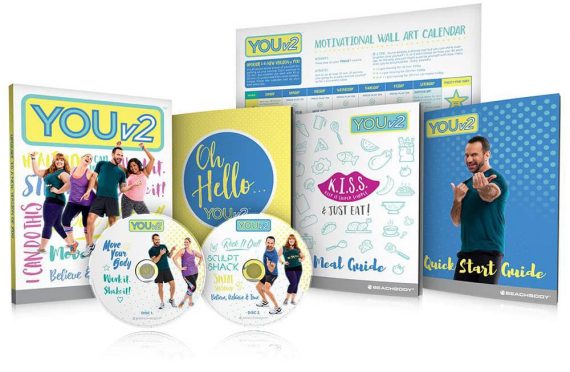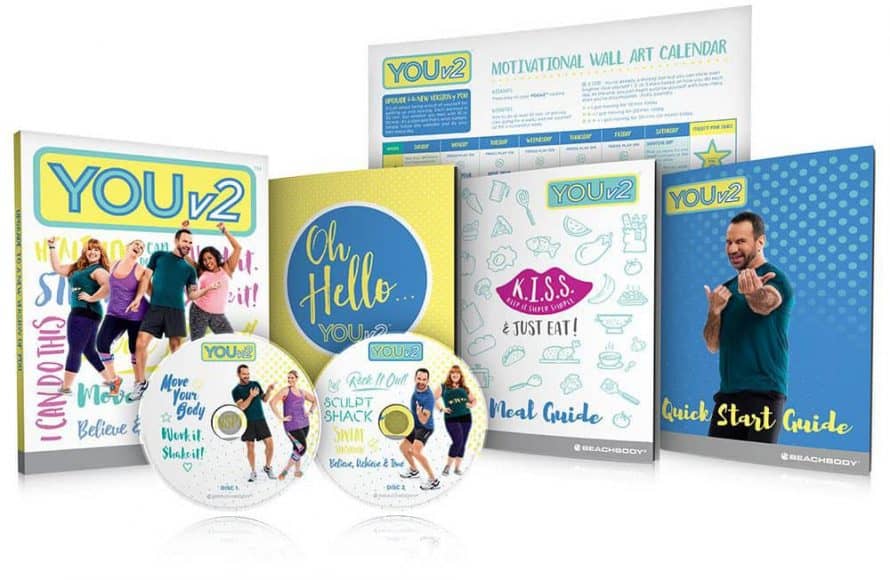 What's included with YouV2 Dance Workout?
You'll receive all 6 workouts plus a workout calendar, quick start guide, simple nutrition plan and journal to track your results.
With Beachbody on Demand, you'll receive digital copies of:
6 workouts
YouV2 calendar schedule
The Quick start guide
YouV2 Meal Plan
30-day money back guarantee
You can also choose to stream the YouV2 workouts instead using Beachbody on Demand.
If you decide to stream you'll receive everything above in digital form, plus 700+ other Beachbody workouts to try, a Kid's channel to do YouV2 together, and FIXATE – a healthy cooking show.
With streaming, you'll automatically receive new programs as they come out.
Beachbody on Demand is $39 a quarter after the 2-week trial. You can learn more about the streaming service here.
Have Questions?
We'd love to help! Comment below or message us on our Facebook page! If you are looking to take your health back, we're here to help you find the best program and hold you accountable to your goals! We've helped 1000s of people lose weight and gain confidence!