80 Day Obsession Test Group Results – Before and After Photos
This post may contain affiliate links. All opinions shared are my own. As an Amazon Associate I earn from qualifying purchases. Click to view our full disclosure.
Autumn Calabrese promises a total body transformation, but does 80 Day Obsession really work? We dig into the cast members' and test group's results to see if you really could lose weight and build lean muscle in just 13 weeks. The 80 Day Obsession results and before and after photos really surprised us! You can really get a great at home workout with Autumn!
We share the cast members progress, test group results and answer frequently asked questions all here! *Updated 8/10/2018*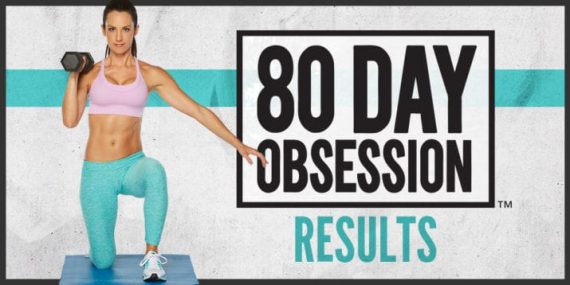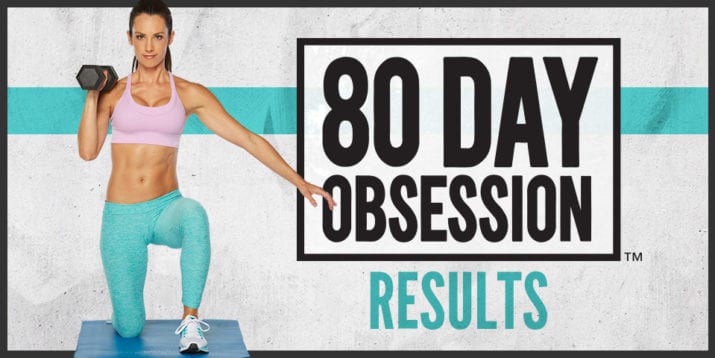 You can also view Our Full 80 Day Obsession Guide for more details on the program and nutrition plan.
The 80 Day Obsession results are truly amazing.
They lost inches and pounds – which was impressive considering a lot of them were already in decent shape.
80 Day Obsession Before and After Pictures
These photos are from real people that completed 1 round of workouts and following the meal plan.
Their 80 Day Obsession results included weight loss, inches lost and overall better definition all over – especially their abs.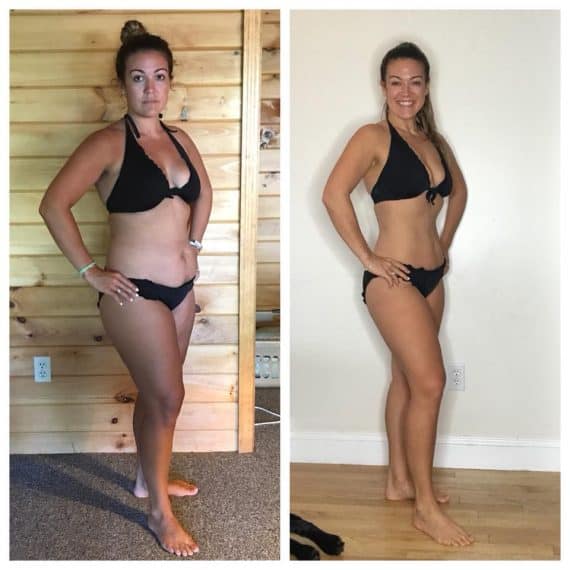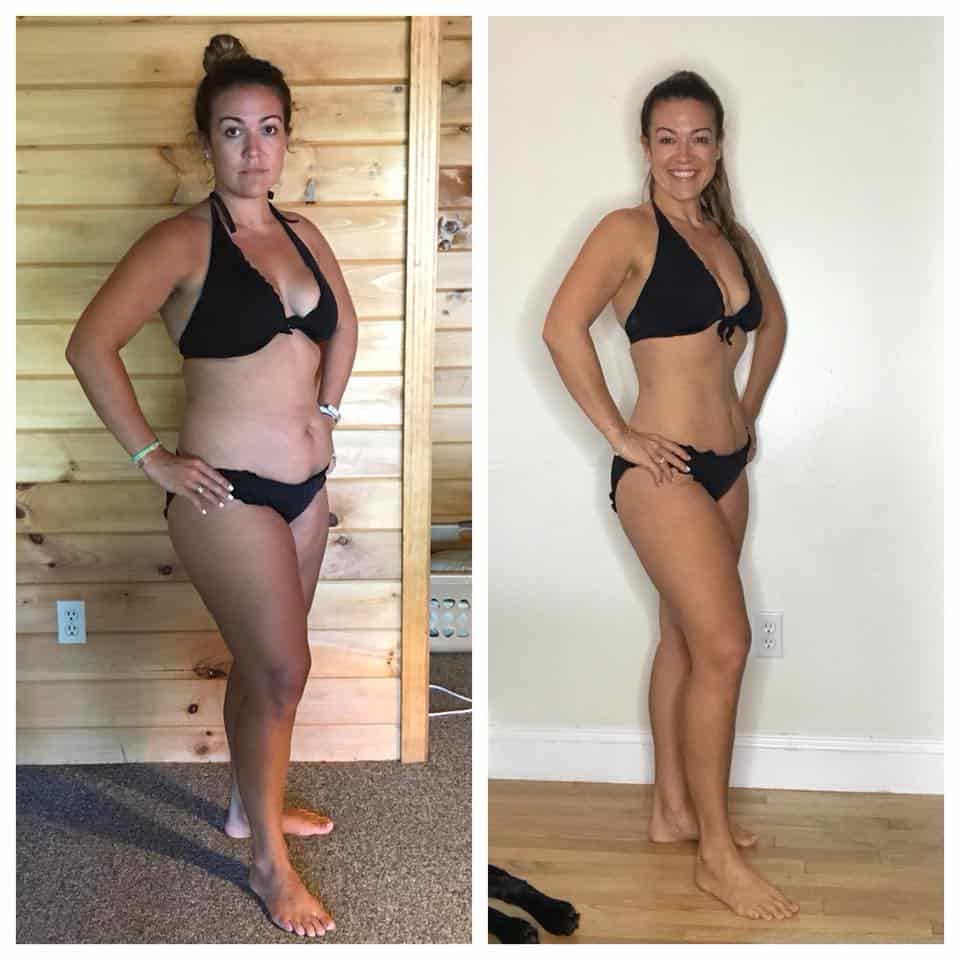 Joan C.
Before Joan started Autumn's workouts and timed nutrition, she was a plateau with her fitness.
She loved that each workout was different, and it kept her from getting bored!
She lost 10.6 pounds and 13 inches in just 80 days!
I ended up getting results beyond what I thought possible; I feel AMAZING! I feel in control for the first time in a long time.  — Joan.
Emily F.
Emily wanted to kickstart her fitness and nutrition, and this program was just that!
She lost 21 pounds and 23 inches!
I feel like I can now accomplish anything! I feel like I am on top of the world and I finally gave my life and body what it deserves. — Emily
If you're interested in joining our 80 Day Obsession Group – email thegirls@soreyfitness.com or use the form below.

80 Day Obsession Cast Members
Just like anyone else doing the program, the cast members did every workout! They showed up a total of 93 days for shooting, and their bodies really do change as the program increases!
It was so cool to be able to have a NEW workout every day, and it was so motivating to see the cast members results happen right in front of us!
The 80 Day Obsession Cast Members Names
Calie Calabrese (Autumn's sister!)
Donald Stamper
Katrina Rosita
Jazmyne Rey Avant
Carrie Pyle Lawrence
Richardson Chery
Is 80 Day Obsession Good for Weight Loss?
80 Day Obsession isn't designed exclusively for weight loss.
It's designed to give you a round butt and flat abs in 13 weeks. Since it involves a lot of weight training and floor work, you may initially not see the weight loss you want.
That doesn't mean you should stop. Just like the before & after pictures, you will see results from this program.
Why will you see 80 Day Obsession results?
80 Day Obsession burns a ton of calories per workout. It includes amazing meal plan with Timed Nutrition. It's also designed by a fitness competitor, Autumn Calabrese, and she knows what she is doing.
We say all that to let you know, it's okay if the scale doesn't move immediately. Trust the process and go through all 3 phases before you write it off.
Some of the same people that have amazing before and after's you saw above, stressed over the scale, but in the end – they had amazing results.
If you're struggling with the scale or just staying accountable, please reach out to us using the form below. We'd love to help you with your weight loss goals.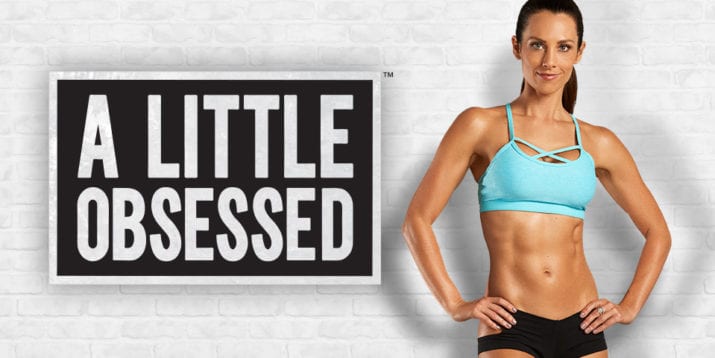 Is 80 Day Obsession Good for Beginners?
80 Day Obsession is not for beginners. It's an intermediate to advanced workout with some complex moves mixed in.
There is a modifier, but she is still more at an intermediate level versus a beginner. You may start with the 21 Day Fix or A Little Obsessed to build up to this program.
A Little Obsessed a shorter, less-intense program that helps you build up to 80 Day Obsession. With Beachbody on Demand, you could also always try out one of the other 700 workouts on there as well.
If you're not seeing the results you want, check out this video:
80 Day Obsession Non-Scale Victories
Improved sleep
Less cravings
More strength
Better posture
More confidence
Clothes fit better
Improved mindset
Less headaches
No more bloating
Clearer skin
Friends asking what I'm doing different!
Ordering Options
There are a few different options depending on your goals and what you already own. We've outlined them here, but if you have questions let us know using the form below.
For the BEST 80 Day Obsession Results, you'll want The Mega Pack.
What does the Mega Pack Include?
If that's not in your budget, or you already own some items, these 80 Day Obsession ordering options may suit you better:

How to MAX 80 Day Obsession Results
It's clear that 80 Day Obsession works, but it's an intense fitness and nutrition plan. You'll want added support and tips from people that have done the program before.
That's where we come in!
Our challenge group is where we sharing tips, recipe ideas, and motivation daily. We'd love to have you join us and our team of amazing clients!
Want to join us? Use this form:

Beachbody Coaches Save 25% Off Orders
You may just be interested in starting this workout and getting fit, but the coaching thing kind of scares you. We totally get it.
A coach is someone that uses Beachbody products and can choose to share about them with others. Some of our coaches are our best clients – not ever promoting or selling anything at all. No one even knows they are a coach, but they get exclusive access to events like this AND a 25% discount on their orders.
We also offer all kinds of fun events and training for our team of coaches as well if you're looking for a part- or full-time income opportunity.
So as a coach, you decide what you want to do. We can also help guide you every step of the way, and it's free to cancel.
Now that you've seen the 80 Day Obsession Before and After Photos,