Les Mills Combat and Pump DVDs – Going Away Forever!
This post may contain affiliate links. All opinions shared are my own. As an Amazon Associate I earn from qualifying purchases. Click to view our full disclosure.
Les Mills Combat and Pump DVDs are going away forever! I know, we're bummed too. We loved being able to do Body Pump at home! If you loved Joel's chest routines and Jericho's mac raises, you're in luck though!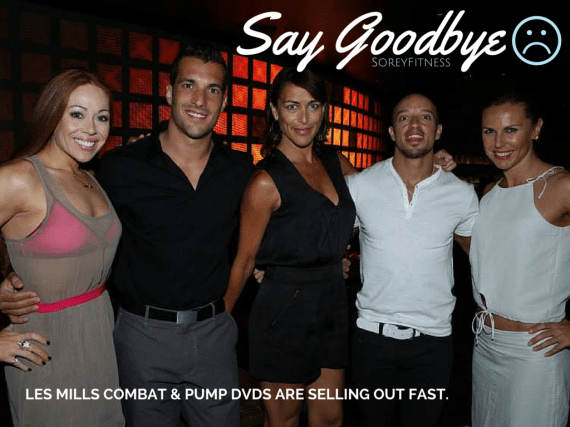 What happened to Les Mills Body Pump and Combat DVD workouts?
Les Mills had partnered with Beachbody to create a DVD program based on their famous BodyCombat and BodyPump workouts. The reason the Les Mills Combat and Pump DVDs are going away is because Les Mills has been bought out by Reebok. The contract they had with Beachbody ended. So you can no longer purchase either class-based at home workout.
Still Want Les Mills Workout at Home?
You can stream the workouts as well with Les Mills on Demand!
What was Les Mills PUMP?
The old Les Mills PUMP DVDs were the at-home version of BODYPUMP®. The workouts were set to music to match the "Rep Effect" of every workout. It was awesome for weight loss and used light-to-moderate weights with high repetitions to tone and lean out your muscles.
Another thing I loved about the workouts were the trainers. They knew every song and were so motivating.
But there is some good news!


Joel and Jericho, two of my favorite Les Mills Pump trainers, are now working with Beachbody. If you loved Combat, you have to check out their new workouts!
They have a new mixed martial arts program coming out in November 2016! Get the details on their own mixed martial arts program here!
Here's a sneak peek:

So while we won't have the "Rep Effect" of at home workouts with Les Mills DVD anymore, we can at least workout with two of our favorite trainers.
Will the works be similar to my Combat review?
I believe the new program will give similar results, but it will be different. We won't have Dan and Rach punching and kicking to the beat of the music. I expect I'll like the new program just as much though. The workouts are about the same length of time ranging from 30 to 45 minutes. Like Les Mills Combat workouts, you'll learn a combination of moves to repeat and focus on intervals for max calorie burn. Unlike Combat the routine is not set to the beat of the music which I will miss.
If you loved Joel and Jericho or just dying to have some boxing, kickboxing, or Muay Thai-inspired combinations in your life, you will love this new program. You can check out all of the details on the new workout – Core de Force – here.
Will you try Core de Force since our Les Mills Review has gone mute?