Believe It, Blog It: 5 Steps to Start a Blog People Love and Pays Your Bills — The E-Book
This post may contain affiliate links. All opinions shared are my own. As an Amazon Associate I earn from qualifying purchases. Click to view our full disclosure.
 Have you ever wanted to share your passion with the world, but you weren't sure how to do it?
Blogging allows you to put your passion into something others can experience and connect with on a daily basis. It does not have to take a lot of technical skills or time either! I've learned how to create engaging content, grow my traffic, and make a living writing online within 2 years. Now, I am sharing that with you!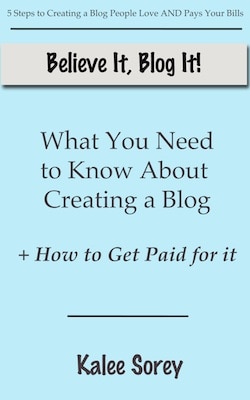 Believe It, Blog It outlines the basics behind starting and growing a successful blog in 5 practical steps. After 2 years of writing and monetizing my blog, I have described how to create successful blog that brings in an income in 5 steps. Each section is described in real-world terms to empower you to create the blog of your dreams. You'll learn how to start a WordPress blog, write irresistible content in your industry, grow your traffic, monetize your quickly growing blog with this guide.
Whether your goal is to share love of something, grow your business, or keep in contact with your online community — Believe It, Blog It will help you share your passion with the world easily.
What Will You Get From Believe It, Blog It?
You'll learn the technical pieces of setting up your blog, how to write a killer headline, and create irresistible content for your readers. After you apply the strategies outlined to grow your blog's traffic, you'll be ready to learn 6 ways to monetize your blog!
Believe It, Blog It: 5 Steps to Start a Blog People Love and Pays Your Bills Outline
Section 1: Getting Started and Setting Up Your Blog
Section 2: Setting Your Tone and Creating Organization in Your Blog
Section 3: Creating Irresistible Content & Getting People Engaged
Section 4: Monetizing Your Blog
Section 5: Is Choosing a Multi-Level Marketing Opportunity Right For You?
***Bonus:: 15 Quick Tips & Reminders for Your Blog***
You can get the complete e-book for under $6 right now (for a limited time only)!
Also, don't forget to LIKE SoreyFitness on Facebook for giveaways and other updates.