5k Color Run 2013 – Why, What, and HOW to Train for Beginners
This post may contain affiliate links. All opinions shared are my own. As an Amazon Associate I earn from qualifying purchases. Click to view our full disclosure.
I am so not a "runner". I do not feel the high, find it to be a mind-clearing activity, or even enjoy it as a workout. I actually am one of those people that laughs and says, "I only run if someone is chasing me."
I guess the Color Run changed my mind. I will run when chased or when colors are thrown on me.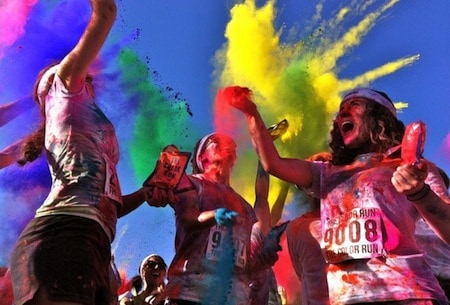 So why am I doing a 5k?
It looks fun. I also think having something to look forward to and measure my progress will help me enjoy running. Just like anything, the beginning is the toughest.

How do you sign up for the Color Run?
You can sign up at The Color Run. Last year it sold out SO fast that I bought my tickets they went on sale this year.
How long is a 5k?
A 5k is 3.1 miles.
How do you train for the Color Run or any 5k?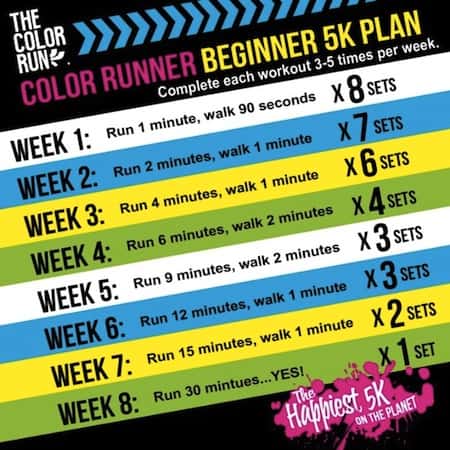 Like I mentioned before, I'm not a running expert. I have found some free training guides to help me prepare for the big day. Two popular 5k training guides are Couch to 5K and the Color Run guide.
My plan of training is to follow the the Color Run 5k training schedule starting at Week 4 3-days. This will help me reach my goals of running the 5k and matches my current running level.
If you are running outside for your 5k training, make sure to carry some form of identification in case of an emergency. Does anyone have other suggestions for the Color Run or just a 5K beginner?
What about the pre- and post- meals? I think that's more for marathon runners, but if there is a reason to visit the Pancake Pantry….I'm open to it!