What's A Realistic Body for a Woman? Focusing on Health Not Looks
This post may contain affiliate links. All opinions shared are my own. As an Amazon Associate I earn from qualifying purchases. Click to view our full disclosure.
There are hundreds millions of articles talking about a woman's body.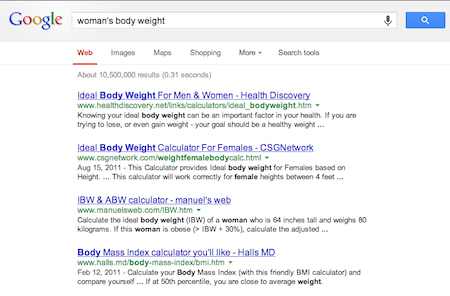 Everywhere we look there is an article or picture about how to look, what to accept, and what's beautiful. I don't want to do a post about how curves are "hot" or how skinny girls shouldn't be ashamed of being naturally thin. I DO want to talk about how I personally feel about my body and my health.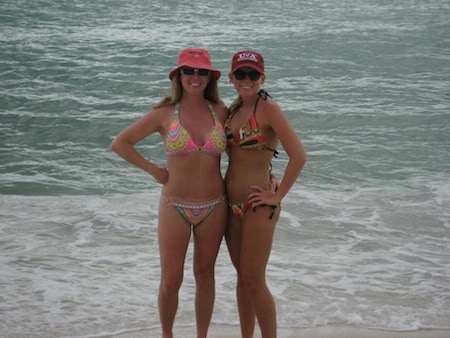 No matter how many articles you read, how each one of us sees ourselves is different. This is a picture from our vacation to Florida last year. I think we look "pretty good" in it especially after my bikini breakdown last year (seriously).
My mom, 43, worries she looks "thick" which is a risk-factor apparently for your body as you age. There is not scientific proof behind becoming thick, nor does it cause a health problem necessarily, but it is not a desirable trait as you age. I don't see it, but again it's about what a woman sees about her own body.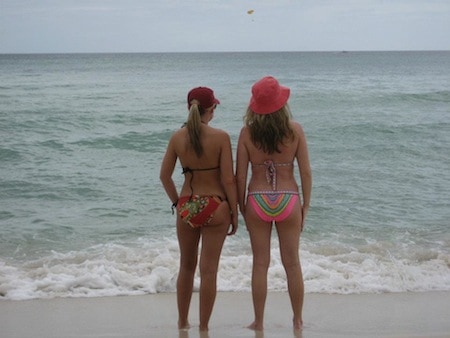 Now on to the booties. No hiding it. I have a rear.
It has a "shelf", and it is constantly being put through lunges and squats to keep it lifted. (Don't you love our made-up vocabulary for our bodies?) When I see a picture of it, I immediately go through a series of thoughts: "Holy moly, I have a butt….BABY GOT BACK….Curves are good…eww Kim Kardashian." I forgot words like healthy and acceptable.
Which leads me to the point — we are both healthy and feel good. It's just amazing how fast your brain can go to compare.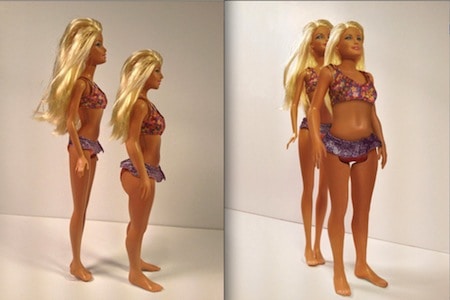 Artist Nickolay Lamm created a realistic model of a Barbie using the measurements of a 19 year old girl. Keep in mind, this is still a teenager's body, not a full-grown woman. Her shorter torso and booty make me feel a little less weird about my bum. The average Barbie is still cute too in my opinion.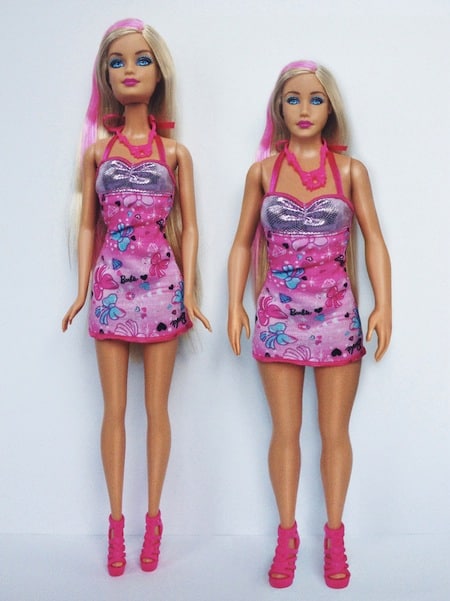 Wondering what the average woman's body looks like?
The CDC found that the average woman over 20 wears a size 14, 166.2 lbs, has a 37.5 waist, and is about 5′ 3.8″ tall. That means the average woman is not meeting a healthy weight or waist measurement. Forget "hot or not," a waist over 35″ is considered to be "high-risk" of health problems!
Plus, the average woman is having a hard time shopping — which is never fun!
A Cleveland writer found that approximately 93 million women are in the double-digit size range. In the article she talks about the same struggles I addressed in my personal thoughts above, plus the annoying fact that finding a cute clothes in a size 14 is tougher than finding something between a 4-10.
In addition, we, as women, continually seem to beat ourselves up. We feel we don't deserve to find something cute or to say we look good. It's easier for us to find clothes that "will work" until we lose weight without a PLAN to lose weight.
Wherever you are today — mentally and physically — in your healthy lifestyle, remember your health should come before looks.
For me, it helps to focus on a healthy diet, a great workout I like to do, and never totally cutting out a food group, dessert or wine. Knowing I feel good and that I take care of my body helps me let go of Baby Got Back lyrics and get back to a realistic attitude.
What helps you stay focused on a realistic body?