Cute Workout Clothes for Women & Are Kate Hudson Workout Clothes Good?
This post may contain affiliate links. All opinions shared are my own. As an Amazon Associate I earn from qualifying purchases. Click to view our full disclosure.
Crappy workout clothes can lead to a crappy workout.
We need workout clothes that fit properly, doesn't ride up areas and flatters the body.
In this post, we'll look at:
the 3 factors to finding great workout clothes
2 best brands for workout clothes – Lorna Jane and Sweaty Betty
Look at Fabletics – Kate Hudson Workout Clothes!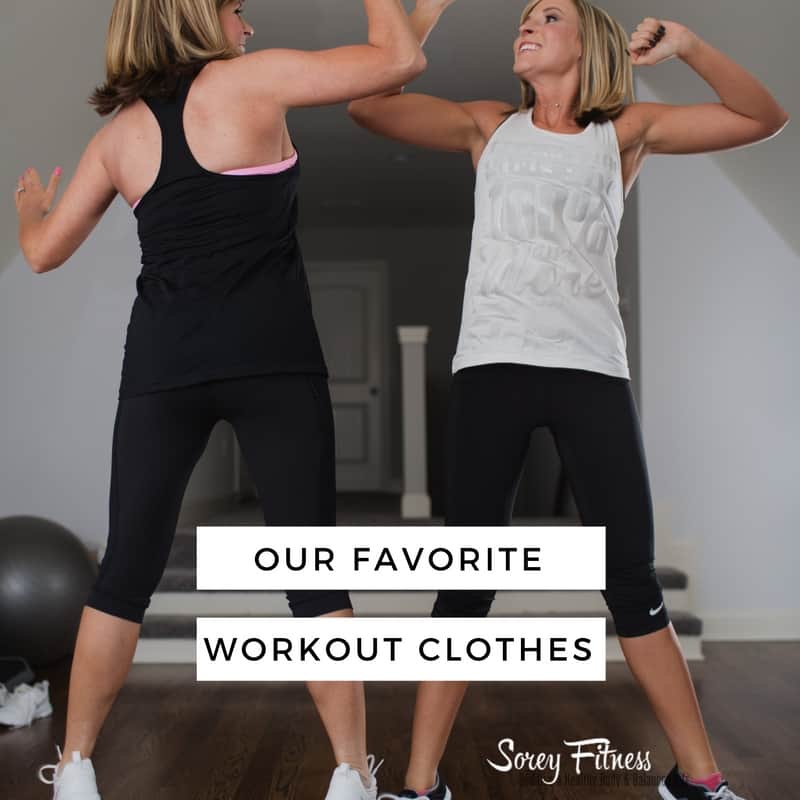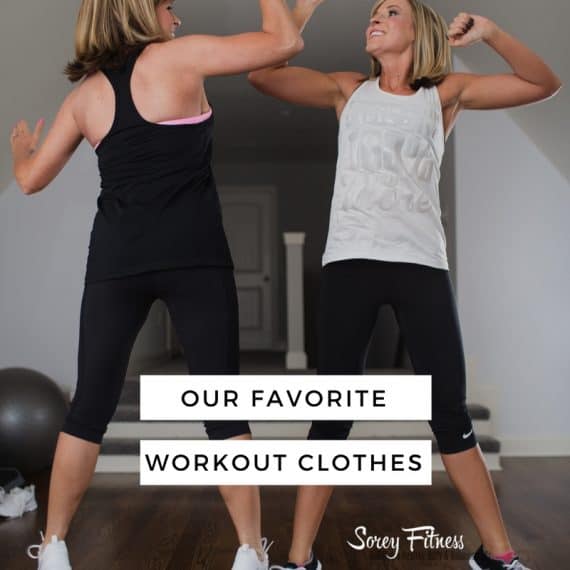 Baggy sweats and t-shirts may be easy to grab, but they are going to get in your way while you workout, and within just a few minutes they'll be a sweaty mess.
Which is one reason you'll notice the nice workout clothes for women are usually made out of something special and not 100% cotton.
Even though I workout at home, I love cute workout clothes and am affiliated with the companies mentioned below.
Best Workout Clothes for Women
We've been in love with a few companies after working out for years. We do a mixture of yoga, cardio and strength classes, and while we like nice workout clothes we also are known to shop the sales.
The best workout clothes for women are Lorna Jane.
We almost always wear their clothes in our photoshoots because it's what we wear on a daily basis.
They have a few stores on the West coast, but living in Tennessee we shop online. Their site isn't the friendliest, but I promise it's worth it. They also have a decent return policy as well.
Their clothes are really high-quality and perfect for a low impact workout or a sweat-fest at the gym. The LJ Excel™ fabric, in particular, is awesome. It fits you like a glove, is breathable and quick drying. Plus it doesn't shrink or fade.
Best Lorna Jane Pieces to Own:
Sweaty Betty

Sweaty Betty is another high-quality brand we love.
It's based out of London, but their site is in fact really great. It even includes a guide to choosing the best bra. They also have some awesome sales.
Sweaty Betty must haves:

Other Innovative Workout Clothes
The zip-front bra?? Genius!! Their leggings are a tad thick though which can leave us feeling hot during a workout. Keep an eye out for sales and coupons though. They run some great sales including where you get a bra and leggings for $50.
We love their bras as well. They offer major support, underwire that doesn't dig in, and they're easy to take off!!
It's just that they never have a big sale, and it can be intimidating to shop there. (sorry not sorry!) If you're a big yogi though, Lululemon feels like a heavenly glove on. I love my high-waited WunderUnders.
They are a tad thin, but they are great for breathable-ability – especially in a hot environment.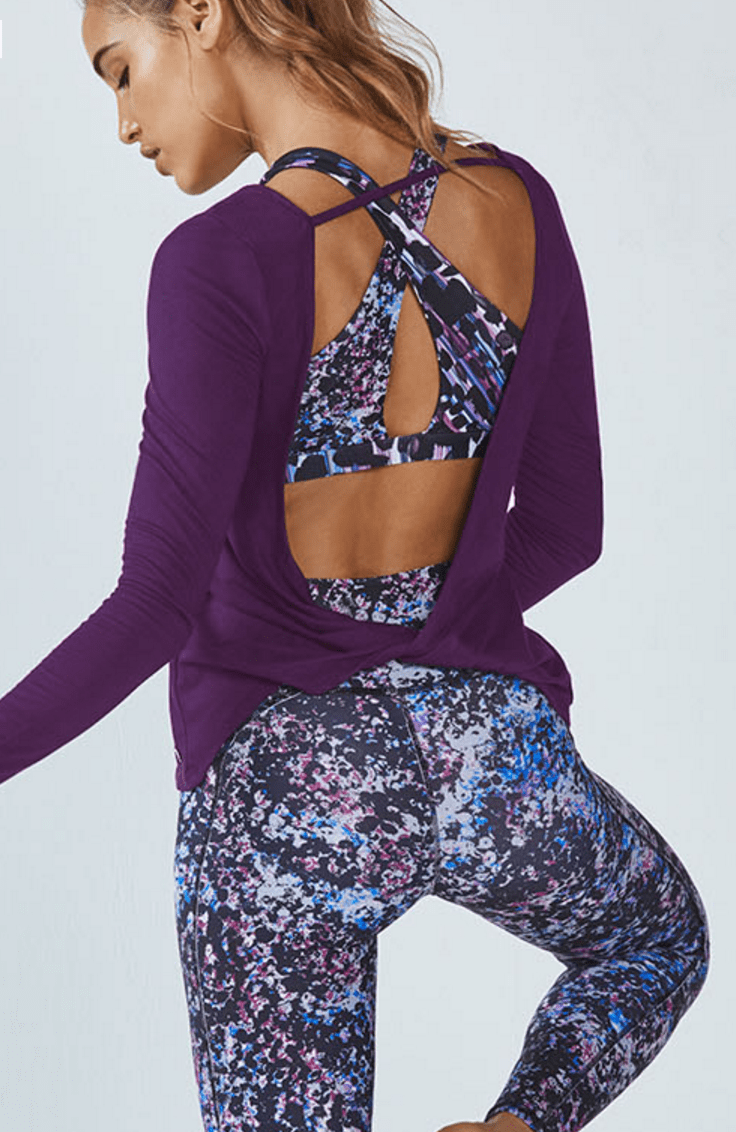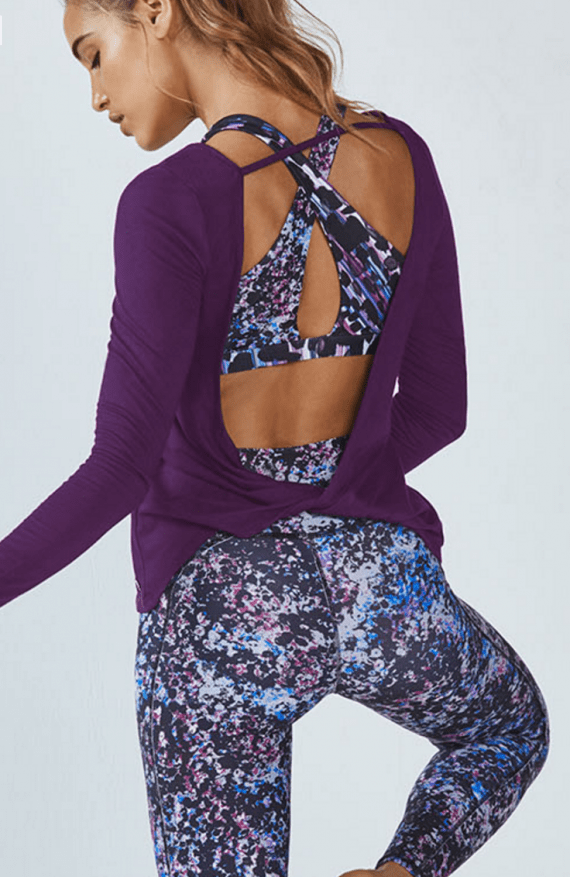 Are Kate Hudson Workout Clothes Good?
Kate Hudson's workout clothes line is called Fabletics.
The cute workout clothes for women are also reasonably priced – right now you can get your first outfit for $25! While the quality and sizing aren't that of Lorna Jane, Lululemon or Sweaty Betty – it's definitely not bad!
It's a great product for the price point, and the variety is awesome. Plus, you can choose a new outfit every month or chose to skip until there is something you want.
The leggings and lounge-style pieces are nicer in our opinion compared to the bras though. The bras can lack support and sometimes are shaped oddly. So keep that in mind. We tried 2 bras total, and then after we both were like huh? on it – we didn't try again.
So they may have improved, but we weren't brave enough to try it (remember – no one wants boobs flying out mid jumping jack!).
The other thing to note is that while it is cheap – it's a subscription service. You get your first outfit, and then you're signed up each month for a new one unless you "skip that month". You have the first 5 days of the month to choose to skip the outfit for that month.
Otherwise, your card will be charged on the 6th so you can choose a new outfit. It's easy to skip through – it's just remembering to do it.
Do you like Kate Hudson workout clothes?
3 Things to Know About Women's Workout Clothes
The Best Material for Workout Clothes
Polyester, polypropylene, nylon, and spandex are all common in workout clothes. Each material offers something special to your favorite workout clothes; however, they share a few things in common.
All of them are going to feel soft and breathable to keep you comfortable even during the sweatiest workouts. Well, as comfortable as you can be in a tough workout.
They are also durable, light-weight and help you work at your best. In particular, it's best to reach for a shirt made of polypropylene as your base layer if you're going for a run or a workout where you are going to be sweating a lot. It will help you feel dry.
You'll also want to replace them every now and then because of the amount of use and sweat they see. "There's a lifetime on fabrics when you're soaking them with sweat on a regular basis," says personal trainer Joey Gonzales, COO of Barry's Bootcamp in New York City. The same goes for your shoes!
That's right, permission to go shop!
The Best Sports Bra Support
No one likes a boob flapping in the wind…well someone might, but it hurts and can leave you feeling self-conscious. A good sports bra will help the ta-ta's stay in place and also help protect the tissues in the chest from excessive stressing.
Each type of workout requires a different level of support. Usually, the price goes up for the more support you need. A low-impact bra is usually the cheapest and work best for yoga and walking. Then you can get medium or high-impact bras for your more strenuous workouts like HIIT training.
The most supportive bras will have wider straps to help distribute weight more evenly. The rule on sports bras is to replace them every 6 to 9 months. Since they are pricey and it's so hard to find one you LOVE, I usually just keep an eye on the wear of the bra. For example, is it staying in place? Are the cups changing? Is it fitting like it used to? Is there any weakened elasticity? When I notice any of those things happening – the bra has to go.
My favorites our Lorna Jane and Victoria's Secret depending on your goals.
Lorna Jane will hold them suckers in tight while Victoria's Secret's bras offer support, but they are easier to take off. Both are about $50.
The Size
You don't have to walk in looking like Grandma Moses or Carmen Electra. You want to think about it like Goldilocks and the 3 bears – find the fit that is "just right". Loose clothing can get in the way of the moves and/or equipment in a workout. Plus, if you've ever worn lose gym shorts without built-in underwear – you know that it can be surprisingly revealing during certain exercises. Best to keep that stuff to yourself. ;)
On the other hand, too-tight clothing can leave you fidgeting for more room. You want to be able to move comfortably in your clothes through all kinds of moves and exercises.
What are your favorite workout clothes? What are the best brands for activewear?