The Search for the Perfect Pillow – MY PILLOW
This post may contain affiliate links. All opinions shared are my own. As an Amazon Associate I earn from qualifying purchases. Click to view our full disclosure.
OK, so I thought I was the only pillow snob out there, but when I posted on Facebook about getting my new My Pillow pillow and was excited to try it, you wouldn't believe the amount of my friends who commented and wanted to know my thoughts. The search for the best pillow is definitely one several of us have apparently. So here's my My Pillow Review; we are affiliates for Amazon so you'll find a link below. If this post helps you, please consider using it.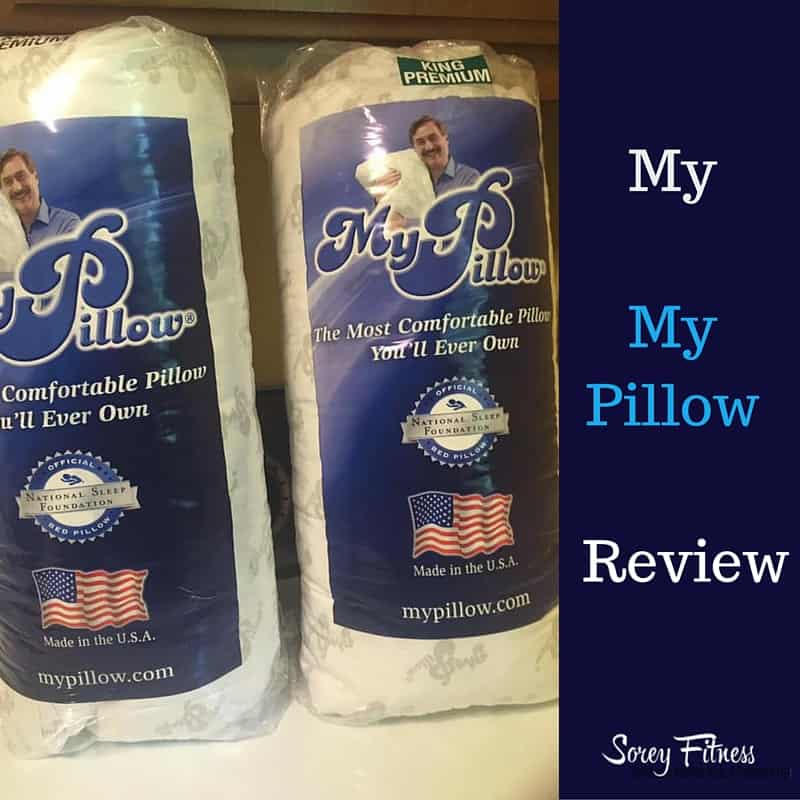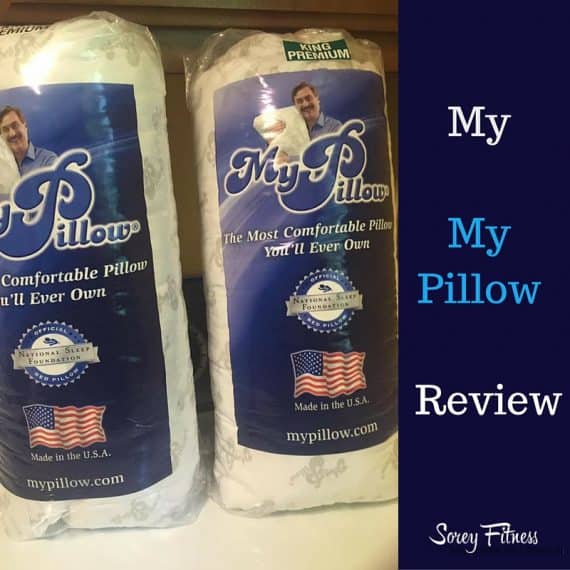 Who Needs a New Pillow?
Here I thought I was the only one on the mad search for the perfect pillow!!! After my Facebook post, I realized that there is a huge need to find some good pillows out there!!! Everyone has been asking me my thoughts on my new My Pillow. Not to draw out the story, but just so you have an idea of the pillows I've gone through and how I sleep, let me give you a little back story before I give you My Pillow review.
Sleep Style…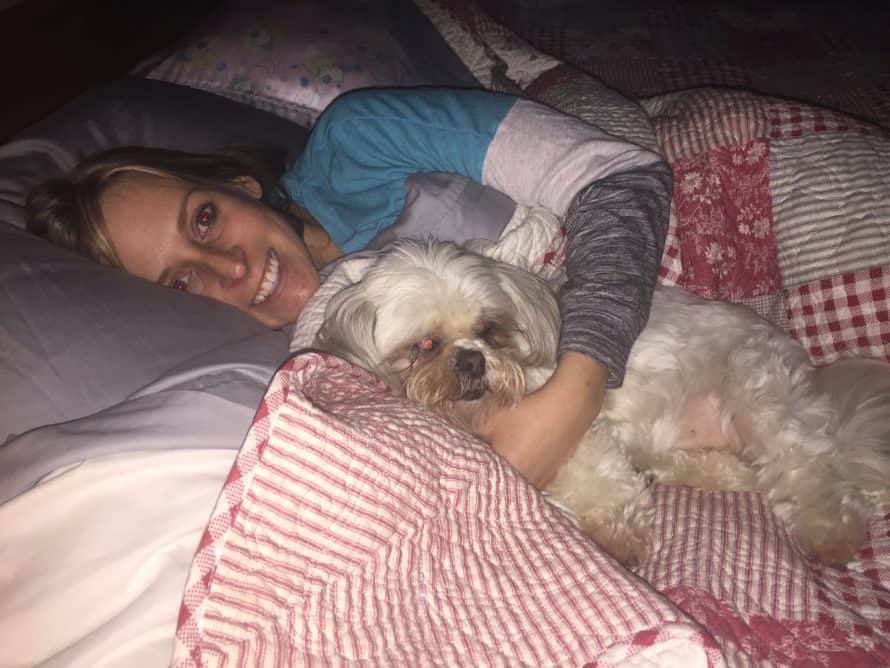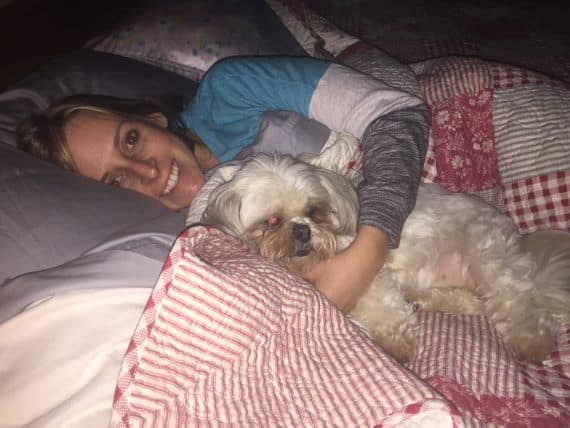 I'm a side sleeper for sure. I like to clutch my pillow, too. You know what I mean?? Head is on part, but you still have enough pillow to hold onto? Pretty much like she's holding onto Roxy here in the pic but with a pillow instead. That's me!! Not good for the ole face and wrinkles, but durn, I'm going to get wrinkles if I don't get my sleep, so I go for comfort and hit the side!!
<Cente
Now, Kalee sleeps more side to tummy and curled into a tighter ball. This is important in a minute as far as pillow selection.
How many pillows can a girl try out?
Well, for me, I have tried a few before doing this My Pillow review. I've tried the sleep number pillows. Loved those, but like all others, they go flat after a while. UGH!!! I even purposely buy a pillow firmer than is "recommended" for my style sleep just so it won't go flat so soon. I just suffer through the too firm stage to get to the comfy stage, which only last so long before hitting the completely worn out phase.
Let's see. I've also had feather pillows…loved those, too, but you know where I'm going with this right? Hello?? Feathers? If you don't have allergies, which I don't, feathers in and of themselves just go flat. I love feather pillows so much though, that I purchased a set of the fancy Peabody Hotel feather pillows that I fell in love with while staying in their Orlando hotel. Well…hint that was just a few nights vs several months. So no wonder I loved them while I was there…no time to go flat. Now, all you feather lovers, don't get mad at me. I know you can fluff them in the dryer, but once they go flat there's really never any real long lasting fluff left in those.
Then I've tried some weird half temper-pedic and water pillow. One side was water filled and the other side was that memory foam stuff. Mercy that pillow was HEAVY!! No cuddling that thing!! I've also tried the straight up memory foam. Hello!! That thing just doesn't move. I move when I sleep, apparently, and need the hole where my head was to recover and pop up faster than the memory foam does.
So you get the idea. I've tried several. This is just a few. I didn't list them all because my point is to let you know I've tried several not put you to sleep out of boredom, so let's move on to My Pillow review.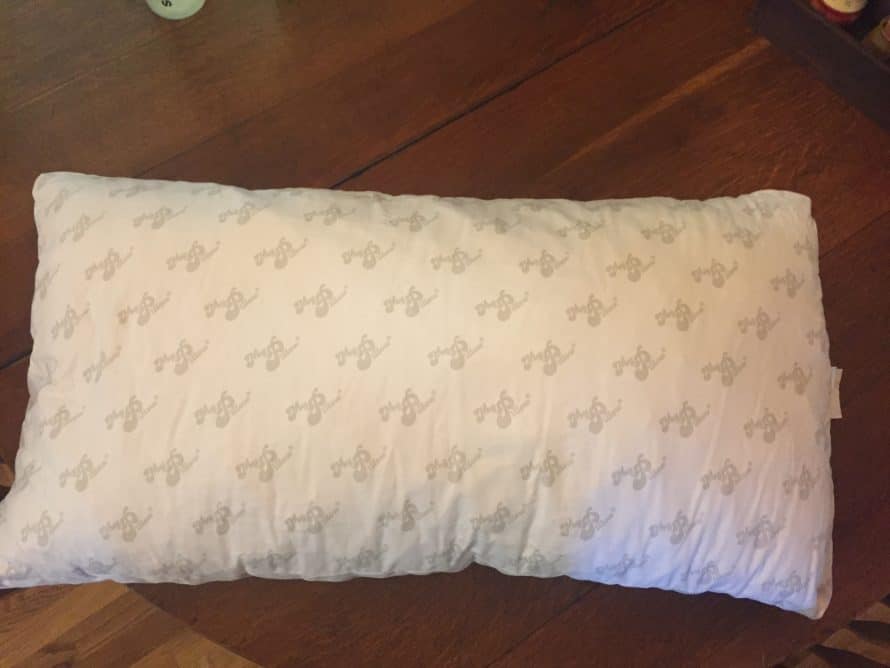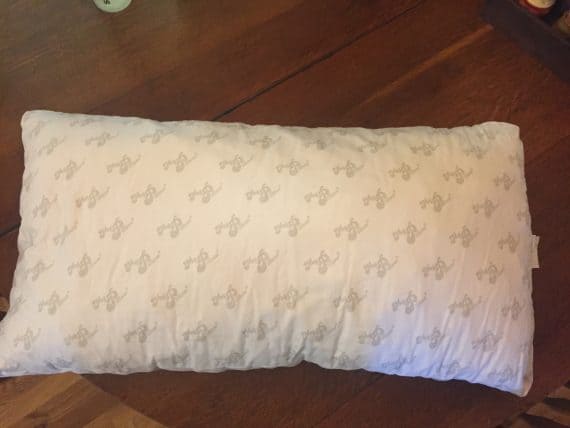 My Pillow Review
Kalee had been told by Cecilia, Jake's cousin but more like sister, that the My Pillow was AMAZING!!! She even buys them for her family and friends for Christmas presents (I must not be on that list ;p ) So a couple of years ago, Kalee decided she needed a new pillow and purchased My Pillow based on Cecilia's rave reviews. Since then, she has gone on and on about the wonderful pillow. She insisted that I needed to get one. One night while over there, I took a gander at it, and well, I was not impressed. It seriously looked like an ole lumpy pillow!!! I mean like someone had taken old foam pillow pieces and shoved into a pillow case. I politely said that looks nice, but I went on my way and made some of those purchases I mentioned above.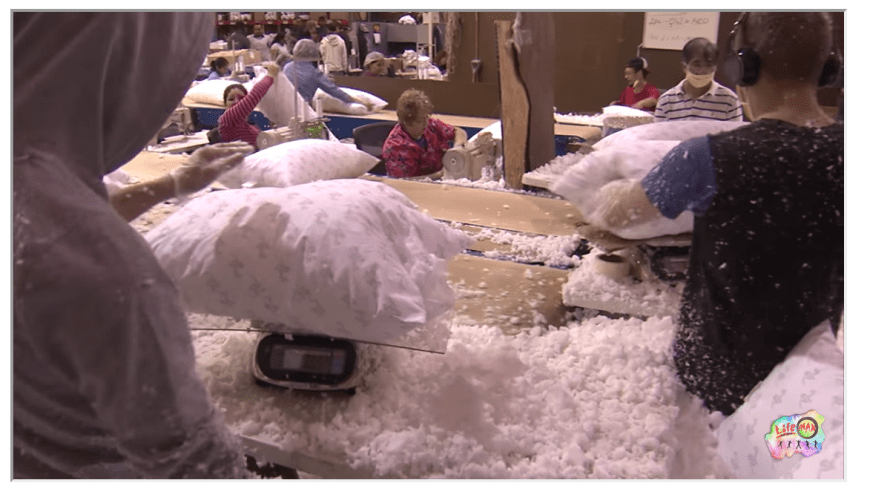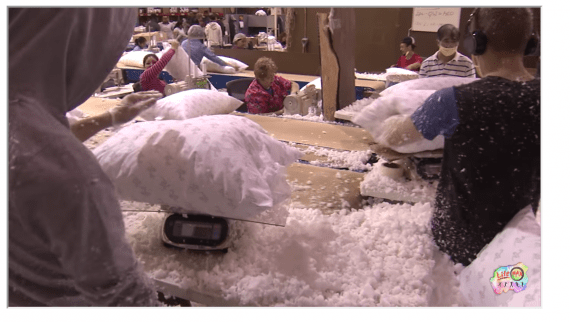 I gave up and decided to give the lumpy pillow a try
Well, finally after the Peabody feather pillows failed me (not going to mention how much those bad boys were), I asked Kalee to tell me more about this My Pillow. She said she still loved hers. They are guaranteed & made in the USA, and they are even machine washable!! Still not convinced…I mean lumpy foam??
She told me to take their little quiz to see what pillow firmness I would need. The quiz asked me Boy/Girl, Side/Back, Tummy sleeper, Shirt Size, and was my last pillow feather. After answering these questions, it tells me what color (firmness) pillow to order. I came up White, but as mentioned above, I always have that fear of the pillow going flat, so I am thinking I need one firmness level up which is Green. So guess what I do?? I order both the White and the Green!!!
Yellow – softest
White – soft
Green – firm
Blue – firmest
So my verdict? My Pillow Review?
I love the Green one!! The White one feels lumpy to me. You can feel the foam pieces in the Green one until you put your head in it. Then it's like little memory foam pieces of foam cuddle your head. It's awesome!!! Now, if I do have to get up in the middle of the night to pee, when I come back to bed, I do fluff it again to take out my head indention, but then it's back to new. AWESOME!!!
I tried the White one for one night and even Bob is asking "what happened?" He didn't like it either…he half lays on my pillow, too, so there you go. The White one was just too flat for me and too lumpy. Here's the funny thing, you know how I said Kalee and I both sleep on our sides, but she's more of a tummy side? Well, her My Pillow is YELLOW!!! The least firm of them all. I would hate that one!! So point here…try My Pillow. Very few pillows have a guarantee that you will love them, so what's the harm in trying My Pillow? Go for it, and if you don't like the one you picked, return it and try a different firmness.
Sweet Dreams!!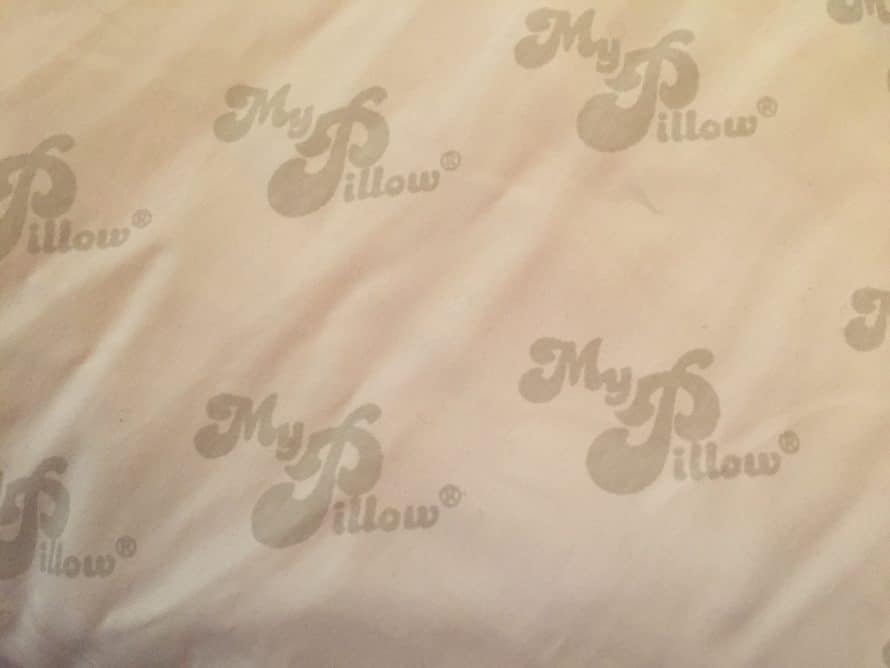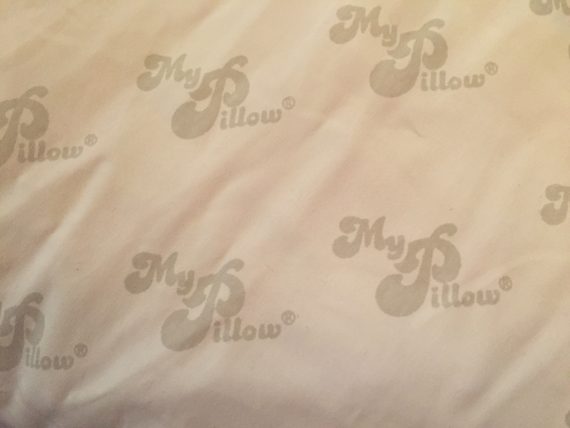 Are you like me and a pillow snob in search of the 'perfect' pillow? What have you found?