52 Effective Vision Board Ideas for Adults in 2023
This post may contain affiliate links. All opinions shared are my own. As an Amazon Associate I earn from qualifying purchases. Click to view our full disclosure.
These effective vision board ideas for adults are a great way to get you started on mapping out your 2021. Not only will they help you stick to your goals through the year, it will help you map out your plans and visualize your goals more clearly!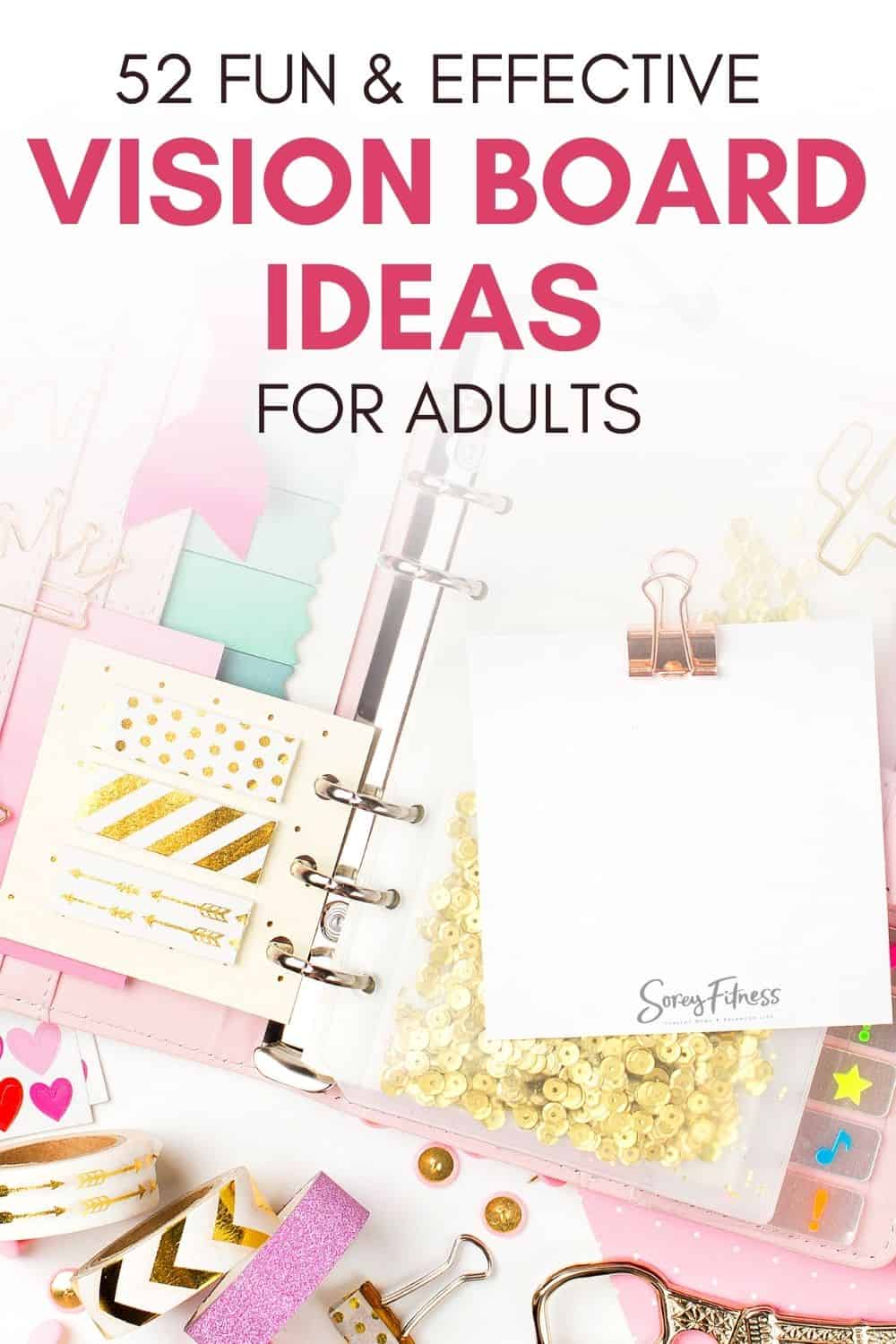 What is a Vision Board?
If you've never created a vision board before, you may be wondering what it is. Basically, a vision board is a creative compilation of images, words, and affirmations that work to inspire you and motivate you. The things you place on your vision board should represent your goals for the year and things you aspire to achieve in your life.
A vision board is often considered an extension of the law of attraction, which revolves around visualizing the things you want your life to bring into fruition. The key to using a vision board successfully is to attach emotion to the photos and phrases you use. That means you'll need to think critically about each item you put on your vision board, how it makes you feel now, and how it would make you feel if it actually happened in your life.
How do I create a vision board?
We recommend taking time to think about what you want, set the mood for creativity, and then put your thoughts onto paper. We went into the 5 steps to create a vision board in a previous post that you may like.
What Should I Put on a Vision Board?
Now that you have an idea of what a vision board is, it's time to start putting yours together! But what are you supposed to put on a vision board anyway?
There are a variety of options for creating your own vision board, but the most important aspect is that it needs to be important to you and related to the things you want to achieve in your life.
Need help getting organized? Grab a Vision Board Template!
Your vision board could include visualizations of:
Career goals

Relationship goals with friends and family

Hobbies and skills you want to gain or improve upon

Health and wellness goals

Travel ideas

Volunteering or community activism

Romantic relationships

Self care and development ideas

Your values and ideas

Inspiration for your home

Overall goals for your life and family
Since your vision board is a compilation of your personal goals and visions, the elements you include in your board is totally up to you! You can use one or many of these ideas – or even come up with your own topics to add.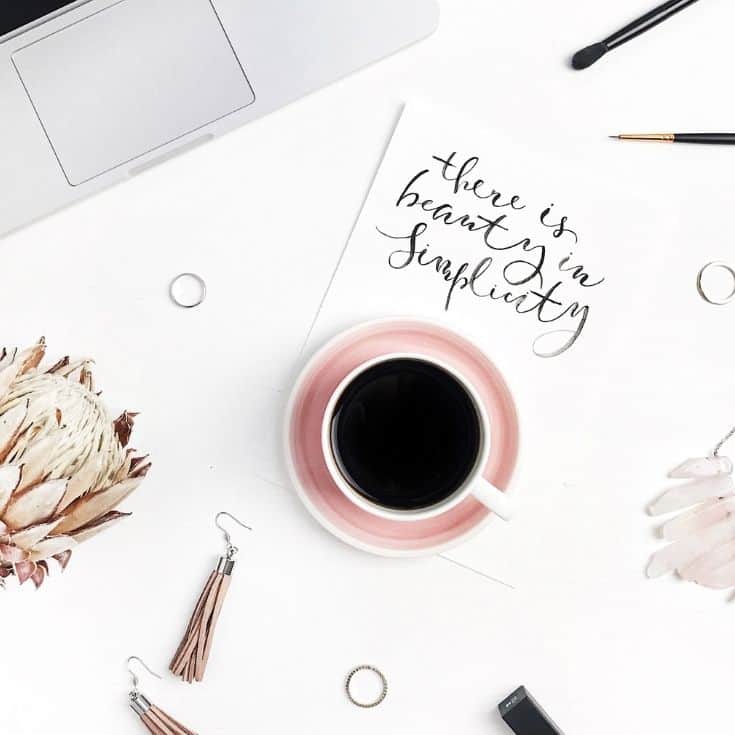 Vision Board Ideas for Adults
Once you have decided which topics you'll include on your board for the year, it's time to start putting your board together. If you're struggling with how to create a board based on the ideas you have chosen, don't worry! These vision board ideas for adults will help you create an amazing vision board to manifest the life of your dreams this year.
Words and Quotes
Words can be a powerful motivator, which means adding words to your vision board is one of the best ways to create a board for your year. Think about words that coincide with your topics, as well as powerful words that will help motivate you to keep reaching toward your goals. Then, add those words to your board to help you stay on track as you progress through your year.
In addition to adding single words to your board, using inspirational quotes and mantras is another way to include text on your vision board. Choose quotes that will inspire you to move forward or words that can help you achieve your goals. Then, add them to your board to enhance the message and remind you of the path you need to take this year.
There are a variety of different ways to add words to your vision board.
Try these ideas to find text for your own board:
Cutting words from magazines and newspapers

Writing the words on your board

Printing words off the internet

A quote from your favorite book

Writing out song lyrics

Quotes from your favorite actor, athlete, or singer

Famous quotes from historical figures

Words and phrases that inspire you

Names of destinations you want to visit

Bible verses

Your goals and intentions for the year

Values that are important to you

Motivational affirmation words

Inspirational mantras

Topics covered on your board

Your own quotes and sayings

Names of people that inspire you

Your dream job title

The year or dates of the board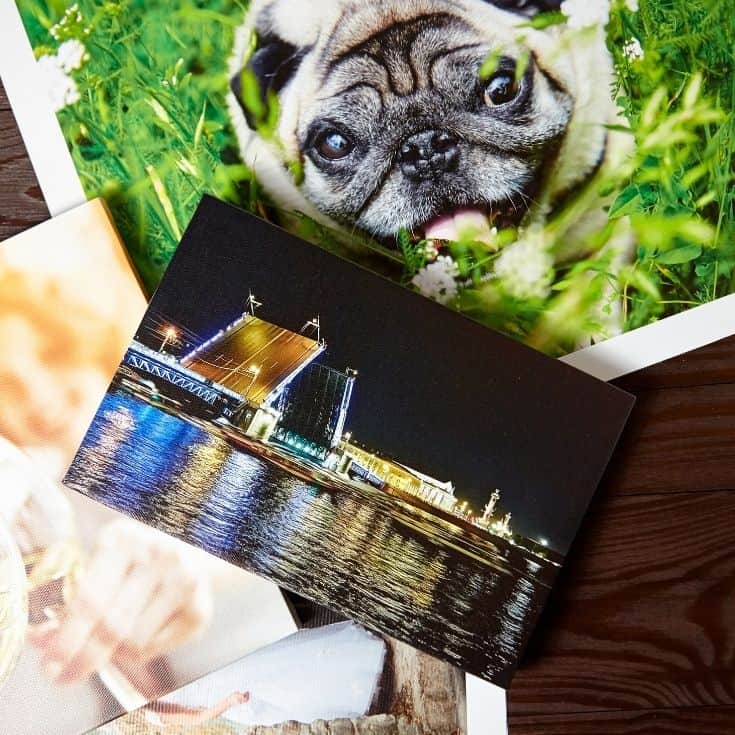 Pictures and Artwork
One of the best ways to help visualize your goals is with the use of photos and artwork. Adding graphic elements to your vision board can make the board more visually appealing and help you see the things you can achieve as you work toward your goals. You can take photos or create drawings, paintings, or doodles on your vision board to help make your visions a reality.
These artistic vision board ideas are a great way to decorate your board:
Personal photos from past experiences

New photos of things and places that inspire you

Photos of destinations you want to visit

Pictures of relationship goals

Drawings or photos of activities you would like to do

Drawing pictures of your goals or plans for the year

Creating word art to decorate your board

Doodles and decorative elements

Photos or drawings that make you happy

Color coded photos to bring cohesion to your board

Images that depict successful people

Photos showing events you want to happen, like a wedding

Pictures that demonstrate family goals

Ideas for home décor

Fashion inspiration

Pictures of personal possessions you want to buy

Photos of famous people you aspire to be like

Drawings or photos of nature

Inspirational photos from magazines

Memes and inspirational quotes from social media

Famous artwork that inspires you

Free printables from online sources

Inspirational posters

Stickers

Souvenirs
Using souvenirs is another great way to personalize your vision board. Souvenirs often have an emotional aspect attached to them, allowing them to bring some sentimentality to your vision board in the new year.
These souvenirs are great options for adding to your vision board:
Name tags or programs from inspirational events

Ticket stubs for concerts, movies, or events that inspired you

Items from nature, like leaves and flowers

Keychains

Magnets

Notes of appreciation

Money or coins

Thank you cards

Small trinkets
Love these vision board ideas for adults?
We'd love to see your board! Share it with us on Instagram @soreyfitness!
You may also like:
Want to come back to these ideas? Pin it for later!