What I Ate Wednesday #2: Trying Out the Body Reset Smoothies
This post may contain affiliate links. All opinions shared are my own. As an Amazon Associate I earn from qualifying purchases. Click to view our full disclosure.
I participated last week for the first time. I was surprised by how many ideas I got! I am slowly incorporating them.
Audrey at InShapeCupcake.com posted Protein Eggy Oats, and they looked so good I tried them the next day!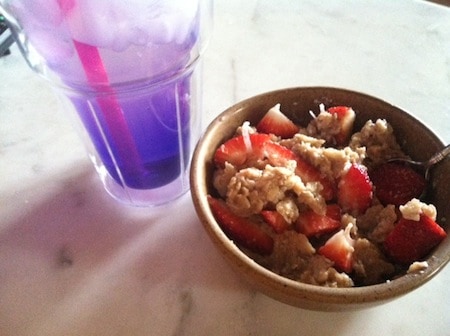 She topped oatmeal with nut butter, but I am more of a fruit or raisin kind of girl. I topped mine with organic strawberries and a few pieces of coconut flakes. It was so light and fluffy! I have never had good luck with overnight oats so I was nervous to try anything else, but this was so tasty. I love that it was still a warm breakfast too.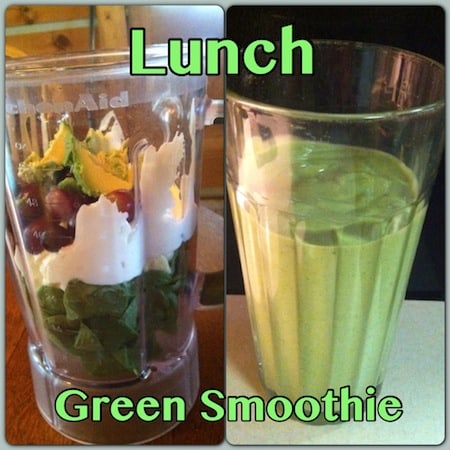 For lunch, I decided to try one of the smoothies from The Body Reset Diet. I'm not sure how I feel about the "diet" yet, but I have not read the book entirely. It was an impulse buy at the airport. I was actually a little sneaky and just skipped to the meal plans yesterday. I used a banana instead of a pear but otherwise followed the recipe. It was okay. It was a little too thick though.
The first 5 days are smoothies with 2 snacks which sounds so small, but it is 1200-1400 calories. That is around what I typically eat, but I do like being able to chew something.
After school, I was in a snacking kind of mood. I grabbed fresh fruit and kettle corn as my snack. I plan on starting the Whole 30 next week so I am trying to enjoy my grains while I can. (Which I will still eat them after, but I want to follow the plan for a month).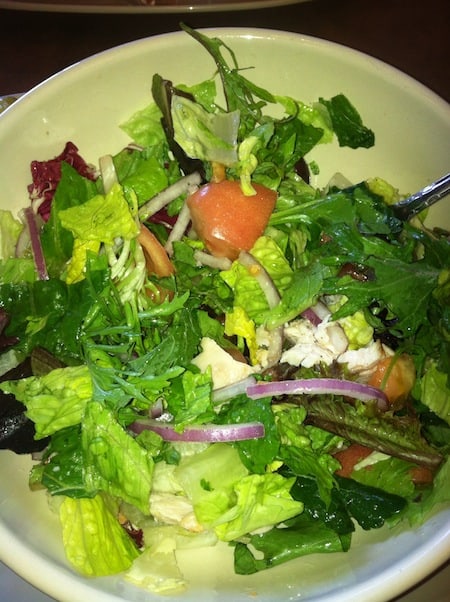 I obviously am not following the 3-smoothies a day rule though. For dinner, I had the Power Mediterranean Turkey Salad at Panera (whole wheat baguette…that I doubt is really whole wheat…not eaten posted). This salad is off the Panera's Secret Menu! I just found the "secret," and I'm a little too excited about it.
What did you eat today?
Do you ever pick up a new "diet" book for meal ideas?
I never jump on a diet because I think if you eat healthy 90% of the time and don't restrict any food groups, that's the best kind of "diet".  I do love diet books though. The ideas and meal plans always interest me.