Best Time to Take Probiotics
This post may contain affiliate links. All opinions shared are my own. As an Amazon Associate I earn from qualifying purchases. Click to view our full disclosure.
We've been talking about prebiotics and probiotics this week to improve gut health. Now, we'll look at the 2 circumstances when you should take probiotics and what is the best time to take probiotics.
Just like our other articles, we're just sharing as friends. We're not doctors, and this isn't medical advice.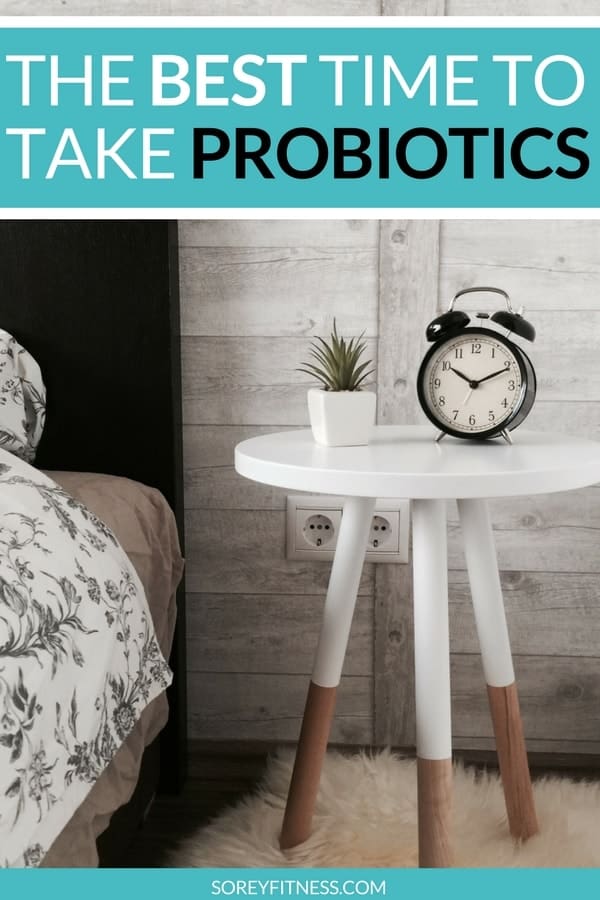 While we typically believe you can get enough prebiotics and probiotics from your diet, there are certain times when you may need to take probiotic supplements.
When Should You Take Probiotics?
You should consider taking a probiotic when,
you've been on an antibiotic.
are traveling.
We'll also look at when to take them in general below.
Taking Probiotics with an Antibiotic
One study showed that taking probiotics reduced antibiotic-associated diarrhea by 42% (source).
When we take antibiotics, they go into our gut and kill both good and bad bacteria. Remember from our probiotic post, that we want good bacteria!
So by eating prebiotic foods (which feed probiotics) and taking a probiotic, we can increase our good bacteria again.
Best Time to Take Probiotics on Antibiotics
US News talked to Dr. Cullen and found it's best not to take antibiotics and probiotics at the same time. This is because they can kind of counteract each other.
It would be better to take the antibiotic as directed and get the probiotic in a few hours away from it. For example, if you take an antibiotic in the morning and at night, then you'd take a probiotic at lunch.
There are no accepted guidelines for when to take them though.
Clinicians and dietitians typically suggest taken a couple of weeks after antibiotics are over so that the good bacteria in our belly can rebuild. 
Eating prebiotic and probiotic foods can help too!
Best Time to Take Probiotics When You Travel
If you've never had some tummy issues away from home, we can't be friends anymore. I think we've all had some grumbly grumbly while traveling.
Travel + Leisure asked wellness expert, Robyn Youkilis, about why it happens and how probiotics can help.
She suggested the digestion problems stem from being away from your normal routine and food. (We also think stress plays a role!)
Youkilis suggest taking probiotics to "…help you stay regular even when the rest of your schedule is way off. Probiotics also help boost your immune system."
Another study supported this idea stating probiotics reduced travelers' diarrhea by 8%.
They also lowered the risk of diarrhea from other causes by 57% in children and 26% in adults (source).
Best Time to Take Probiotics In General
While we recommend getting in both prebiotics and probiotics from food, we know that isn't always possible.
So we wanted to answer the question, "when is the best time to take probiotics each day?" too!
First – while you need both prebiotics and probiotics, you don't necessarily have to take them together.
According to the website Livestrong and Enzyme Essentials, bedtime and first thing in the morning is the best time to take probiotics.
This is when your digestive system is in a fasted state, and the good bacteria has a better chance of thriving.
If you don't take them then, it's all okay! You'll should see the probiotic benefits by consuming them through the day.
Remember, don't start taking probiotics without talking to your doctor or pharmacist first.