Bulu Box Review | Is it Worth It?
This post may contain affiliate links. All opinions shared are my own. As an Amazon Associate I earn from qualifying purchases. Click to view our full disclosure.
We love trying new healthy living products, but the cost can add up pretty quickly. After awhile, our pasttime of trying products led to a half dozen half empty bottles of supplements, miracle creams untouched and more protein bars than we knew what to do with. Bulu Box allows you to try fun health & fitness samples each month for as little as $8!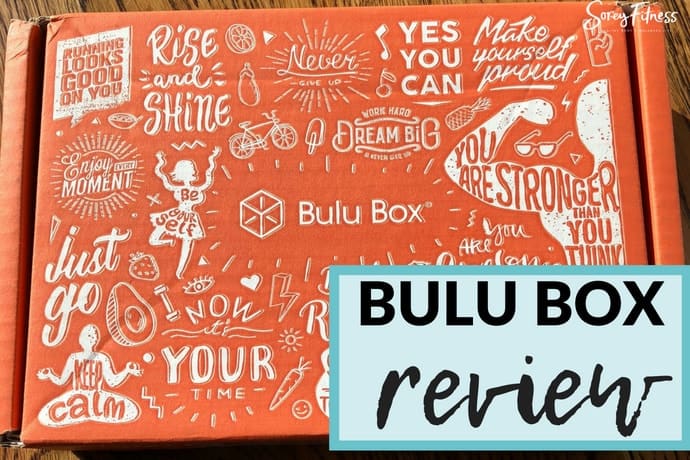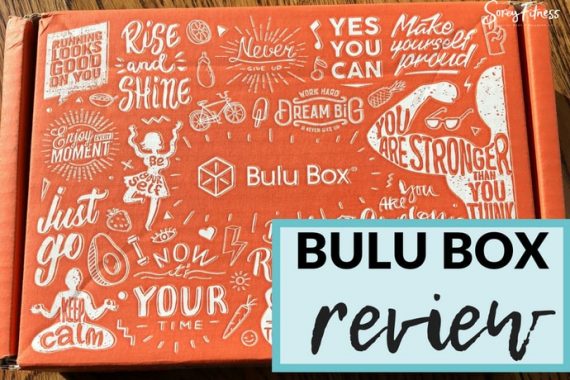 So we were excited when they offered to ship us one for free and allow us to be affiliates if we liked it!
What's Bulu Box?
Bulu Box is a healthy living subscription box that includes 4-5 really cool samples each month. You can choose between an Original Box (which is what we did) or a Weight Loss Box.
Normally, it's $10 a month, but if you use the code below you'll only pay $7.99!
Bulu Box at a Glance:
4-5 premium samples from top brands
free shipping
easy cancellation
additional tips, tricks & support online
3, 6, and 12 month plans available.
How Bulu Box Works
Subscribe to a plan (monthly, quarterly, semi-annual and annual plans available)
Choose between the Original Box & Weight Loss Bulu Box
Get your samples!
Have a favorite? You can login to Bulu Box to get the best deal out there!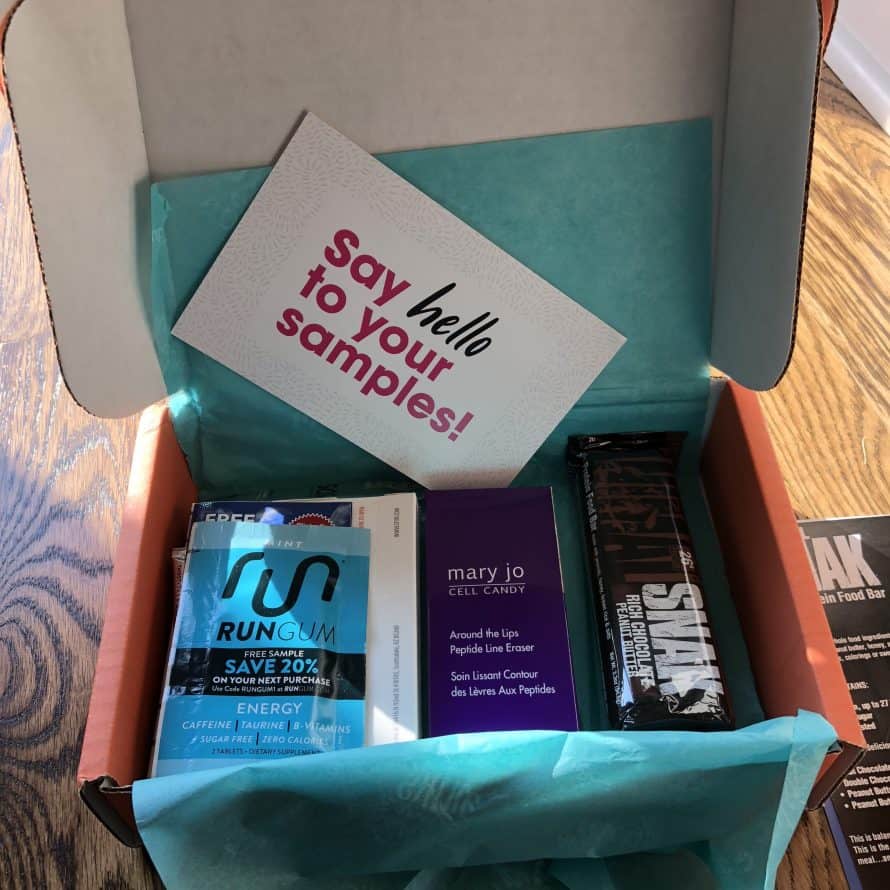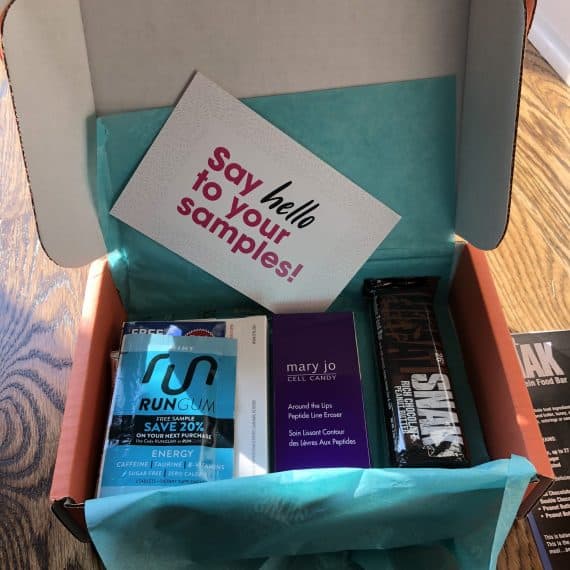 What's Included in a Bulu Box?
We received several samples and coupons! Each month's samples are different. With that said, I'll outline what was in my June 2018 Bulu Box to give you an idea of what to expect.
1. Mary Jo Cell Candy – Around the Lips Peptide Line Eraser
This sample was huge! It'll last me at least a few months. You're suppose to apply it around your lips before applying lipstick. It also included a coupon!
I liked this sample, but I'm glad it wasn't going to a man. I can't imagine my husband playing with this stuff.
2 . Prevagen Sample (2 tablets)
These 2 mixed berry chewables claim to support healthy brain function, sharper mind, and clearer thinking. I kept seeing the commercials, so this was one I was tickled to see. However, it can take up to 90 days to "feel results" so I guess this was just to see if you liked the taste.
3. Animal Snack Rich Chocolate Peanut Butter Bar
This protein bar was super fresh which impressed me! I loved the flavor, but at 360 calories that's a full meal for me. It also packed 24 grams of sugar. So it was fun to try, and it's probably a few bucks at the store alone — but I wouldn't buy them again.
4. Run Gum – Energy with Caffeine, Taurine & B-Vitamins + Coupon
This intrigued me! I am a gum chewer, and I'll take all the B-Vitamins I can find (within humanly possible). The sample included 2 pieces which was 1-2 servings. I also liked the flavor and consistency of the gum.
4. SOS Hydration Coconut Mix
These 2 samples were perfect for on the go! You just mixed them into your water and go. The first ingredient is organic cane sugar, but if you aren't a water drinker it's better than a soda.
5. SHYFT Activity Tracker + App & Coupon ($49 Value)
This was a neat sample too. The Activity Tracker works with STYR's Nutrition App to track your steps, distance, calories and % to your goal. They also included $10 off your first purchase.
Value Breakdown: 
At $10 for the box, you are paying about $1.67 per item. If you got the $8 for life deal, you're paying about $1.33 per item.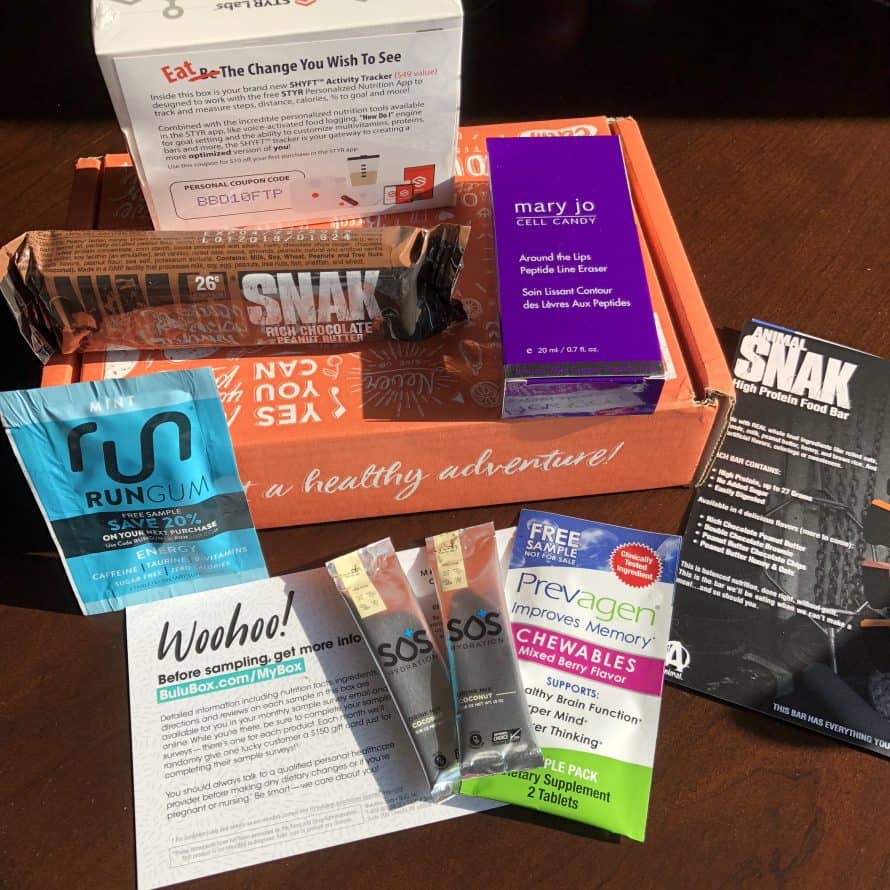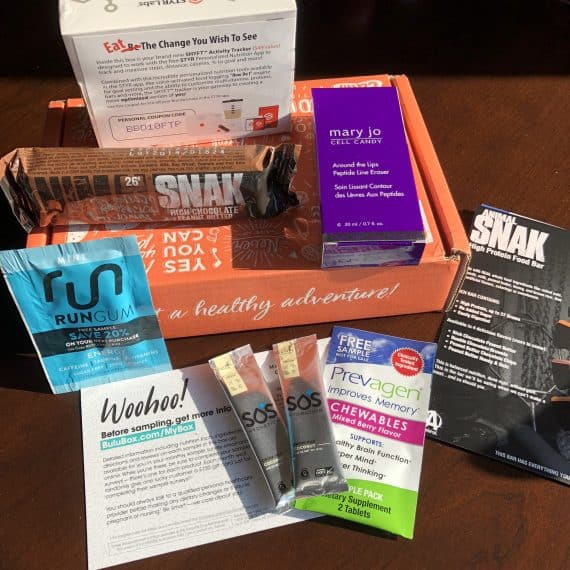 Reasons We Loved Our Bulu Box
The samples offered a lot of variety
The size of the samples (minus the Prevagen) were nice and big!
The price was great for the sizes if you like variety & trying new things.
Is Bulu Box Worth It?
If you're looking to try new products that you've not seen before – or maybe seen but not tried – this is definitely for you!
The bright orange box sitting in my mailbox added some joy and excitement to my day, and the samples are a good size.
It would also make a great gift!