Yogi Surprise Box Review: See What's Inside!
This post may contain affiliate links. All opinions shared are my own. As an Amazon Associate I earn from qualifying purchases. Click to view our full disclosure.
I received my first Yogi Surprise as a gift from from the company in exchange for an honest review. Below I'll review the Yogi Surprise jewelry and overall quality of the products.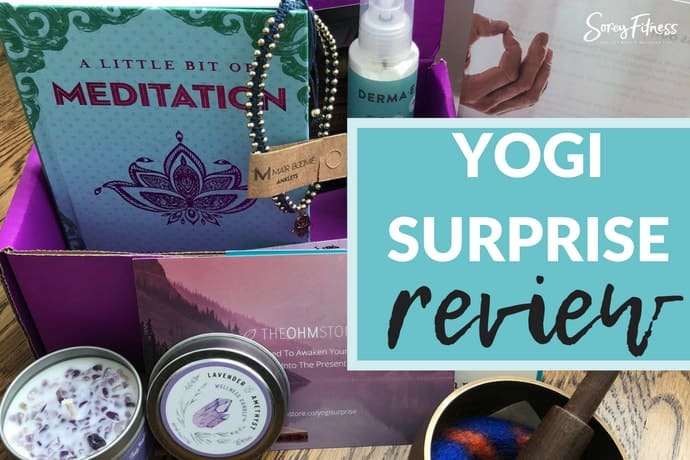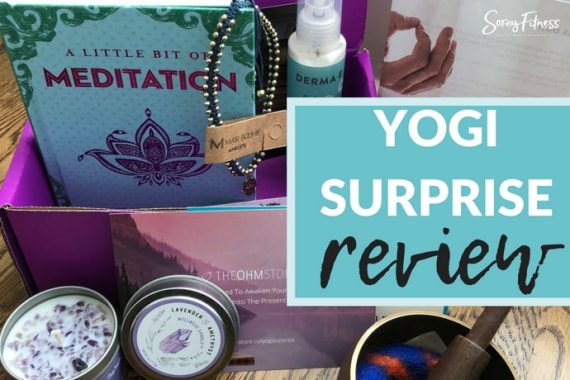 How it Works
Each month, you'll receive a box of goodies which includes items to help improve your yoga practice.
Each product is designed to support your well-being, vitality and overall personal growth.
We'll share what was in our Yogi Surprise June 2018 box below, but you can expect a mix of herbal tonics, snacks, jewelry and more.
We love that every product is:
non-GMO
Cruelty-free
high-quality
Unlike some subscription boxes, we could really tell that Yogi Surprise took time to curate the best pieces into the June 2018 box.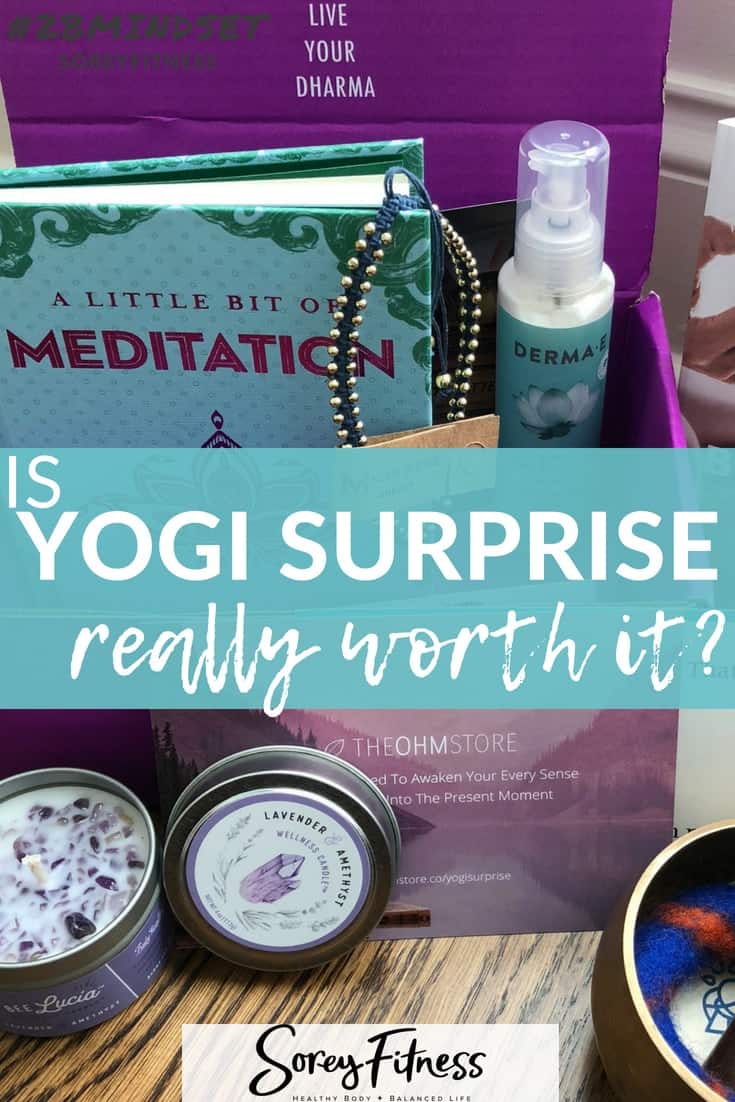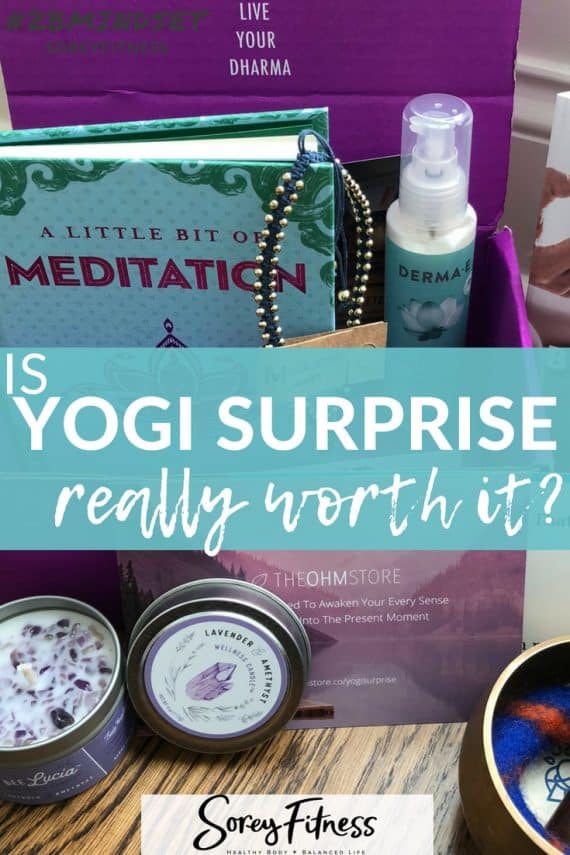 How Much Does Yogi Surprise Cost?
Each box is valued at $85 if you were to buy the items separately.
Each month's box is $44.95 with free shipping in the United States. (It's $15-25 for other countries).
While it's a more expensive subscription box, we really did find the quality of items to be great, and we love that it's a specific niche of items.
It's basically around $9 for each item on average.
Yogi Surprise Coupon
Prefer to save money versus getting a freebie? No worries!
Use the link below & the code MAY to save 25%!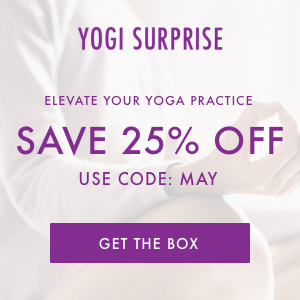 What Was In The Yogi Surprise June 2018 Box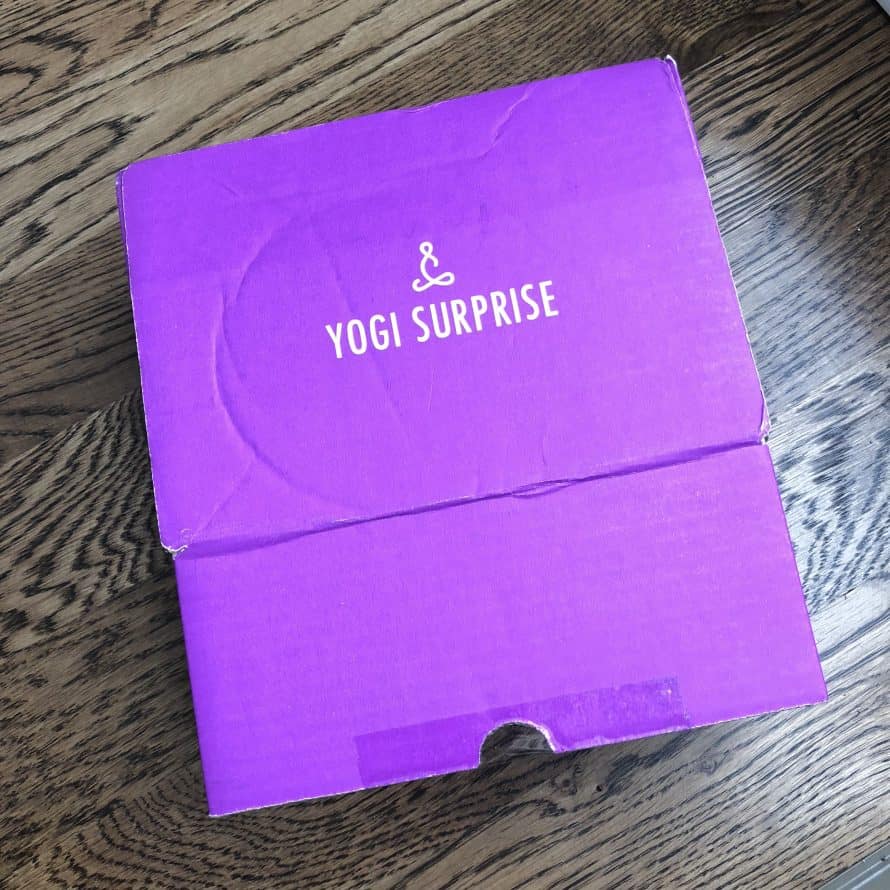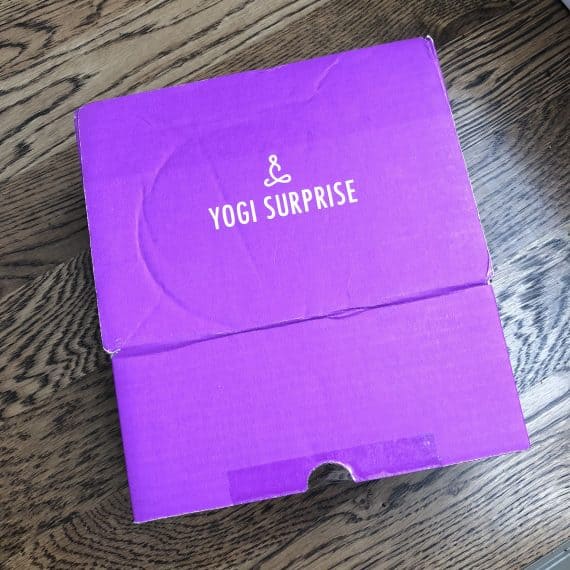 Our box included:
Guide to Each Item
A Little Bit on Meditation Book
Anklet
Hair Serum
Candle
Singing Bowl
Free Mantras (download)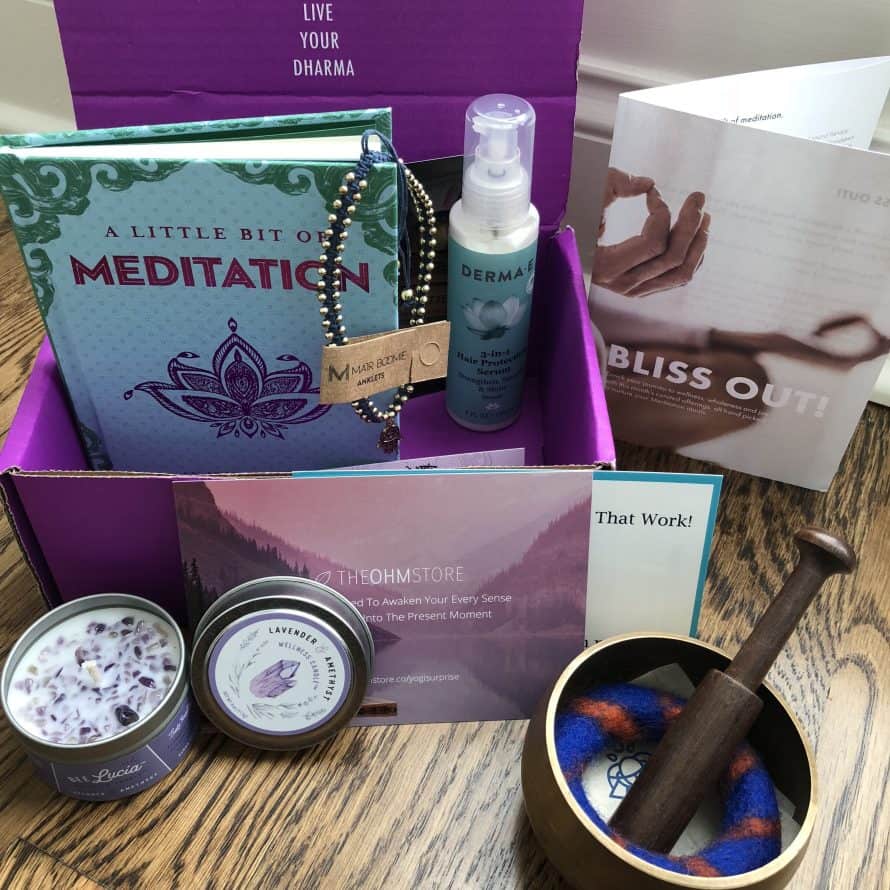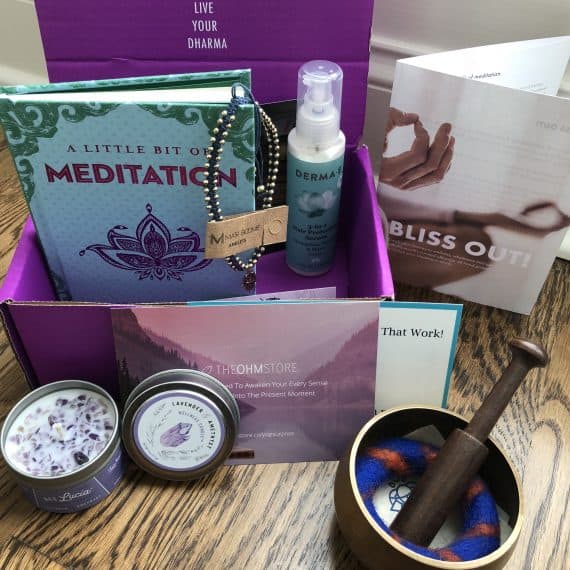 As a newbie to yoga and meditation, some of the items were beyond me. (Which isn't hard to be).
So I recruited my meditation guru – who also happens to be one of my best friends – Judy from All in the Balance – to try out the goodies too!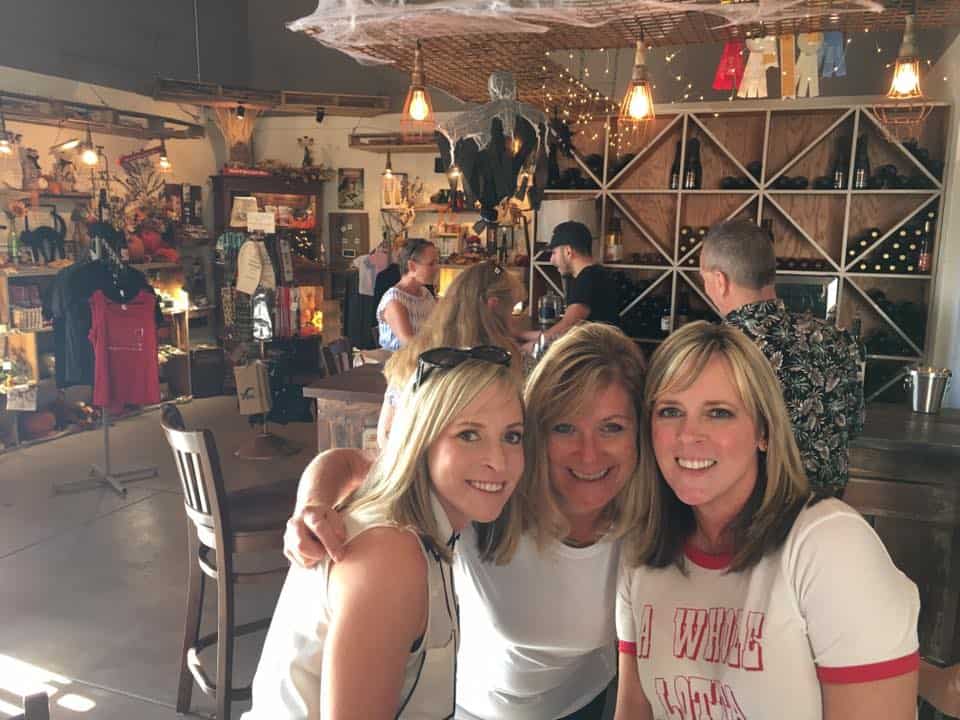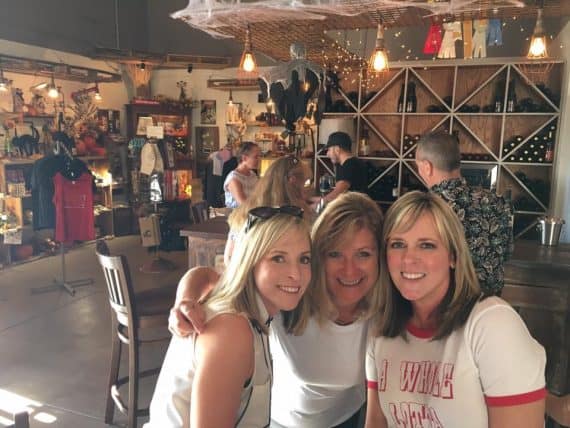 She offers meditation courses and is into all things spiritual so this was right up her alley. Below are her Yogi Surprise reviews of each product.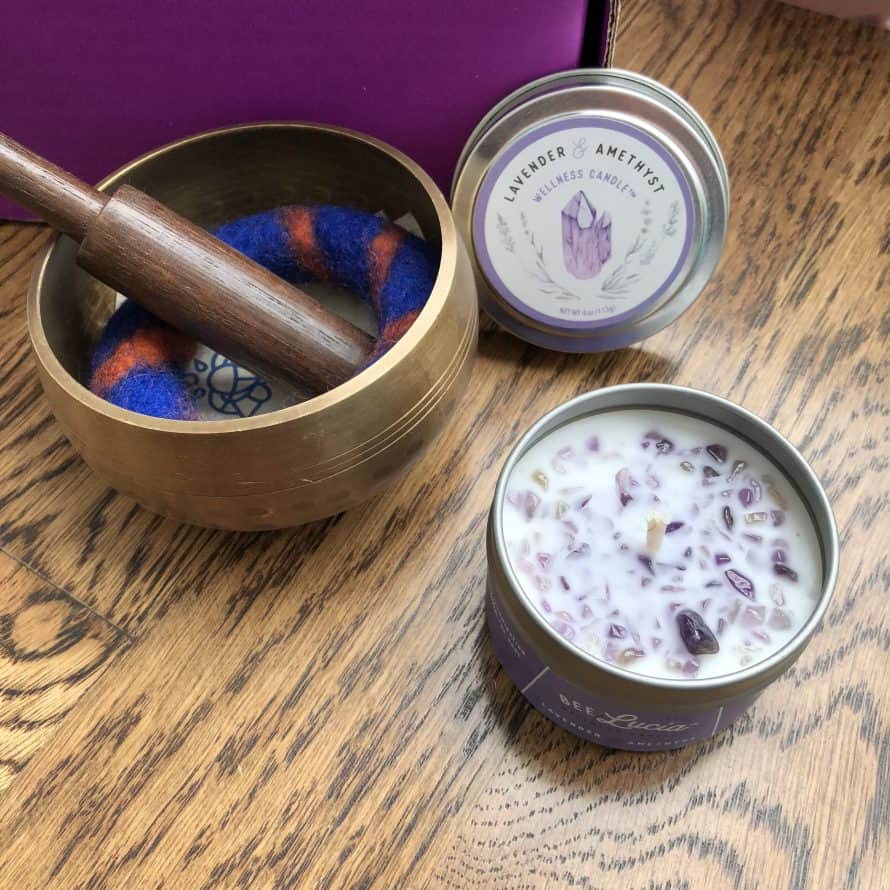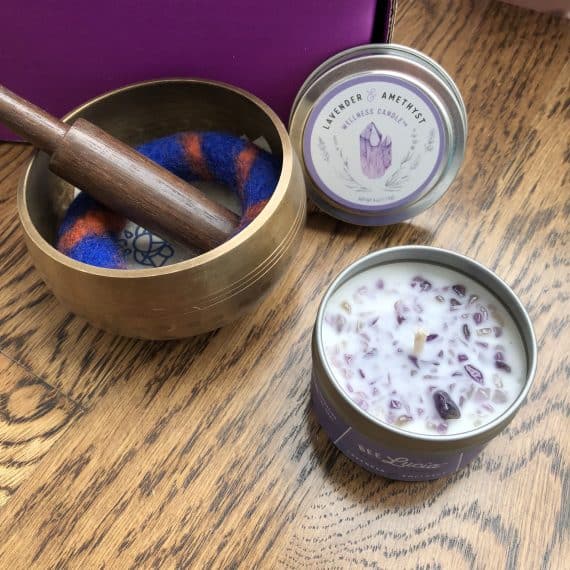 1) The candle is so pretty. I loved the crystals in the wax, but I could not smell the lavender at all.
2) I ADORE the singing bowl. It looks so pretty in my meditation room. The quality is really great, and it is very easy to use.
3) The hair serum felt a little too thick and gooey on my hair, however, I loved that they do not use chemicals.
4) Meditation book was cute, but well, ya know, it was not new to me at all. Great little gift to give someone though
5) I downloaded the free mantras and hated them. I am picky probably since I have been chanting with mantras for a few years now. They just did not do it for me at all.
I had heard so much about Yogi Surprise Jewelry, and I wasn't disappointed!!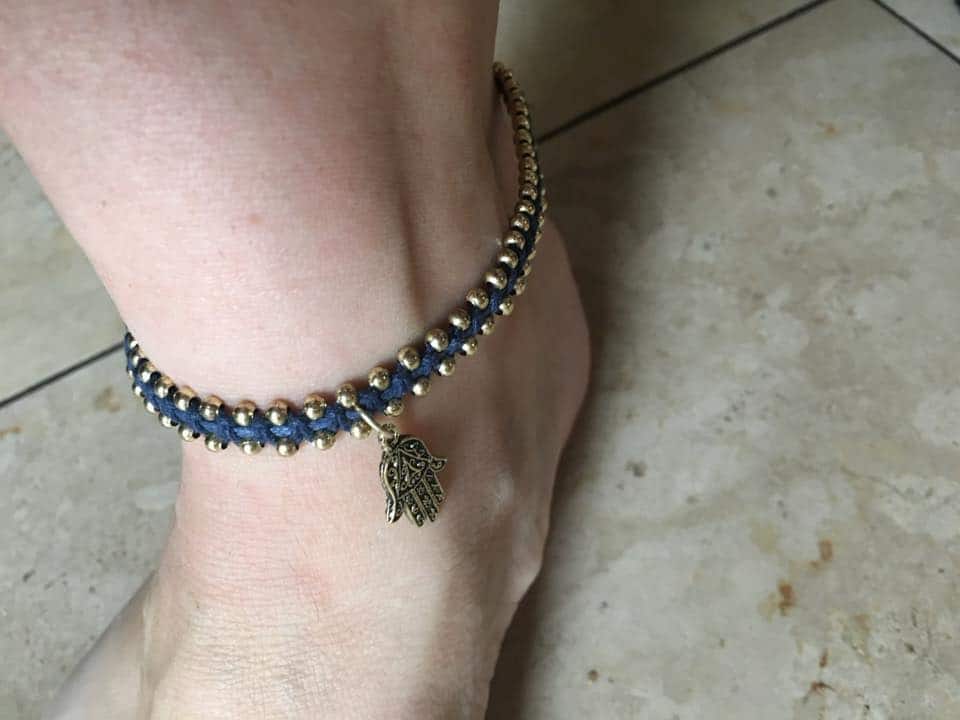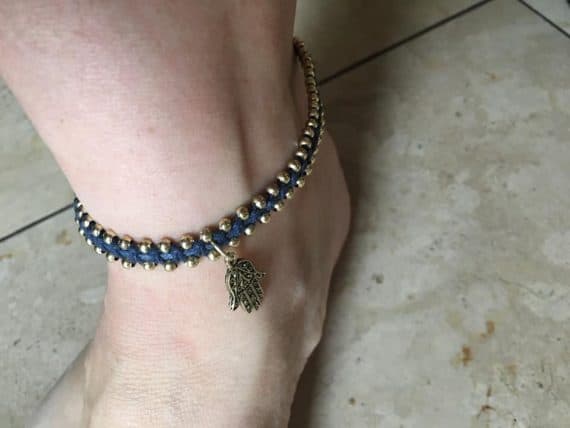 6) I love the anklet. It feels so comfortable on my foot and I feel grounded when I walk around barefoot :-)
Don't take our word for it though —
Yogi Surprise has a 4.5 rating out of 5 on Facebook!