How to Create an Amazing DIY Self Care Gift Basket
This post may contain affiliate links. All opinions shared are my own. As an Amazon Associate I earn from qualifying purchases. Click to view our full disclosure.
We'll show you how to create an amazing DIY Self Care gift basket for your friend, family member, co-worker, or neighbor without spending a lot of money! This thoughtful gift will help uplift and encourage them during a stressful time and help them refocus on their own mental health.
Below we'll show you how to create the kit with 35 cute and thoughtful self-care gift ideas for any budget!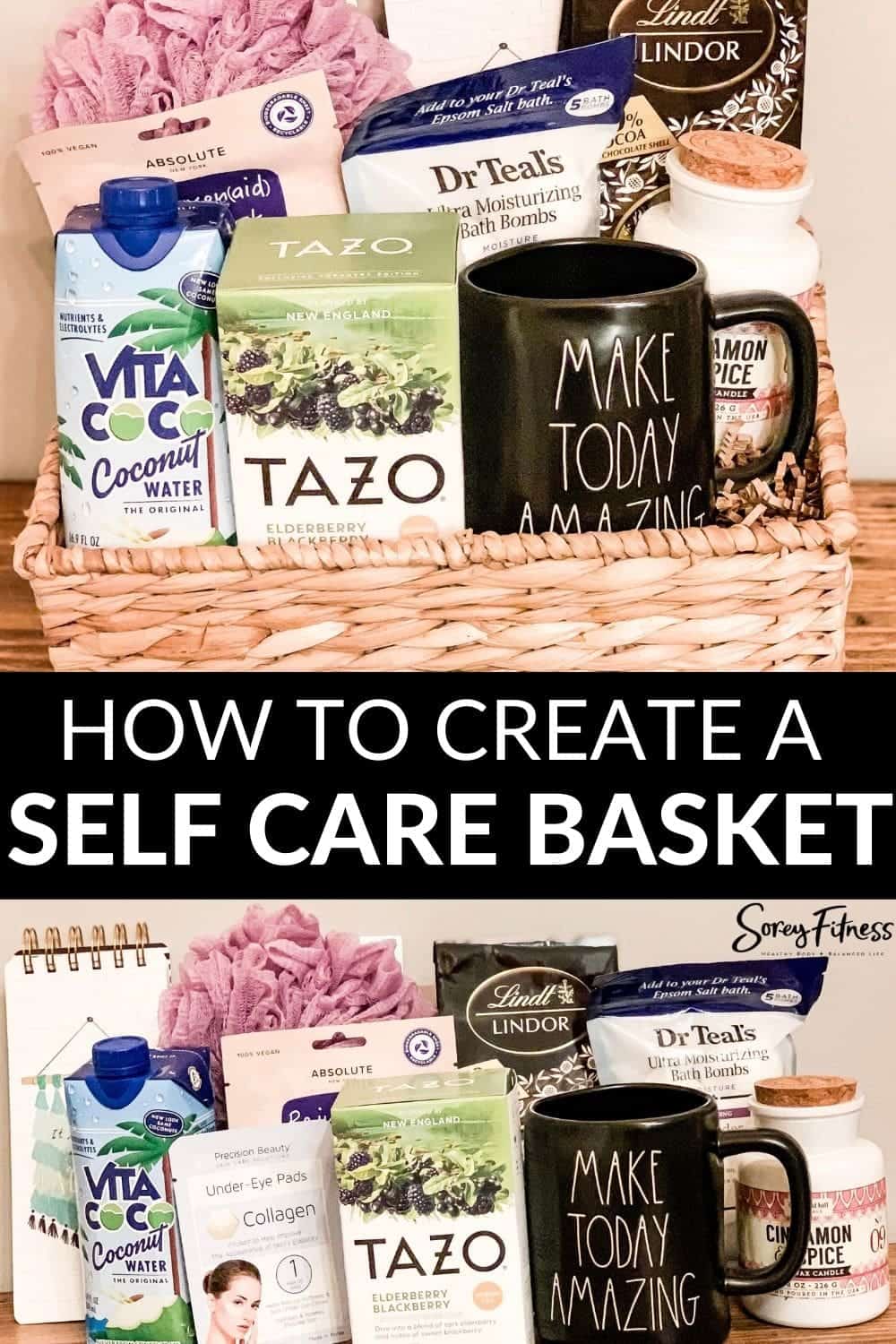 Prioritizing self care can be hard for anyone — especially someone going through something stressful or starting a new phase in life. This gift basket allows you to create a thoughtful gift for someone without spending a ton of money! It really says, I'm thinking of you, and it also has items to help your family member or friend unwind and destress!
Looking for someone to make a gift basket for you? Check out Ashley at Give Gift Baskets! She put together this basket for us, and she does such an amazing job!
Finding Your Gift Basket
We love to find a pretty woven basket first and then fill it with goodies! You could also use a fabric or wire basket, or even a pretty organizer box. Usually we can find something nice for $10-20 dollars at Target or Home Goods.
Basket Alternatives
If you don't have a basket or prefer to use something else, you could also look for a decorative box, tin, a flower vase, bowl, platter, or tray. We love finding these at Tuesday Morning, Home Goods, or Hobby Lobby because they're unique and affordable.
Awesome self care basket ideas on a budget
Along with the stores listed above, we have a few tips to finding the best DIY self-care basket ideas without spending a lot of money!
Your Home – If you're like me, you can't pass up a deal! Anytime Bath & Body Works or Yankee Candle have a bonus deal, I'll buy it at a steep discount. Usually I can get bath gel, candles, and sometimes even blankets, and I save them for future gift baskets!
Winc Wine – I also love to stock up on Winc Wine because you can get some crazy good deals. I recently got 4 bottles of wine for $36, and I also got $18 cash back from the order through Rakuten! So I ended up paying $18 for 4 bottles!!
Choose Individual Items – We love to choose individually wrapped items that take up some volume in the basket. The travel toiletry aisle is a great place to look, as well as, the check out areas of TJ Maxx, Marshalls, and Old Navy.
Grocery Stores — You can find some great items with coupons at specialty groceries like Aldi, Trader Joe's, or Whole Foods.
Support Local Places — We love including BellyBee Goods Elderberry, Christie Cookies, and other local Nashville businesses in our gift baskets!! It supports a local business and also exposes someone to a new brand they'll love!
Along with Rakuten, you can also save a little money using Ibotta or Fetch! Ibotta has cash back on certain items when you upload your receipt and scan the barcode. Fetch works similarly, and you also earn points to go towards rewards for uploading any receipt! We've gotten about $100 from both apps, and about $1000 from Rakuten over the years! You can get $20 for signing up for Rakuten right now too!
oNE idea for choosing items:
We like to include items that hit on all 5 senses — a candle for smell, chocolate for taste, a cozy blanket for touch and sight, and music for hearing. We did a whole podcast episode of the idea of incorporating all 5 senses to create a cozy home you might like as well!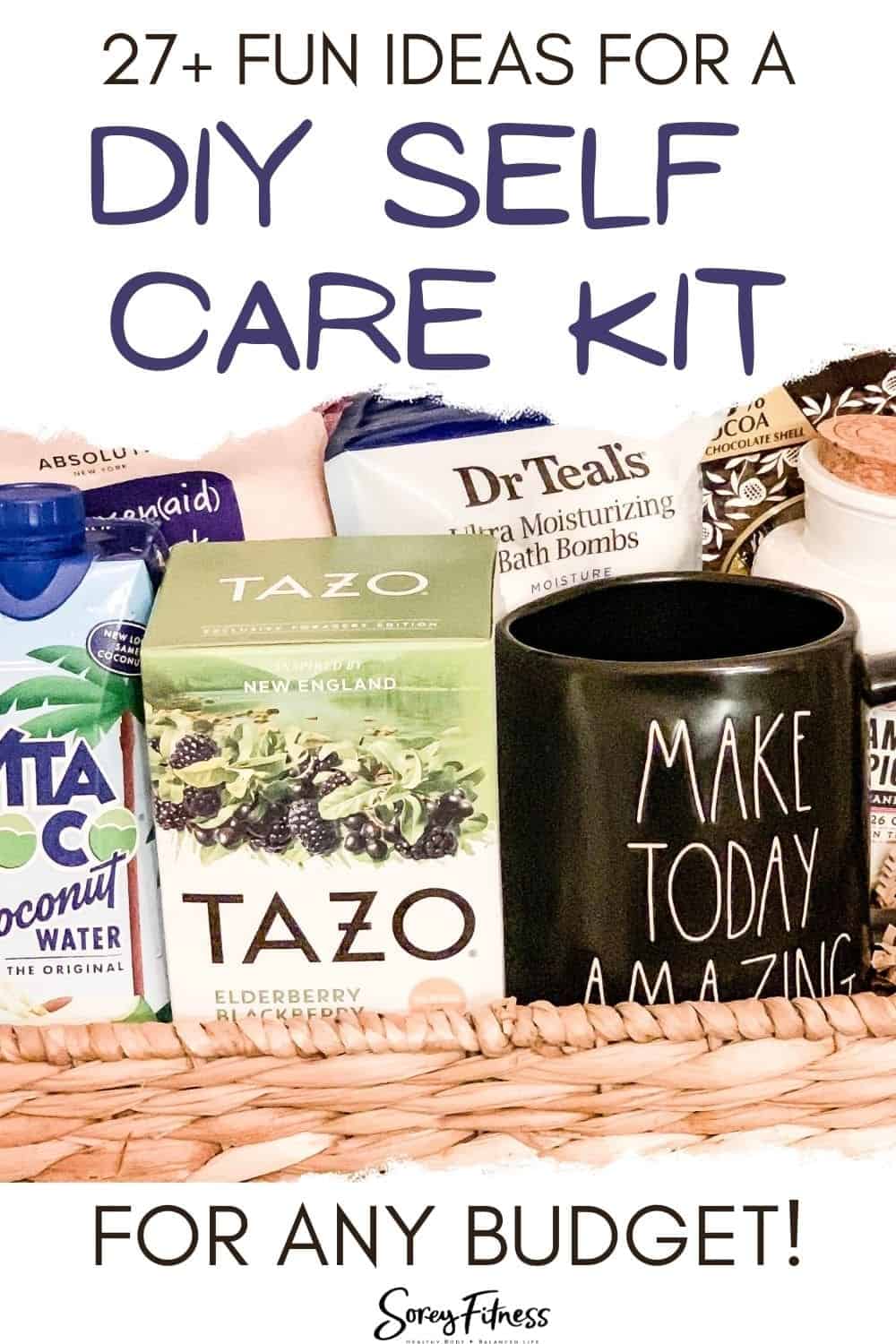 What should I put in a self care basket?
Bottle of Bubbly
How do you fill the bottom of a gift basket?
You can fill the bottom of the gift basket with filler — tissue paper, shredded paper, newspaper, shredded cellophane, or colorful, decorative straw works well!
If you make your own DIY Self Care Gift Basket we'd love to see what you included! Tag us on Instagram @soreyfitness!
Love these ideas? Pin it for later!