P90X Cardio Workout Review
This post may contain affiliate links. All opinions shared are my own. As an Amazon Associate I earn from qualifying purchases. Click to view our full disclosure.
Fitness guru, Tony Horton, created P90X's extreme workouts to get you in the best shape of your life. The 90-day program includes strength training and various cardio workouts. The P90X cardio workout focuses on flowing yoga moves, kickboxing, plyometrics, and core movements to get your heart-rate high.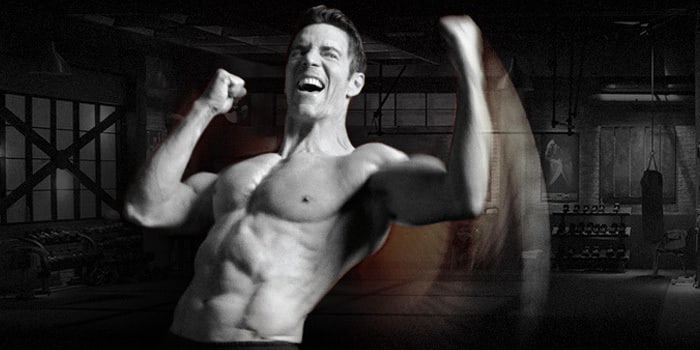 What equipment do you need for P90X Cardio?
You need a yoga mat and either dumbbells or resistance bands for the P90X Cardio workout. You may need additional equipment for the other workouts in the program.
Is P90X Cardio X a good workout?
Yes, P90X Cardio is a great workout because it's hard without being super intense. It combines yoga, mixed martial arts (Kenpo X), Plyometrics, and Core Synergistics to provide a well-rounded workout in under an hour.
How long is the P90X cardio workout?
The workout is 43 minutes long. The warm-up is around 5 minutes and the cool down is about 4 minutes.
How much does P90X cardio burn?
The average calorie burn is around 400 calories for this workout. Women typically burned a little less, and men burned a little more than the average.
When Should you Do Cardio X?
Cardio X is included on the P90X Workout Schedules, and you could also add it between heavy strength workouts if you wanted. It's also a good alternative to Plyometrics if you need something less intense.
What to expect
The following is a summary of the moves done during the P90X Cardio X workout.
Yoga to Start
Sun Salutations
Runners Pose
Warrior One
Warrior Two
Reverse Warrior
Kenpo portion
Ball Kick
Hook, Upper, Side Kick
Knuckle/Ball Kick/Back Kick
Jab/Cross/Hook/Upper
3 Direction Kicks
Plyometrics portion
Airborne Heisman
Swing Kicks
Jump Shots
Tires
Wacky Jacks
Core Synergistics portion
Squat Cross X Press
Steam Engine
Dreya Roll
Squat Run
Superman Banana
The P90X home workout program is available on Beachbody on Demand. You can also stream P90X2 and P90X3 with your membership.