Passion Planner: Planners Give More Productivity and Happiness
This post may contain affiliate links. All opinions shared are my own. As an Amazon Associate I earn from qualifying purchases. Click to view our full disclosure.
I vowed to myself in 2016 – I would use a planner to be more productive, journal my feelings and experiences, and track my progress each week. In actuality, I just bought several planners, a large desk calendar, 2 notebooks, and one passion planner. Unfortunately, it wasn't until September that I found a system that worked for me. Lucky for you, though – I'm sharing what worked for me!
This isn't a sponsored (aka paid) review, but there are a couple affiliate links through the post.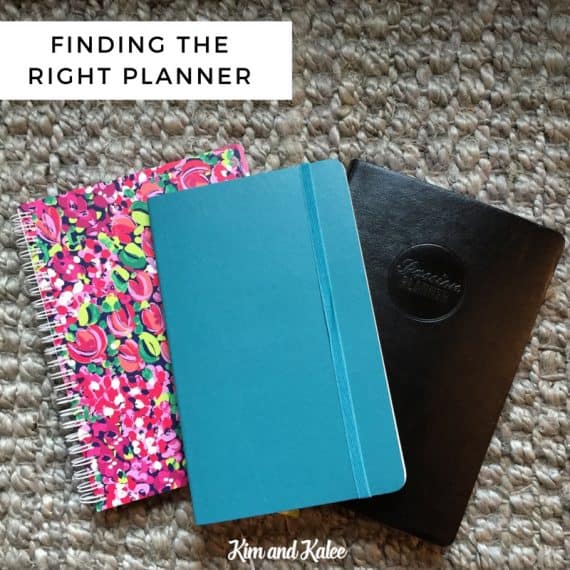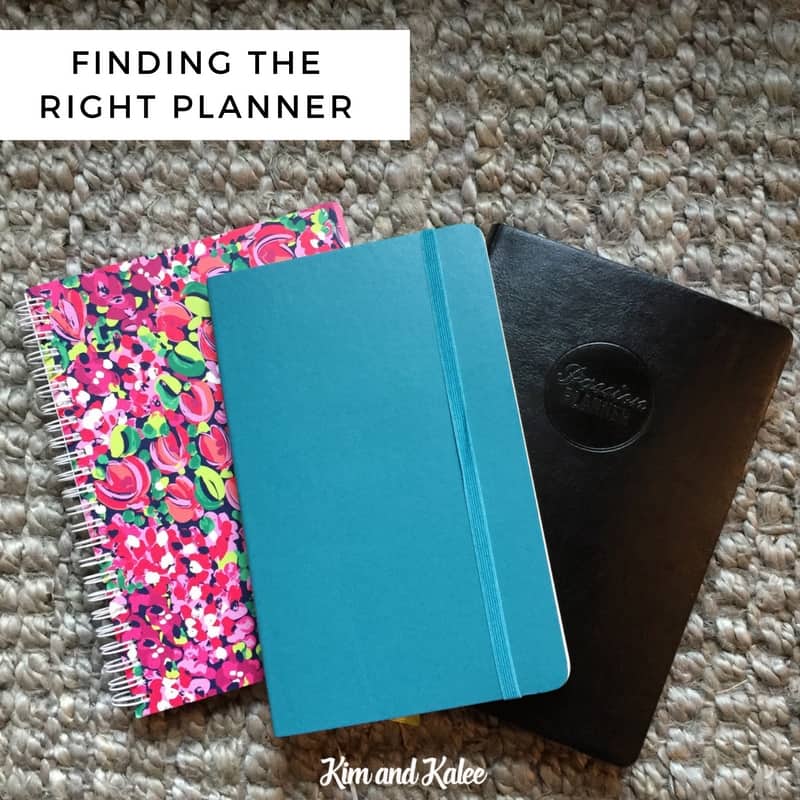 First – you should know I'm a planner, goal setter, and writer. I love to have something pretty to write in and my goals scrolled across things.
With that said – at the end of each year, I listen to Jim Rohn's Art of Exceptional Living. I'll even listen to the chapter on goals with pen and paper. After buying a few thousand dollar productivity training – his mindset and goal training is still the best one out there. Plus, it's under $15.
From there – I write out goals for the next year, 3 years and 5 years.
My problem is usually that I write them and only remember 1 or 2 and don't take daily action towards the others – so I knew finding the right planner and system would be key.
I struggled to find the right weekly and daily planner at first, though. Here are 3 planning methods that crashed and burned (for me).
First, I tried a large desk calendar.

On the top of the month – I would write down my 1-year goal and break it down into a monthly goal. Then I would put to-dos on some of the days.
This was a system I had heard Amy Porterfield used a lot. It helped with figuring out when my mom and I wanted to host training for our team, and it helped plan our family vacations – but that was about it!
Verdict: If you need to figure out a broad sense of where launches, training, and trips should go – the system was helpful. However, I hated that I couldn't carry the calendar with me. It also didn't leave room for a daily agenda or notes.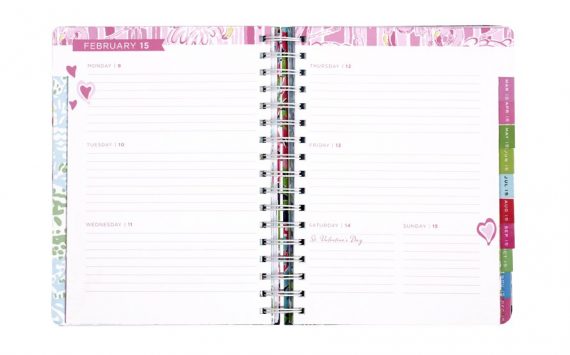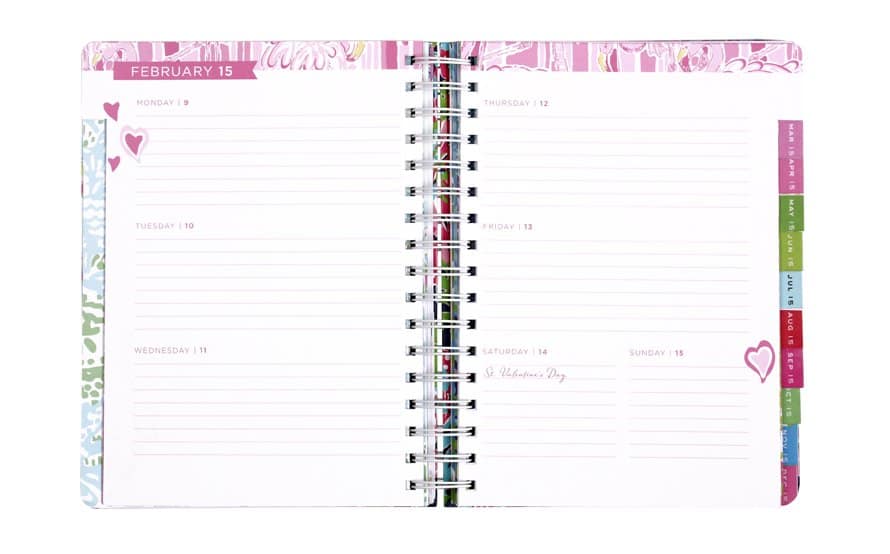 It was so pretty and colorful! However, it still didn't outline the day like I wanted. I wanted a play-by-play, hour-by-hour option…with still space to write out ideas and notes.
Plus the planners had too many extras that didn't relate to me – pretty picture pages and "my next escape" to plan our my trips just wasn't for me.
Verdict: This was a major dud, and it was pricey for what it was in my opinion. I did like having a bigger space to record my thoughts and to-do's for each day, and it did have a page for each month as an overview too. So it may serve someone else well, but it wasn't my favorite of planners.
Finally, I also purchased 2 Lilly Notebooks in my search.
The idea was to record notes from any personal development book I was reading. Then, the other book was a prayer journal. So not exactly a weekly planner or anything, but it was still a part of my strive to organize my thoughts.
Verdict: The 2 notebooks got used maybe 10 times each. I couldn't find my place easy, and where the notebook has a hardback – I didn't carry it as much as I hoped. Plus I wanted my personal development notes to be with my goals and daily planner.
Finally – I found the planner to beat all planners!
By September, I had pretty much-accepted defeat. Maybe I was just bound to be a little unorganized with my goals and thoughts, or maybe my goal to be organized was just too large and strict.
I was really hesitant to make yet another purchase, but I went for it. I saw that they had a January-January notebook and then an August to August one…so I went for the mid-year one in hopes to start immediately.
This planner is exactly what I was looking for. It gives space at the beginning of the planner to think and write down about your priorities and goals. This part of the Passion Planner is called the "Passion Roadmap".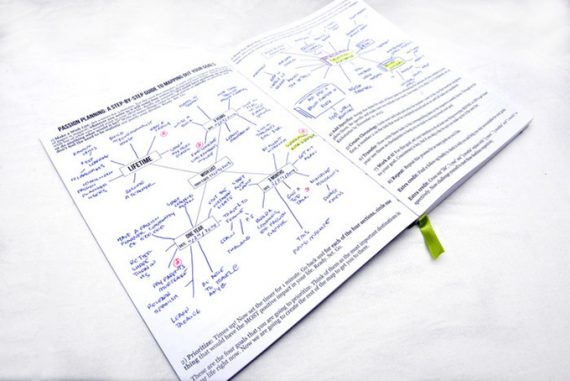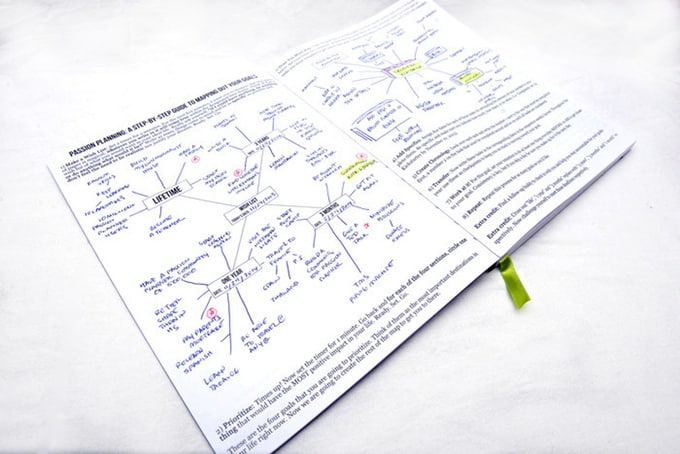 Then once you have the big picture done, you are ready to get started. It includes a monthly planner, as well as, a monthly reflection at the end of each month. The reflection's guided questions help assess your progress in the last 30 days and what you are happiest about accomplishing.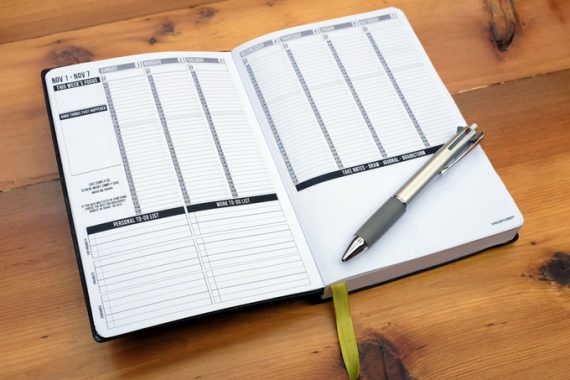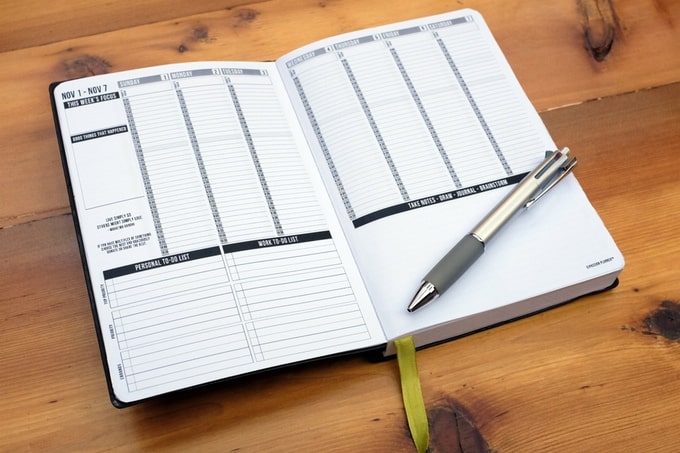 Then you have a daily planner section broken down by the hour. I really like this because I like to break my day up into 90-minute chunks and know exactly what I'm doing in each chunk. (Ya, I'm a type A personality).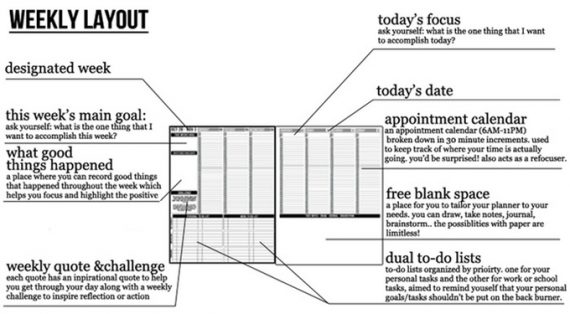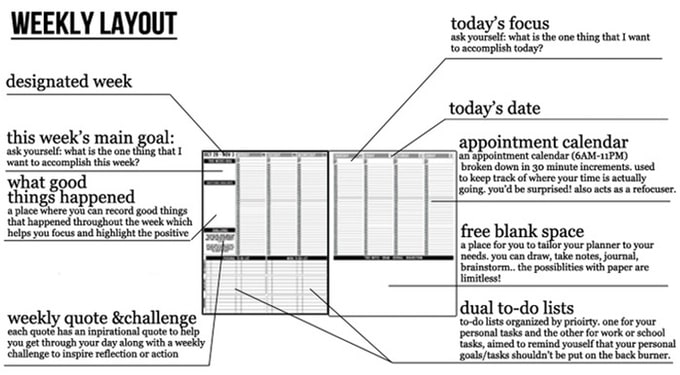 Plus there is still room each week to write in priorities, personal to-dos and notes that I take from my personal development.
Not only does it help me stay on track, but it's something I'll keep forever and be able to go back and say okay I accomplished this is 2016 and was doing XYZ, do I need to change something or go back to those habits to have similar results? Plus, I love that all of my personal development notes are all in one place.
You can see how the Passion Planner works with a video here.
I did invest in a journal as well. Instead of the hardback, I invested in a smaller moleskin notebook.
I've always been a journaler. I started when I was about 9 and was having ulcers from worrying. (Ya, I'm THAT Type-A!) Journaling helped me let go, organize my thoughts, and approach any situation with an objective view. It's amazing what seeing your thoughts on paper can do – you can see holes in your thoughts and are less critical of yourself as well.
So now, in my Passion Planner, I put down a time to journal for 20 minutes every day. The journal and planner are both small and light enough to go in my purse as well so anytime I have an idea or something pop up – I can easily add it to the appropriate one.
Do you use planners? Do you have a favorite one?

What are some goals you are setting for the new year?