Poshmark Review: How I Earned $1336 Just by Cleaning Out My Closet
This post may contain affiliate links. All opinions shared are my own. As an Amazon Associate I earn from qualifying purchases. Click to view our full disclosure.
I started using Poshmark in the Spring of 2016. In this post, you'll learn how the app works, how I got started, and my best tips for selling and gaining a following.
After reading The Art of Tidying Up, I decided it was time to tackle my closet of anything "not bringing me joy." I figured I needed to toss the 10-year-old jeans from high school and invest in some new, grown-up clothes. By reselling some of my old clothes, I would have a budget to buy new ones.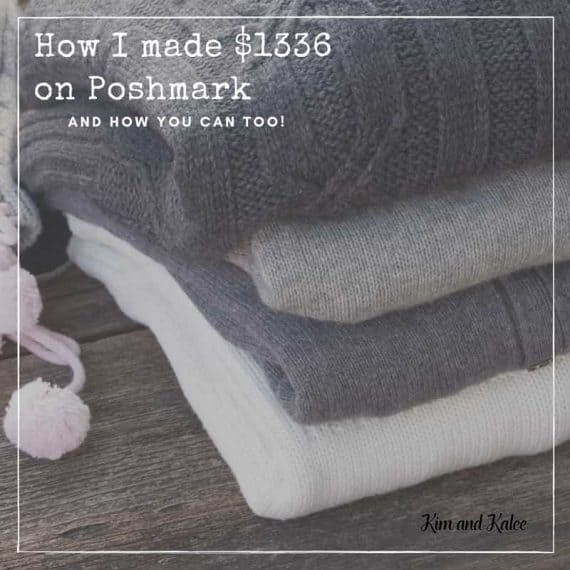 What is Poshmark?
Poshmark is a smartphone app for buying and selling women's, men's and children's clothing within the United States. It's kind of like a gigantic consignment shop where you can sort by brands, styles, and sizes, or you can shop in your favorite users' closets each day for new listings. You can also shop online through their website, but you can only sell through the app. You can get the app for free in the apps shop.
It's very similar to Tradesy, ThredUp, and Mercari. From my experience, it's has been my favorite to sell on, but Tradesy is my favorite as a buyer.
Selling versus Buying
I love Poshmark to sell my clothes because there are so many users and brands on there. On the other hand, Tradesy is a chance to buy authentic, fancy brands like Tiffany & Co., Louis Vuitton or Ray Ban. Their policies and customer service against counterfeits seem to be stronger than that of Poshmark. Therefore, I wouldn't buy anything "luxury" off Poshmark because there are a lot of fakes. However, if you're looking to sell your gently used clothes or find a great deal on Free People, Lululemon or something similar Poshmark is awesome.
It's also like a community.
You can follow users and like items on the app. By following someone, their new items will pop up on your feed when you're logged into the app. If you've liked a specific listing, you'll be notified in the app and by email if it goes on sale.
My Video Review of Poshmark & Tips
How I Started On Poshmark
I had heard about it last year from a friend that worked at the post office. Ironically, that's actually where we became friends because I would sell large bundles on eBay, and finally, she was like "eBay is a ripoff!" She then told me all about Poshmark and the other selling apps I mentioned above.
With her advice, I started by putting everything into 3 piles:
donate (t-shirts, local events items, and similar items)
high to mid-level brands (7 For All Mankind, MissMe, Free People, Kate Spade, and Lilly Pulitzer)
low-level brands (Target, Forever 21, etc).
By the time I was finished cleaning my closet, I felt energized! Not only was it clean and organized, I was already thinking about the new pieces that would create a new, classic look.
But when I looked at Poshmark it seemed difficult.
I was used to listing about 50+ items in a "bundle" on eBay and hoping for the best. Unfortunately, the amount I was getting smaller and smaller. The last eBay lot of 50+ sold for under $110 plus the shipping and fees killed me.
Listing on Poshmark
I listed each item separately ranging from $8 to $110. To list an item, you can add 4 pictures and give the item a title. Then, you can add an item description, what type of item it is, size and original price. Then you just add in your listing price!
Just like eBay or other selling sites, the quality of photos and descriptions vary from seller to seller. (Some members do this as their full-time job). I aimed to put the brand name in every title to make it easy to find when people searched for that brand. I also made sure my descriptions were super clear.
Some sellers will also model their clothing. I personally do not like to this just because it's so public. You can get great shots on a hanger or use a mannequin.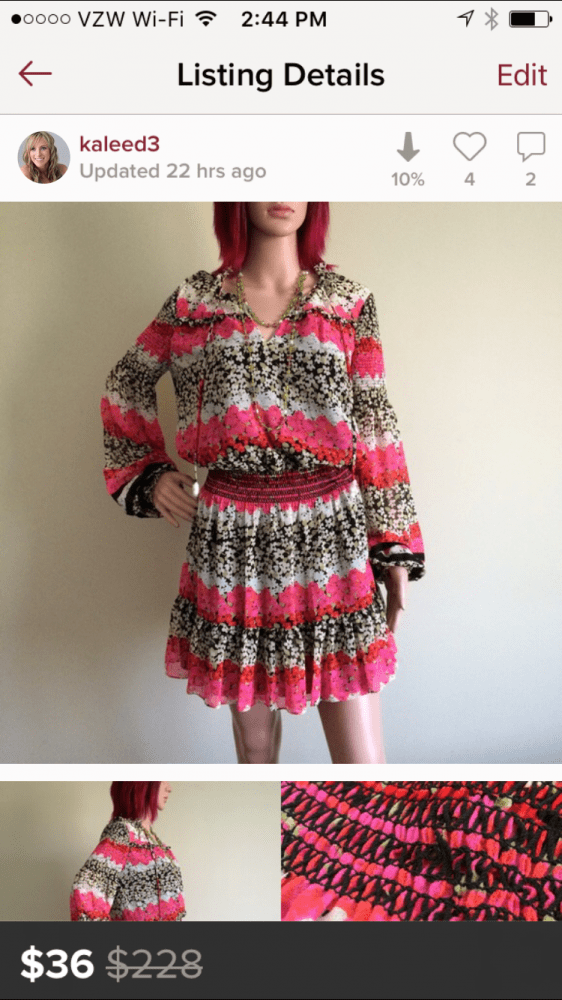 I looked at other similar items before deciding my own list price as well. I did this by searching the brand and then the category of clothing I was selling; for example, I searched Size 25 7 for All Mankind Skinny Jeans to get an idea of what to price my pair for. Then, I left a little wiggle room (about 15%) in case I wanted to "run a sale" later on to have some quick sales.
Once you've listed an item, you can look at your profile and see the listing. It's important to share the listing every couple of days to keep it high in the search. If someone is searching a brand, the most recent listings are posted at the top.
My Poshmark Results
As of today, I have made $1336 on Poshmark with just 97 pieces sold. In addition I've made about $300 through consigning those low-brand items that wouldn't do well on Poshmark.
While I was nervous on having to list everything separately, it's been amazing how easy it's been to have some mad money. You just snap 1-4 pictures and put a title and short description.
Unlike eBay it's just a flat 20% fee for listing when an item sales.
No insertion fees, no Paypal, and no shipping wars with buyers.
When your item is bought, you just print out a pre-paid shipping label (paid for by the buyer) and put it in the mailbox.
I invested in 100 plastic bags to ship in so it's as easy as sticking the package in my mailbox. The prepaid label covers up to 5lbs as a flat rate, and the buyer pays for it.
The feedback is better in my opinion, and since it's priority mail you receive items faster than eBay typically.
Pros of Poshmark
It's a community! You can like and share items or follow anyone on Poshmark similar to Facebook or Instagram. You can also participate in theme parties like "Statement Style Party" up to 3x a day! This helps get exposure of your listings out there and meet some cool people.
The shipping is so easy! As a seller, you get a pre-paid email label and an email that something sold. Just print, stick and mail. Buyer pays a flat-rate $5.95 for priority shipping so you're not fighting over how much it costs to ship.
Tons of Variety! There is so much on there that you'll never get bored. I've sold more than I've bought, but I've found a few awesome deals as well.
It's easy to comment and find out more on an item. I hate that you have to jump through hoops to message someone on eBay. You can comment on any item similar to leaving a comment on Instagram.
Make an Offer option. This is helpful for the buyer and seller. As a buyer, you can offer your best price you'll pay and sellers can decide if they want to sell. As a seller, if you accept the offer, it's binding. You don't have to wait for the buyer to pay! It's automatic, and you can ship!
Easy and convenient. I listed items super quickly. It took me about 1/3 of the time it took me to list items on eBay.
Easy to get Paid. You choose if you'd like direct deposit or a check. I always do a check, and it comes within a couple of weeks. I love this option because if you've ever consigned items it's usually 90 days before you get a check. You can also use your balance on Poshmark to buy items.
Bundle Option. Buyers can shop your "closet" aka listings and purchase multiple things at once as a bundle. It saves the buyer money on shipping since 1 label will cover multiple items. I've woken up to $150 from bundles on 2 occasions!!
It's Free to List!!
No Minimum and Maximum Time it Can be Listed
Vacation Feature When you Can't Ship – You can go in and put all of your listings on hold with two clicks when you're unable to ship.
It's definitely easy to sell items (more cons come with buying).
Cons
Anytime you sell an item, Poshmark makes a flat 20% commission. This bugged me at first, but most consignment stores charge 50%. Then eBay after all their different fees and Paypal works out to be about 20-25%!
If you're buying, check the seller out first. Several sellers aren't active. They will list and forget. This stinks!! So make sure their closet looks active or comment on an item and make sure they can ship it soon. If they don't ship it within 7 days, you can file a complaint, but that's a hassle.
There are LOTS of fake items like purses.
Some people are needy and sometimes rude. They will ask a ton of questions, and you just have to decide how much you're willing to tolerate.
Comments can't be deleted. This is annoying for 1) rude comments and 2) if you have typo you can't edit it.
It's like social media, so you have to gain followers for more exposure. Buyers can search by brand, but when you have more followers its easier to get your listings shared.
It's time-consuming and some say addicting.
Poshmark Sellers: 6 Tips to Gaining Followers
Search for "Share Parties" – Certain users will host a share party where if you share items from others' closets they will share items from your closet. This takes a lot of time, but it's easy to do.
Search "Follow Game" – If you find one, you will follow the instructions like "Like this post, share it, and follow everyone that liked" This gets other people to follow you as well.
Follow Similar Sizes and Brands – You can go to "Find Friends" and search for people that wear the same size and brands as you!
Share Your Closet Often – This will keep your items at the top of the list when people search for a brand name, and it will keep it in the feed for your followers as well.
5 Other Things to Know
You can't sell outside of Poshmark – This means you can't list it on eBay or another site if it's up on Poshmark.
You can't trade items on Poshmark – Some people will still trade on there, but it's against their policies and procedures.
Money is "deposited" 4 days after the buyer receives in case there is a problem.
When someone likes an item, don't comment and tag them asking if they want to buy it.
When someone shares a lot of your items, it's polite to return the favor.
I will continue to use it when I have items to go on sale – it's simple to use and a great way to buy and sell fashion!
Also, we highly recommend Poshmark because you'll usually get more for each item of clothing. With that said, Thredup is another online consignment shop where you just put your clothes in a bag, and they'll do the heavy lifting. Find out what happened when one of our friends tried selling on Thredup!
After reading this, are you going to try it out?