15 Romantic Christmas Movies on Netflix
This post may contain affiliate links. All opinions shared are my own. As an Amazon Associate I earn from qualifying purchases. Click to view our full disclosure.
Now that our Christmas tree is up, one of my favorite things to do light a candle, curl up on the couch with Roxy and watch romantic Christmas movies on Netflix and Hallmark!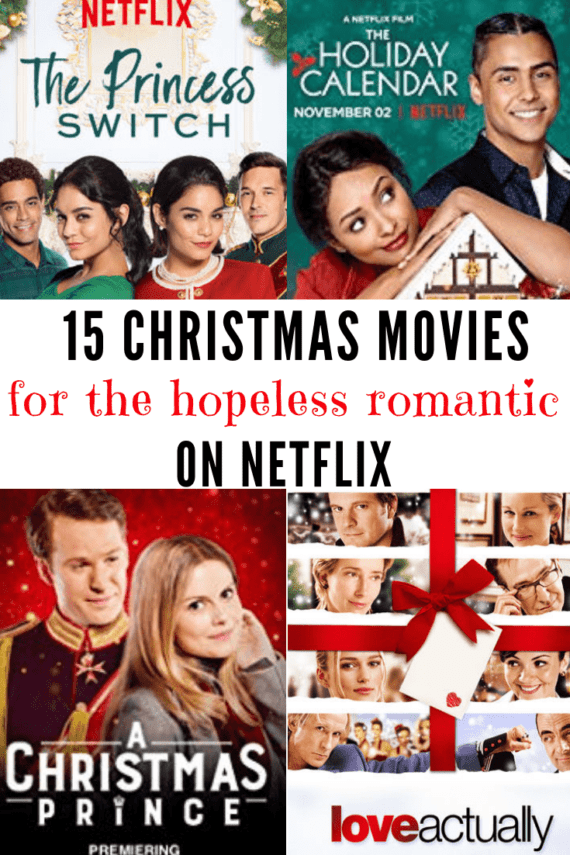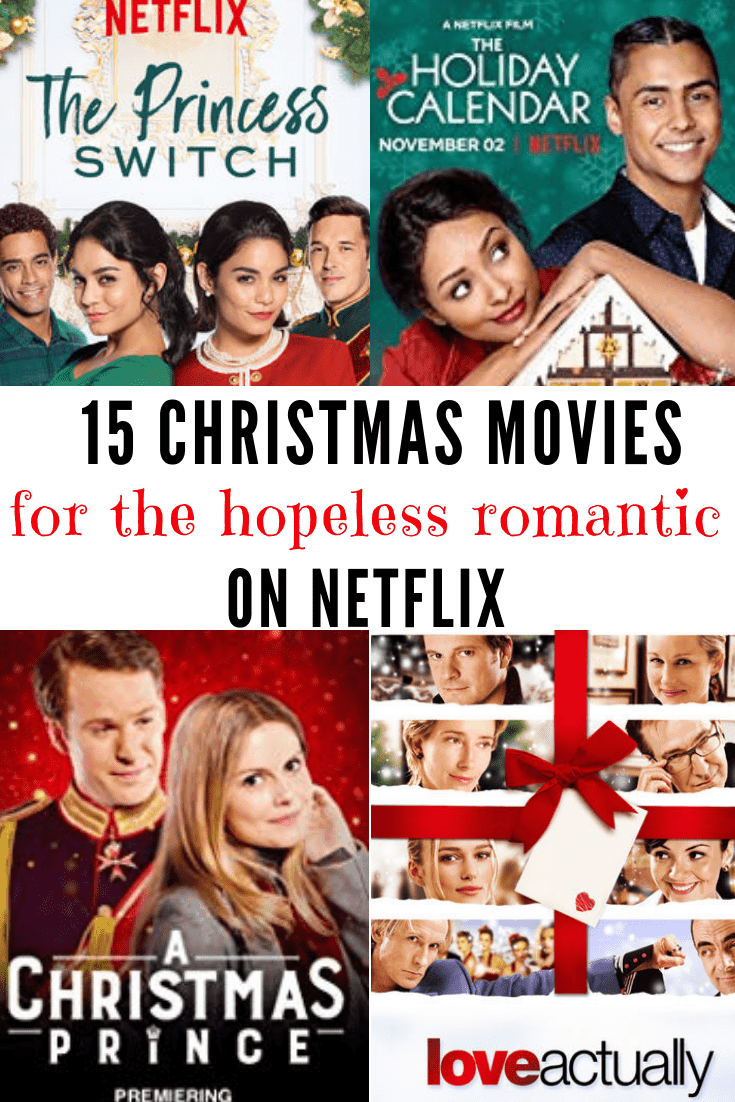 While Hallmark has so many Christmas movies I lose count, Netflix has a few hidden gems for the hopeless romantics out there!
So grab your favorite Christmas Snack Mix, Christmas Tree Peppermint Sugar Cookies, or our Crockpot Christmas Crack, curl up with a warm blanket and enjoy!
15 Romantic Christmas Movies on Netflix
These are the 15 movies that are probably worth watching if you're guilty pleasure is cheesy Christmas movies.
1. A Christmas Prince
Get ready for a royal Christmas when this journalist goes abroad to learn more about a handsome prince.
2. The Princess Switch
A duchess' life is hard, right? One week before Christmas, a duchess swaps places with a normal girl who – coincidently – is also her lookalike!
You may also like our Christmas Brunch Recipes and Keto Christmas Cookies!
3. The Holiday Calendar
A photographer received an antique holiday calendar that surprisingly starts to predict her future.
4. Christmas in the Smokies
A woman tries to save her family's farm and finds love.
5. The Knight Before Christmas
A medieval night falls in love with a teacher who struggles to find the truth in love.
6. Operation Christmas Drop
An unlikely romance brews between an aide and an Air Force Pilot.
//z-na.amazon-adsystem.com/widgets/onejs?MarketPlace=US&adInstanceId=2450b2eb-a4bd-446d-995e-d300c865e45f
7. Holidate
When two singles decide that being single isn't fun, they agree to be together for gatherings for the rest of the year.
8. Falling Inn Love (this might not be Christmas-themed but it's perfect for the holidays)
Big city girl leaves the town to branch out on her own and finds love in a very unlikely place.
9. Midnight at the Magnolia
These two fake it as a couple to get through the holiday but find out that they really enjoy each other's company.
10. Holly Star
This movie has a bit of suspense with a little bit of romance mixed in.
11. Christmas With a View
A new chef comes to the ski lodge where our heroine works, and her life gets flipped upside down.
12. Hometown Holiday
Hometown lawyer is looking for local talent and might be surprised to find love instead.
13. Christmas Catch
What happens when an undercover cop develops feelings for the person that he's looking into?
14. Christmas Inheritance
When socialite has to find out the meaning of hard work, her visit to a small town reveals so much more.
15. The Princess Switch – Switched Again
We all know what happened during the first Princess switch movie..but this one adds another big twist!
Skip These Romantic Christmas Movies on Netflix
Sure — I don't expect these little movies to be Oscar-worthy. With that said, all of these had such awful reviews I wouldn't bother watching!
Christmas Crush
Christmas Wedding Planner
Holiday Breakup
Dear Santa
Merry Kissmas

Christmas Movie Night
Jake and I also started a Christmas Movie Night tradition our first year of dating. Fast forward 8 years, and we've definitely found our favorites! We usually celebrate the weekend before 25th, and have a full line up of our favorite Christmas Movies!
While these aren't on Netflix, I hated to not include this special tradition!
Here's our Christmas Movie Night Line Up:
Don't you agree that Love Actually should be higher?