Spray Tanning like a Celebrity! It's not Your Momma's Self Tanner!
This post may contain affiliate links. All opinions shared are my own. As an Amazon Associate I earn from qualifying purchases. Click to view our full disclosure.
Since freshmen year, I hated to be pale after January. I started tanning in tanning bed at age 14, and I laid out before that. By 23, I have had four moles removed. The last one caused a 2 inch scar.
Luckily, none of them have been cancer; however, spray tanning eliminates the risks of a tanning bed and still helps me get my bronze on in one session. I've been using spray tanning off and on for 5 years! I've always used a version of a salon booth.
4 Things You Should Know About Spray Tanning
1. You aren't going to be Snookie color. Snooki literally sprayed herself in the face at random points. Just like working out and dieting, everything in moderation. Self tanning products can start out very light, and you can build them to your perfect shade now.
2. You aren't protected from the sun. Unlike a suntan, spray tanning doesn't protect you from the sun at all. Make sure to apply sunblock every couple of hours.
3. Typically, a spray tan lasts 3-5 days. I can usually see mine a little on day 5-7, but it's not noticeable.
4. You still need a skin check each year. Even if you are using sunscreen and staying out of the sun, your skin matures and changes. Always get a skin check to catch any health concerns early.
I don't have any specific before and after shots of spray tanning, but I have used it for about 5 years. Here's a couple more of the shades. (Light, Medium, and Dark are the different shades you can get in a salon.)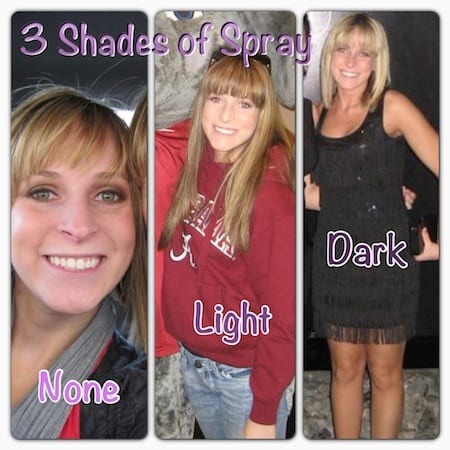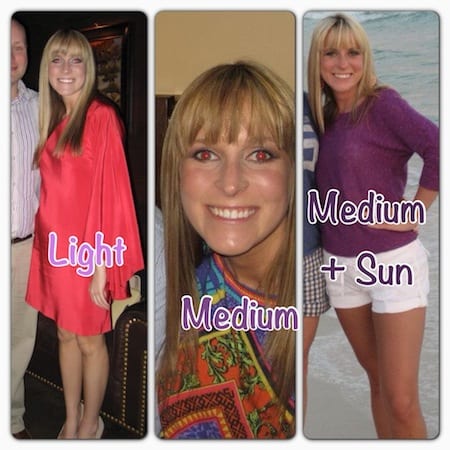 6  Spray Tanning Tips
1. Exfoliate, Exfoliate, Exfoliate! Right before you spray tan, you should shower to balance your PH level and scrub off dry skin. Your PH balance is different on different body parts. If you spray tan without a shower, your areas of warmth, like your arm pits, could end up being darker. Also, when you're showering, make sure to sloth off any dry skin. If you have dry patches, the spray will settle too heavily on those areas. Also, dry skin does not hold the spray tan as long.
2. Opt for a Spray – Many brands, both in department and drugstores, offer spray cans. These will allow you to get the most even color. Look for a bottle that will spray 360 degrees. This means that you can turn the bottle any way you want it, and it will still spray evenly.
3. Consider a Salon Because I spray tan every week, it is easier and cheaper for me to go to a tanning salon. I use the VersaSpa which is a open-tanning machine.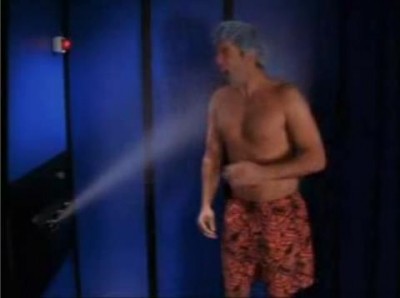 You aren't in a box like what you see on Friends.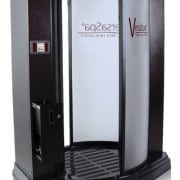 There is also a voice guide to tell you when to turn arund. I love it, and no one has to see me in my delicates.  The salon's also let you pick a shade. Usually light, medium, or dark are your choices. Light is just a slight glow and covers inperfections. Medium looks like you've been to the beach, and dark is very rare for me. It's like a deep tan. (see pictures above)
4. Baby Wipe Your Hands If you go to a salon, they may or may not have wipes so bring some. You will want to wipe the palms of your hands and the bottom of your feet because sun doesn't typically hit these areas. I also lightly brush a wipe over the top of my fingers to keep them from looking too dark.
5. Shower after 4+ hours and Moisturize Spray tanning has a chemical in it to make you turn a shade darker. If you shower before, you risk the chance of being a streaked and looking like a tiger. Just hold out. Once you do shower, make sure to apply moisturizer. It will help the spray tan last longer.
6. Plan ahead. If you are doing your own spray tan, try it on a patch of skin no one will see a day before to see the color. If you are going to a salon, do a practice spray or go two days before your event. This will give you some time to see how you like it.
If You Have a Spray Tan Crisis like Brides Wars*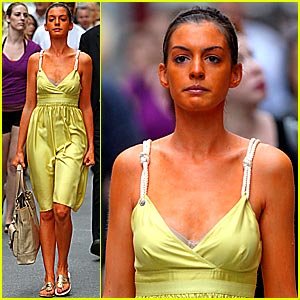 *I haven't had anything just terrible (streaks, crazy color, etc) happen to me in 3 years; however, if you're hands or something get messed up here are a few tips.
1. Mix baking soda and lemon juice together and scrub, scrub, scrub.
2. Moisturize with baby oil. The baby oil is also mineral oil which can help remove some of the spray tan.
Do you spray tan, suntan, or stay away from the bronzed skin all together?