Things to Do in NYC at Christmas
This post may contain affiliate links. All opinions shared are my own. As an Amazon Associate I earn from qualifying purchases. Click to view our full disclosure.
Going to New York City at Christmas was always on my bucket list. A few years ago, we won a Twitter contest with Hampton and scored a free hotel room! Since then, we've been almost every year! Now, I'm sharing our favorite things to do in NYC at Christmas!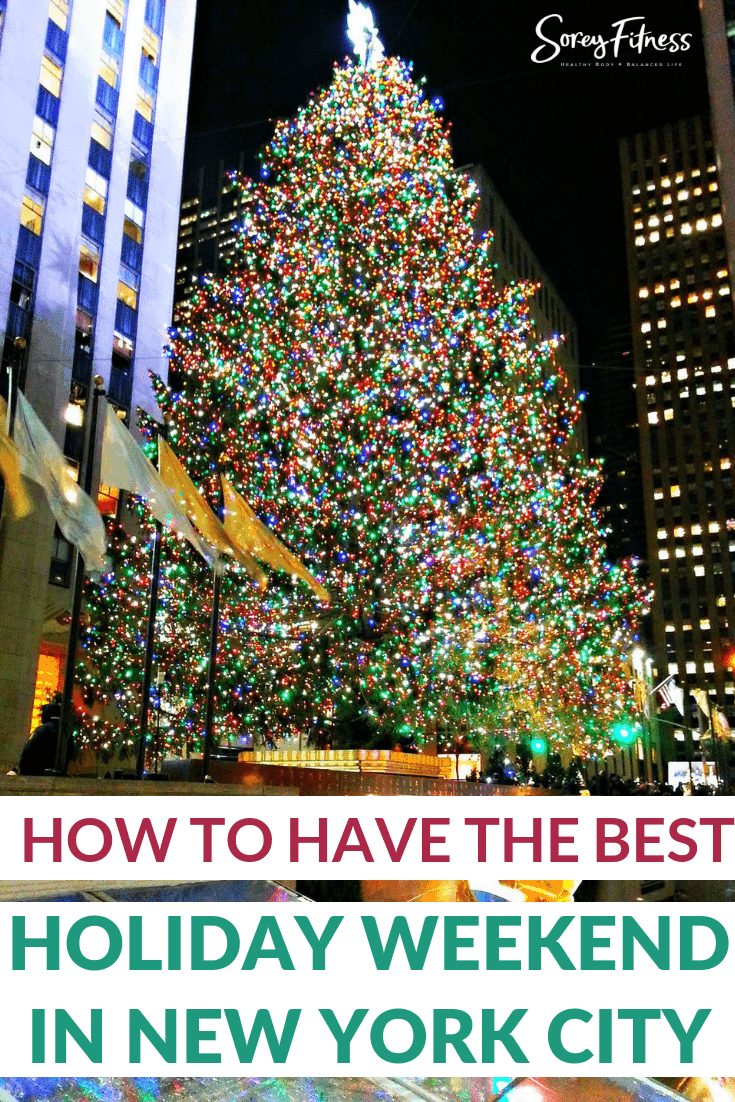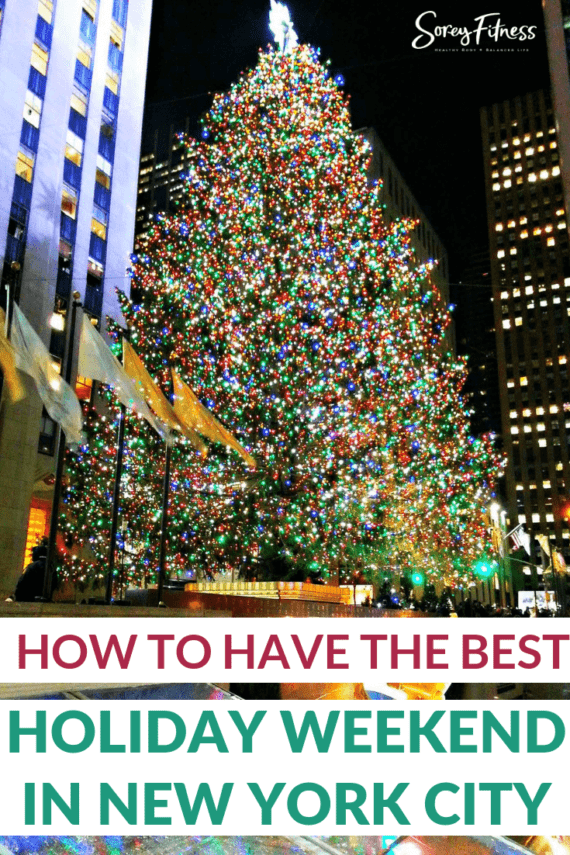 I'm a huge planner and foodie – so while I'm not a native, I have found a blend of tourist and non-tourist ideas to help make your trip memorable!
I tried my best to put things that were close together in the post as well to keep your planning easy!
Things to Do in NYC at Christmas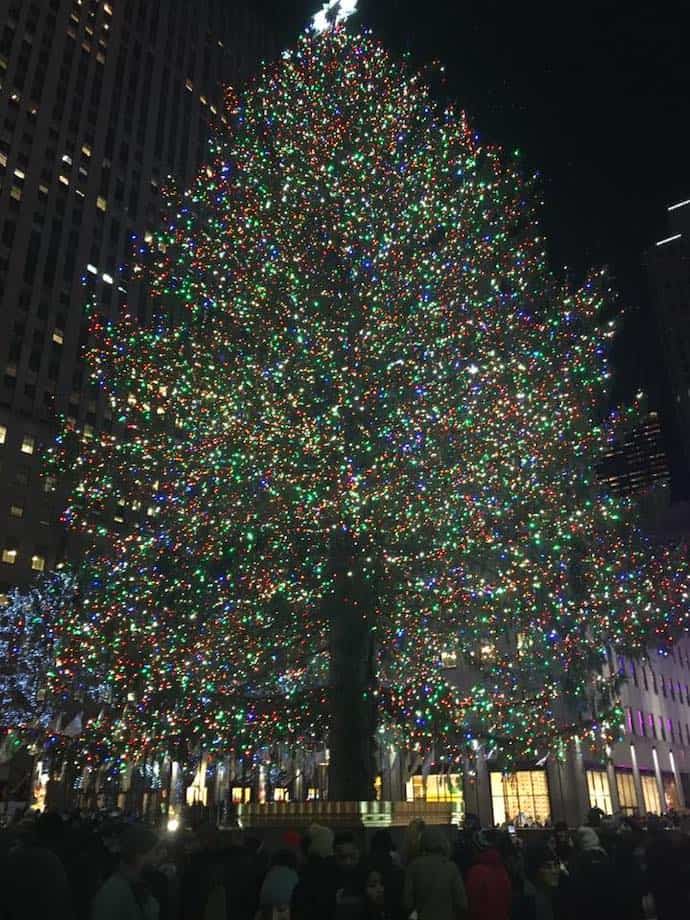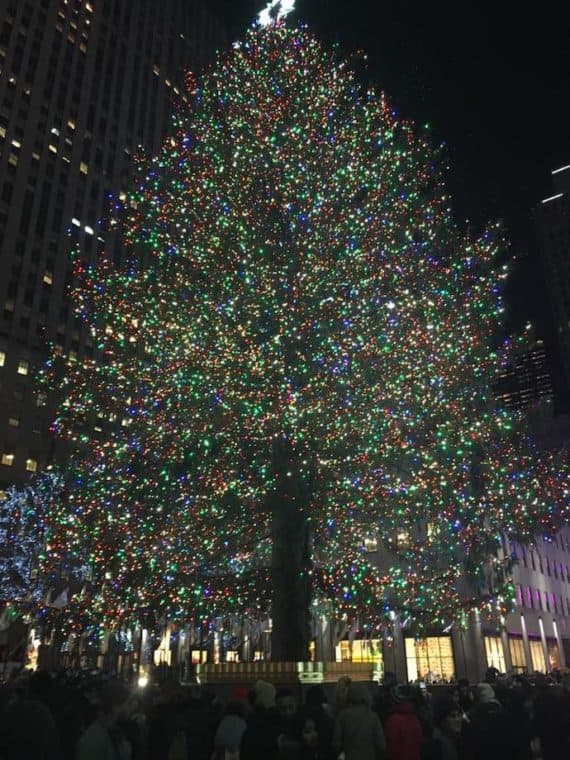 When I think of things to do in NYC at Christmas this is definitely the first thing that comes to mind. The Rockefeller Christmas tree is iconic! There are also so many cool things around it. We like to make a night of visiting this area and Macy's which I'll share about in a minute!
Location: Rockefeller Center Plaza on 49th St between Fifth and Sixth Avenues.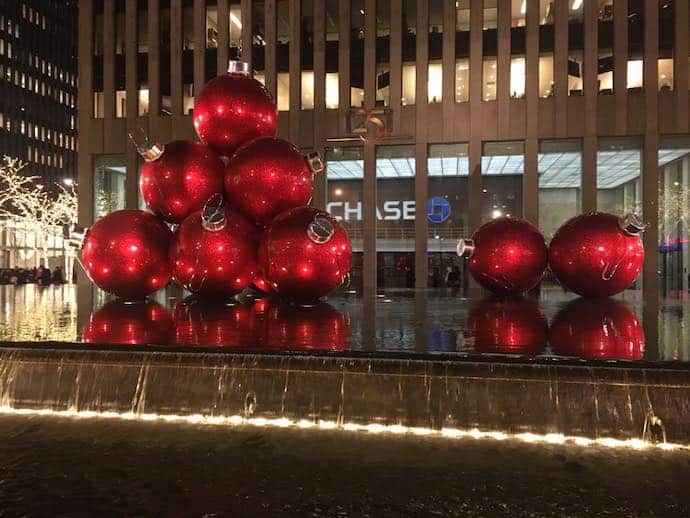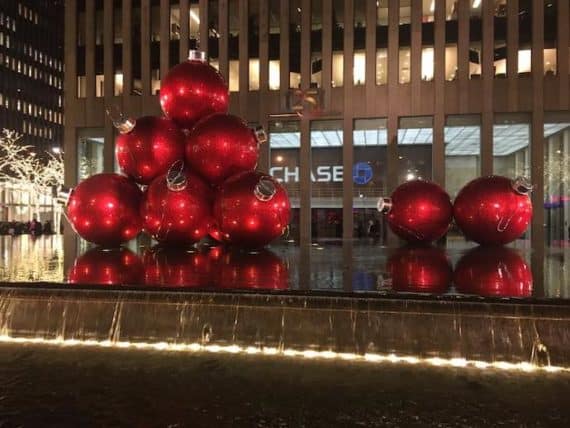 Things to Do Close By
You can ice skate in the center as well, but it's pretty pricey and crowded. Here's the skating rates and reservations.
FAO Schwarz is also right there, as well as, the NBC Experience store and Magnolia Bakery for a sweet treat!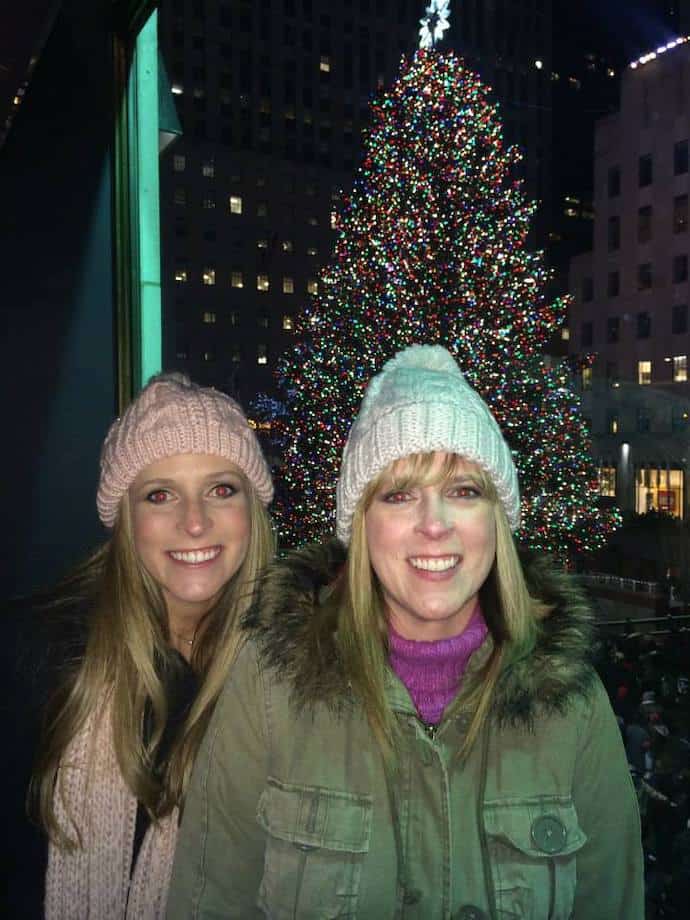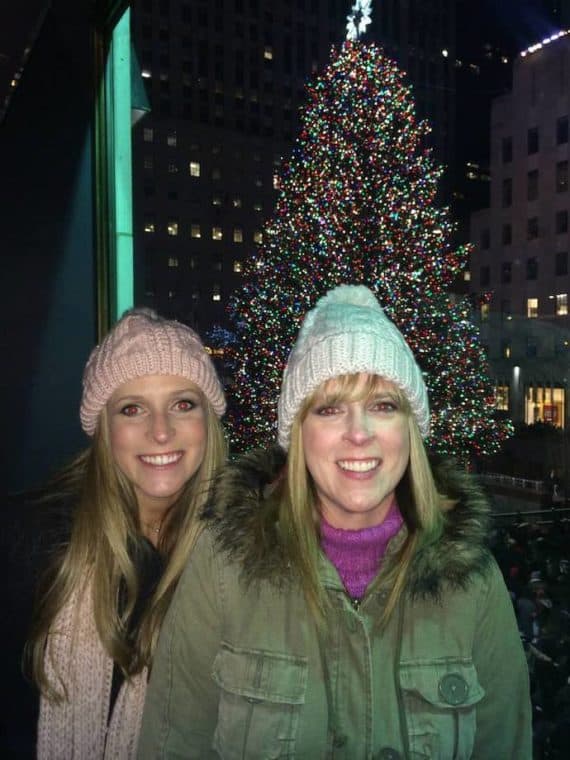 Note:: If the NBC Experience store is still where it was (haven't went in a couple years to it), see if the 2nd floor is open for a great picture opportunity!
While you're around Rockefeller Center, you should also consider going to the Top of the Rock for drinks and the view.
While we've always been Empire State Building fans, Top of the Rock gives you a great view of it! They usually light it up in red and green for Christmas as well!
Location: Rockefeller Center Plaza – Enter on West 50th Street, between 5th & 6th Avenues, New York City, NY 10111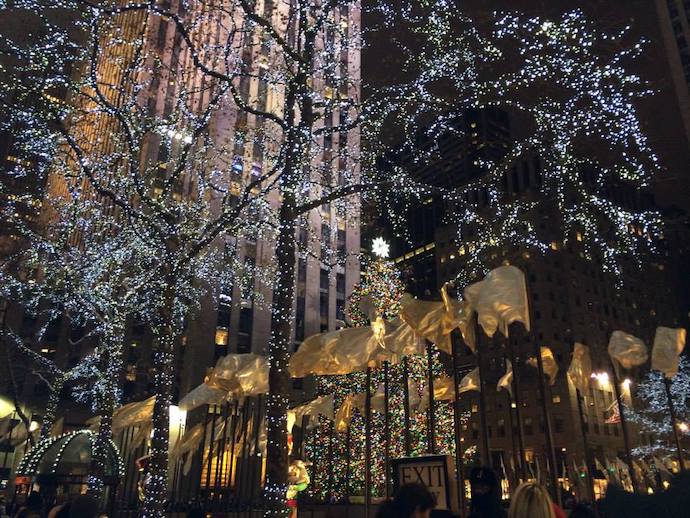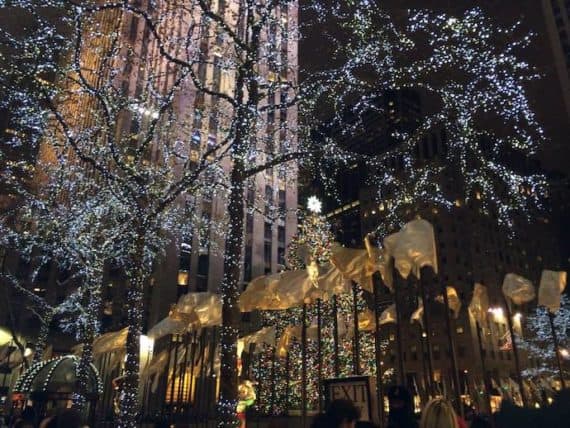 Saks Fifth Avenue
While at the Christmas tree, we highly recommend walking over to Saks Fifth Avenue because of the gorgeous light and window show they do!
Location: 611 5th Ave, New York, NY 10022
I want to first say – I'm not putting St. Patrick's Cathedral up there with something as commercial as the Christmas tree. With that said, if you are a Christian, the cathedral is absolutely gorgeous.
When we entered, the energy was so different from the busy, loud bustle outside, and it was just a special moment in our evening. It's also very close to Rockefeller Center.
Location: 5th Ave, New York, NY 10022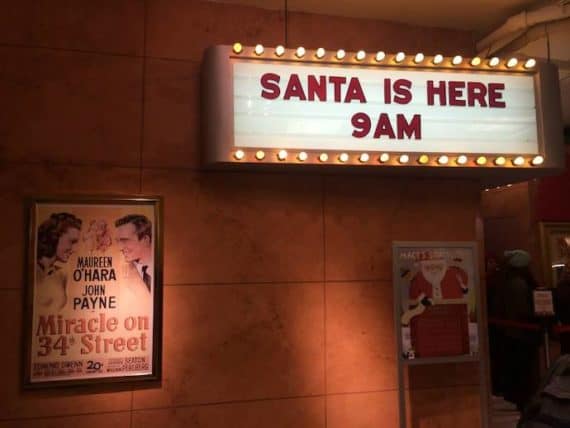 It's a mile away so about a 20 minute walk or 10 minute car ride.
Santa Land is pretty magical even as a grown-up, and I can only imagine it as a kid!
You can reserve a time slot for photos to help with your wait time. It can be pretty long.
Since we are a bit old to meet Santa (more than 1x of course), we usually head up to the top floor with Christmas ornaments. We get one each year as our souvenir.
Empire State Building
If it's clear night, the Empire State Building offers such a cool view. It is pricey, but if you're a Sleepless in Seattle fan — it's so worth it!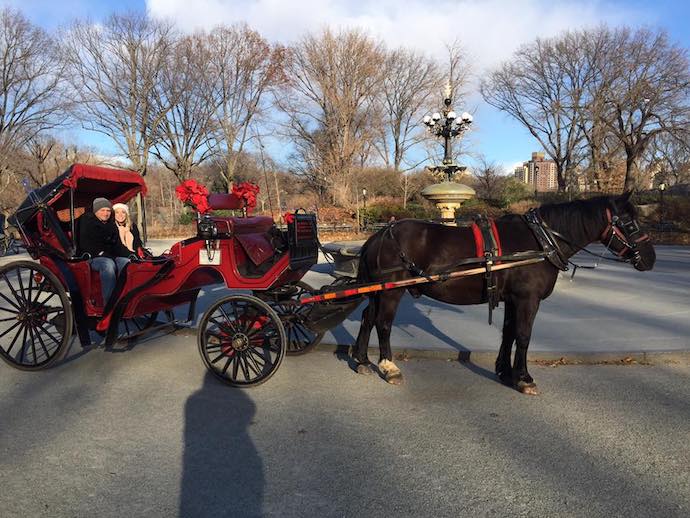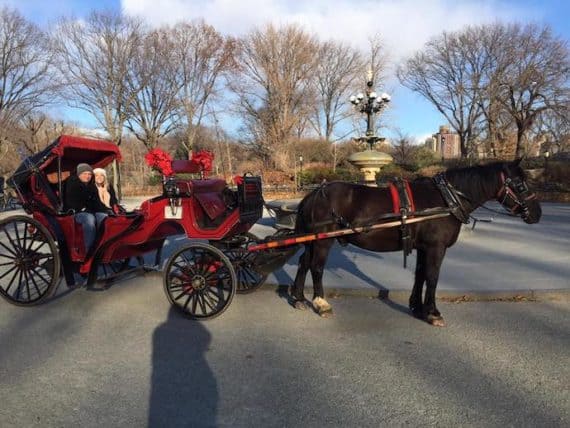 Central Park Carriage Ride During the Day
Jake and I have done a carriage ride at night and during the day, and I honestly think the day is my favorite.
At night, you can't see as much of the park, and if you're expecting romance – you typically have the man driving the carriage talking to you.
It's also usually cold in December so at least during the day its a bit warmer.
Heads up:: You'll find a ton of people trying to sell you things right in front of the park. You don't want to really talk to anyone but the man with the carriage.
I know that sounds like common sense, but several people without carriages may approach you and it can get confusing.
There are also standard rates for rides, and you can even book ahead of time (which we've always just walked up). You can view more information here.
At Night Ice Skate at Wollman Rink at Central Park
While we haven't ice skated anywhere in New York City, I will say this place totally blows the socks off of Rockefeller Center's skating rink!
It's less crowded, cheaper, and still very iconic. It's been in Serendipity  and  The Bishop's Wife just to name two.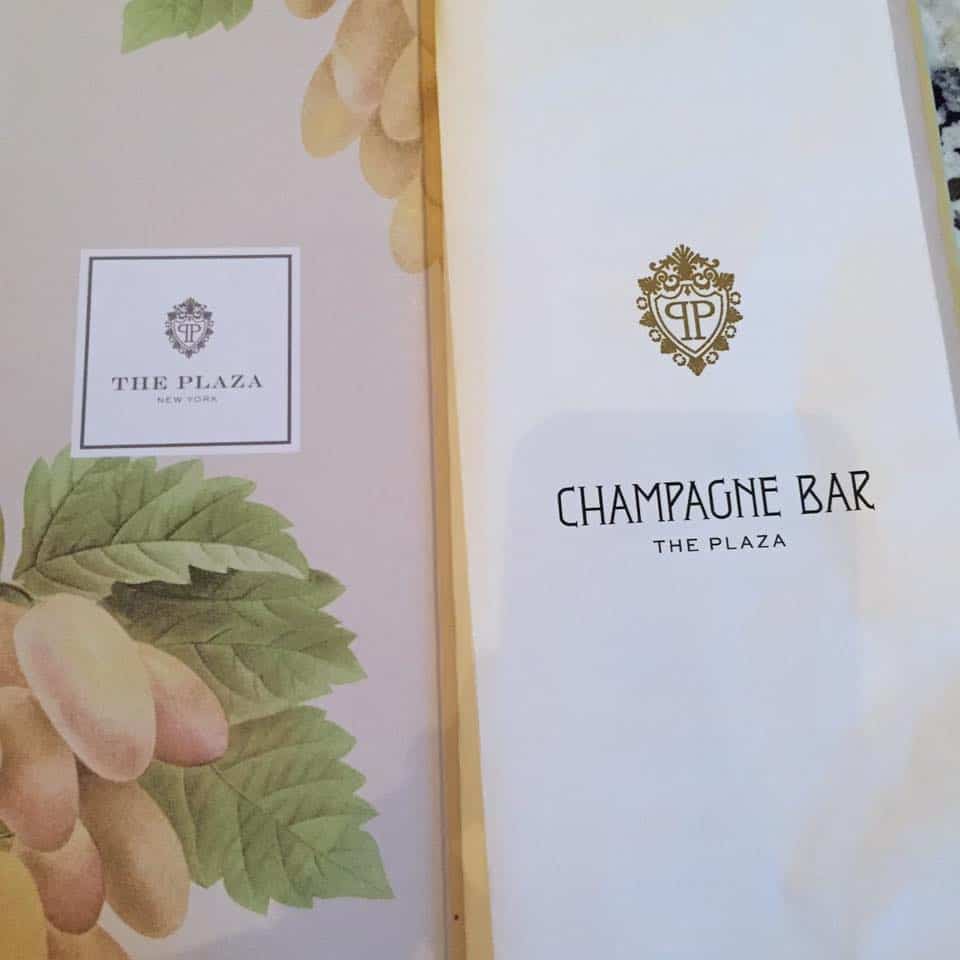 The Plaza and the Champagne bar may not be for you, but I loved sipping champagne and people watching. Plus the hotel is decorated so pretty at Christmas.
Also, if you go downstairs to the basement they have a food court, shops and dessert places!
They also have a great bathroom – which can be tough to find out and about sometimes.
Location: First floor at 768 5th Ave, New York, NY 10019
Again – this is pretty tourist specific, but Tiffany & Co is pretty neat to go into – especially if you're an Audrey Hepburn fan. They also decorate for Christmas.
Other shops with gorgeous windows are Cartier, Harry Winston, and Bergdorf Goodman.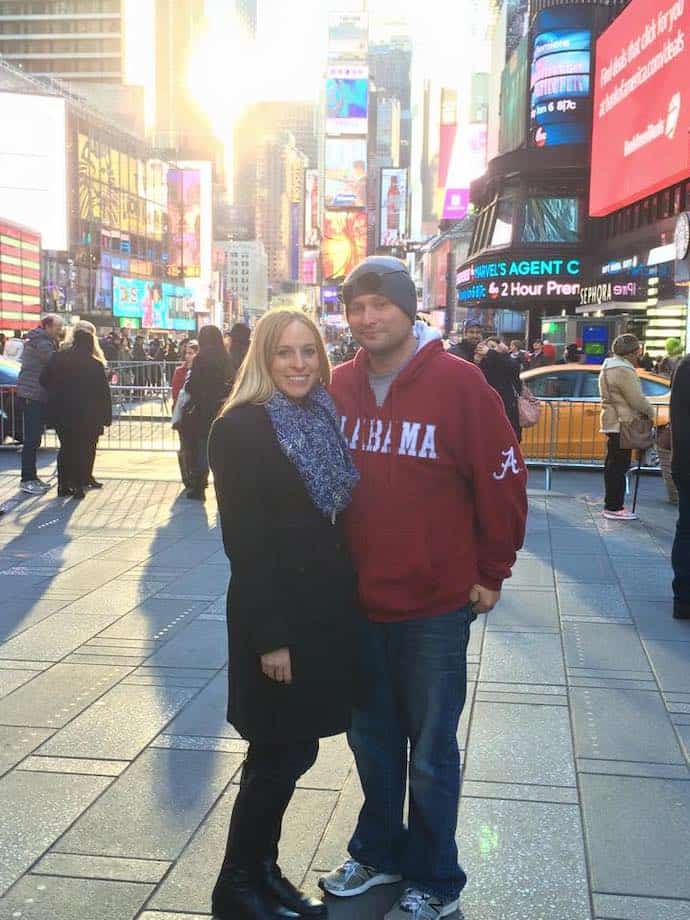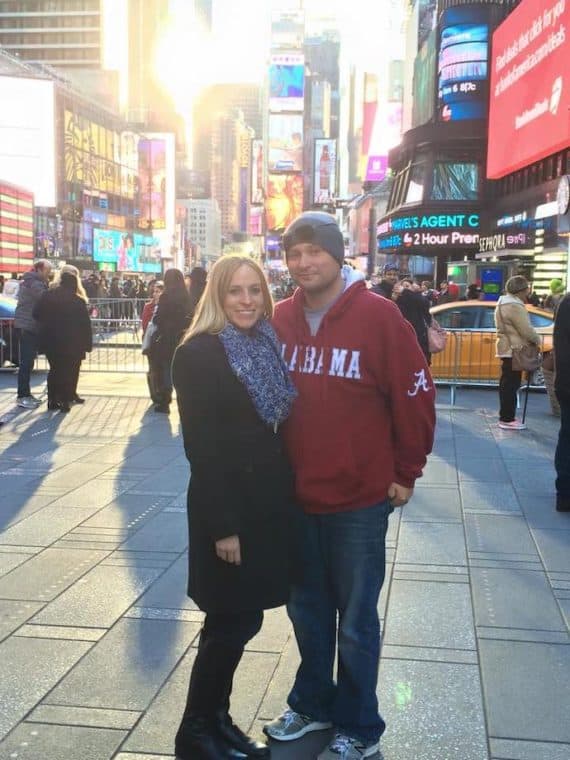 Times Square
I wouldn't necessarily call Times Square Christmas-y, but it is worth seeing if you've never seen it before.
One of Our Favorite Things to Do in NYC at Christmas is Shop the Fairs!
We've only went through 2, but both were so unique, festive and fun! They also weren't like anything we have in the Nashville, and it helped us find some unique presents for people!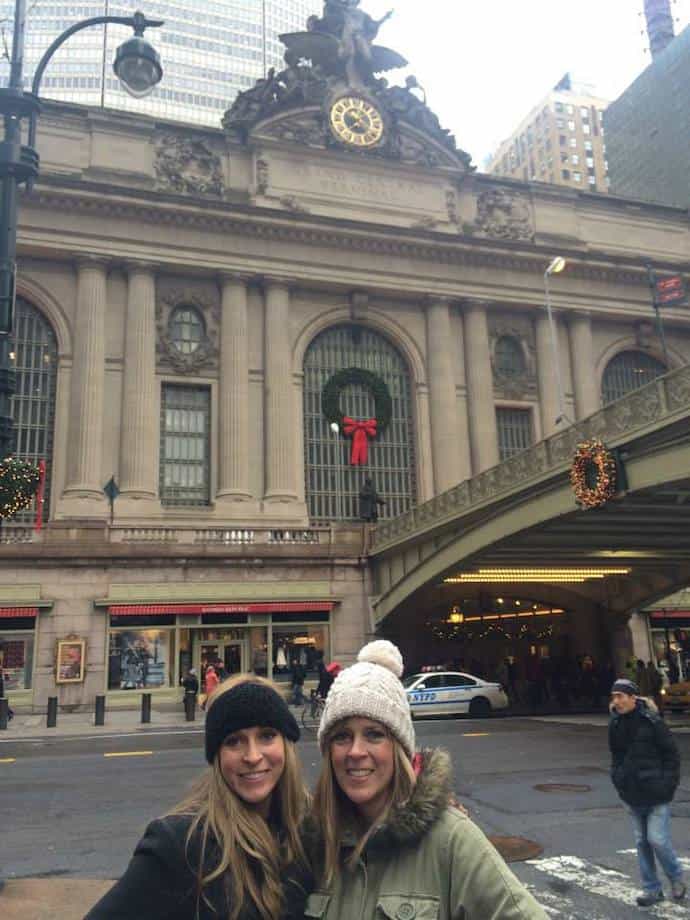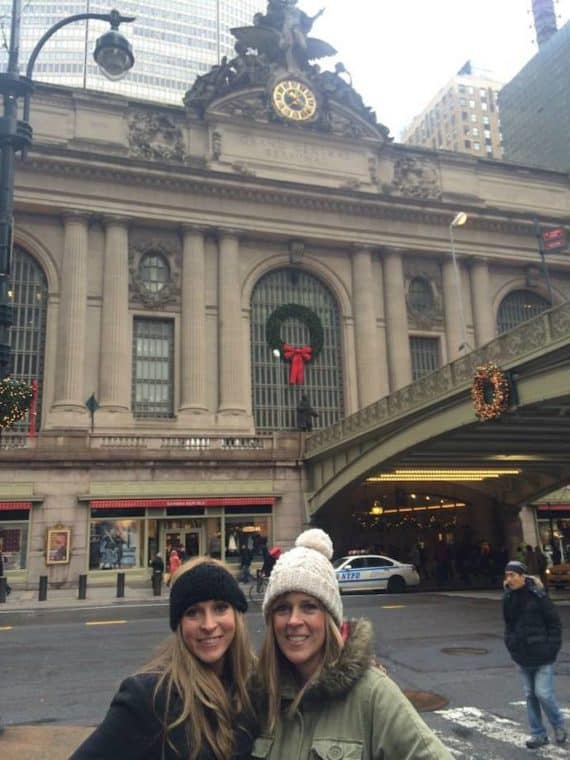 If you've not been to Grand Central Station – it's also worth a look especially at the holidays!!
They have a full food court inside with some of New York's tried and true restaurants, and the holiday fair is amazing!
The holiday fair starts in November and runs through December 24th usually. It's in the Vanderbilt hall, and there are over 70 different vendors! Check the times, but it's open generally about 11am – 6pm.
Now we venture further downtown!
Chinatown & Little Italy
Oh my goodness – the food! I'll share a couple favorites below!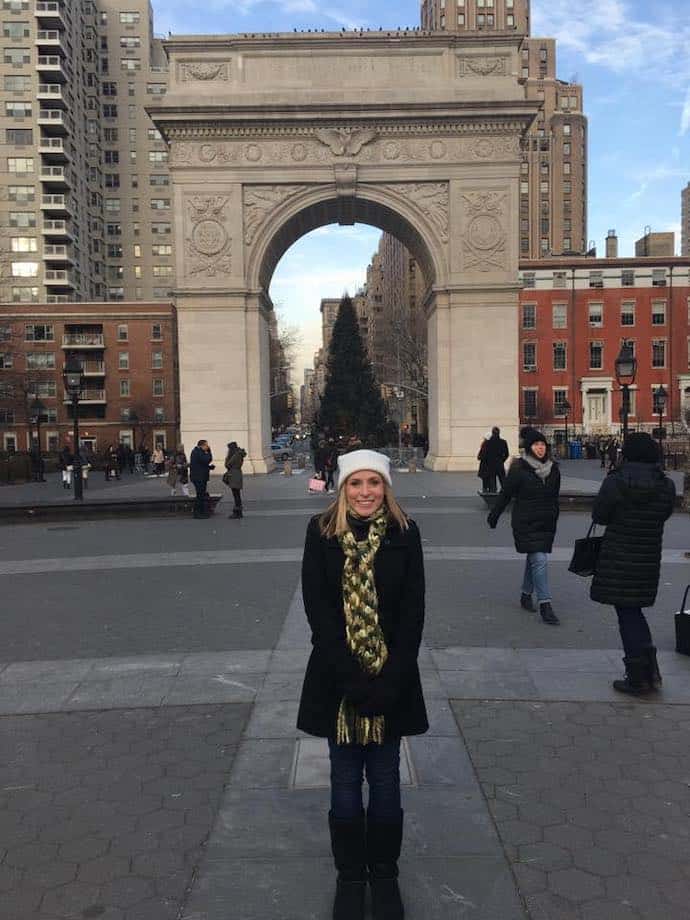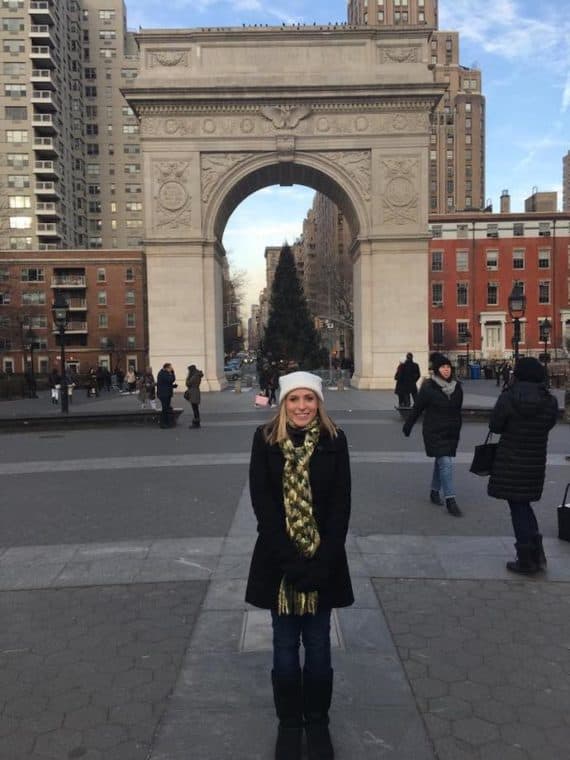 One of my favorite areas is around Washington Park!
The park is smaller than Central Park, but it's also very nice. I also had to take my picture by the arch because of it being featured so predominately in Harry Met Sally & Friends.
It's in Union Square (14th to 17th Street between Broadway and Park Ave South), and it has over 150 vendors. It is outside though so dress warm!
We also saw a lot of homeless around this market, but they were all friendly. Just something to be aware of.
If you are a nerd, you have to check our Forbidden Planet as well!
Love books? Strand is amazing!
Where to Eat in NYC At Christmas
Actually, these places are always good whenever we go!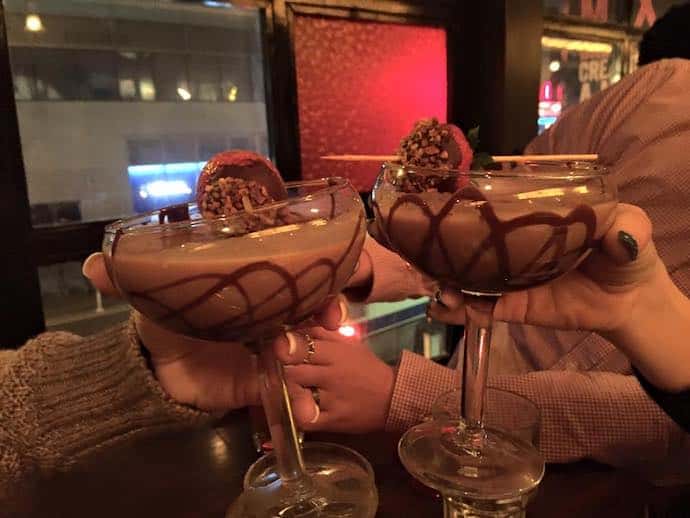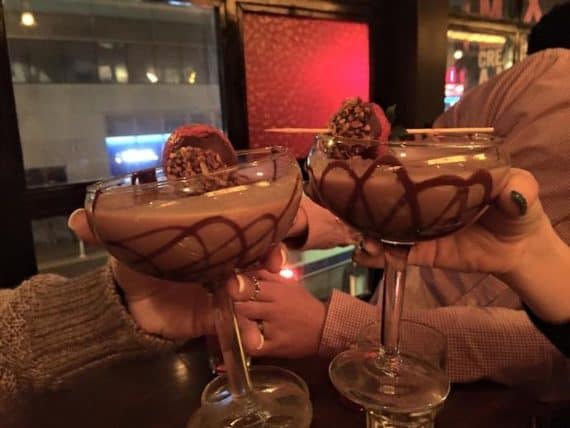 It's a chain restaurant, but we don't have one close by. It's also around Union Square, and the chocolate martinis and hot chocolate are amazing.
If you're hungry – their mac & cheese is so yummy. It's also pretty large and could be split!
La Bonbonniere
It's in the West Village and was somewhere we randomly stopped.
We fell in love with it though! It's such a sweet, unique place, and the grilled cheese with bacon was so yummy!
If you need a quick bite to eat or want a local place – this is great!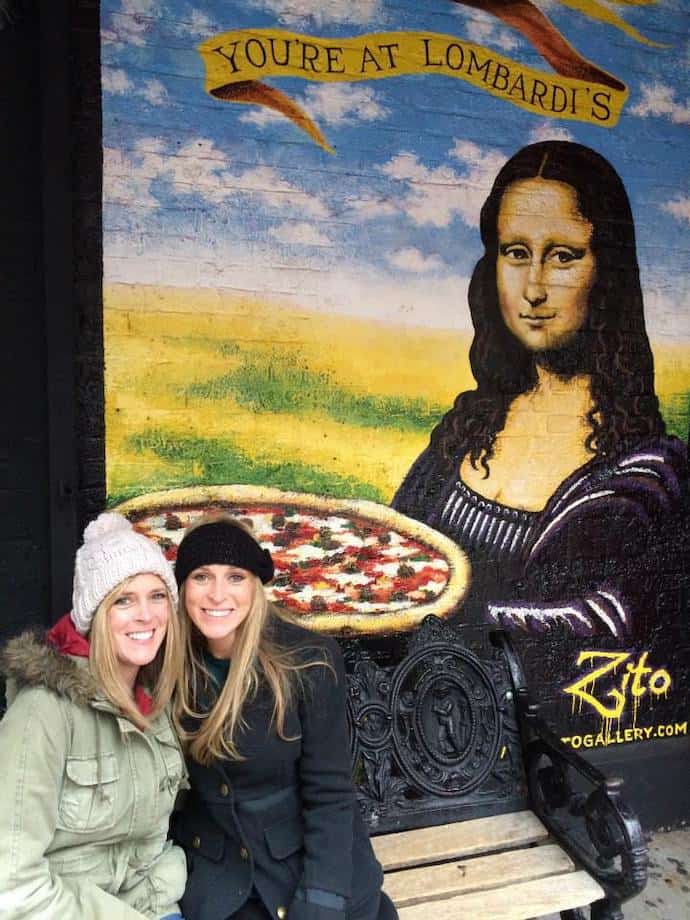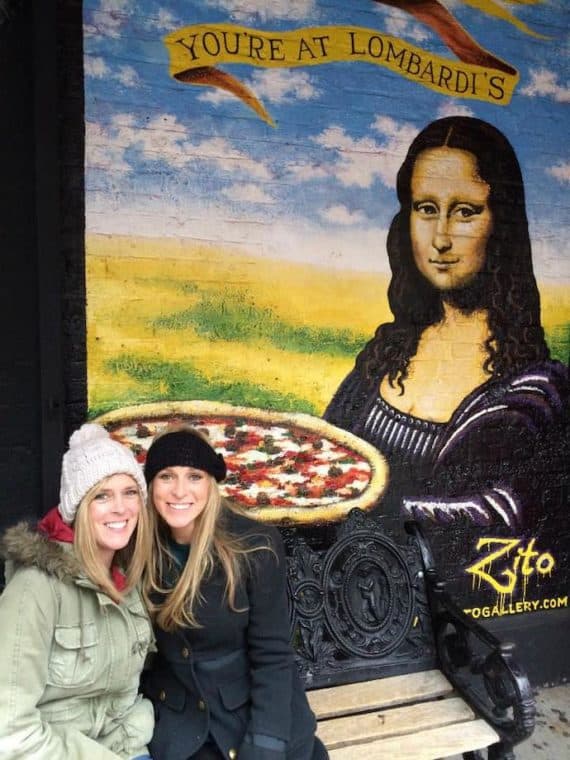 Lombardi's
Some people may fight me on this one, but Lombardi's is a place to stop into! It's supposedly the first pizza place in America.
It is busy and yes, it's a tourist spot, but it's also really good pizza! They don't do slices; you have to buy a pie.
Location: 32 Spring St, New York, NY 10012
Equally Great Pizza: John's of Times Square
There are 2 John's pizzas. There is a coal-burning one in Little Italy, and then this one on 44th. This location decorates for Christmas and is in an old church with stain-glass windows. It's gorgeous and they're open pretty late most nights!
They also don't do slices; you have to buy a pie.
Location: 260 W 44th St, New York, NY 10036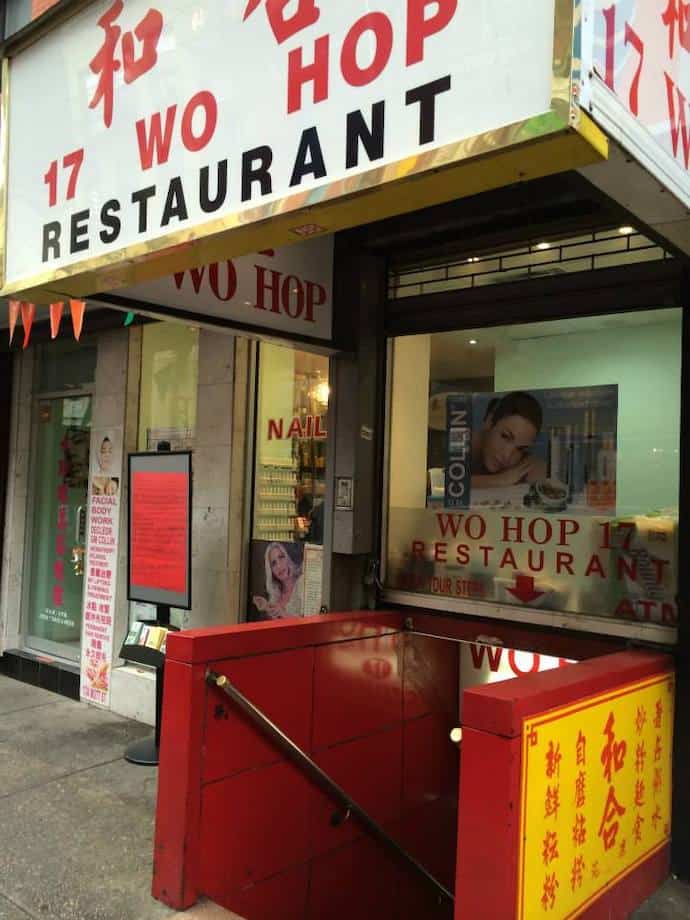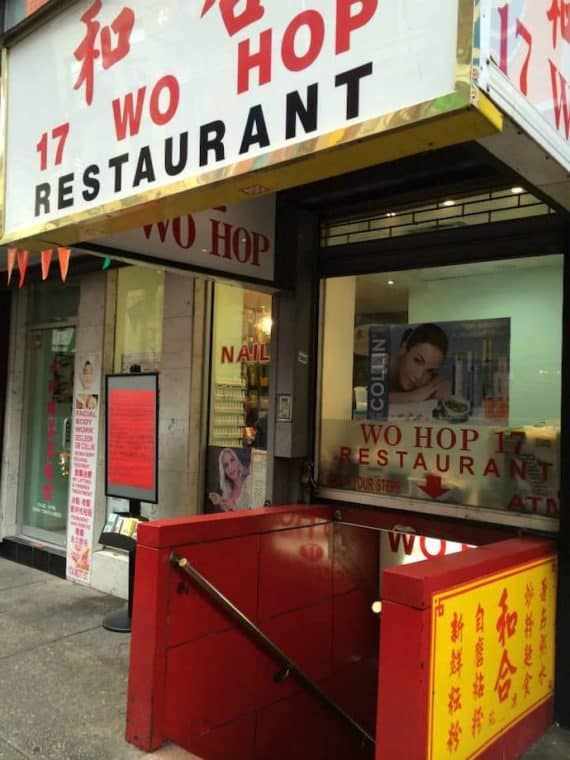 Wo Hop in Chinatown
I have to admit – Chinatown was a little intimidating to me. I mean, I did just have champagne at the Plaza and this is like the 180 of that.
It was so much fun though! There are several great Chinese restaurants, but the one we had heard of before going was Wo Hop. It was delicious, and the atmosphere was really cool as well.
Location: 17 Mott St, New York, NY 10013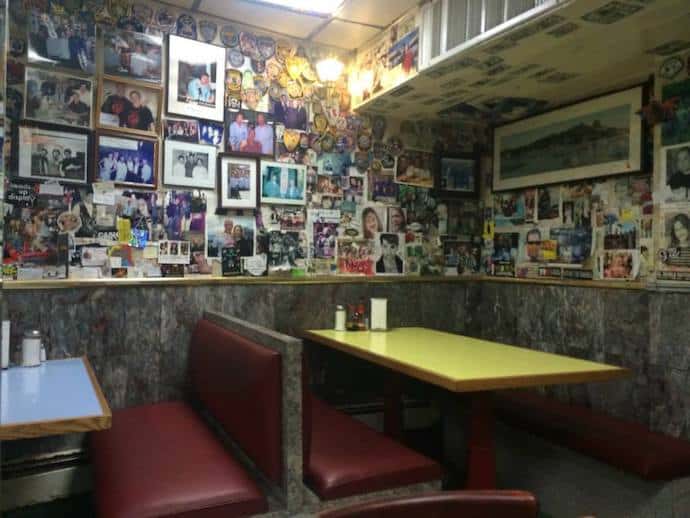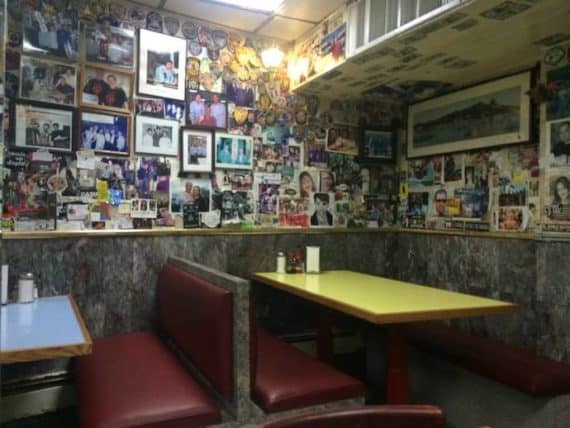 For Coffee: Donna Bell's Bake Shop
A great grab-and-go breakfast and coffee place is Donna Bell's. They used to have the most amazing coconut cake, and they still might – but I haven't seen it when I've been recently.
The coffee and lemon bars are both great! They don't have any place to sit though – so it's a true grab-and-go!
Location: 301 W 49th St, New York, NY 10019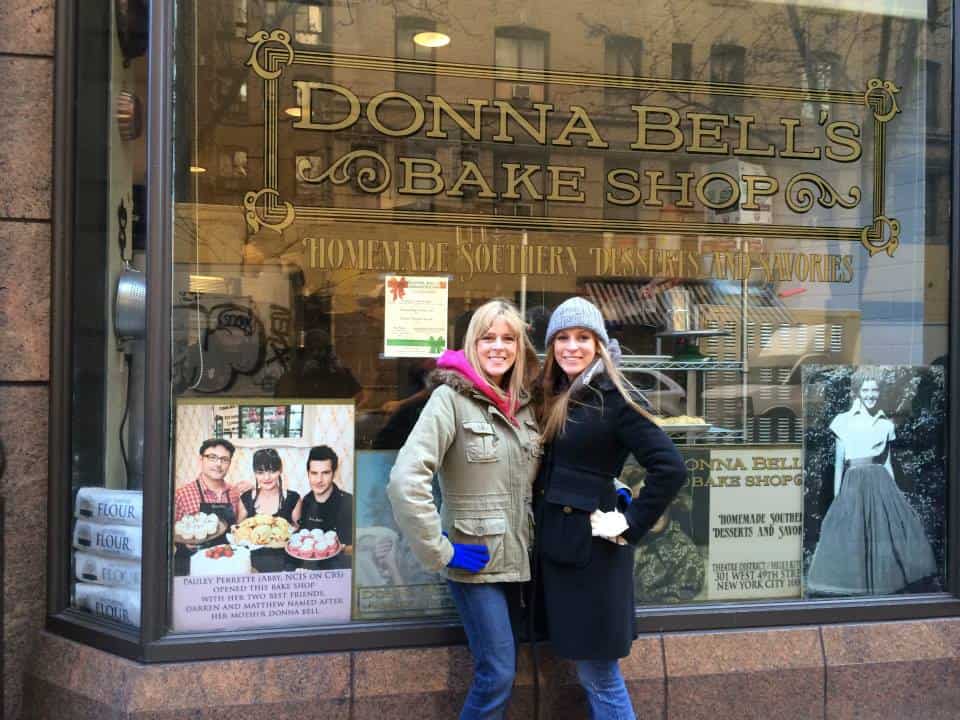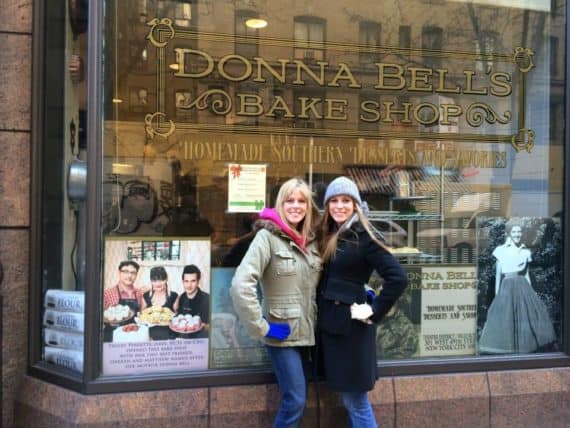 On My Radar for Next Time
These are some of the highly reviewed places that we haven't been yet but are on our list to visit!
Dominique Ansel Bakery
The French-born pastry shop is named after the chef, and this guy was the one to first create the cronut! The pastries look so amazing!
Location: 189 Spring St, New York, NY 10012
Chelsea Market
I've always wanted to go to this food hall, shopping mall, office building and television production facility located in the Chelsea. It's just always been too cold, or we haven't had enough time to go.
Location: 75 9th Ave, New York, NY 10011
This German restaurant looks absolutely gorgeous at Christmas time! It's always so crowded during the holidays though! We're hoping to sneak in for a glass of mulled wine or some egg nog one day.
Location: 281 Third Avenue in New York City.
Sarabeth's or Norma's for Breakfast
There are at least 3 Sarabeth's and just the 1 Norma's, but we've heard that both breakfast menus are absolutely amazing!
Benjamin's Steak House
This is suppose to be the steak house from what we've been told. It's near Grand Central.
Location: In the Dylan Hotel; 52 E 41st St, New York, NY 10017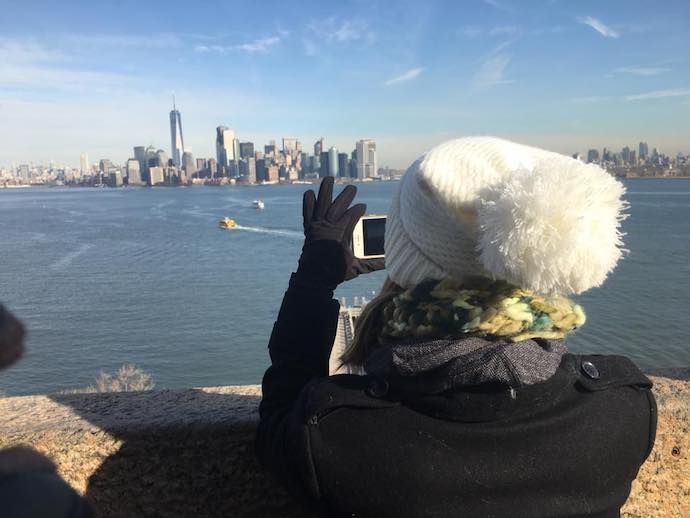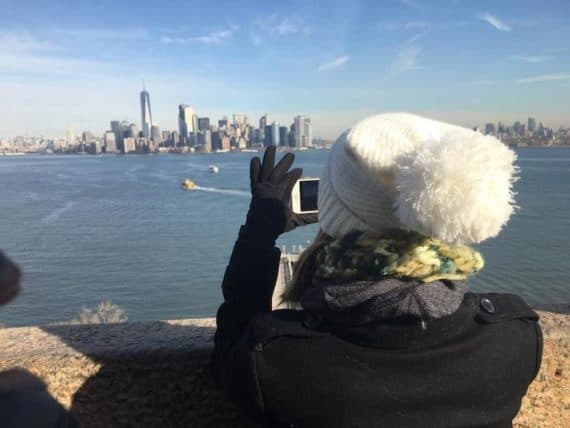 If you only go once, there are a few more things to do at Christmas
These are a few places we've been, and I recommend seeing if you plan on this being a once-in-a-lifetime trip. Of course – I also recommend the places above too!
National 9/11 Memorial Museum & Plaza
One World Trade Center Freedom Tower
Both of these are no-brainers to have on your list. Keep in mind that the 9/11 Memorial Museum & Plaza is very somber, and you'll want to plan enough time to make your way through and gather your thoughts and feelings after.
The Freedom Tower is really amazing as well.
Statue of Liberty
If you're always dreamed of going to the Statue of Liberty – it's worth it once. It takes about 3 hours, and make sure to buy your tickets through the State of Liberty site versus a tour site.
If you get seasick, take some Dramamine with you. The day we did it it was a bit of a bumpy ride.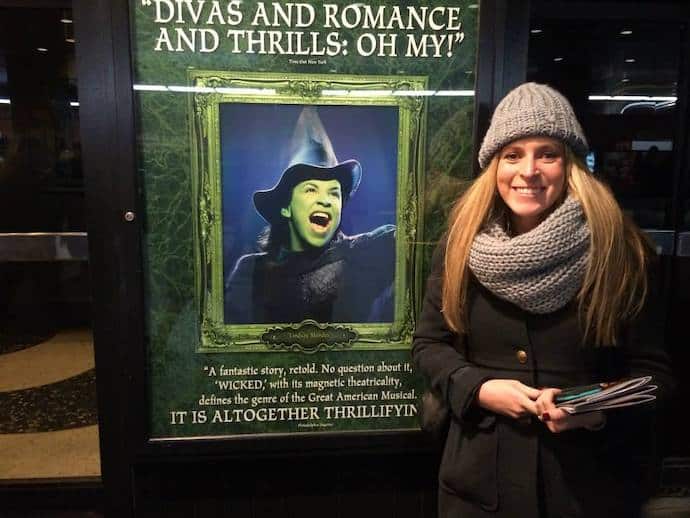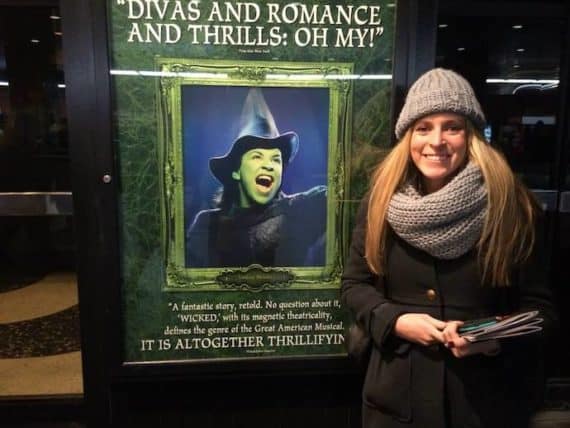 See a Broadway Show
Seeing a Broadway show was something I had to do the first time we went to NYC. We saw Wicked, and I can't say enough how magical that experience was!
If you're hesitant because of the price – I would talk it over with your family/friends you're going with and decide. You can also check the day of the show for possible discount tickets (usually to smaller shows from what we've seen).
Is it Cold in NYC at Christmas?
It can be. We always go in December, and we've had all sorts of weather. One year was sunshine and mid 50s, and the next was during the Arctic Blast which was in the teens during the day.
The best thing to do is to check the weather a few days out and pack from that.
If you see rain or snow in the mix, I highly recommend a rain boot or something with a rubber sole because there will be puddles and just gunk around the streets.
Taxi vs Uber
Normally, we Uber everywhere when we travel. (See our Vegas & Cabo Trip)
With that said, the last time we were in NYC at Christmas the surge pricing was crazy!
It really depends on the location and time of day you're wanting to go somewhere.
You can also compare Lyft to Uber when you're traveling because both apps will give you a price upfront.
If you're staying at a large hotel like a Hilton or Marriott, you can often ask the front desk to schedule a car to the airport when you leave. This has been typically cheaper than a taxi or Uber in the past.
Are the Hotels Too Much?
We've seen prices go nuts this year! If you can't find a great deal at a hotel, why not check out Airbnb?
What are Your Favorite Things to Do in NYC at Christmas?
Click Here to Pin on Pinterest for Later: