Cooking Spaghetti Squash Bolognese & What I Ate This Week
This post may contain affiliate links. All opinions shared are my own. As an Amazon Associate I earn from qualifying purchases. Click to view our full disclosure.
I'm currently on Day 22 of the Whole 30. If you get a gold star for following the plan to a T, I gave up the medal on Saturday at the wine festival. I am sticking to the way of eating for the next 8 days though.

I've really enjoyed some of the Paleo-based meals the past 3 weeks, and I will be posting a weekly meal plan tomorrow (subscribe to get it).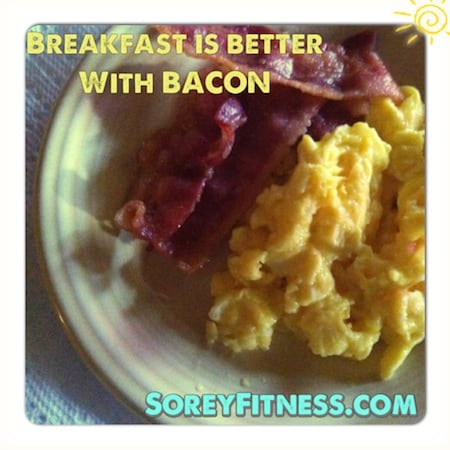 Breakfast has been really good. At the beginning of the Whole 30, I was mixing in fresh veggies in my eggs, but my food prep time got cut on Sunday so no veggies today. I mixed in a little bit of organic ghee (clarified butter)
in the eggs and ate a 2 slices of nitrate free bacon.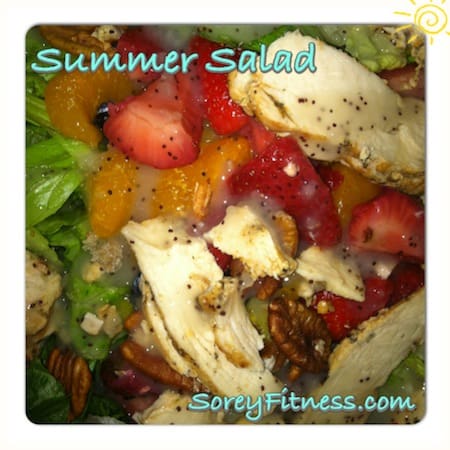 For lunch I had part of a Panera Bread Strawberry Poppyseed Salad. I did use the dressing which is a no-no on the Whole 30, but I used it sparingly. (This picture is right as I poured it on).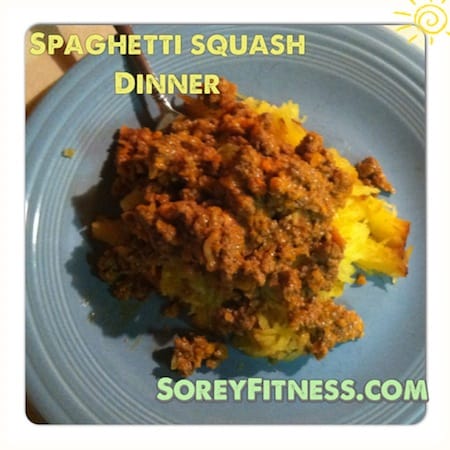 For dinner, I tackled the gigantic spaghetti squash I bought a week ago. Spaghetti squash is a healthier alternative to pasta, and it is allowed on the Whole 30. The squash's noodles have 100 less calories plus it is less inflammatory than pasta. It was just as good tasting as pasta too!
I dreaded cutting it though. It was HUGE. After 2 butcher knives on both ends, I asked the Eat Clean Group on Facebook for tips. Here is the best tip to cutting a spaghetti squash:
Put the spaghetti squash in the microwave for 8 minutes to soften it and then cut lengthwise.
After the spaghetti squash was cut, the rest of the recipe was pretty easy to fix. It was really good too–Jake basically licked his plate when he came over.
Spaghetti Squash Bolognese
adapted from Balanced Bites
Ingredients:
1 spaghetti squash
2 tablespoons organic ghee (clarified butter)
1 carrot, finely diced
1 stalk of celery, finely diced
1 onion, finely diced
1 clove of garlic, grated or finely diced
1/2 lb lean hamburger beef
4 slices bacon, chopped
1/2 cup full-fat coconut milk
3 ounces (1/2 small can) tomato paste
Mineral Salt to personal preference
Prep
Preheat oven to 375F.
Microwave the spaghetti squash for 8 minutes then cut it in half lengthwise so that two shallow halves remain. Remove the seeds and add salt and pepper to season. Put the spaghetti squash on a baking sheet and let it bake 35-45 minutes or until the skin softens, and it is easy to make noodles from the pulp.
Let it cool until you can touch. Then you can take the pulp out with a fork and place in a bowl.
While the squash bakes: In a large skillet over medium-high heat, melt the bacon fat or butter, and sautée the onions, carrots, and celery until they become translucent. Add the garlic and cook for an additional minute.
Add the hamburger and bacon until browned through. Once the meat is browned, you add the tomato paste and coconut milk. Let this simmer for 20-30 minutes on medium to low heat or until the sauce is well combined.
Add sea salt and black pepper to taste before removing the sauce from the heat.
Serve over spaghetti squash noodles.
*The recipe below is has how I fixed it, but to see the original recipe go to Balanced Bites. I can't take credit for this recipe.
Have you cut a spaghetti squash before? Any tips?