Thug Kitchen Review – Is it seriously a good cookbook?
This post may contain affiliate links. All opinions shared are my own. As an Amazon Associate I earn from qualifying purchases. Click to view our full disclosure.
After seeing the hilariously inappropriate video promoting Thug Kitchen, my mom and I had to buy it. Neither one of us curse so this "Eat Like You Give a ….." was totally out of our realm. You can see the explicit video here and see what what I mean….it's seriously explicit though.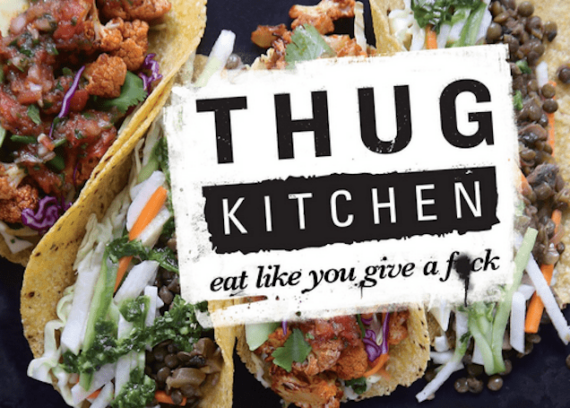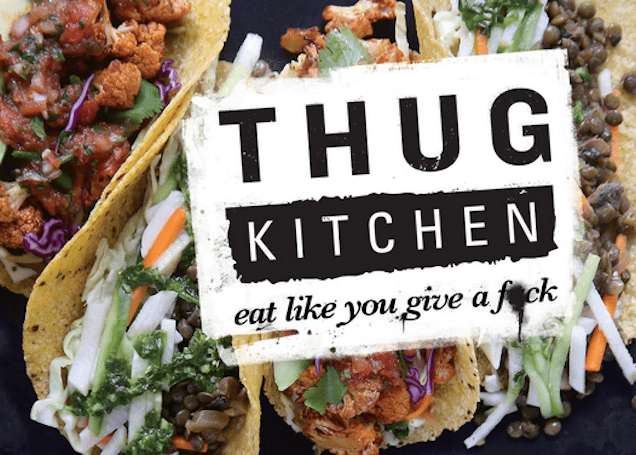 Honestly I even felt like hiding the purchase for a few months! I felt like I was making a naughty purchase…luckily no one had to see me walk up and buy it since I bought it on Amazon.
The cursing cookbook promised simple meals though – and that's like our middle name.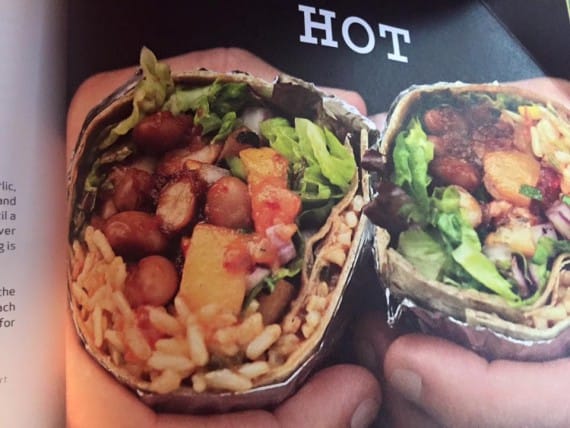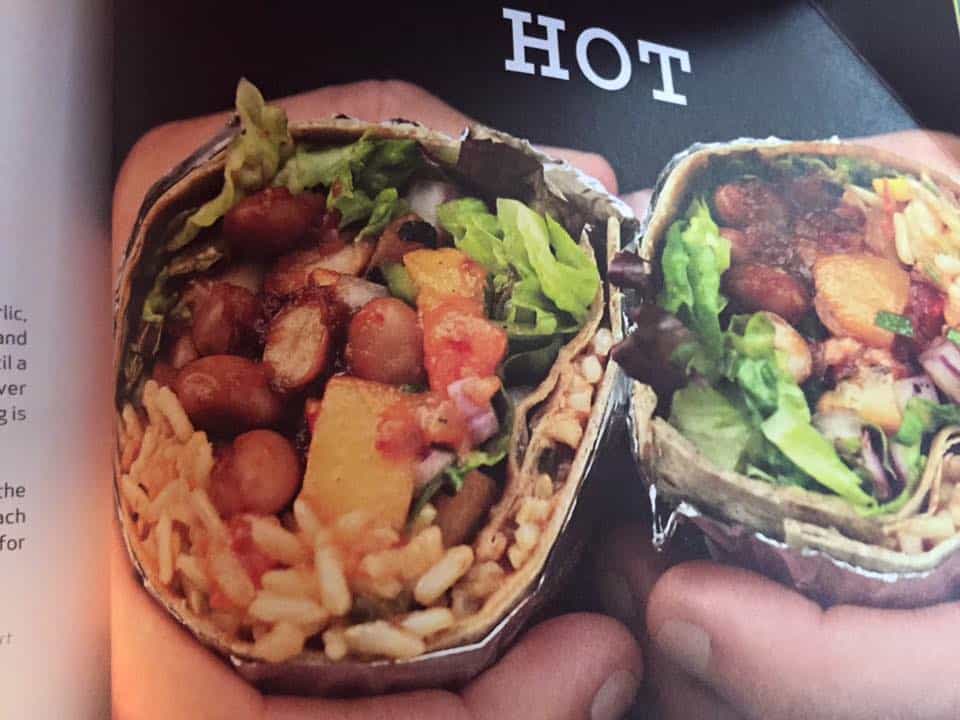 However, the recipes are harder than I usually like.
I sub in instant rice and store-bought salsa versus homemade.
One thing I didn't know about Thug Kitchen – which in its defense, I saw the video and bought without much research – is that the meals are all meat-less. The idea is that we get in so much meat and processed foods and not enough fresh foods.
The book is broken down into several choices like Breakfasts, Bowls, Sides, Dinners, and Desserts. The breakfasts look  amazing – like even Walt Jr. from Breaking Bad – would approve, but it will have a breakfast-for-dinner kind of night because they take a lot of effort at 8am.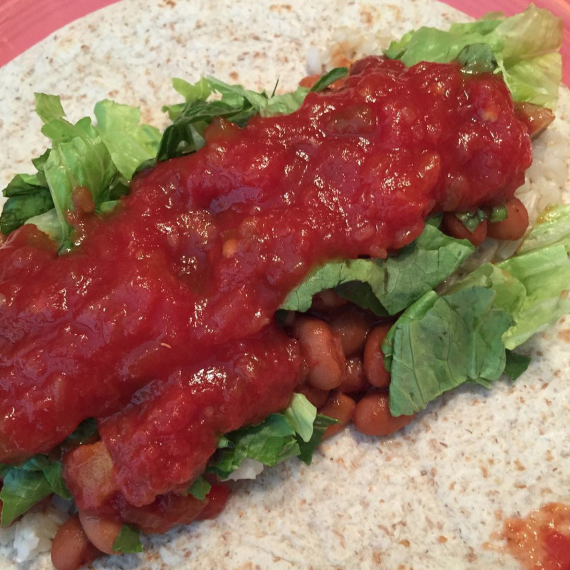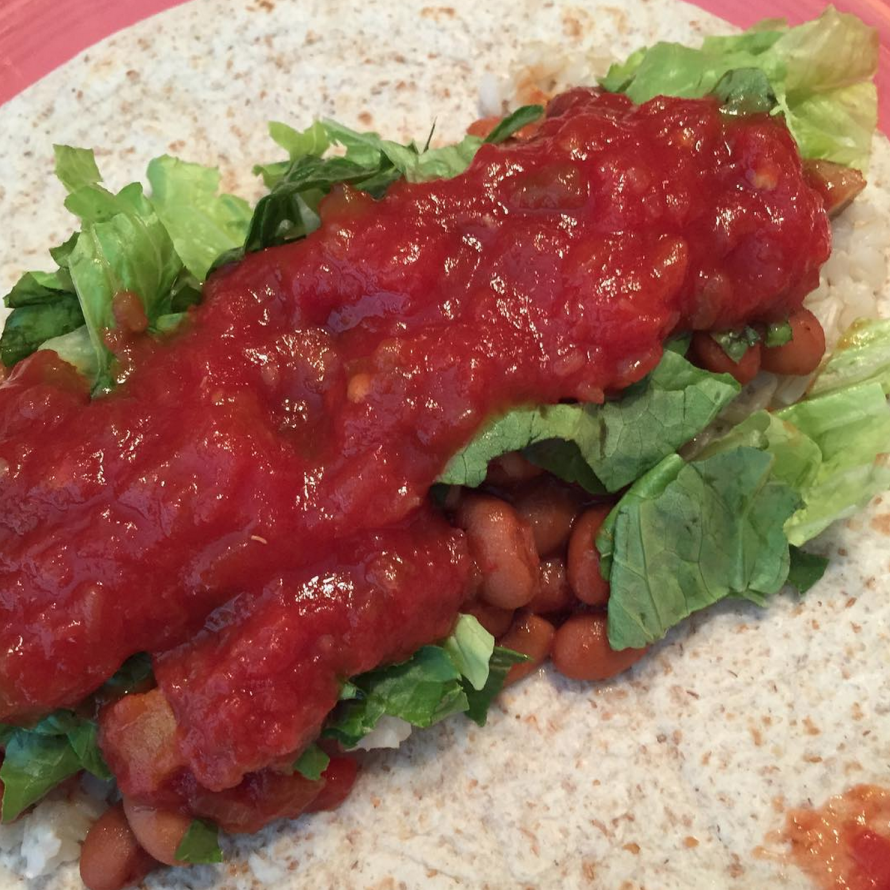 I love that the meals are vegan though. We eat a ton of meat so while these recipes are more intensive than my norm, they are a nice change.
We had the BBQ Burritos last week, and we loved them. They were even better than going to a Mexican restaurant – which was the goal of the book after all.
The cookbook does promise to be no-frills, but I even simplified this recipe down to be super-easy.
Super Easy BBQ Burrito Recipe Adapted From Thug Kitchen
Serves 6
1/4 cup chopped onions
3 tablespoons tomato paste
4 chipotle peppers in adobo sauce (plus 1 tablespoon of the sauce)
1/4 cup water
2 tablespoons light brown sugar
1 tablespoon honey
1 teaspoon soy sauce
2 cans of Pinto Beans
In addition you'll need:
6-Burrito size flour tortillas
Spanish Rice (I just used rice)
Shredded lettuce
Peach Salsa (We like Paul Newman's)
Sliced Avocado
1. For the beans, put all of the first ingredients minus the beans into a food processor. Blend. Then mix in with drained pinto beans in a medium size sauce pan on medium-low heat. Stir until it's all mixed and warmed.
2. Get ready to make your burritos! I put rice on first, then the beans and topped with salsa, lettuce, and avocado.
These were so good, and we had a leftovers!
I'd definitely recommend the book – it does cuss throughout, but they do warn you upfront on the cover.
The recipes aren't all super easy, but you can adapt them as I did above.
Also, keep in mind that the recipes take 30-60 minutes versus something SUPER simple.
They also now have a Thug Kitchen Party Grub cookbook too, but I haven't looked over it yet.