Takeout Kit Review | Easy Vietnamese Tofu Pho Noodle Soup
This post may contain affiliate links. All opinions shared are my own. As an Amazon Associate I earn from qualifying purchases. Click to view our full disclosure.
Meal delivery services have exploded in popularity, but we wanted to try something really unique. That's how we found Takeout Kit's global-inspired meal kits! We recently were given their Vietnamese Tofu Pho Noodle Soup kit in exchange for our honest review.
Below, we'll outline how easy making pho soup was, as well as, what we thought of the taste. We are also affiliates for Takeout Kit, but all of the opinions here are our own.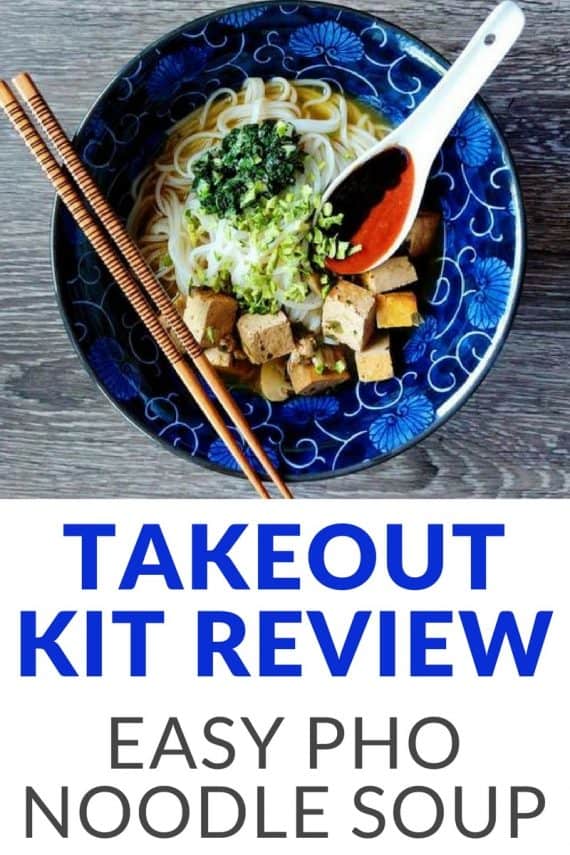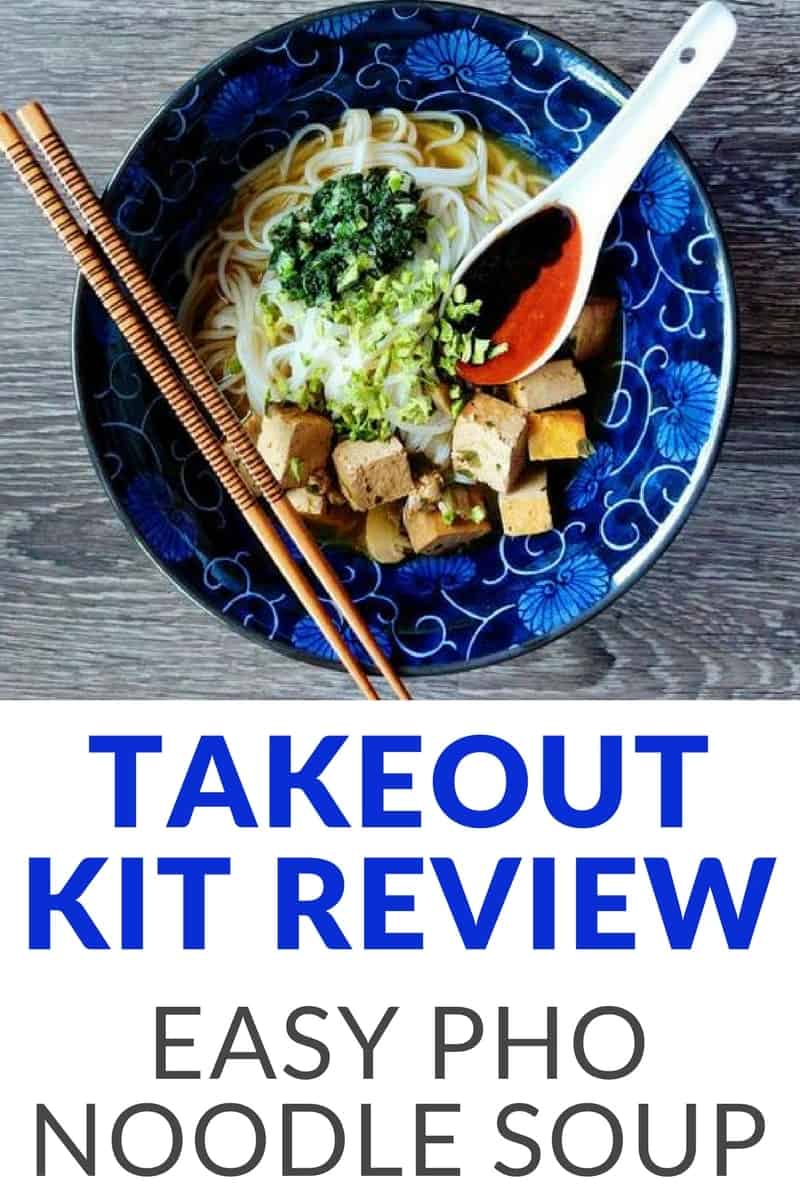 Why We Chose Takeout Kit
The Takeout Kit is a bit different than the others in that their meal kits have a two month shelf life. They also offer unique options to help the cook expand their repertoire of cooking skills all in an easy to follow way.
Several other meal kit services offer the traditional meals — chicken, beef, and fish dishes.   Basically, menu items that you could normally cook on your own and find the ingredients at the local grocery store. While the convenience of those kits are awesome, Takeout Kit is different.
With Takeout Kit, you experience menu items that they normally would not create at home.
This also gives the at-home chef the chance to play with new ingredients that you'd normally have to go to a speciality market to purchase.  The dishes are unique items that most of us wouldn't cook at home but only order when out at a speciality restaurant.
This was a perfect opportunity for me to make Pho Soup!
I had been craving some pho (pronounce like f sounds…say funny or fan…it's that f sound.  I had been saying it incorrectly…fo.)  Pho soup, if you've ever looked, takes tons of prep.  The broth alone can be a day's prep and cook, so I never even wanted to touch making it.  The best pho soup in town is in a not-so-safe location, and I hadn't found anyone to go with me, so PERFECT timing when the Takeout Kit asked us to try it out.
My Takeout Kit Review
After loving the unique meals and variety they offer, I was excited to dig in and make my soup.
Upon opening the box, I could smell the wonderful spices.  Oh, it smelled heavenly.
I am absolutely not a cook, so I was a little intimidated when reading the directions to "toast the spices", but this was no biggie.  It was actually really fun.
The whole process was very fun.  I felt empowered, as silly as that sounds, in creating this wonderful meal.

Was Takeout Kit Easy to Follow?
Yes, they made it super simple to cook! All of the ingredients were pre-measured and in the box ready for me to use.  The directions were super simple to follow as well.  Before long I had broth simmering and the tofu prepped to go in it.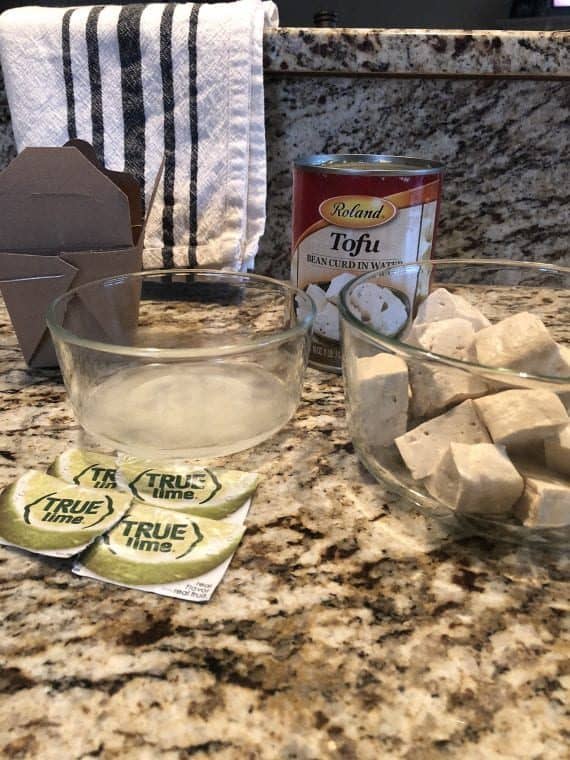 Look at the cute little "takeout" box that they put the condiments in.  They really thought of everything.  Inside the little box were the lime packets, pho concentrate, sriracha sauce, hoisin sauce.
The Pho Soup recipe card also made it super easy to make.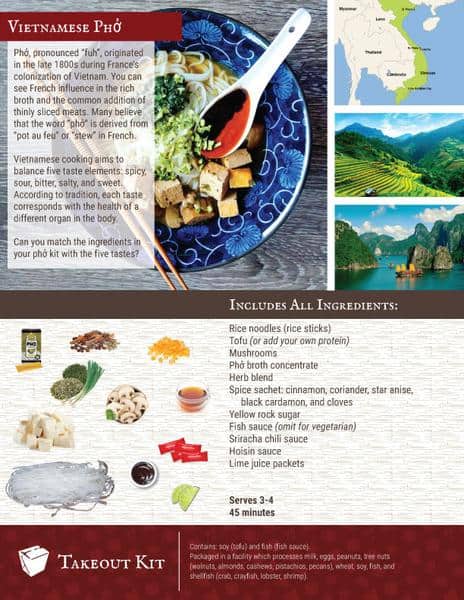 If you've eaten pho soup, you know that it's also good with a little chives and spices on top.  They even included those.  I do wish, though,  I had thought & bought fresh lime and bean sprouts beforehand.
Since the Takeout Kit has a two-month shelf life, they weren't able to put those perishables in the box.  So just something to think of when you try one of these.  Everything else was included that I needed to prepare the meal.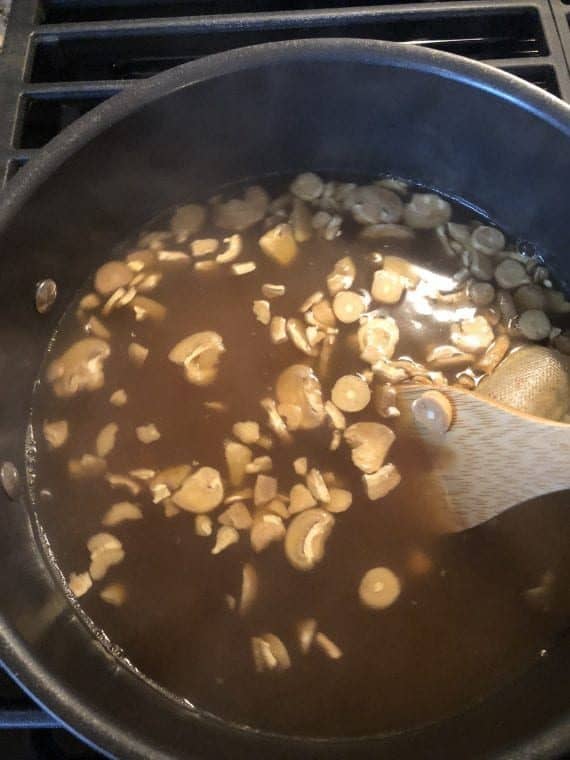 The process was super simple.
It did take me longer than the 30 mins, but I was taking pictures and being very meticulous to make sure I did this right for them and our review.  It took me about 45 minutes all said and done.
Did the Pho Soup Taste Good?
The soup was awesome and made plenty!!!  There were at least 4 servings here…easily.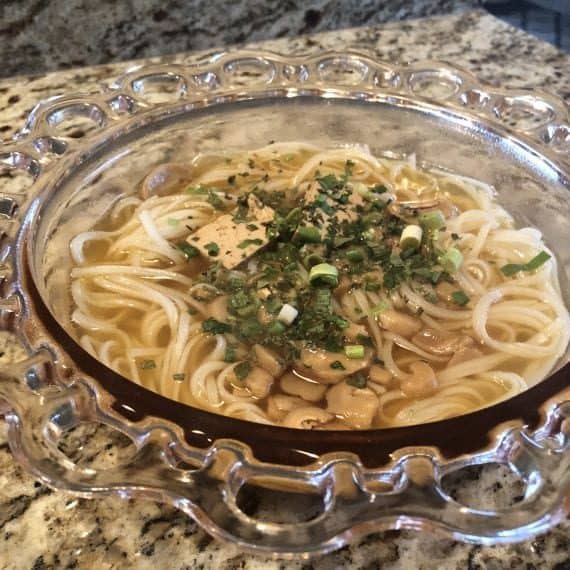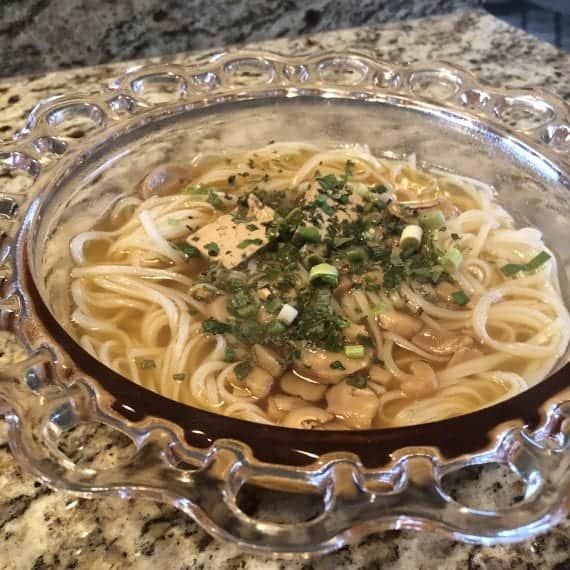 Who is TakeOut Kit Good For?
Occasional cookers (like us)
Couples who date night at home
College students
New parents (because it's so easy!)
Would We Recommend Takeout Kit to Others?
I would definitely recommend this meal kit service to anyone who wants to step out and try something a little different than your typical chicken dish.  You will learn about different cuisines and different spices to make those dishes.
Takeout Kit offers a subscription service at $32 per month ($8/portion) or 3, 6, and 12 month plans.
They also offer an a' la carte option where there's no subscription needed.  You can purchase individual kits and samplers.
We mentioned they have unique meal kits that have a 2 month shelf like unlike some of the other services out there. Here are a few of the options available:
Takeout Kit Meal Services
Thai Crab Curry & Jasmine Rice
Indian Chana Masala
Korean Kimchi Soft Tofu Stew & Sticky Rice (Sundubu Jjigae)
Argentinian Chicken Empanadas & Sofrito Dipping Sauce
Vietnamese Tofu Pho Noodle Soup (that's what I tried)
Bestseller Sampler
Adventure-Seeker Sampler
Taste of Southeast Asia Sampler
There are so many more options available on their website too!
They also have other great meal ideas all of which come with the ingredients, instructions and enough to feed 4 people! View all of their meal delivery options here!
Thank you Takeout Kit for allowing us the opportunity to review your wonderful Vietnamese Tofu Pho Noodle Soup!!
Have you tried Takeout Kit's meal kits yet? Would you?