How to Make Elderberry Syrup with Turmeric for Immune Support
This post may contain affiliate links. All opinions shared are my own. As an Amazon Associate I earn from qualifying purchases. Click to view our full disclosure.
Elderberries are an antioxidant powerhouse and studies have shown it's effective against influenza. We created a simple homemade Spiced Elderberry Syrup recipe that includes turmeric, honey, and cinnamon to boost your immune system during the cold and flu season.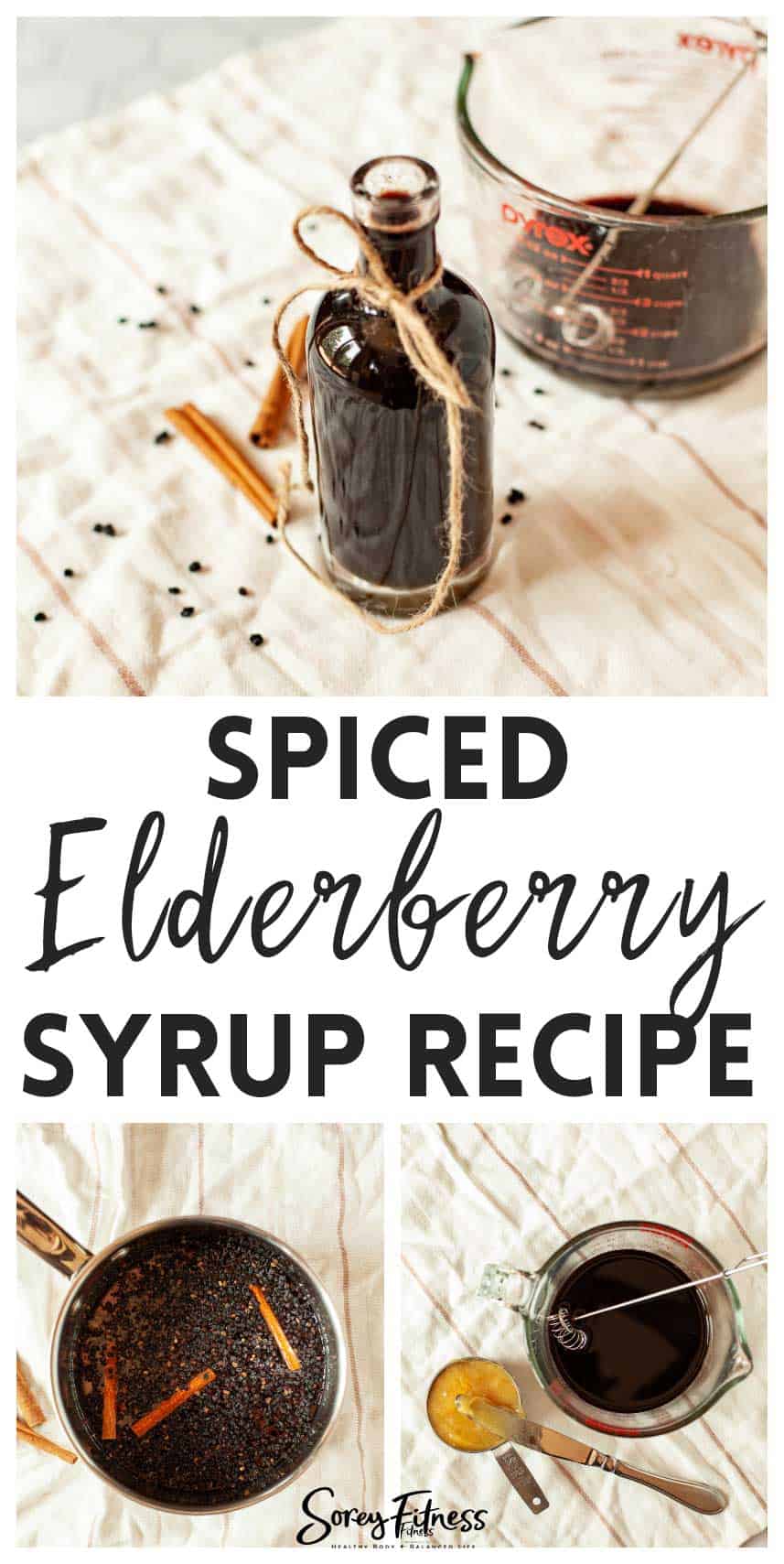 Want to get a healthy leg up during the cold and flu season? Elderberry syrup is a great way to boost your immune system throughout the year, but especially during the cold and flu season during fall and winter.
Elderberries pack a big antioxidant punch! Our recipe also uses other great ingredients like cinnamon, turmeric, and raw honey to provide great flavor and other health benefits.
Below, we'll explore if elderberry syrup is actually effective, how it works, and how to make it so you always have a some on hand.
We also had the chance to talk about elderberry syrup benefits & uses with Jessica Lohan from BellyBee Goods on the Kim and Kalee Show Podcast!
What is elderberry syrup?
Elderberry syrup is a type of concentrated elderberry extract that is typically mixed with raw honey. Whereas a tincture is a botanical extract in a base of vinegar or alcohol, an extract can be made with other bases like water.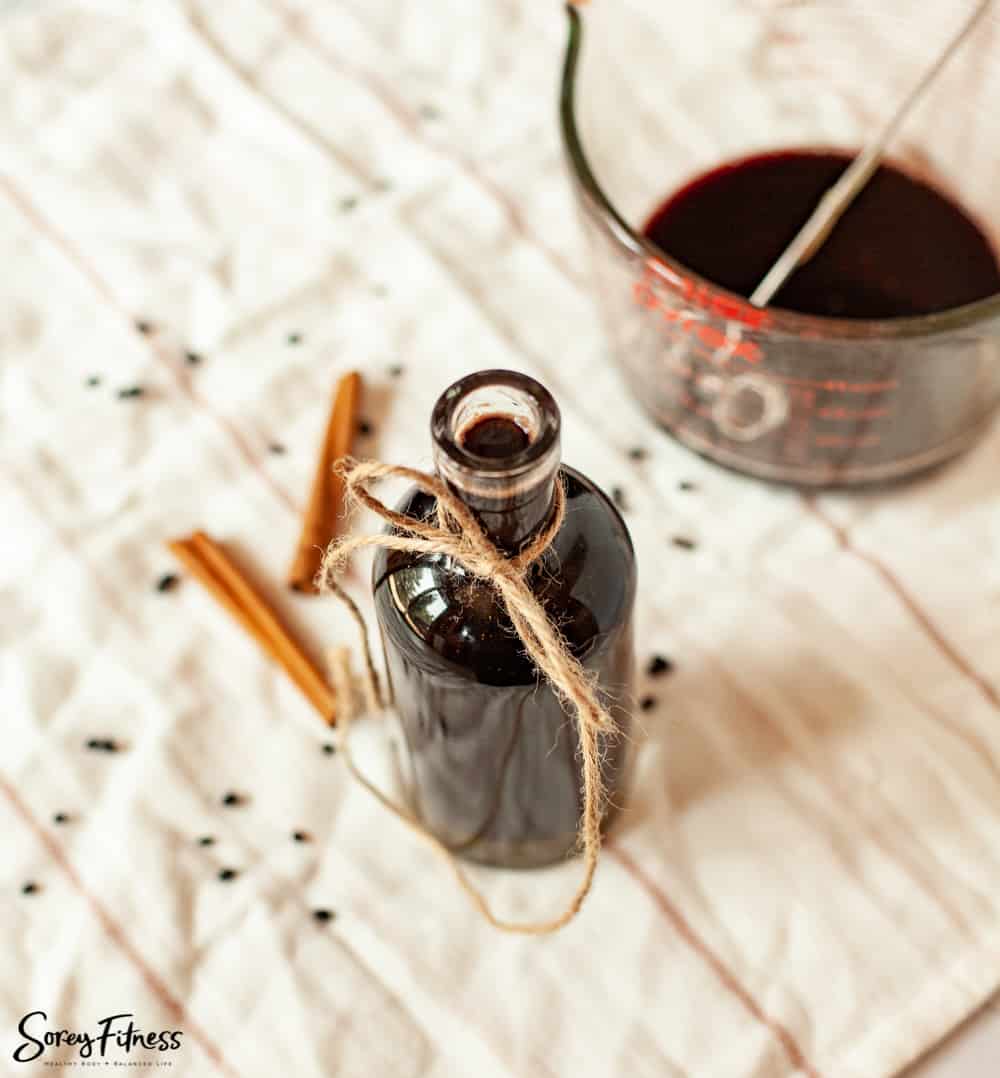 Elderberries by themselves aren't spectacular tasting (my kids think they smell funny when I make elderberry syrup or elderberry tea), but you can make it taste better with the addition of other ingredients like cinnamon bark, which add health benefits as well!
Does elderberry syrup work?
Elderberries are a rich source of many beneficial and natural plant chemicals that have been shown to have quite a few health benefits. The plant chemicals (also called phytochemicals) in elderberries include anthocyanins, flavonoids, polyphenols, and phytosterols that have antioxidant benefits in the body.
In other words, elderberries help protect your body against damage from oxidation.
But does elderberry syrup actually work for the cold and flu? The science suggests that yes it works on viruses!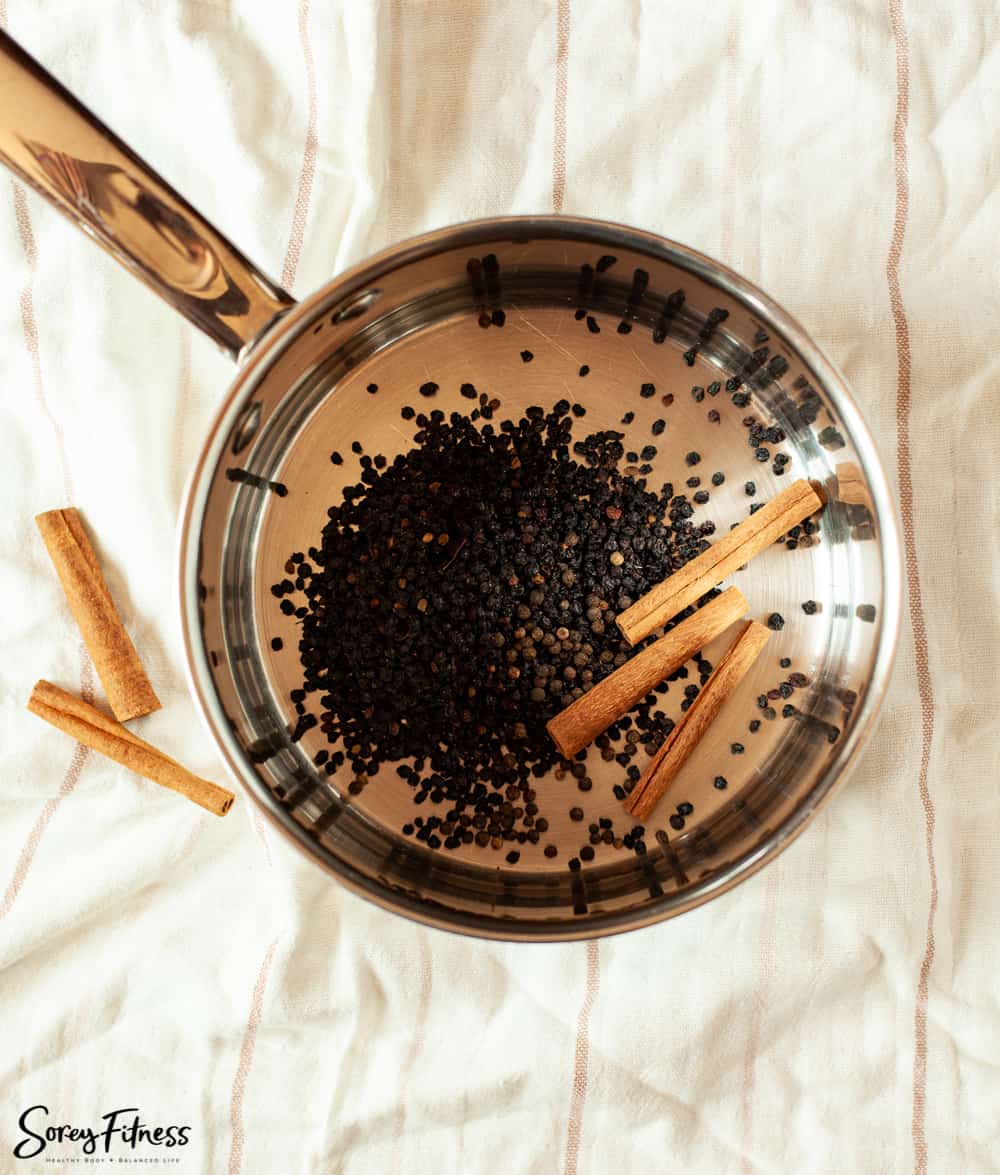 Here are a few of the many studies showing the immune and antiviral benefits of elderberries:
How to make elderberry syrup
If the idea of making your own elderberry syrup seems a little daunting, don't worry. It's actually pretty easy to make and not to difficult. It doesn't even take that long to make!
Here are the steps for making homemade elderberry syrup:
(Also, the full recipe card is at the end of this post, this is just a recap of steps):
Place your dried elderberries and add-ins (like cinnamon sticks and peppercorns) in a saucepan with filtered water.
Bring to a boil over medium heat.
Lower heat slightly and simmer uncovered for about 15 minutes, until liquid is reduced by over half.
Mash the elderberries a bit to help release more juices/liquid.
Pour everything through a strainer and into a bowl and allow to cool.
Once the mixture has cooled and is still warm (but not hot), stir in the ground turmeric and raw, unfiltered honey.
Store in a jar in the fridge or freezer.
We also created a Ginger Orange Elderberry Syrup recipe for our website, check it out if you'd like to try a flavor variation!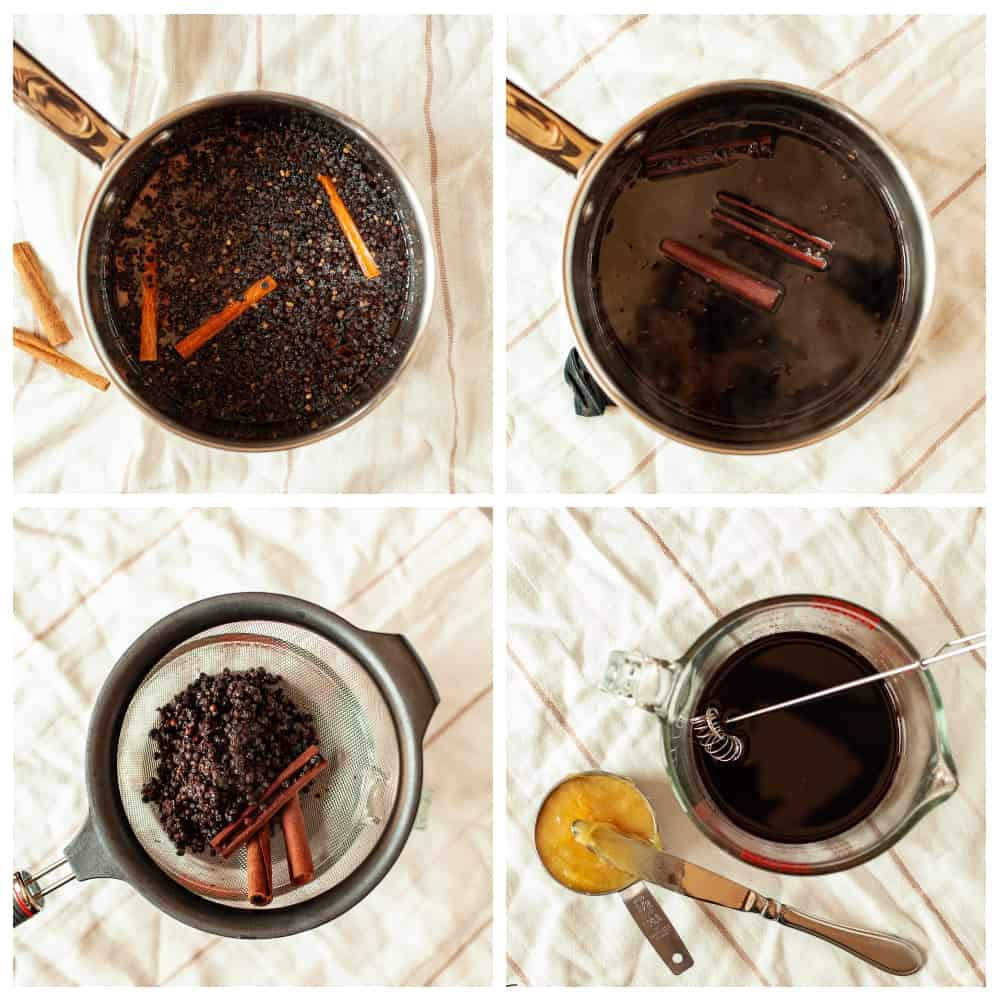 Tips to making homemade elderberry syrup
If you want the benefits of the raw and unfiltered honey, make sure that your elderberry extract has cooled and is not hot enough to kill the beneficial bacteria in the raw honey when you mix it in. It's fine if it's warm to help with mixing, you just don't want it too hot. Enzymes, pollen, and propolis are destroyed if heated more than 110 degrees F.
Using local honey is the best option for those with allergies, but any raw, unfiltered honey will do well.
The turmeric powder in our syrup recipe will settle at the bottom of the bottle or jar, so make sure that you give it a stir or a shake before you measure it out.
You can also add as much turmeric as you like! We added just a 1/2 teaspoon into the syrup, but you can add a full teaspoon if you'd like. Also, the pepper is what activates the turmeric's health benefits so make sure not to skip that ingredient.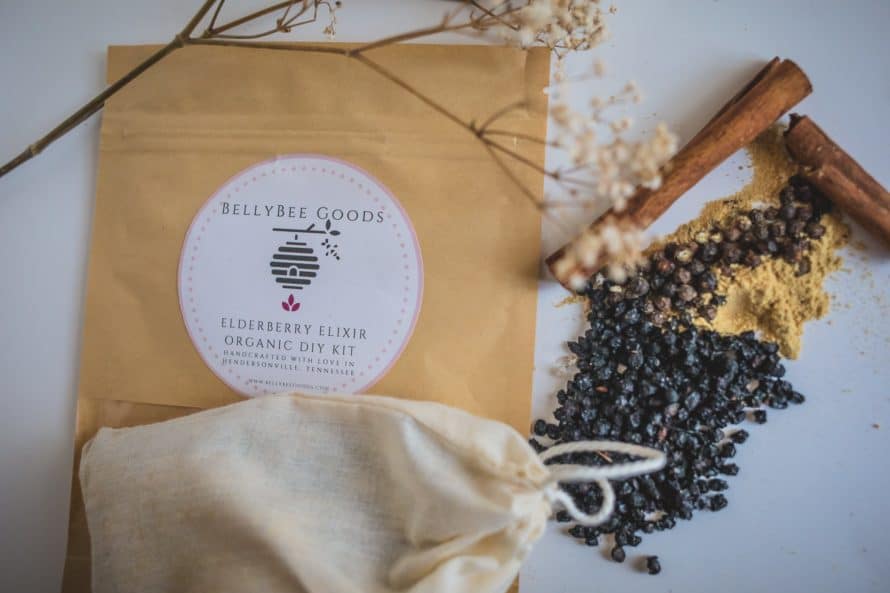 Can't find the ingredients?
If you want to make some elderberry syrup that is similar to our recipe but don't want to buy all the ingredients separately, you can buy an organic "do-it-yourself" elderberry syrup kit from BellyBee Goods!
How much elderberry syrup should I take per day?
The standard dosage for elderberry syrup for adults is 1 Tablespoon of syrup daily with a few exceptions: if you have a cold or the flu, you can increase that dosage to 1 Tablespoon up to 4 times a day.
If you are new to using elderberry syrup and want to test your tolerance, start with 1-2 teaspoons at first.
For children over 2, use 1-3 teaspoons each day for daily maintenance. If they have a cold or flu, increase that dose up to 2-3 times a day. Check with your doctor about giving elderberry syrup to children under 2, and never give a child under 1 a syrup made with honey since there is a risk of infant botulism.
Check out our post about cold remedies!
How long does this syrup last?
If it's refrigerated, it should last 3 months — possibly longer.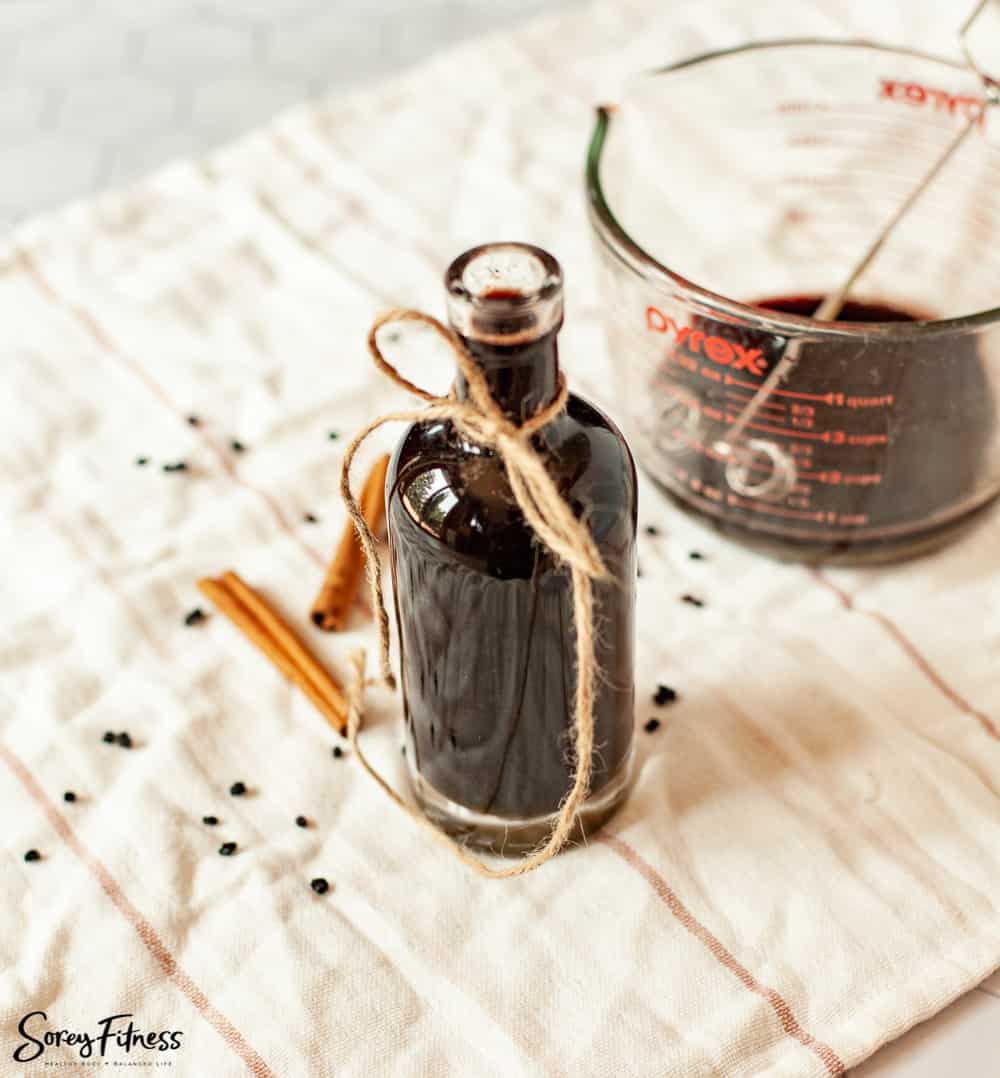 Don't want to make your own elderberry syrup with turmeric?
No worries! We also really like BellyBeeGood's Elderberry Elixir that is 100% organic and free of artificial colors/sweeteners/flavors, refined sugar and additives!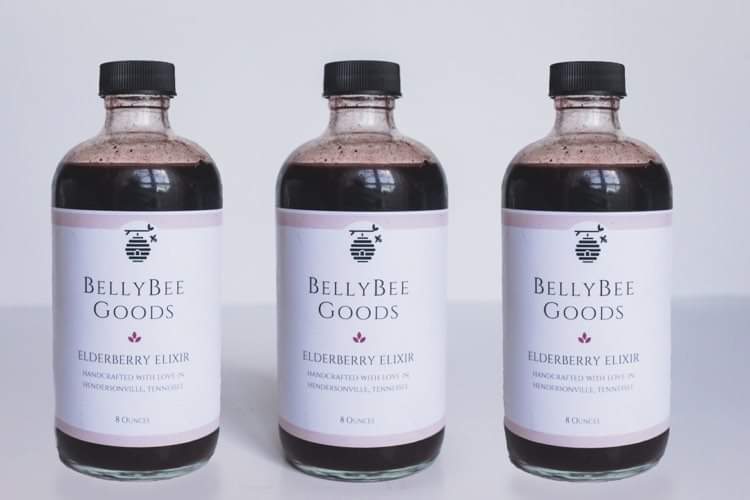 Who shouldn't take elderberry syrup
Our recipe for elderberry syrup has raw and unfiltered honey in it, which is not safe for children 1 year old and under. If you'd like to make a safer version for infants, use maple syrup instead of honey. However, elderberries have not been well studied with children under 12, so check with your child's doctor before giving them elderberry syrup even made with maple syrup to make sure it's safe for them.
There has also been very little research done on elderberries for pregnant or breastfeeding women. If you are pregnant or lactating, talk with your doctor about the safety of elderberries for you.
The US FDA recognizes that elderberry is generally regarded as safe, but if you have special conditions (such as the ones below), make sure to check with your doctor first.
Other Special Conditions
If you have severe IBS-D or any issues with diarrhea, use elderberry syrup with caution. Elderberries contain a natural compound called anthraquinone. This compound has a laxative effect by preventing the large intestine from absorbing as much water as normal.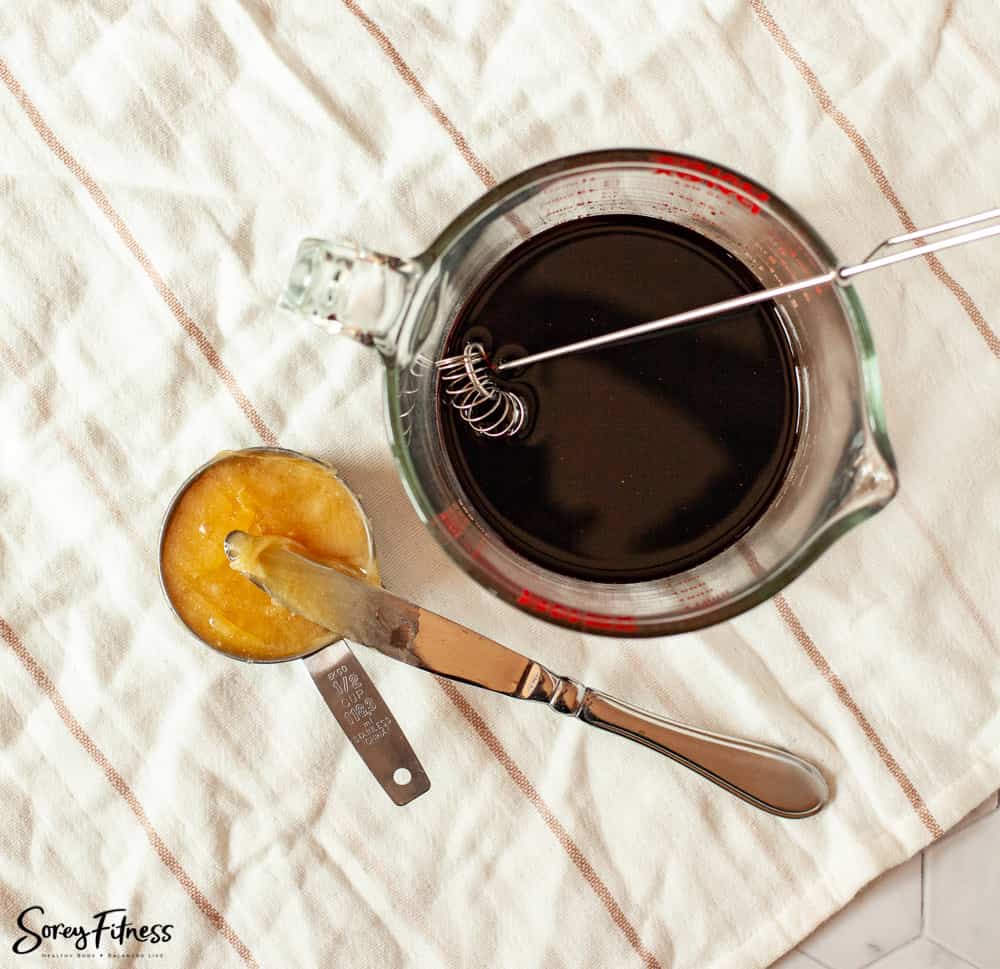 This is great if you have constipation (drinking elderberry tea or syrup can help with that). If you already have problems with loose BMs or diarrhea, you this might not be the best fit.
Honey is also high FODMAP and problematic for some people with IBS. If you need a lower FODMAP option, use pure maple syrup in this recipe instead of honey. Or skip the sweetener altogether and just take the unsweetened elderberry extract. However, it won't be as palatable without the sweetener.
Since elderberries increase the immune response, you might need to avoid it if you are taking immunosuppressive medications (here's a list of medications that might interact with elderberries) and if you have an autoimmune disease like lupus where you don't necessarily want your immune system to increase.
Remember to always talk with your doctor about your unique medical history before beginning any new supplements!
Yield: 1.5 cups syrup
Elderberry Syrup with Turmeric, Honey & Cinnamon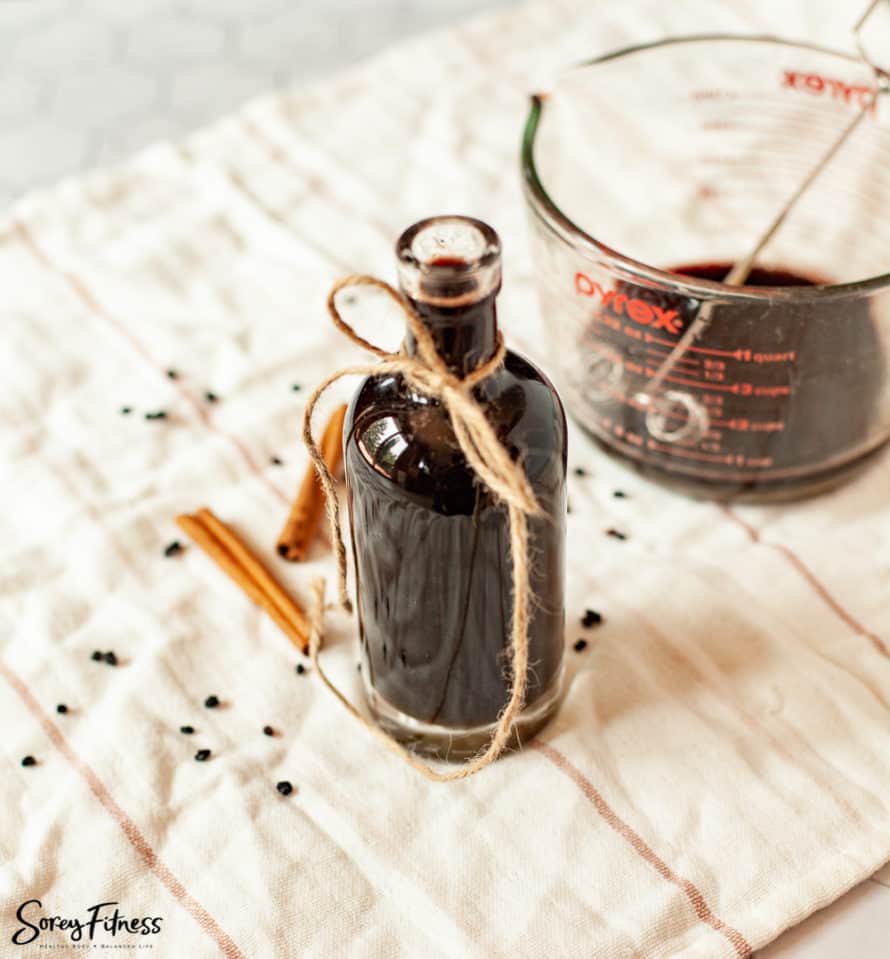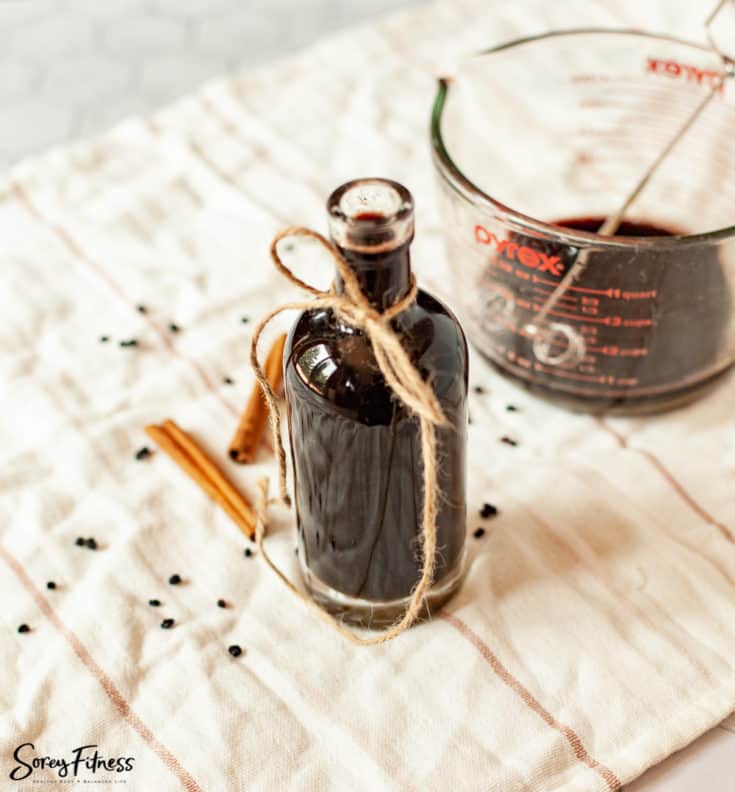 Elderberries are an antioxidant powerhouse and studies have shown it's effective against influenza. We created a simple Spiced Elderberry Syrup recipe that includes turmeric, honey, and cinnamon to boost your immune system during the cold and flu season.
Makes about 1-1/2 cups syrup, which is 24 Tablespoons.
Additional Time
15 minutes
Ingredients
3/4 cup dried elderberries
3 whole cinnamon sticks
1-2 teaspoons whole black peppercorns (more if you'd like it spicier or more potent)
3 cups water
1/2 teaspoon ground turmeric
1/2 cup raw, unfiltered honey
Instructions
Combine the elderberries, cinnamon sticks, peppercorns, and water into a saucepan and heat over medium on the stove until it boils.
Once the mixture boils, lower the heat a little bit (it should be medium/low heat) and simmer for 15 minutes. The liquid will be reduced by over half.
Pour the mixture through a strainer into a bowl, and allow to cool for about 10-15 minutes. Discard the elderberries and cinnamon.
Once the mixture has cooled a bit but is still warm (but not hot), whisk in the ground turmeric and the honey until smooth.
Pour into a jar or bottle and store in the fridge.
This syrup will keep for 1-2 weeks in the fridge. You can freeze this syrup, just make sure that if you pour it into a jar, you give some headspace in the jar to give space for expanding liquids once it freezes.
Nutrition Information:
Yield:
24 servings
Serving Size:
1 Tablespoon
Amount Per Serving:
Calories:

51
Total Fat:

0g
Carbohydrates:

12g
Sugar:

6g
Nutrition info below are just estimates and are not precise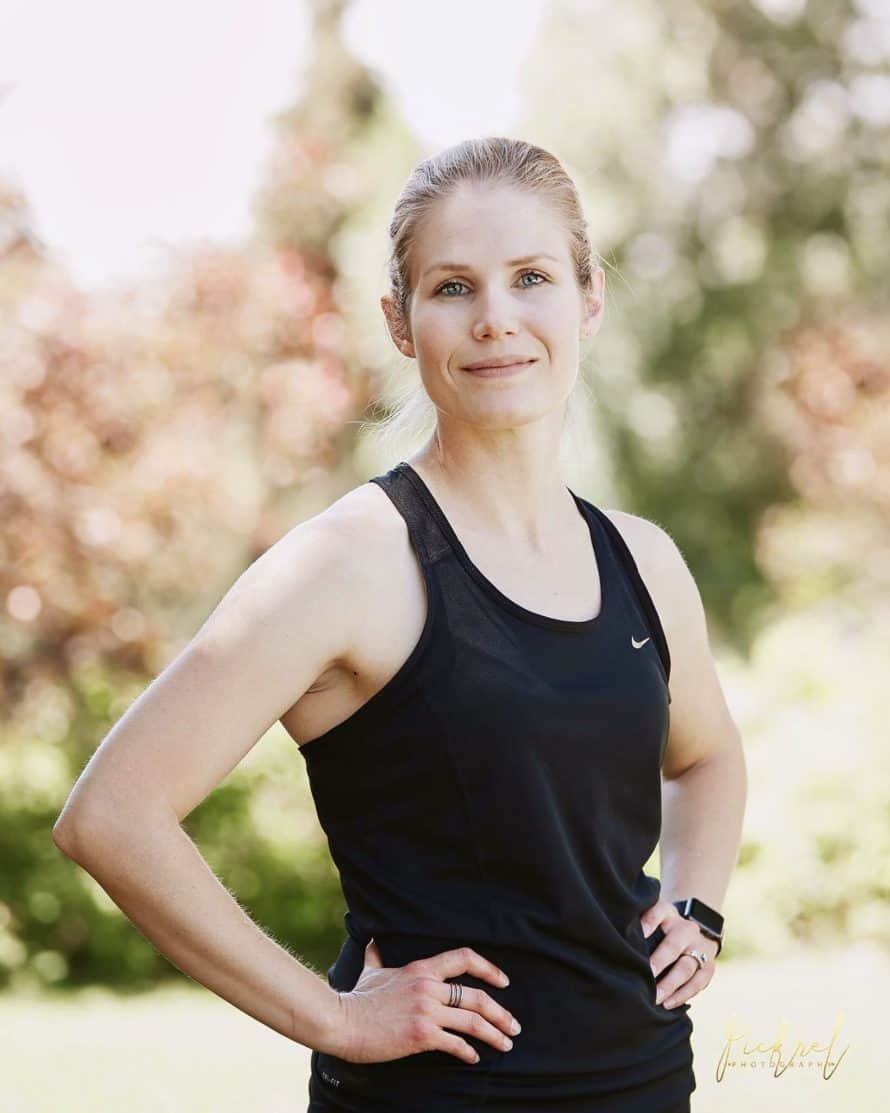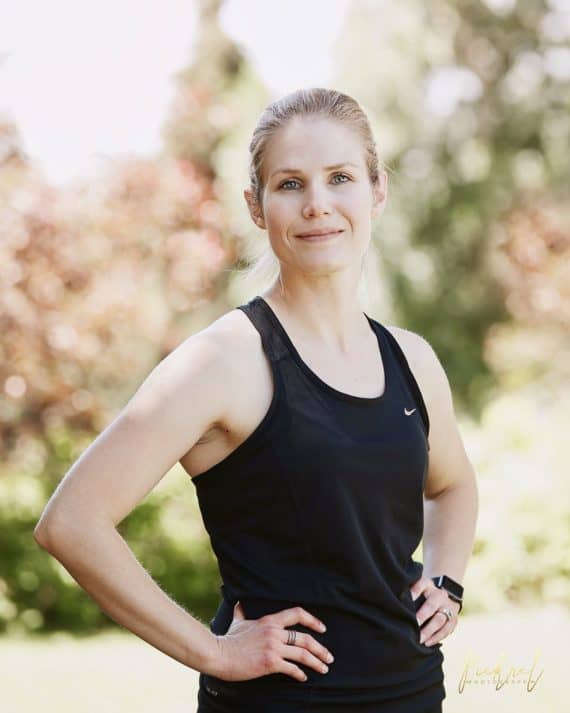 Sarah Jane Parker is a food and healthy living blogger at The Fit Cookie, an ACSM Certified Personal Trainer, ACE Certified Health Coach, Revolution Running certified running coach, YogaFit Level 1 certified yoga instructor, and an ACE Certified Fitness Nutrition Specialist.