Beachbody Collagen Review | What to Know Before Taking It
This post may contain affiliate links. All opinions shared are my own. As an Amazon Associate I earn from qualifying purchases. Click to view our full disclosure.
We've been using collagen for years to help with anti-aging! It's flavorless, super convenient to use, and helps to reduce the appearance of wrinkles, increase skin elasticity, and support healthy nails—with just one daily targeted scoop. Below, we'll share our full Beachbody Collagen Review and compare it to Vital Proteins!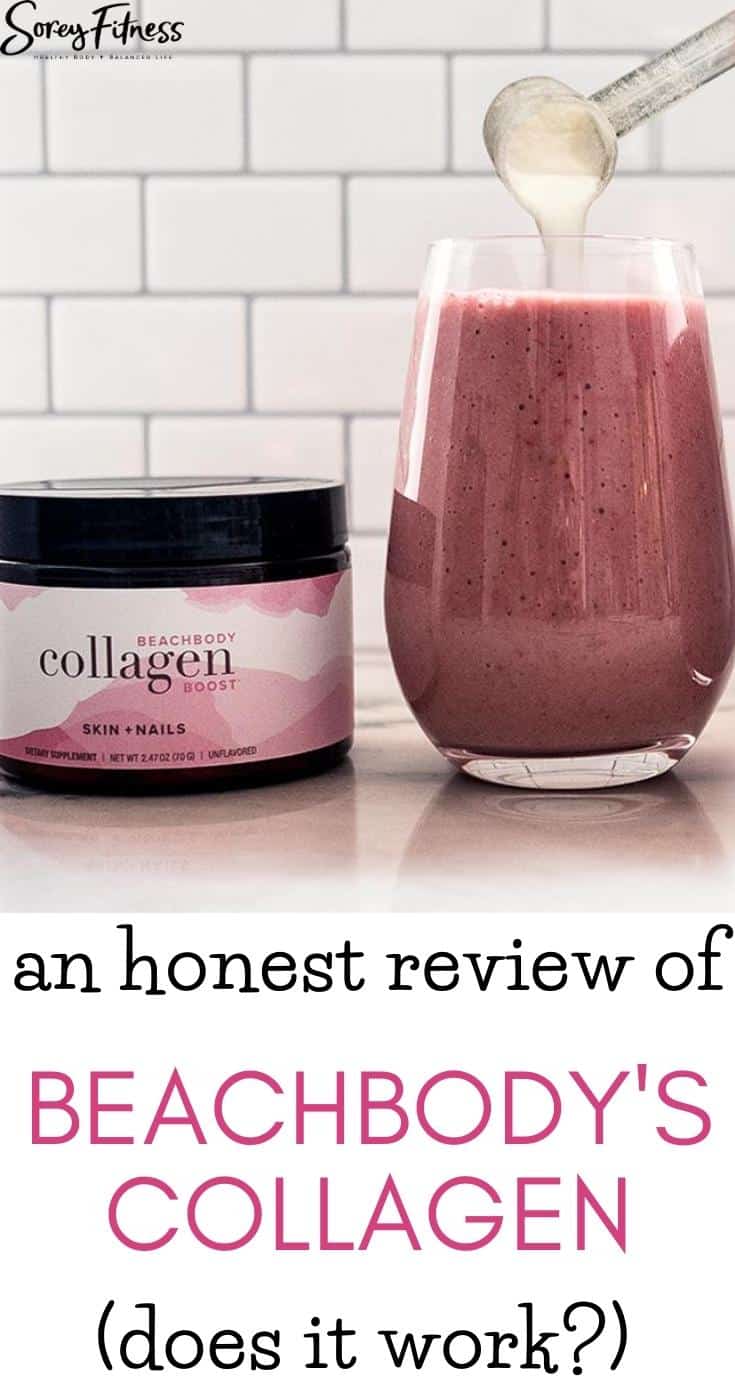 What Is Collagen?
Collagen is one of our body's main structural proteins that helps keep our connective tissues together.
As we age, our collagen starts to naturally decrease (about 1.5% every year after 25). Major bummer.
By 40, we lose collagen faster than it's being made which is one reason our skin gets wrinkles and sags a bit.
The good news? Ingesting collagen has been shown to help with your skin, nails, and even support the synthesis of collagen!!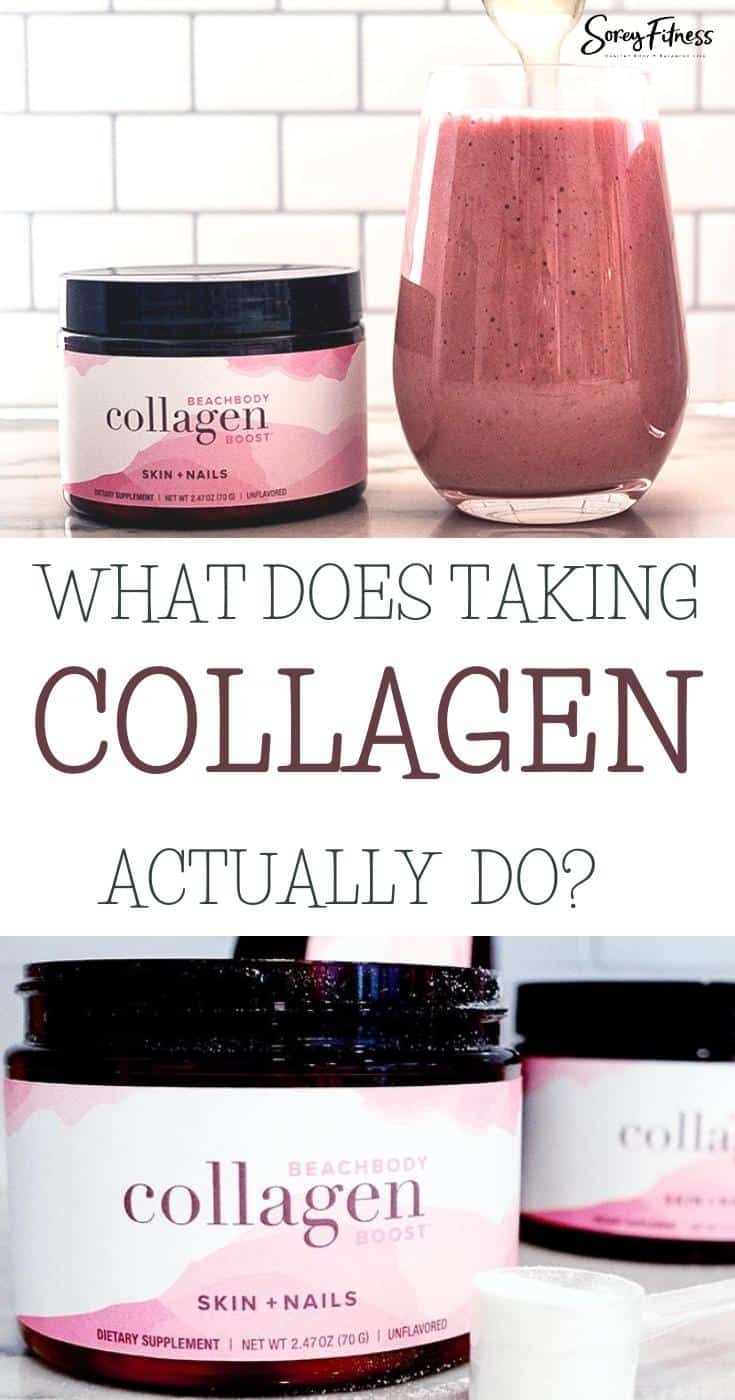 What Are the Benefits of Collagen Supplements?
Different types of collagens produce different benefits, and we'll look at a few of the types below.
Beachbody's Collagen Boost helps:
Increase skin elasticity*
Reduce the appearance of wrinkles*
Support healthy nails*
Vital Proteins Collagen helps:
your skin glow and have a "youthful appearance"
improve joint health*
promotes healthy cartilage*
improve tendon & bone strength*
increase athletic performance*
Both Beachbody's Collagen Boost and Vital Proteins peptides are bioactive collagen peptides which have been clinically shown to stimulate the creation of collagen. This also means that they're easily absorbed by the body.
You may also like our full Vital Proteins Collagen Peptides Review!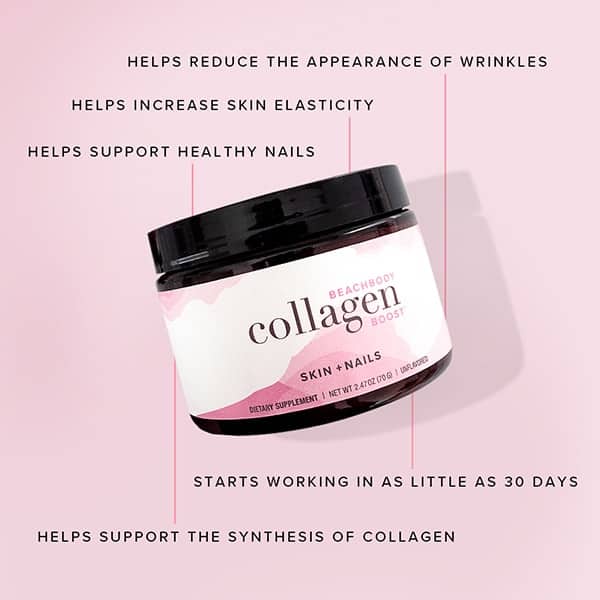 Is Beachbody's collagen good?
We love Beachbody's collagen for improving our hair, skin, and nails.
In an 8-week study, results showed that after as little as 4 weeks, participants using Beachbody's collagen saw reduced eye wrinkles, higher content of procollagen type I (the collagen responsible for hair, skin, and nails) and elastin!
Why we like Beachbody's collagen:
No artificial flavors, sweeteners, color, or preservatives.
Single ingredient, no fillers.
It's a completely flavorless powder
Hydrolyzed collagen for better digestion
Type 1 & 3 collagen (see what this means below)
100% natural with nothing artificial

Does it work?
In clinical studies, women who used the same bioactive collagen peptides in Beachbody Collagen Boost saw improvements in skin elasticity, a reduction in the appearance of wrinkles, and healthier nails.*
Here are 2 before and after photos from drinking Beachbody's Collagen Boost for 30 days.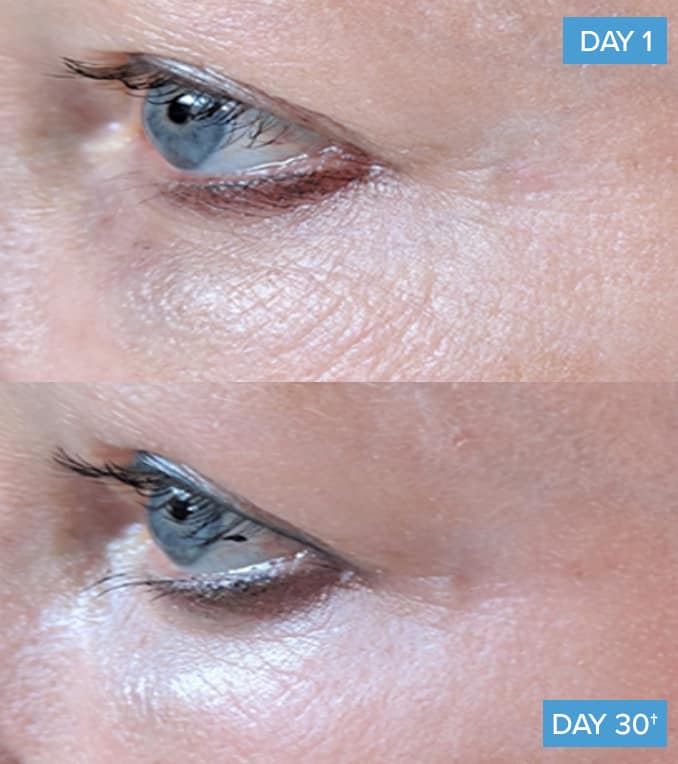 "I can definitely see a difference around my eyes, but my skin is smoother all over, especially on my legs." — Allison L.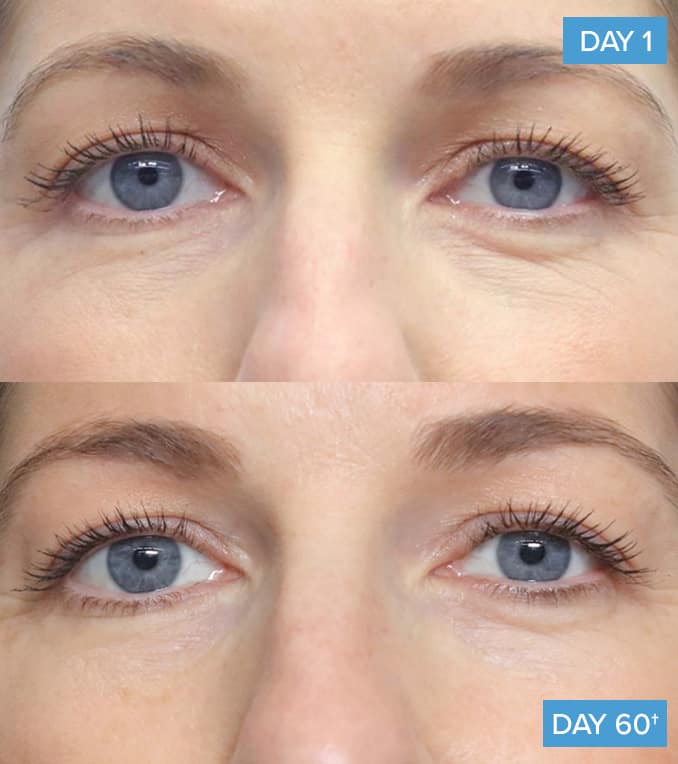 "My skin looks amazing and my nails have been growing really fast." — Amanda W.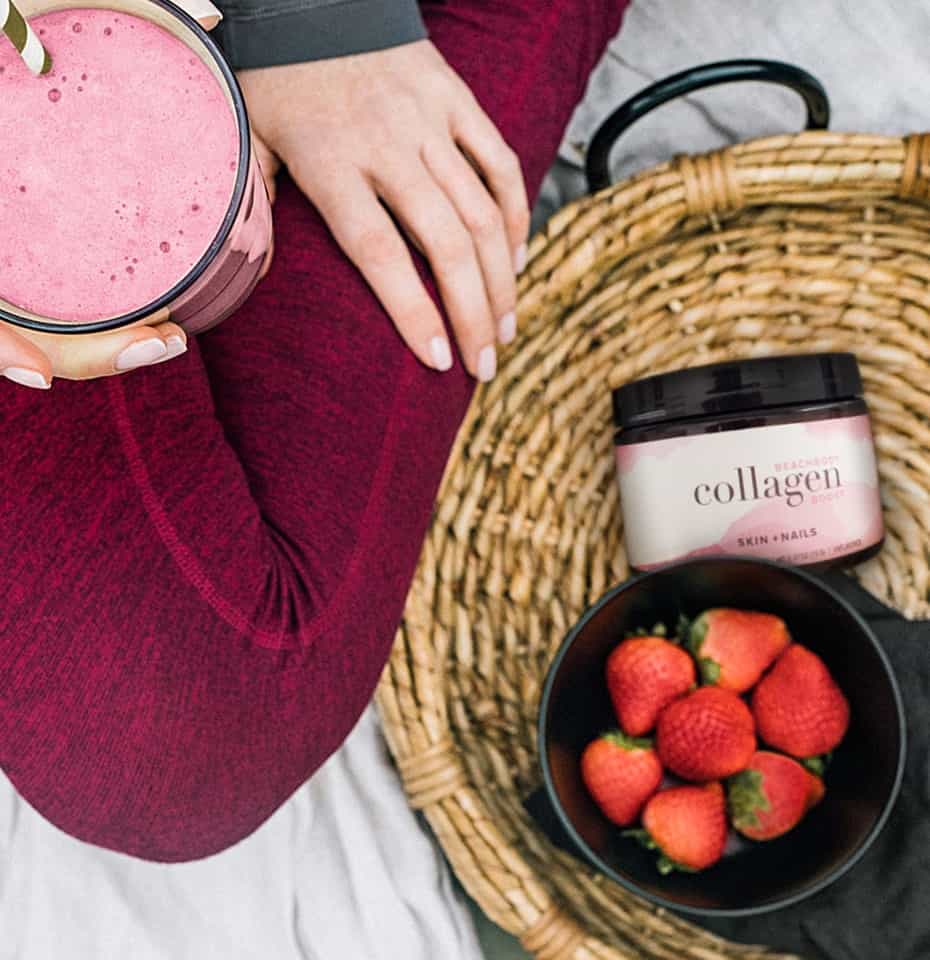 How long after taking collage do you see results?
Beachbody's studies showed results in 30 days, but we felt like it took about 6-8 weeks for us to notice a difference with Beachbody's line or Vital Proteins.
When should you take collagen?
You can mix in collagen anytime during the day! We like to add it to our Shakeology, but you could also add it to coffee or tea! It even works in oatmeal, yogurt, or soup!
It's totally flavorless and dissolves in hot or cold drinks or liquid-based foods.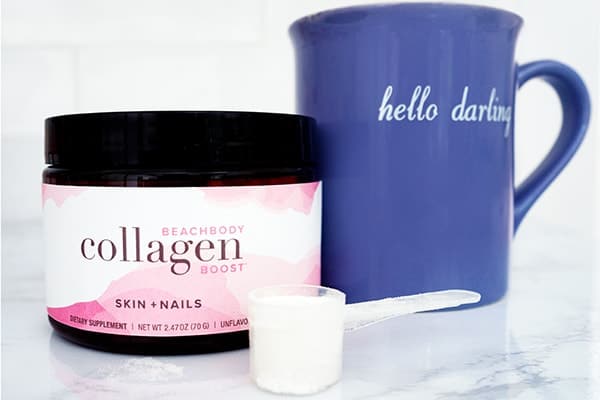 Should I take more than a scoop a day?
You could, but there has been no research showing any benefits of taking multiple servings a day.
Since there is no benefit, we wouldn't! It would just be a waste of money in our opinion.
Can Collagen Boost be incorporated with Ultimate Portion Fix or 2B Mindset?
Yes. Collagen Boost is considered "free" in both Ultimate Portion Fix and 2B Mindset.
Is there a difference between collagen and collagen peptides?
Yes, both are made up of the same amino acids, but collagen peptides are carried to cells that work to repair our skin, bones and joints, or the cells can use the amino acids directly for energy.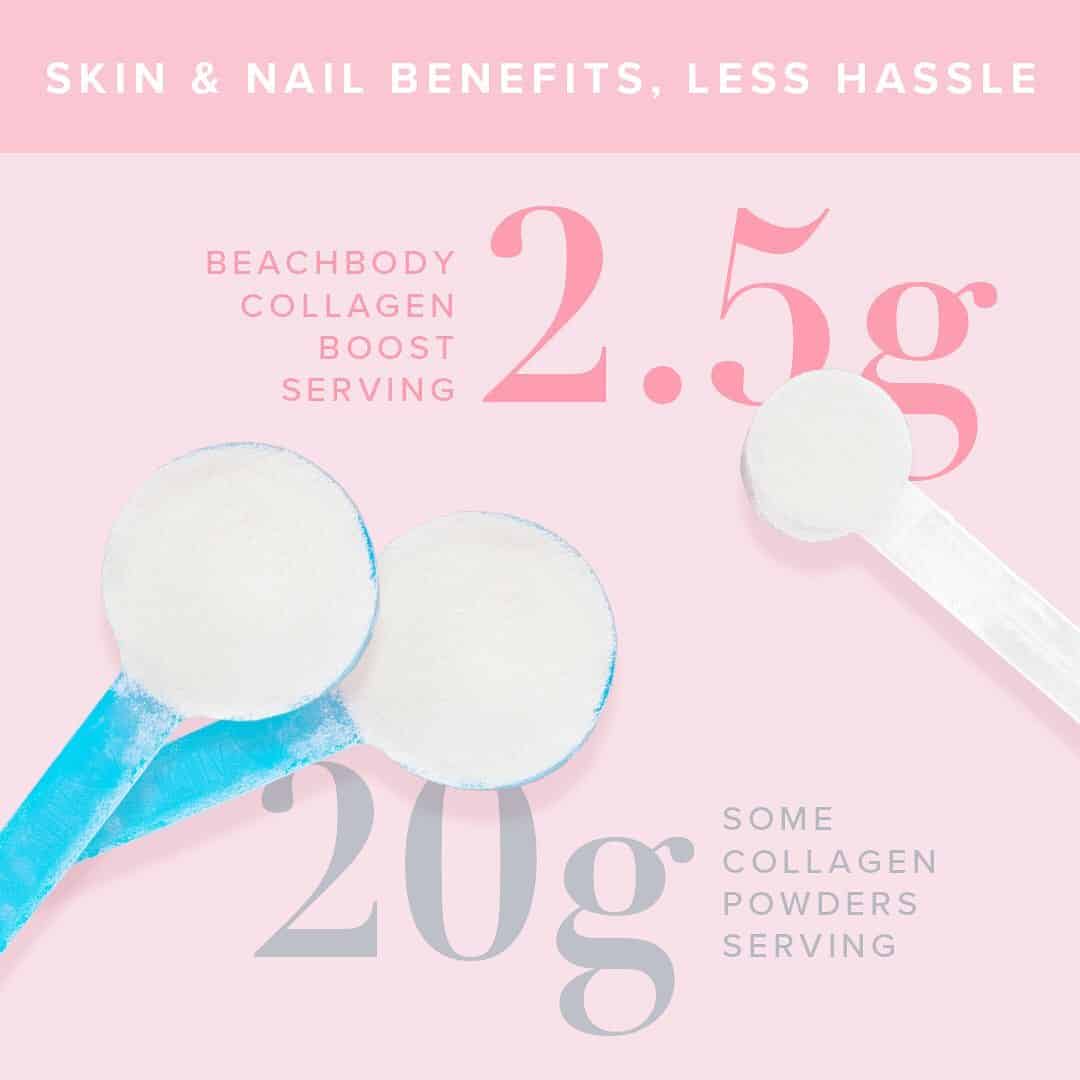 Is Beachbody collagen grass fed?
Yes, it is sourced from grass-fed bovine hides which is favorable over non-grass fed collagens.
What type of collagen is in Beachbody collagen?
Not all types of collagen are made equal. There are a few different types of collagen, and each type has its own benefit.
We're about to get nerdy here — but here's the low-down on the different types of collagen.
Type 1 Collagen
This is the most prevalent type of collagen in the body, and it's linked to hair, skin, and nails mostly. Taking this type can help with sagging skin, fine lines, brittle nails and thinning hair, but it's also a major component of the tendons, organs, and bones.
Type 1 Benefits:
Skin elasticity
Improves wrinkles
Grow thicker, stronger hair
And grow stronger nails
Type 1 is what Beachbody's collagen mostly is, and it also has some Type 3 mixed in. It's also in Vital Proteins collagen peptides as well.
Type 2 Collagen
Type 2 helps with cartilage and our skeletal system. This isn't included in Beachbody's or Vital Proteins collagen peptides. Cartilage Collagen would be a better choice if cartilage support is your main focus.
Type 3 Collagen
Type 3 helps also helps with cartilage – specifically reticular fibers, such as the ones in bone barrow.
Skin elasticity & hydration
And supports gut health

Vital Proteins vs Beachbody Collagen
Since both brands have collagen types 1 and 3 in them, we thought this comparison might also help you decide on a brand.
Vital Proteins
20g Serving
70 Calories
110mg Sodium
Beachbody's Collagen Boost:
2.5g Serving
10 Calories
20mg Sodium
Here's Beachbody's Collagen Ingredient and Nutrition information: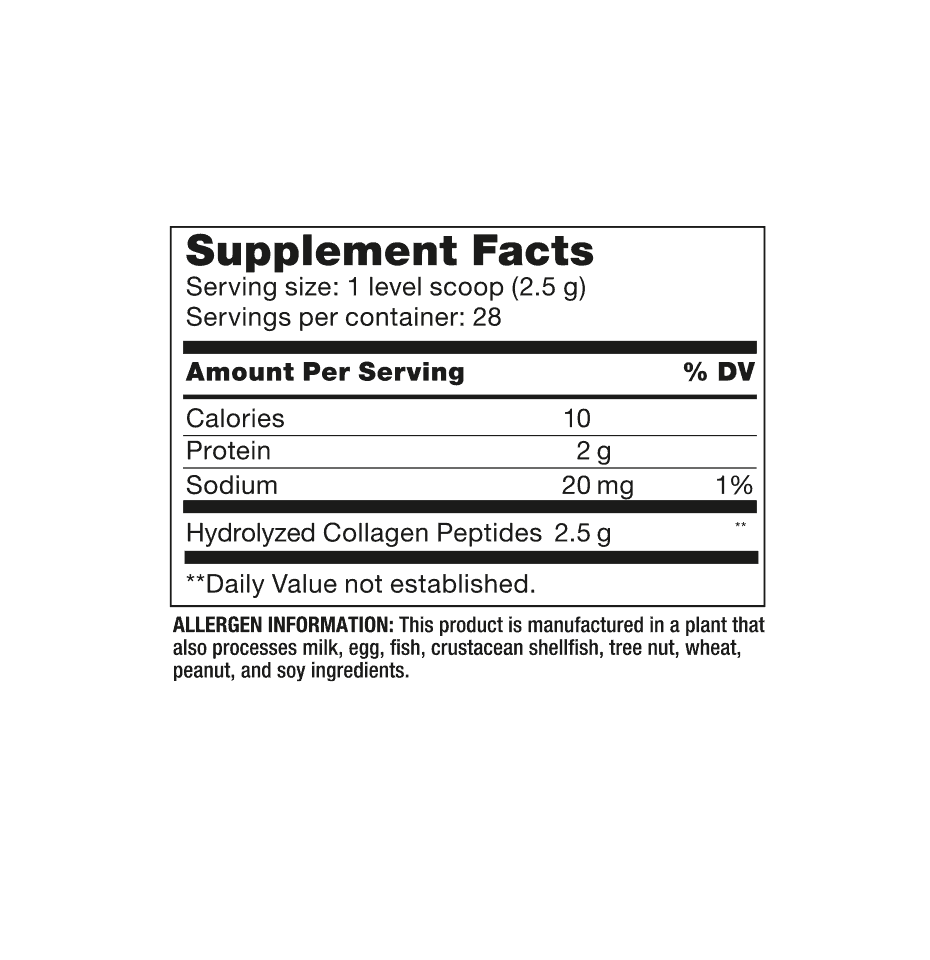 What if I am having painful joints? Which collagen supplement is for me?
If you're having aching joints, we'd first recommend seeing a doctor.
Then, if you wanted a collagen supplement designed for joints, we'd recommend looking at Vital Proteins Collagen (either the original from bovines or marine collagen) and their Cartilage Collagen supplement.
You may also like:
†Results vary depending on starting point and level of effort following Beachbody's recommended usage.
*These statements have not been evaluated by the Food and Drug Administration. This product is not intended to diagnose, treat, cure, or prevent any disease.