The Best Compact Elliptical for a Small Space (From $100 to Under $1000)
This post may contain affiliate links. All opinions shared are my own. As an Amazon Associate I earn from qualifying purchases. Click to view our full disclosure.
Below are the best compact ellipticals to get an effective workout for your entire body at an affordable price! This article will help you find the best choice based on your fitness goals, price range, and floor space.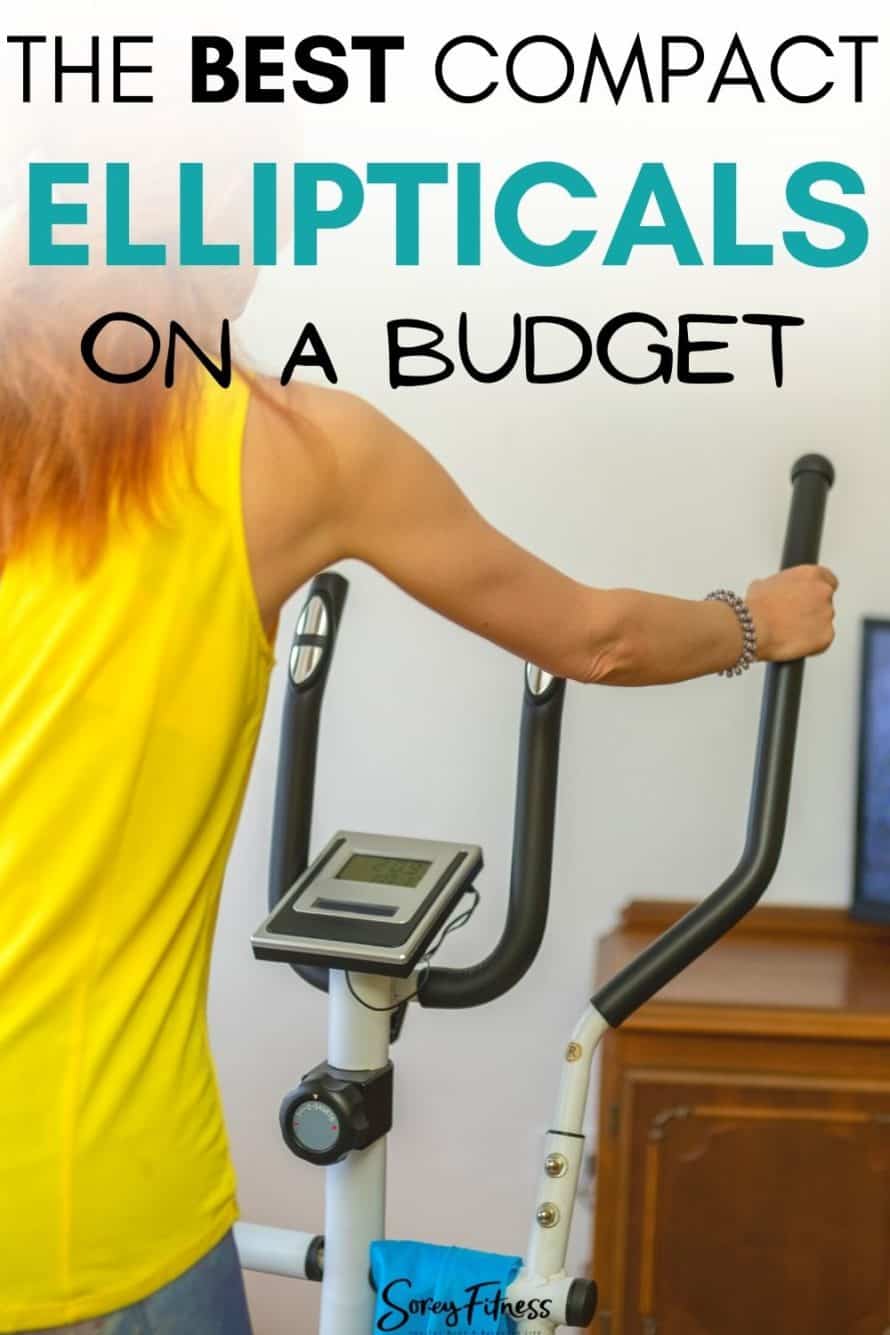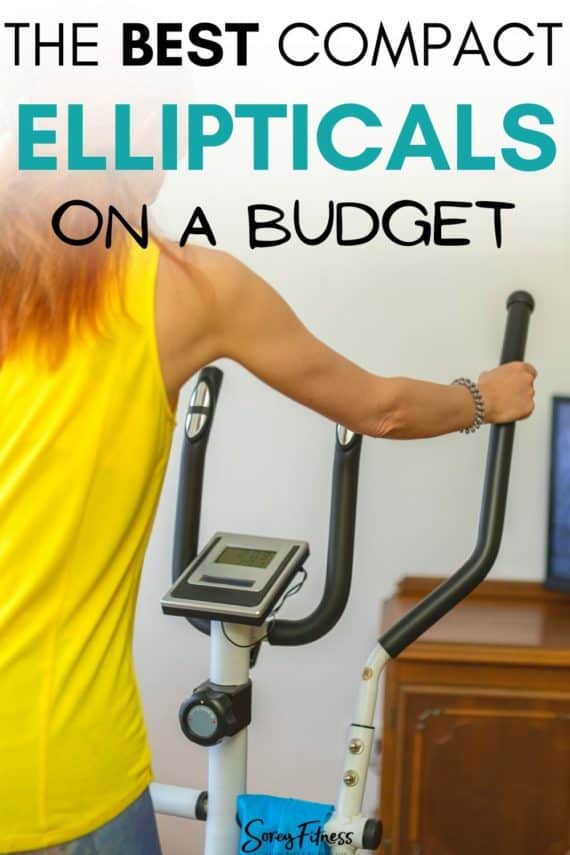 Finding the perfect workout equipment for your home is the best way to ensure you don't miss a workout – even if you can't go to the gym. But if you have a small house, you might think adding an elliptical to your home gym is out of the question. Thanks to the small size of the awesome machines on this list, you're sure to find the best compact elliptical that won't take up much room!
Why We Love An Elliptical:
It works your upper body and lower body at the same time.
It offers low impact workouts for those with join pains.
The different resistance levels keep you challenged.
You can burn a ton of calories which is great for weight loss.
You can easily increase the intensity of your workout.
Below are our top picks that don't take up a lot of space and offer a great low-impact cardio workout!

Compact Elliptical Under $100
Don't let your budget exclude you from getting an elliptical for your home! The Sunny Health and Fitness Elliptical Glider is a good option for anyone with a small budget. While this machine doesn't feature all the bells and whistles of a full-size gym model, it has all of the essential features to allow you to get a good workout without taking up a lot of space in your home.
The glider features non-slip pedals to help simulate a slow walk or full run while maintaining a continuous motion, giving you a total body workout. And when you're not using your
glider, you can easily fold it up to half its size.

Best Compact Elliptical Under $200
With eight levels of magnetic resistance and full motion arm exercisers, you won't believe what a great workout you get from the Sunny Health & Fitness Elliptical Machine Cross Trainer. This is another good compact size elliptical, and a great way to get a workout at home. It measures in at 28 inches long and 17 inches wide.
You'll love the digital monitor with a built-in heart rate monitor, which displays your time, speed, distance, calories, and pulse. And the anti-slip handlebars and foot pads ensure you stay safe and stable, in spite of the elliptical's small size.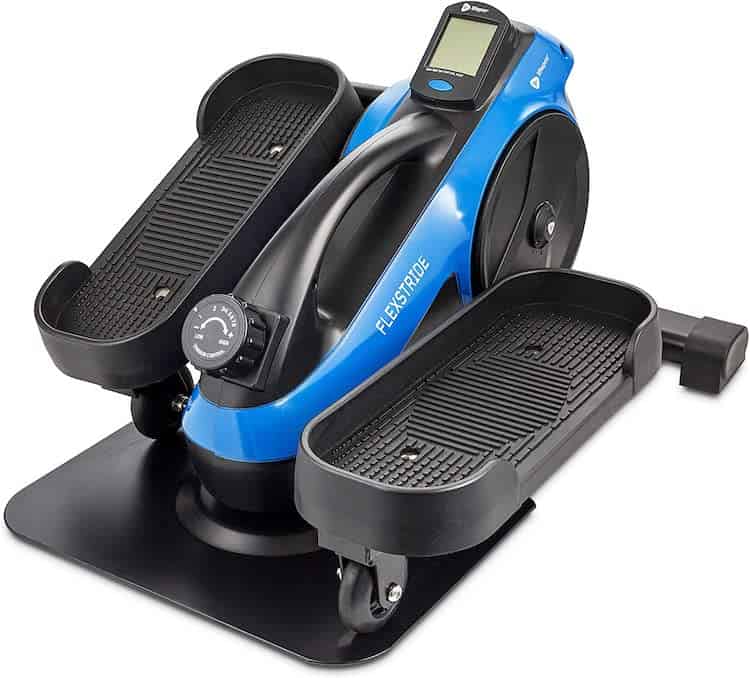 Under Desk Elliptical Trainer
If space is an issue, finding small gym equipment is the only way to update your workout space. With the help of an under desk elliptical trainer, you can workout anywhere. The LifePro Under Desk Elliptical Trainer fits under your desk, allowing you to pedal while sitting down.
Out of the desk ellipticals, we liked this one the best because it allows you to adjust the resistance, giving you a chance to customize your workout routine with eight different levels.
It's perfect for beginners hoping to add a basic trainer to their home. You could also use the foot pedals for a pre-workout warmup or post-workout cool down. Either way, you can update your home gym without sacrificing space.
Another option is the Cubii pro! We love being able to burn more calories right at our desk job when we don't have time for a traditional workout.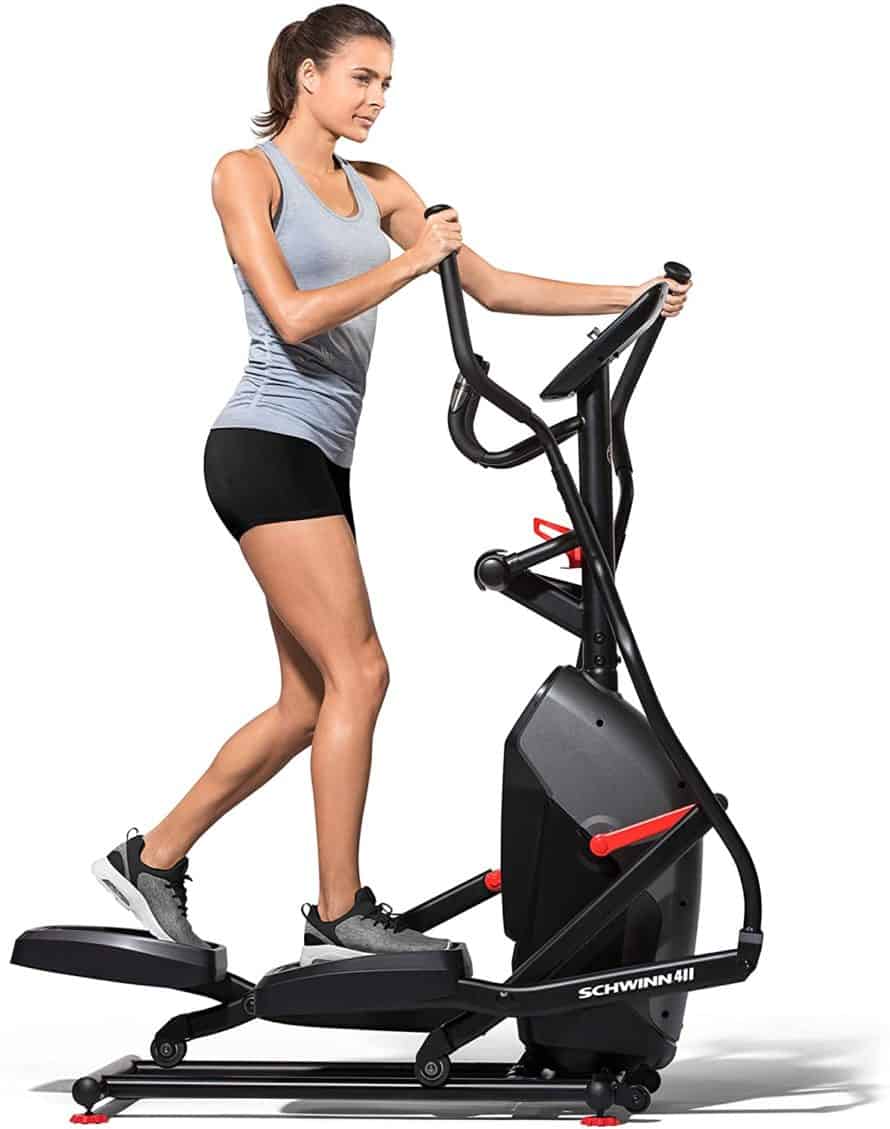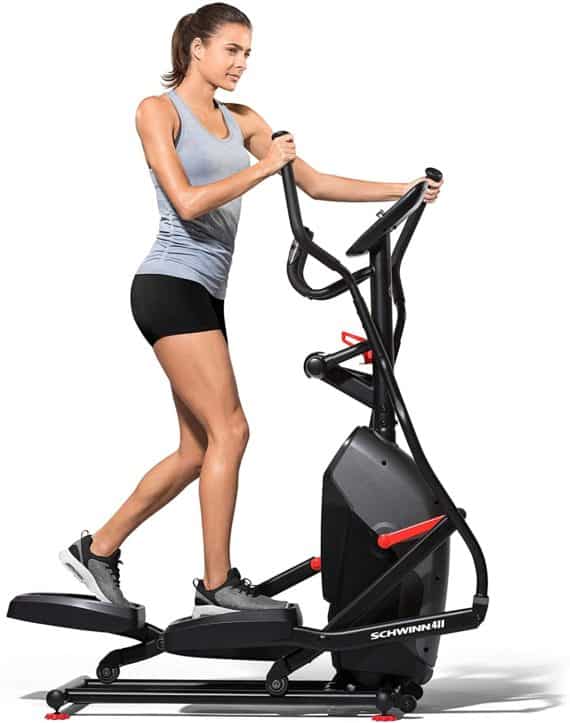 Best Elliptical for Home Use
When you connect the Explore the World app to your Schwinn Compact Elliptical Machine, you can enhance your at-home workout with preset programs with virtual courses, exotic locales, and stunning trails from across the globe. And while the machine features a compact design, you don't have to give up a long stride. This small machine offers the 18-inch stride of a full-size elliptical.
Along with the virtual experience you can enjoy through the connected app, this elliptical also features a streamlined LCD screen that displays time, speed, distance, calories, and heart rate. Thanks to the heart rate sensors in the handlebars, you'll know the readings on display are always accurate.
With 16 levels of resistance, you can adjust your workout to challenge yourself as you get stronger. We also read that the weight capacity is 300 lbs which makes it accessible for a lot of people.
Another is great small elliptical machine at a similar price point is the Schwinn a40.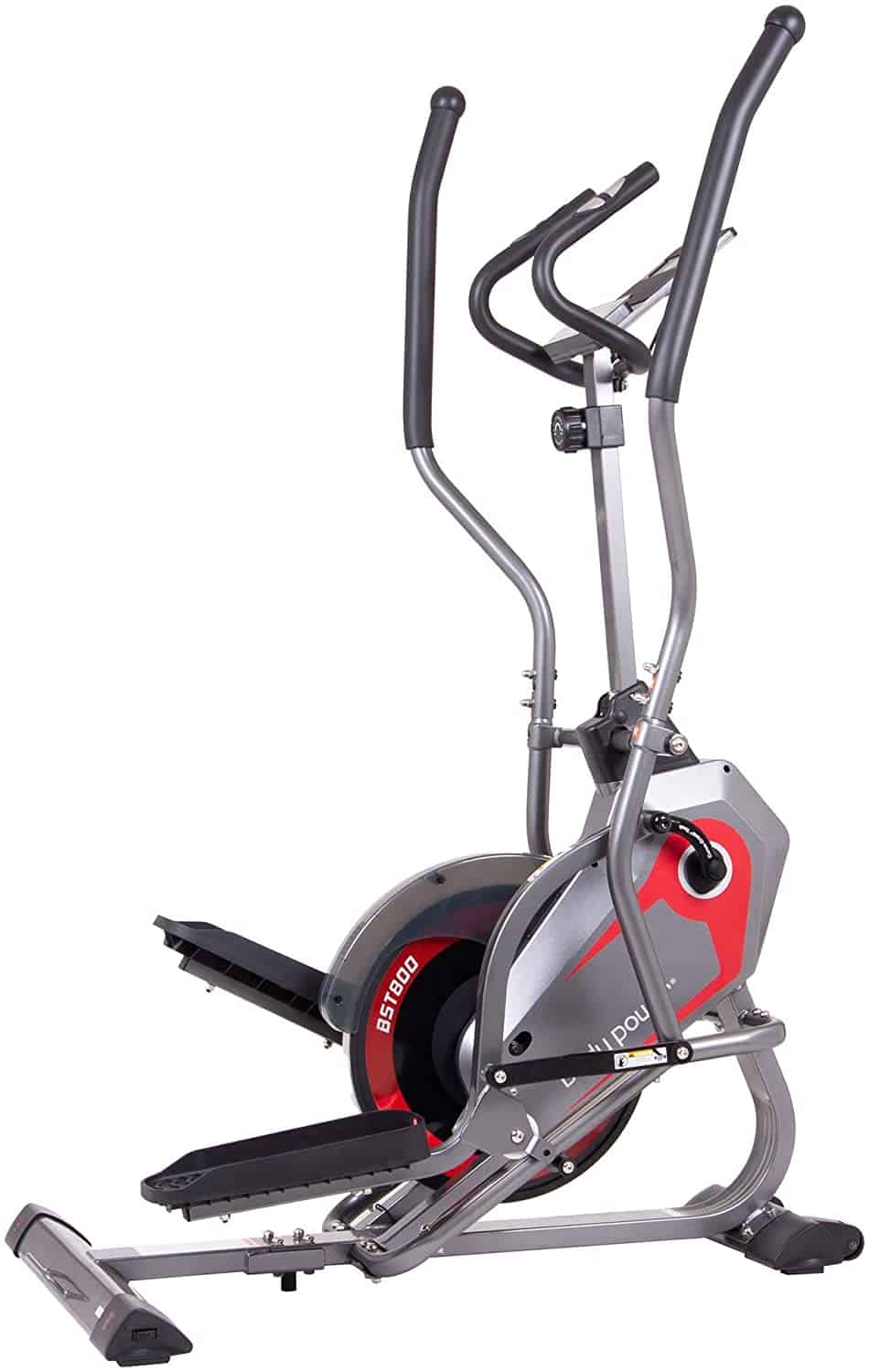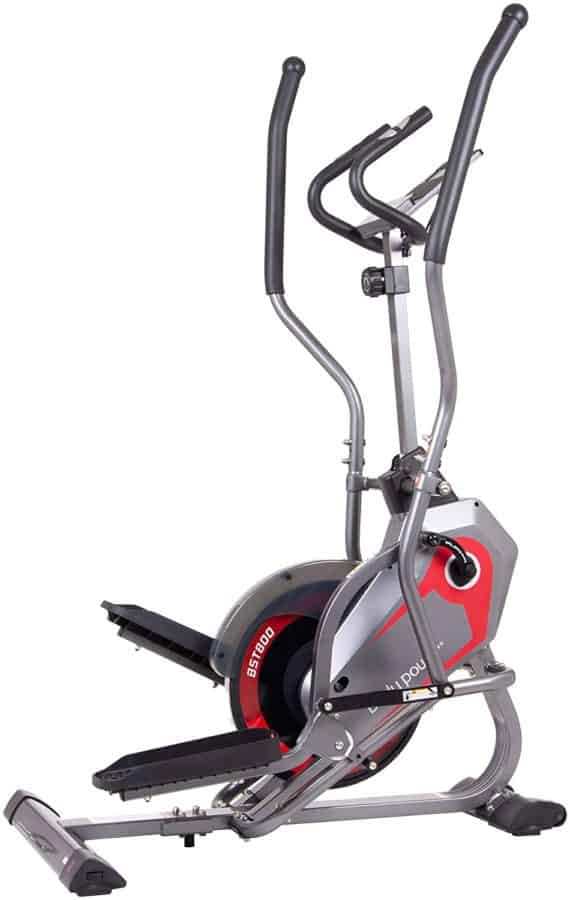 At Home Elliptical Trainer
With the help of curve-crank technology, you'll have a smooth workout every time when you use the Body Power Elliptical Stepper Trainer. The curved crank design applies constant tension to the axis, delivering a smooth rotation as you step. And with the ergonomic crank, you can safely and easily adjust the resistance level on the elliptical.
Featuring a two-in-one design, this workout machine can give you a total body workout when used as an elliptical machine with synchronized handlebars.
You can also turn this fitness machine into a stair stepper with fixed handlebars for an easier workout. Another feature is you can adjust the level of resistance 8 different ways using the heavy-weight flywheel.
No matter which way you use the compact workout machine, you can easily track your progress with the LCD monitor, which displays your calories burned, time, speed, and distance.
Since this elliptical is designed for small spaces, it can easily be moved from place to place the transport rollers, allowing you to push the machine out of sight when it's not in use.
Out of all of the small elliptical trainers we looked at, this was the most effective exercise machine because of the stair stepper option!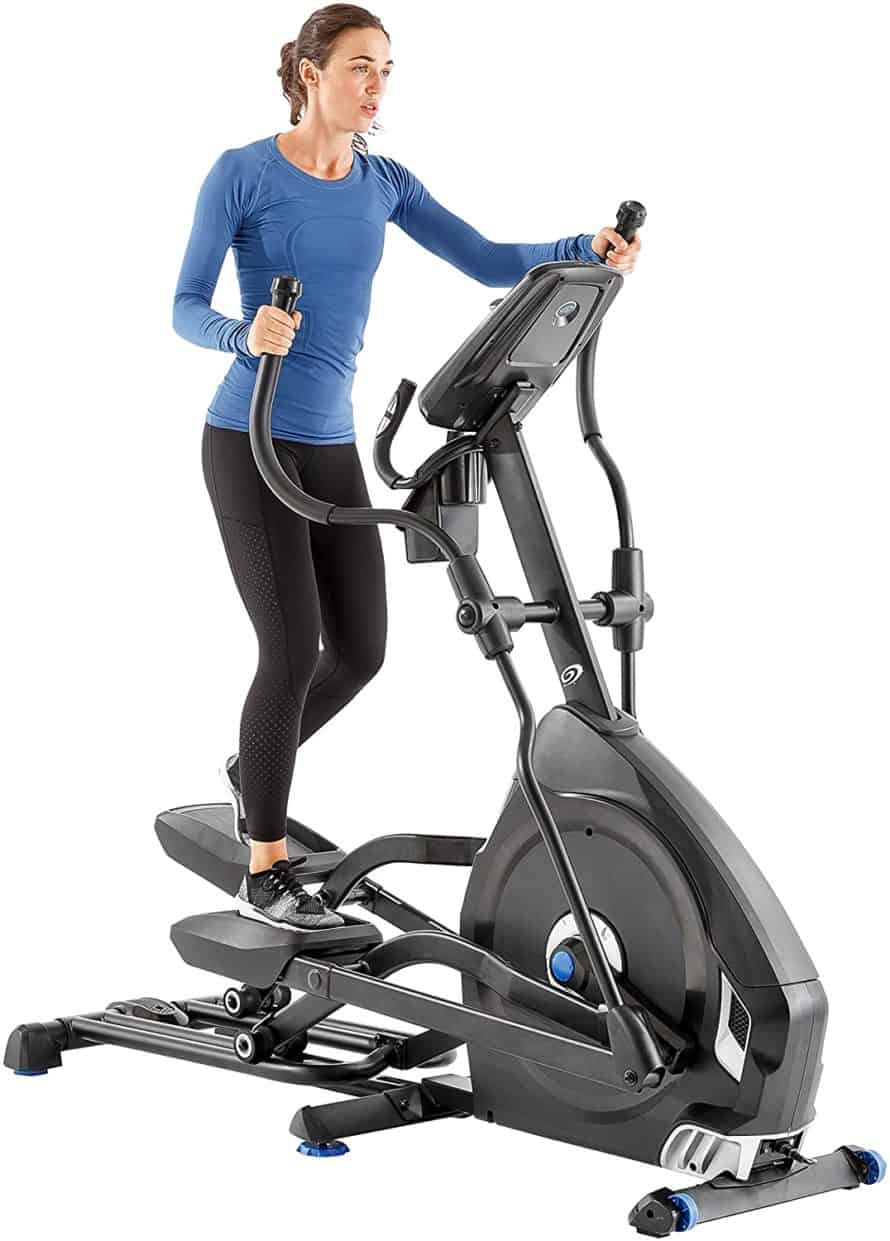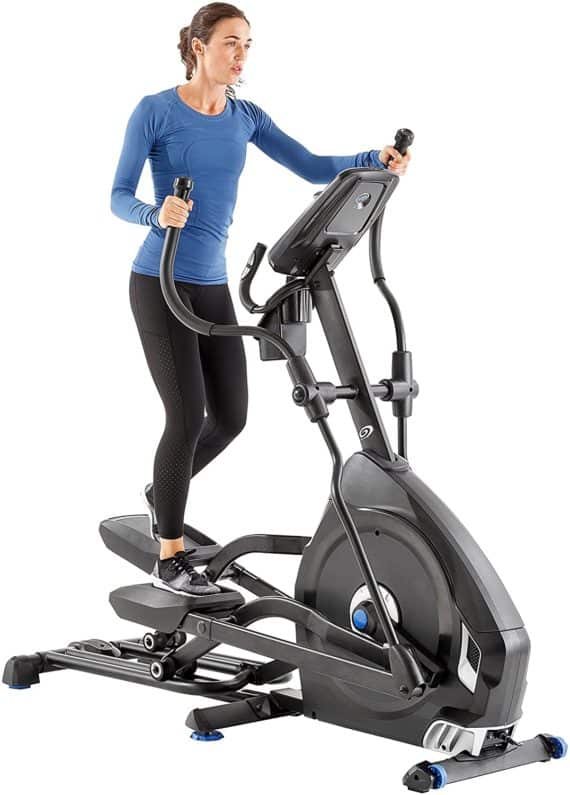 Best Elliptical Under $1,000
If you're looking for additional features, the best option is the Nautilus Elliptical Series with adjustable stride length and advanced features! We love the elliptical workouts and longer stride length that this elliptical offers, but we realize it's a little bit more than some may want to spend.
Along with the basic features of the other models we listed, the Nautilus Elliptical Series comes with Bluetooth connectivity, allowing you to track and monitor your progress through a variety of helpful mobile apps like MyFitnessPal. It also has an interactive LCD display features 29 different customizable programs and a usb port.
Thanks to the ergonomically placed moving and fixed handlebars and the long 20-inch stride, you can have the full gym experience right in your home. Since this machine features dozens of resistance levels, it's sure to grow with you as you advance your workout routine.
We hope this list of the best ellipticals for a small apartment was helpful!
We'd love to know what workout machines are your favorite! Let us know on Instagram!
If you're looking for an exercise bike, this folding recumbent bike is a great option for someone looking for fitness equipment with a smaller footprint! We also have a full guide to help you set up your own home gym without a ton of money or space!
You may also like these: