Best Home Gym – Our Favorite Home Exercise Equipment
This post may contain affiliate links. All opinions shared are my own. As an Amazon Associate I earn from qualifying purchases. Click to view our full disclosure.
After trying a couple of gyms, we've found working out at home is our sweet spot. Our home gym allows us to work out when we want, go at our own pace and it's still a challenge. We've found the best home exercise equipment, and we can't wait to share our favorites with you!
I could go on and on about the benefits of exercising at home. There are no set hours, class times, and there are so many new options to workout to now!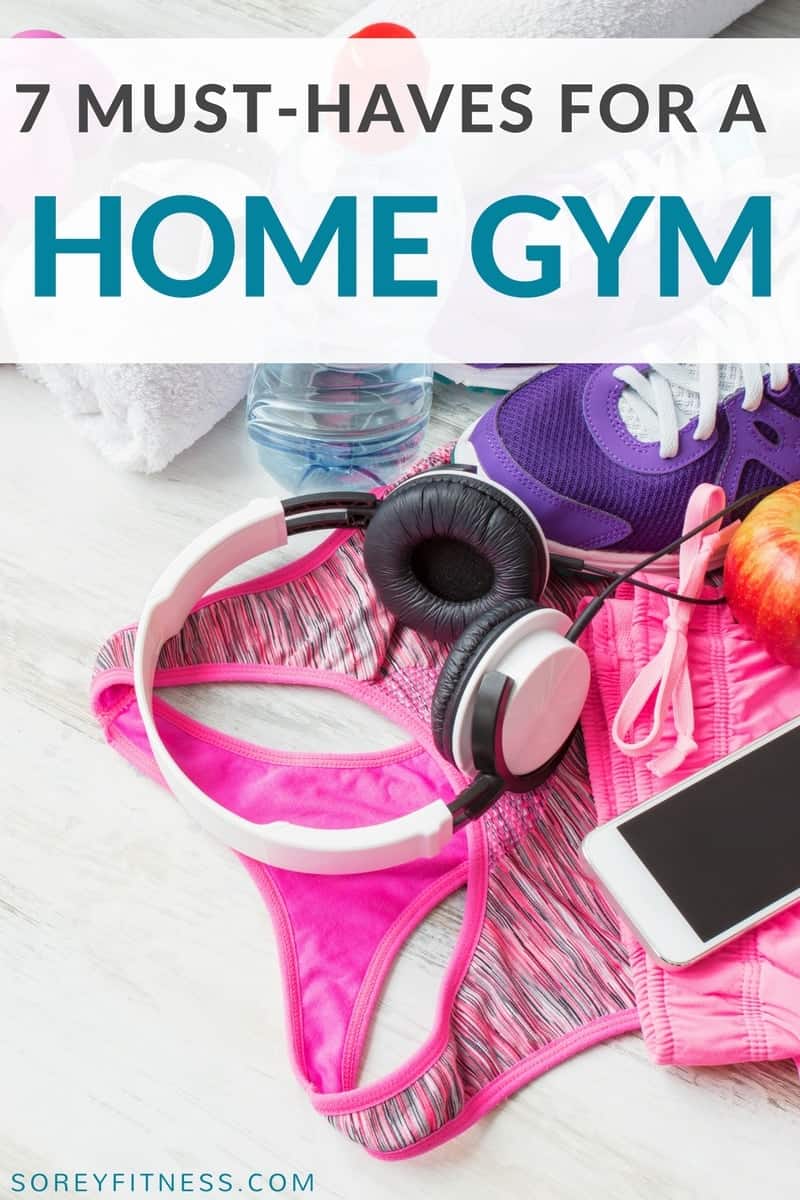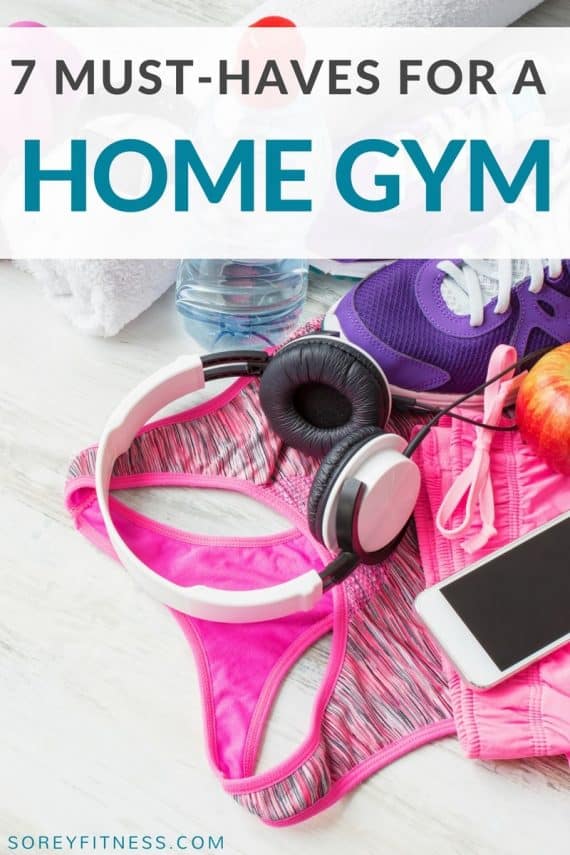 **This post may contain affiliate links. See Full Disclosure here.**
In this post, we'll create a full exercise kit for home. We'll help you identify what you'll need for your specific goals and workout space.
7 Simple Questions to Create Your Home Gym
How much room do I have for equipment?
Do I have more or less than 6ft to move in?
Are my ceilings tall enough for a treadmill or elliptical?
Do I need a TV for workout DVDs?
How well is the room ventilated? Hows the temperature?
What do I want to work on? Cardio, flexibility, strength, overall weight loss, etc?
What's my budget?
From these questions, you'll be able to identify what will work for you and your budget.
A note on the budget: We recommend choosing something you WILL do versus something you'd like to want to do. For example, we have a treadmill, but it's rarely used because I prefer DVDs.
You also should choose what you will be consistent with versus trying to choose something your spouse might like as well. This could leave you both a little miffed and not exercising.
DVDs or Machines
You'll also need to decide what works best for you. A cardio machine or full home gym, like a Bowflex, is great if you have the room and want to crank some tunes while you workout.
For us – we get bored fast. We need someone talking about proper form, challenging us and offering a variety of workouts – even if it's through the TV. Tony Horton, Jillian Michaels, and Autumn Calabrese have all been our personal trainers among many others.
DVDs are our main choice because:
a lot cheaper than a machine! $99 gets you 700+ workouts to stream now!
offers variety to constantly challenge your body
requires little thinking – they tell you what to do – you do it.
created by top professionals at the top of their game
convenient – I can pack a DVD or stream a workout anywhere!
With that said, we have found 5 Best Compact Treadmills for a Small Spaces that are Under $500 if you prefer a machine for cardio!
Our 7 Essentials for The Best Home Gym
As mentioned above, we love DVDs. Below we'll take a look at machines, but for now. It's our list and DVDs top it. You can also choose to stream your workouts now from a computer, Apple TV, or another device.
We've gotten to our goal weight, lifted heavy weights (25lbs+) and gained muscle, and also improved our yoga all through home workouts.
Some of our favorite home workouts are T25, 21 Day Fix, and Body Beast. You can view all of our favorite workouts here.
We also help you find the best fit with our 21 Day Challenge.
We did a full review of the Selecttech dumbbells earlier because we love them so much. We bought the first pair 10 years ago and the second pair 3 years ago when I moved out. Both still work perfectly, and they are so convenient.
You can adjust the dumbbells from 5 to 52lbs just be twisting the ends. They're easy to use, and they take up less room than having individual sets of weights.
They are by far the best investment we've made in our home exercise equipment.
Depending on what your workouts are will depend on if you want a spongy mat, flat yoga mat or a jump mat.
No matter if you're working out on the carpet (and soaking the carpet in sweat) or hardwood (and sliding in your sweat) -you'll need a mat.
A spongy mat is heavenly for ab work, but it can leave you wobbling during a yoga practice.
A jump mat is the best overall choice because it's more likely to do both jobs, and it can help absorb some of the impact and sound of jumping during a workout.
You honestly need this whether you're working out in a gym or making your home exercise kit. We love the Polar FT4. It allows you to customize your settings for your age and weight. The display is clear to understand, and it's easy to use. Also, it will set your ideal heart rate range to burn fat, and it will beep at you when you go too high or too low. You can also see your specific calorie burn and average heart rate after your workout.
Also, it will set your ideal heart rate range to burn fat, and it will beep at you when you go too high or too low. You can also see your specific calorie burn and average heart rate after your workout.
This is an essential tool for keeping your home gym a bit safer for you!
The band system I have linked to includes a door anchor to modify the pull-ups and chin-ups in workouts. You'll notice we didn't include bands as a top priority or something equivalent to weights. The reason is that they can be hard to use, pop back at you if your not careful, and they're also kind of a pain. Can you tell how we really feel?
But if you can't do a pull-up or don't have a place for one on the wall or in the door, bands can offer a solution. A pull-up bar is still our pick, or we will substitute in rows and over exercises instead of using bands.
6. A Barbell (if lifting is your goal)
If you're just lifting a couple days a week for weight loss, you are probably fine with just dumbbells. However, if your goal is to gain muscle, you might consider a barbell as well.
When we use dumbbells, one arm may go up faster or have better form. The dumbbell takes out that inconsistency and makes you use both arms or muscle groups evenly.
7. A Chair
A sturdy chair comes in handy! You can do bent-over rows, tricep dips and modify pull-ups and chin-ups with a chair. You could do all 3 from a nice weight bench, but for the sake of money and space, a chair works great.
The Fun Extras in Home Exercise Equipment
The 7 essentials will create a full exercise kit for home, but these extra pieces home exercise equipment are fun and challenging!
1. Stability Ball – There are tons of exercises you can do with a stability ball, and you could even do your upper body moves while sitting on it for extra core work. You can also do push-ups, core work and so much more with this one tool that's under $15.
2. Bench – As mentioned above a bench can be helpful. It also gives you a longer range of motion if you're lifting weights for a chest press.
3. Bosu Ball – A Bosu ball can be a ton of fun and help with your stability and balance. There are certain strength, core and balance moves you can do on it, as well as, the classics like a push-up!
4. Kettle Bell – A kettlebell is another way to help strength train while using agility and endurance. Since you are swinging it and using it across the body for most exercises, it combines agility and cardio with strength training.
5. Foam Roller – A foam roller is helpful for sore, tired muscles. One of our favorite moves is laying on top of it to stretch out the back.
6. TRX Training – Ready to take flight? This suspension trainer is so cool!
7. Jump Rope – Classic cardio workout at its finest, right?
8. Exercise Step – Some of the older DVDs workouts we've done have used a step. It adds some intensity to cardio, can lift the booty, and doubles as a bench in some exercises like a chest press or overhead row.
9. Weighted Vest – Did you know wearing a weighted vest can help you burn 10% more calories? I love wearing one on a traditional treadmill workout…if I can commit to hopping on the treadmill after all. Mine is a 12lb one.
10. Sliders or Paper Plates – If you're on carpet especially, sliders or paper plates can help you extend your range of motion during exercises in PiYo and lunges. A slider is going to cost more, but they hold up better because it's plastic versus paper.
11. Lebert Equalizer – If you're above hitting the chair for tricep dips, this is a neat alternative. You can also do ab work on it and pushups.
12. Medicine Ball – A medicine ball offers different types of strength training. One of the coolest things I've seen is people throwing them back and forth in a garage. The weight depends on your fitness level and strength. We like a 10lb one.
13. Ankle or Hand Weights – If you're doing floor work, ankle weights are a great way to intensify the moves. Weighted gloves can help you build up to the next set of weights or improve your wrist strength.
I also love just a good pair of gloves for weight lifting to help prevent calluses.
Fitness Clothing
One of the perks of working out at home is that you don't have to match or look like much. I would be so embarrassed at a gym wearing some of the things I do…not matching and fully sweaty at the end of a workout.
Check out our favorite brands and best fabrics for working out at home here.
What About a True Home Gym
We personally don't use them for 3 reasons.
We get bored with them, and you have to think too hard about the routine to do.
They aren't using your muscles in a functional way like lifting weights would.
Other home exercise equipment is cheaper and just as effective.
We know not everyone is like us though.
For that reason, we did some research. If we were to buy one, we'd choose the Bowflex Xtreme 2SE Home Gym.
It's a best seller, has a 4.3 rating and is discounted on Amazon. Amazon also offers financing on it which is a perk we guess.
Offers over 70 exercises for a total body workout

You can do squats, bench presses, and lat pull-downs without changing cables.
It has a year frame and 60-day parts warranty.
It's dimensions are: L 96″ x W 78″ x H 83″
Arm Exercises: 24, Chest: 6, Abs: 3, Back: 18, Shoulder: 16, Leg: 12.
What's your favorite piece of home exercise equipment? Do you use a home gym?
You may also like: