Running Shoes for Overweight Women That Don't Hurt (Under $150)
This post may contain affiliate links. All opinions shared are my own. As an Amazon Associate I earn from qualifying purchases. Click to view our full disclosure.
Did you know that running can put up to three times your body weight in shock on your joints as you're running? That's why finding the best running shoes for overweight women is so important! The right shoes can help prevent injury, reduce joint pain, and make running more comfortable.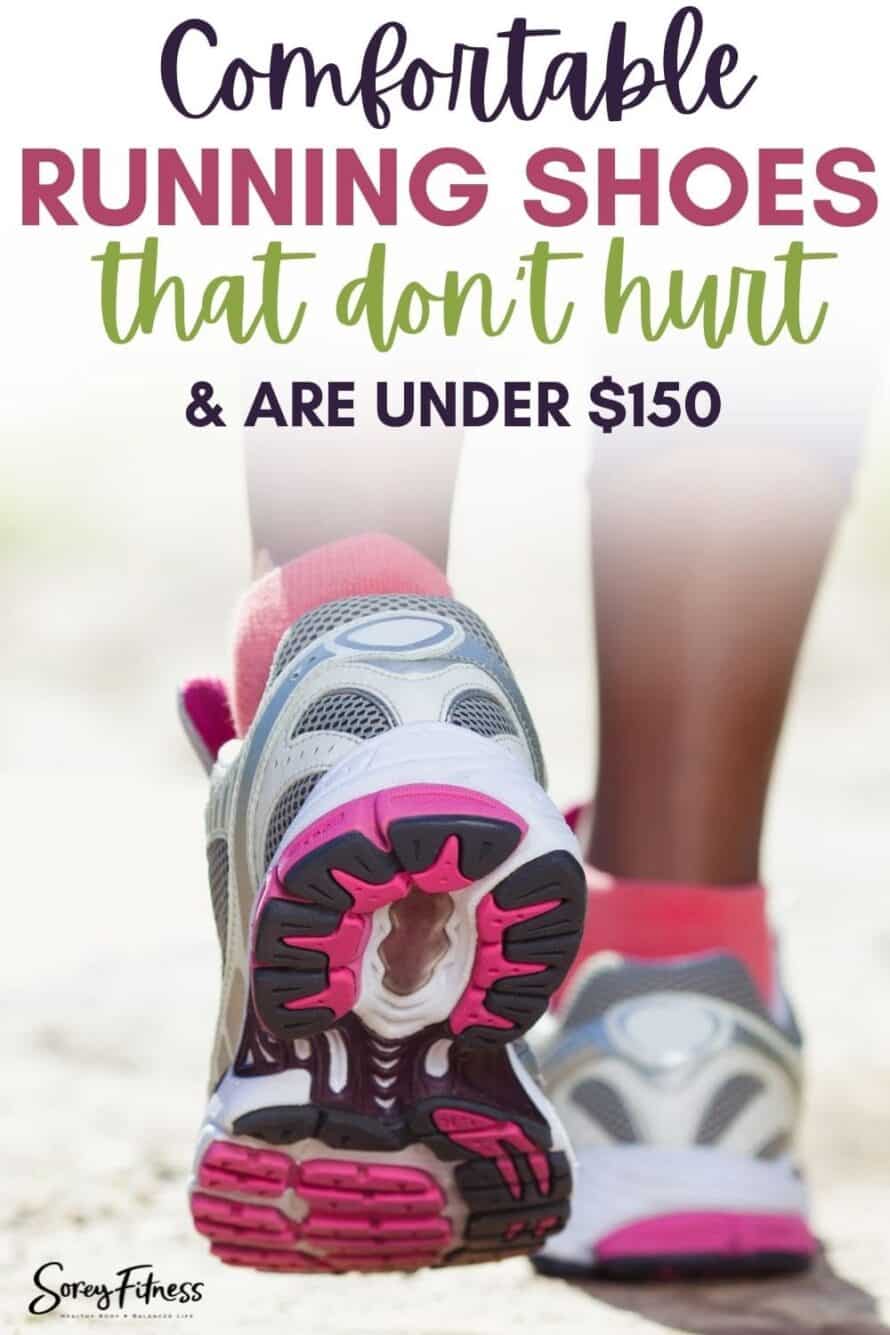 These running shoes for heavier runners are a great choice for anyone looking for more support and a comfortable fit as they're running.
How to Pick the Best Running Shoe for Overweight Runners
When you run with extra weight, you have to think about a variety of different factors as you pick a running shoe, including:
Arch support. Overweight runners often need more arch support in their shoes to help prevent arch pain and provide extra shock absorption as you run.
Shock absorption. Overpronation can be a common issue for overweight runners, which means good shock absorption is a must when picking out new running shoes. With overpronation, your ankle rolls too far downward and inward with each step. Running shoes with extra shock absorption can help reduce the stress on your knees and ankles that often occurs with overpronation.
Toe Area. Your toes should have plenty of room to spread out if it's a good fit. If they don't feel like they can, you may need to look at wide width options. The back part of your foot should also feel comfortably cupped to the back of the shoe, and it shouldn't slip as you run or walk.
Are Memory Foam Shoes Good for Running?
Memory foam shoes are a great choice for running, especially if you have foot pain or other foot-related ailments.
Memory foam cushions can help ease pressure on the ball of your foot, provide additional arch support, stabilize your feet as you're running, and absorb heel shock.
One drawback of wearing memory foam shoes while running is the fact that the material tends to hold body heat, so it's a good idea to make sure the shoes you're considering have a breathable exterior. This will help ensure proper air flow as you're working out to keep your feet from getting too hot while you're running.
Running Shoes for Overweight Women
We researched 100s of athletic shoes to help you find the right running shoes! The good news is we found good shoes for every price point!
With maximum shock absorption and a comfortable fit, these running shoes are a great choice for runners who are overweight: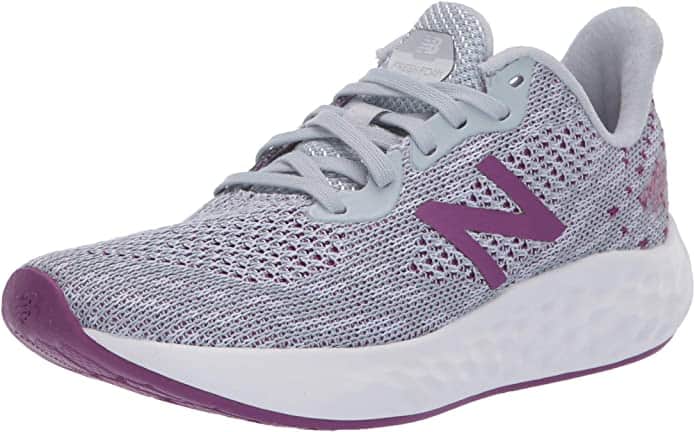 Designed with both performance and style in mind, the New Balance Women's Fresh Foam Rise V2 features memory foam comfort inserts and midsoles that offer cushioning and stability.
The shoes are constructed of durable suede with a design inspired by classic vintage joggers.
The exterior of the shoe features an engineered knit mesh that help keep your feet cool as you run. And the lightweight design ensures the shoes aren't too heavy for everyday exercise.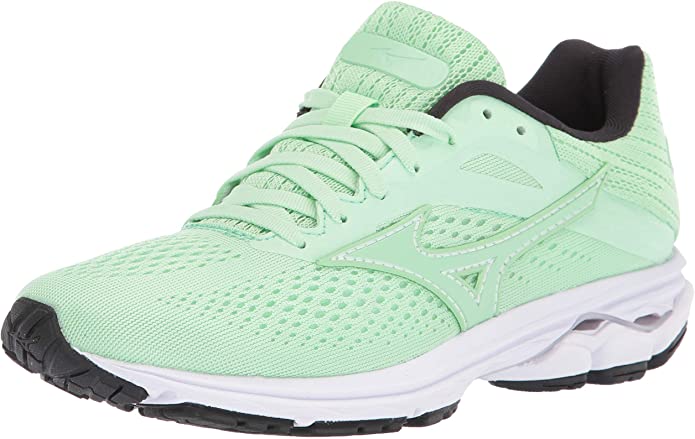 The Wave Rider 23 from Mizuno offers great support thanks to its cushioning technology.
The exterior is constructed of lightweight, breathable mesh to provide temperature control and secure fit as you run. And the dual compound midsole gives you continued responsiveness no matter how far you run.
Overweight individuals will love the extra support in the arch and lightweight design, which provides durable comfort every time you wear them.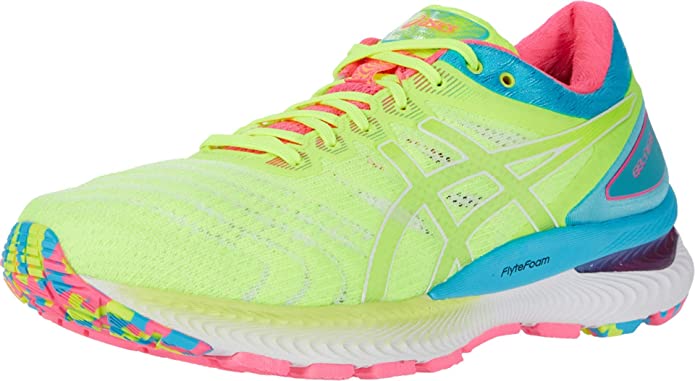 With heel clutching technology, ASICS GEL Nimbus 22 running shoes provide good support for your heels and arches. And thanks to the shoe's midsole technology, you'll experience bounce back and responsiveness, no matter how far you run.
The exterior of the shoe is constructed of multi-directional stretch mesh with reinforcements that allow the shoe to adapt to your foot and provide you with breathability while you're working out.
These ASICS also feature a rearfoot and forefoot gel technology to help reduce shock impact and allows movement in multiple planes of the foot as you run.
If you have flat feet, we love also Asics Gel-Kayano 26 Running Shoes. They offer better support than other options and offer a comfortable ride time after over!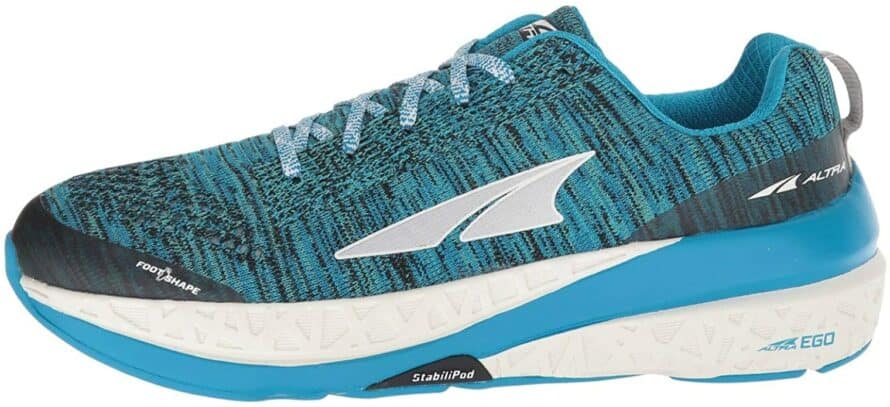 With the Altra Paradigm, you'll get a cushy, supportive running shoe that's perfect for overweight runners. The brand customizes every women's shoe to fit the unique size and shape of a female's foot and uses a unique toe box design that allows your toes to spread out naturally as you run. So if you're someone who struggles between different sizes, definitely check out Altra.
Every Altra shoe features a zero drop platform that places the forefoot and heel the same distance from the ground to improve alignment and offer enough support for a low-impact landing as you run.
And thanks to the shoe's StabiliPod design, the sneaker acts as a tripod by enhancing the three natural stability zones in your foot to help prevent collapse.

The soft and secure fit of the Brooks Ghost 13 running shoe is perfect for overweight runners looking for a reliable shoe that's comfortable and durable.
The neutral support of these running shoes is ideal for road running, cross training, or running on a treadmill. The dual-cushioned sole provides just the right amount of softness as you run while still giving your feet plenty of support.
The engineered mesh exterior and 3D print fit makes it feel like you're not even wearing shoes. But the support from the integrated system of shock absorbers will cushion every step of your run, providing a smooth heel to toe transition.
Another great option for overweight people doing long runs is the Brooks Adrenaline GTS 20 shoe because of the upper mesh 3D Fit Print offers structure in an a lightweight shoe. They also great for road use!

If you're looking for a stability shoes, a new pair of Saucony Cohesion are a great choice if you'd like a great walking pair of shoes because of the mid-top shaft arch Grid technology.
The durable rubber outsole helps support and the VersaFoam offers much support during your runs.
The stability feature is great based on user reviews, and they're great for a neutral runner with a wide foot as well.
Finding Your Best Pair of Running Shoes
To summarize, we found the best running shoes For overweight women to be New Balance Fresh Foam Rise V2, Mizuno Wave Rider 23, Asics Gel-Nimbus 22, Altra Paradigm 4.0, Brooks Ghost 13, and Saucony Cohesion based on reviews.
We hope this list of the best shoes helps you find your ideal running shoe that you can use for a long time!
A great running shoe can make all the difference in your daily runs and goals! So we highly suggest trying several pairs of shoes before picking your favorite as well. They're also a great workout reward or fitness gift for a fit friend or spouse!
The cool thing about the pairs of shoes we picked is that they come from Amazon, and you'll be able to easily tell if they offer free returns or not.
If you're looking to run inside, make sure to check out our 5 Best Compact Treadmills for a Small Spaces (Under $500)! We also have a great guide for compact ellipticals as well.