Chocolate Covered Strawberry Ghosts Recipe for Halloween
This post may contain affiliate links. All opinions shared are my own. As an Amazon Associate I earn from qualifying purchases. Click to view our full disclosure.
My mom and I made these sweet Chocolate Covered Strawberry Ghosts last weekend for a cute, Halloween treat.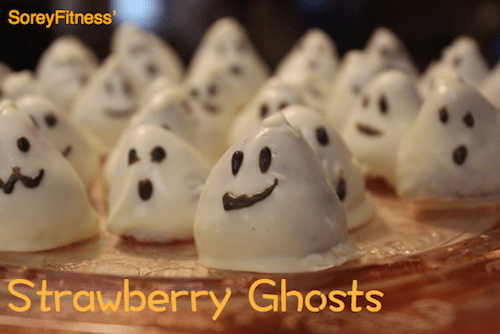 They are so easy to make, and kids would love decorating them. They are also so much easier than making a jack-o-lantern.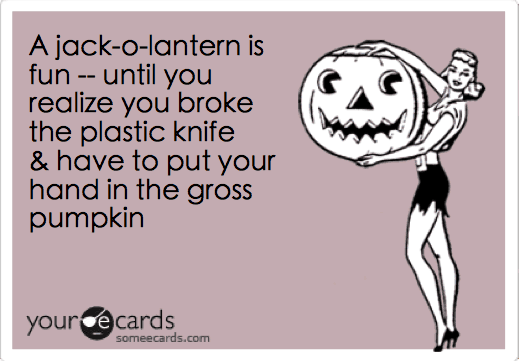 Growing up, my mom, dad, and I made jack-o-lanterns only one year. We each made one. After pulling out all of the nasty pulp, my mom said never again. I always had a pumpkin for Halloween, but I was also handed a number of Sharpies to decorate it with a face.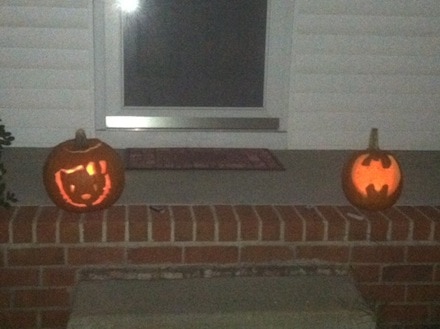 I always felt a little bad about it — like I had missed out. So 2 years ago, Jake and I made pumpkins. I was really impressed by us pulling out the "guts" and being pretty creative. We even freehanded Hello Kitty and Batman! We did break those stupid plastic knives that come with a jack-o-lantern kit though. We used a steak knife for most of it. It was fun, but I think I can wait to do another one until we have kids.
Then, I hope they will like making the strawberry ghosts more. They taste better and are a lot more fun for me to make.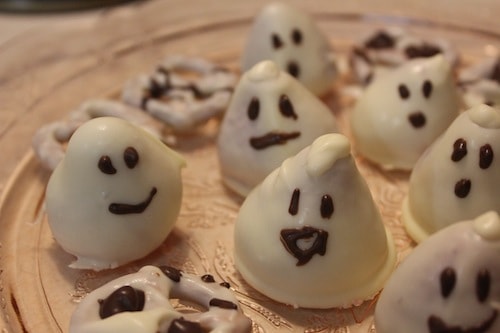 We had our strawberries in the refrigerator to get cold and firm. Then we used Ghirardelli melting white chocolate for the body, and Ghirardelli milk chocolate to decorate.
Chocolate Covered Strawberry Ghosts
1/2 cup Ghirardelli white chocolate
2 Dozen strawberries
Melting milk chocolate to decorate
Toothpicks to dip strawberries
Decorations
Wash and cap strawberries while melting white chocolate in bowl for 30 seconds. Stir, and repeat until chocolate is completely melted.
Once the chocolate is melted, put a toothpick through the top of the strawberry and dip. Then top the strawberries with a spoon.
Melt milk chocolate the same way and decorate using a toothpick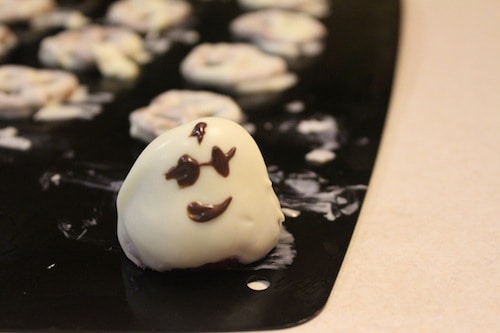 Don't worry about if you have a strawberry that is a weird shape or a chocolate glob on one side — it's a ghost! They all will look a little different.
We had a wild bunch of ghosts by the time it was over (we are not Martha Stewart by any means). Our favorite ghost was easily "Harry Potter".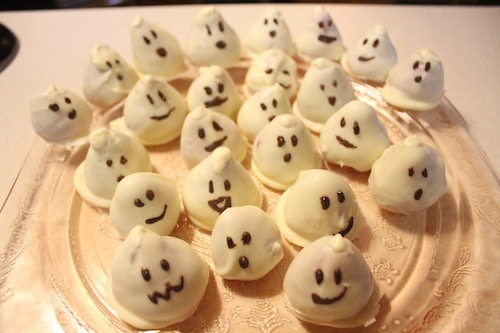 It was a very easy, fun Halloween treat recipe to try. I want to try to do Christmas trees in a few months using green food coloring and then white chocolate ornaments.
What is your favorite Halloween Treat?
Check out the other Halloween Posts:
The Best Halloween Candy on a Diet
Fun Fall Dates Not Centered Around Foods