7 Best Keto Friendly Energy Drinks to Stay in Ketosis
This post may contain affiliate links. All opinions shared are my own. As an Amazon Associate I earn from qualifying purchases. Click to view our full disclosure.
If you're on a ketogenic diet, you know many sodas and fruit juices pack a ton of carbs. Good news though – we've found keto friendly energy drinks and diet sodas with little or zero carbs!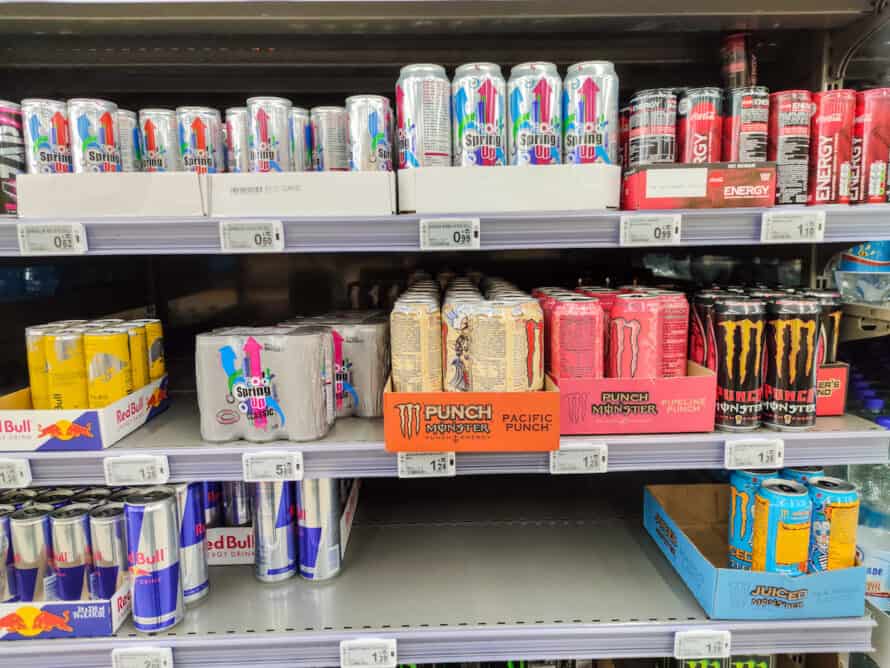 Drinks are a great way to stay hydrated throughout the day. But they can also be the source of unwanted calories and sugar in our diets. So, if you're a fan of energy drinks, you might be worried that your favorite beverage could be kicking you out of ketosis.
Luckily, there are several delicious low carb energy drinks that work for keto dieters. Here are some of the best keto friendly energy drinks to enjoy when you're watching your carbs.

4 tIPS FOR fINDING A keTO-fRIENDLY energy drink
Most energy drinks are packed with sugar. In fact, some popular drinks have more sugar than regular soda. That's why it's always important to check the label on your drink before you take a sip.
1. Total carbs
The most important thing to consider when picking a keto friendly energy drink is the carb count. Regular energy drinks can pack a ton of carbs, but the best energy drinks for a low carb diet should be 5 or less grams of carbs.
Stick with low-carb (5 grams or less per serving) drinks to ensure you don't go over your carb count each day.
2. Sugars
Another important nutrition stat to look at before drinking your energy drink is the amount of sugar per serving.
Sugar free drinks are the best option because they'll help you stay in ketosis and won't add to your daily carb count.
3. Calories
While the number of calories in your drink won't directly affect ketosis while on a keto diet, it is an important factor to consider with weight loss.
A lower number of calories is a great way to ensure you aren't drinking too many calories as you consume your energy drink.
4. Sweeteners
Sugar free drinks typically use artificial or natural sweeteners to flavor their drinks without the need for sugar. And while most calorie-free sugar alternatives are keto-friendly, some are linked with harmful health side effects. That's why it's a good idea to consider the type of sugar free sweetener used in your energy drink.
Check the ingredient list on the back of your can to see what type of sweetener is used in your drink of choice.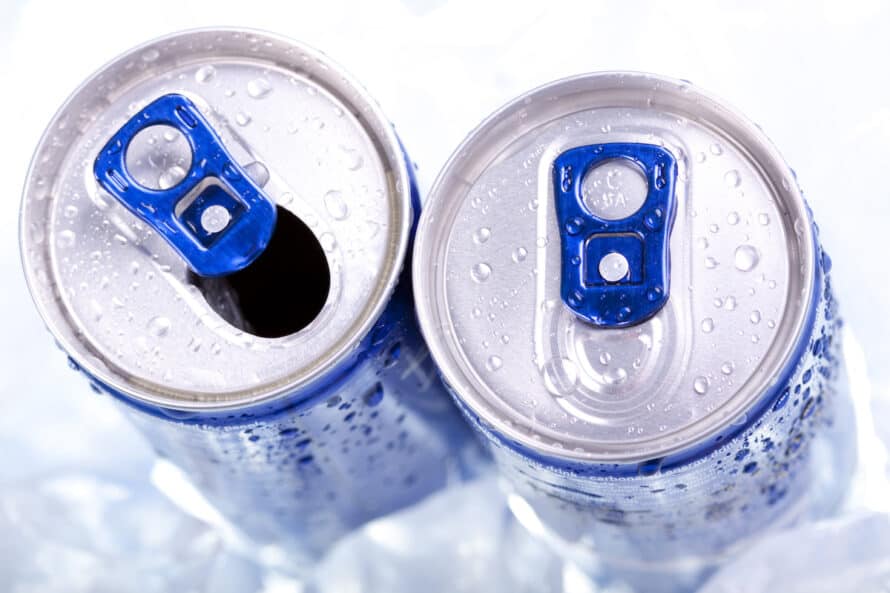 What are the Best Keto Friendly Energy Drinks?
Finding the best keto friendly energy drinks is a must when you're looking for a pick-me-up while on a low-carb diet.
Luckily, there are a variety of low carb and sugar-free energy drinks to choose from that will help you stay in ketosis.
1. Red Bull Sugar Free
Sweetened with aspartame and acesulfame potassium, the sugar free version of the popular energy drink Red Bull is a good choice while on the keto diet.
Red Bull Sugar Free has 10 calories and 4 grams total carbs. That means you can enjoy a 12-ounce serving for just four net carbs.
In addition to caffeine to help boost your energy levels in the morning, this classic energy drink is also made with taurine and B-group vitamins for some added health benefits.
2. Zevia Zero Calorie Energy Drink
If you're looking for an extra boost of caffeine without any added sugar, Zevia Energy Drinks – Zero Calorie Energy are a great choice.
Made from natural sources of caffeine and sweetened with stevia, this zero sugar and zero calorie energy drink is perfect for anyone on keto. And since it comes in four flavors – mango ginger, grapefruit, raspberry lime, and kola – you'll have your pick of delicious drinks to start your day.
3. Rockstar Pure Zero
Enhanced with an herbal blend of guarana, ginkgo, ginseng, and milk thistle, Rockstar Sugar-Free Pure Zero is a zero-carb energy drink option that's perfect for the keto diet.
Since the drink features no sugar and zero calories, it's a great option to start your day without worrying about messing with ketosis.
4. Monster Energy Zero Ultra
With all the flavor of a traditional Monster energy drinks – without the sugar and calories – this popular energy drink is perfect for anyone on the keto diet.
The citrus flavor of Monster Ultra is another good choice. With just 10 calories per 16 ounce serving, you can enjoy your daily dose of caffeine with a can of Monster without the guilt.
5. ZOA Zero Sugar
Made from a natural caffeine source, this sugar free energy drink also comes with added vitamins and electrolytes. ZOA Zero Sugar gets its caffeine from green tea extract and unroasted green coffee beans. And since its ingredients are naturally derived, it's perfect as a pre-workout drink or afternoon pick-me-up.
6. Bang Energy Drinks
In addition to giving you energy, Bang can also nourish your mind and body thanks to healthful ingredients like CoQ10, essential amino acids, and creatine. And since each 16-ounce can has 0 calories, 0 sugar, and 0 carbs, it's keto friendly, too.
With 21 different flavors to choose from, you'll have your pick of delicious low carb energy drinks to choose from. (We love the cotton candy option!) They also make Bang Keto Coffee now, too, but they pack protein and calories.
7. RUNA
Are you looking for a natural energy drink to enjoy while you're on keto? RUNA's caffeine is derived from real ingredients, which means it's made without chemicals or artificial sweeteners.
Made from Guayusa, a natural super leaf, this organic energy drink is a healthy choice for anyone watching their carbs.
One 8.4 ounce can has 10 calories and 1 gram of sugar.
Many diet sodas like Diet Mountain Dew or Coke Zero also pack several grams of caffeine and zero carbs or calories!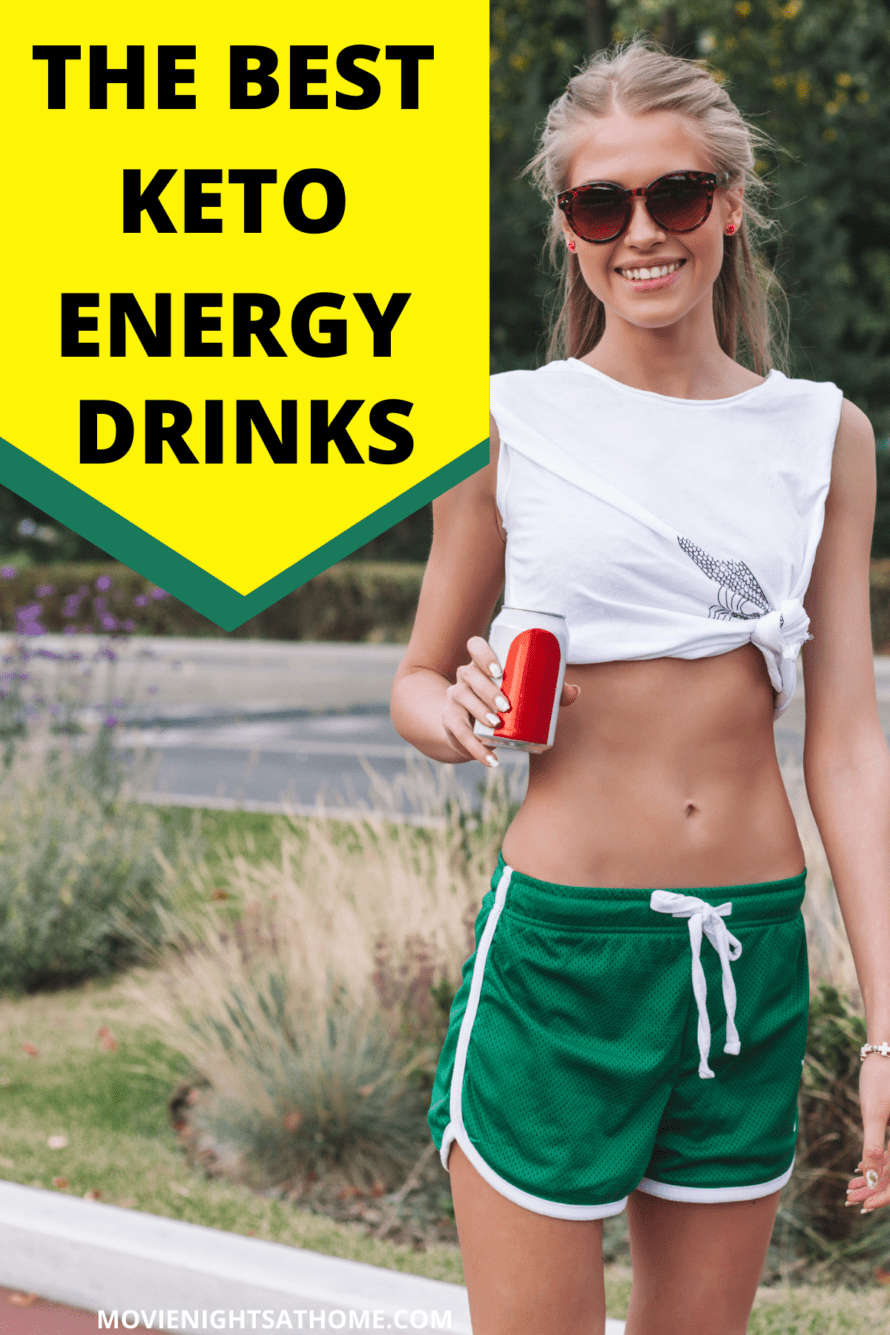 Recapping Our Favorite Low-Carb Energy Drinks
We'd love to know if you found a few new keto-friendly drink options!
We also love seltzer waters like Sparkling ICE! and White Claw.