Is Sparkling ICE Keto Friendly? (Original, Caffeine+ & Hard Seltzer)
This post may contain affiliate links. All opinions shared are my own. As an Amazon Associate I earn from qualifying purchases. Click to view our full disclosure.
If you're new to a low-carb diet, you're going to love that Sparkling ICE is keto friendly. All 23 flavors are zero-calories and zero-carbs!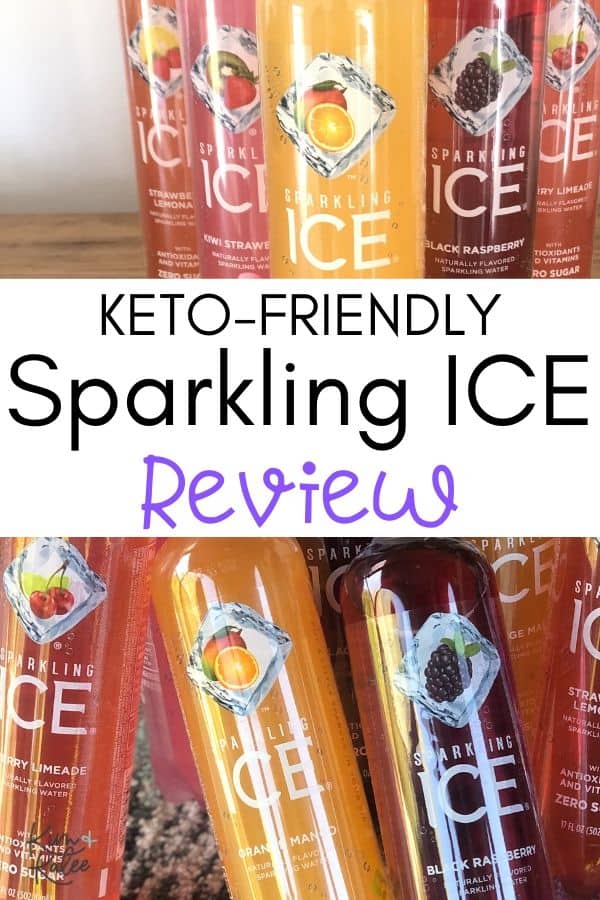 Sparkling ICE! is one of our favorite drinks on a keto diet because they're fizzy and delicious! Every variety contains no sugar, fat, or protein and also provides 15% of your daily value of vitamins A, D, B6, and B12. New varieties even include 70mg of caffeine if you're needing a little afternoon pick-me-up!
Is Sparkling Ice good for keto?
Yes, both Sparkling Ice and Sparkling Ice Caffeine are keto friendly! They contain zero carbs per serving and are sweetened with artificial sugars versus normal sugar.
You may also like our Keto Guide for Beginners with tips & recipes!
How is Sparkling ICE! Sweetened?
The sugar used in all 23 Sparkling Ice flavors is a zero calorie artificial sweetener called sucralose. A popular brandname of sucralose is Splenda.
Sparkling Ice Flavors
There are currently 17 flavors to choose from! They are:
Fruit Punch
Coconut Limeade
Orange Mango
Peach Nectarine
Black Cherry
Strawberry Lemonade
Grape Raspberry
Black Raspberry
Pomegranate Blueberry
Cherry Limeade
Strawberry Watermelon
Kiwi Strawberry
Pink Grapefruit
Crisp Apple
Ginger Lime
Classic Lemonade
Lemon Lime
They also have +Caffeine Flavors
Triple Citrus
Cherry Vanilla
Black Raspberry
Blue Raspberry
Orange Passion Fruit
Strawberry Citrus
The +Caffeine Sparkling Ice flavors contain 70 mg of caffeine and are also keto friendly.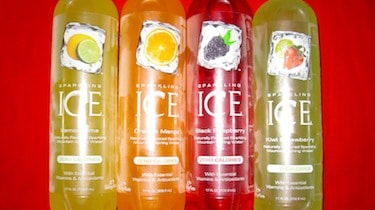 Sparkling Ice Ingredients
Here is a sample of what ingredients go into a +Caffeine Sparkling Ice drink:
Carbonated Water, Malic Acid, Natural Flavors, Fruit And Vegetable Juice (For Color), Potassium Benzoate (To Ensure Freshness), Citric Acid, Sucralose, Caffeine From Natural Sources, Green Tea Extract, Retinol (Vitamin A), Niacinamide (Vitamin B3), Calcium Pantothenate (Vitamin B5), Cholecalciferol (Vitamin D3), Biotin, Cyanocobalamin (Vitamin B12), Pyridoxine Hydrochloride (Vitamin B6).