Spiked Seltzer Reviews | Best Brands for Calories, Price & Flavor
This post may contain affiliate links. All opinions shared are my own. As an Amazon Associate I earn from qualifying purchases. Click to view our full disclosure.
Spiked seltzer reviews are popping up everywhere! We couldn't keep track of all of the brands out all at once – much less, find the best one without a little digging.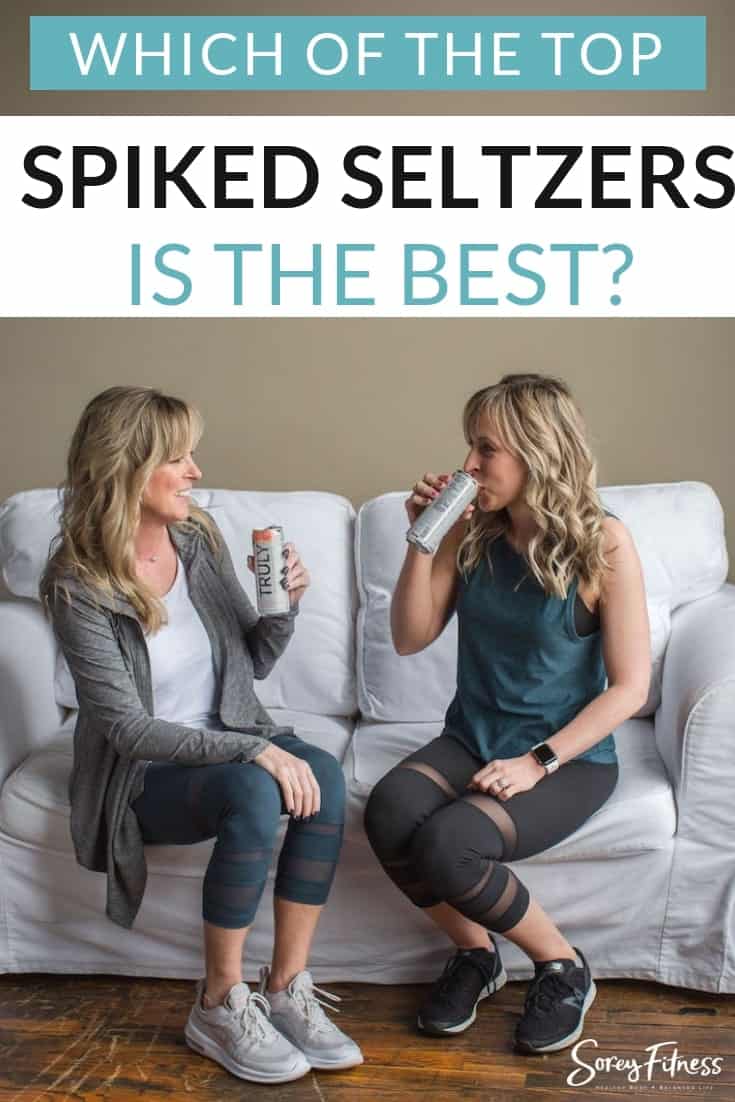 These fizzy drinks are the like drinking a hard La Croix. Which, to be honest, we're not big flavored-seltzer fans, but the boozy factor of these drinks made for the perfect taste test!
In terms of alcohol the seltzers we tried ranged from 4.2% to 6% ABV — about the same percentage as a beer would have and about half of what a glass of wine contains.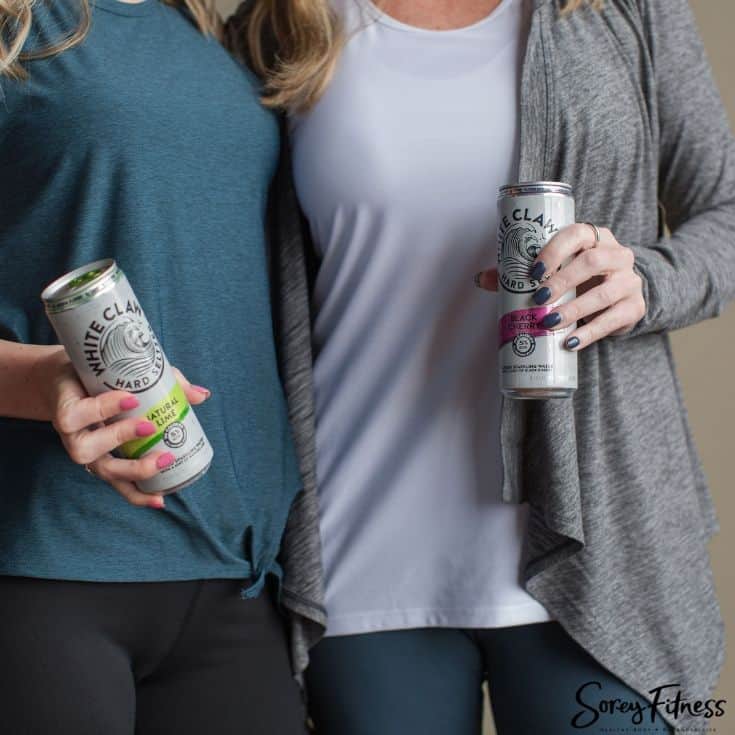 Spiked Seltzer Brands Reviewed:
Bon Iver Spiked Seltzer
Smirnoff
We took the initiative to try out 4 popular spiked seltzer brands on camera! We started with test tasting each brand's flavors, and by the end of all of our sampling, we were getting pretty tipsy!
Ironically, our Spiked Seltzer Taste Test video is now one of our most popular videos ever! And the comments on the video? They're hilarious and a bit inappropriate at times!

What We Like About All Of Them
Hard Seltzers are great if you're not a beer drinker like us because they're low in calories and carbs. All 4 brands we reviewed were under 140 calories! Also, if you're on a gluten-free diet, you can still have all 4 of the spiked seltzer brands we reviewed!
All of these brands are super easy and convenient to grab on the go, and they're refreshing during the summer months. You can also find them in bars now which is so cool!
How Many Calories are in Spiked Seltzer?
Smirnoff Seltzer was the lowest at 90 calories!
White Claw and Truly have 100 calories per can.
Bon Iver Spiked Seltzer, was the highest at 140 calories per can.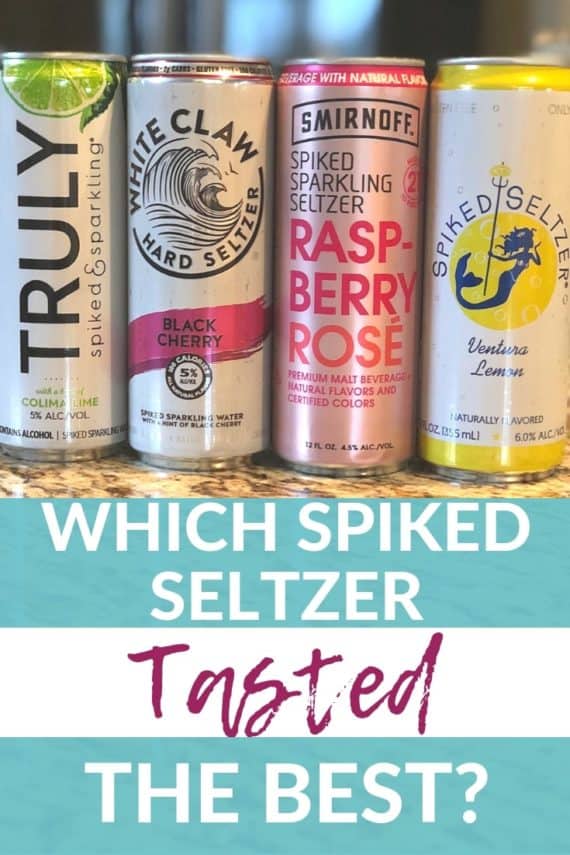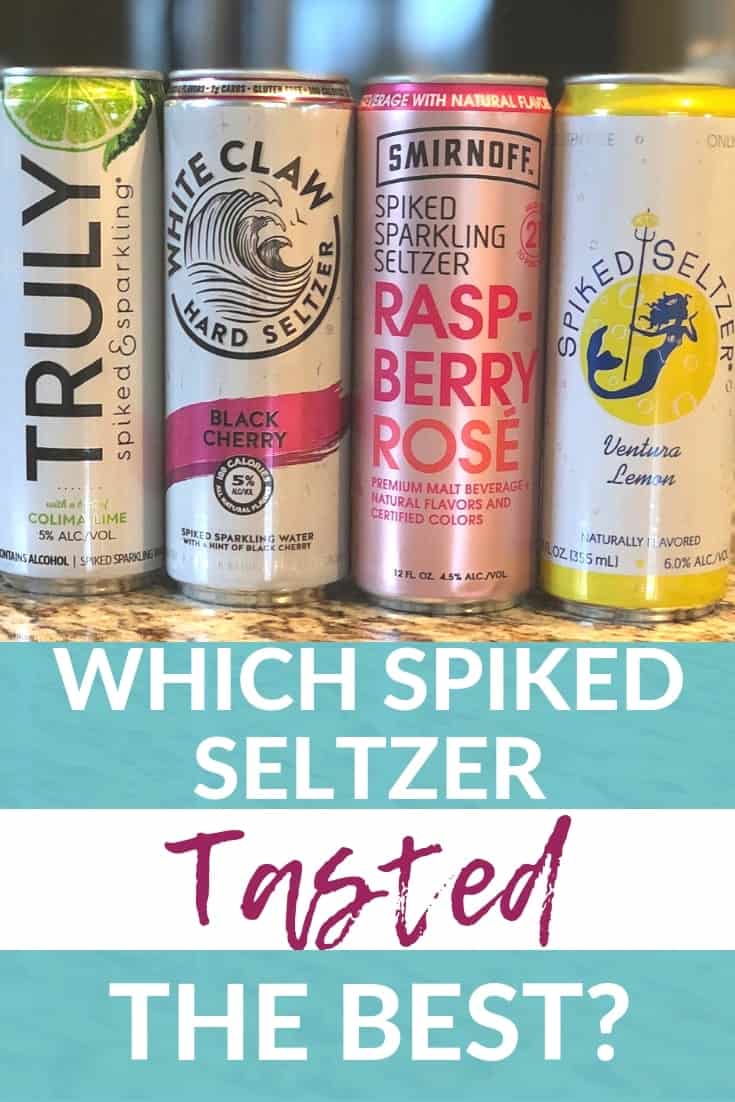 Who Has the Best Hard Seltzer Flavor?
White Claw was our favorite by far! It just seemed to have more flavor than all of the other brands! We loved their Black Cherry & Raspberry!
White Claw Hard Seltzer is gluten-free with natural juice and little pure cane sugar. A 12oz can is 100 calories and 5% alcohol.
White Claw contains no:
artificial flavors,
sweeteners,
colors,
or preservatives.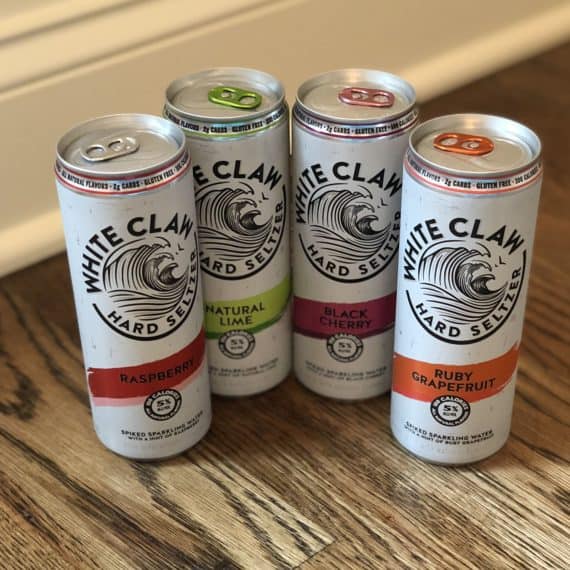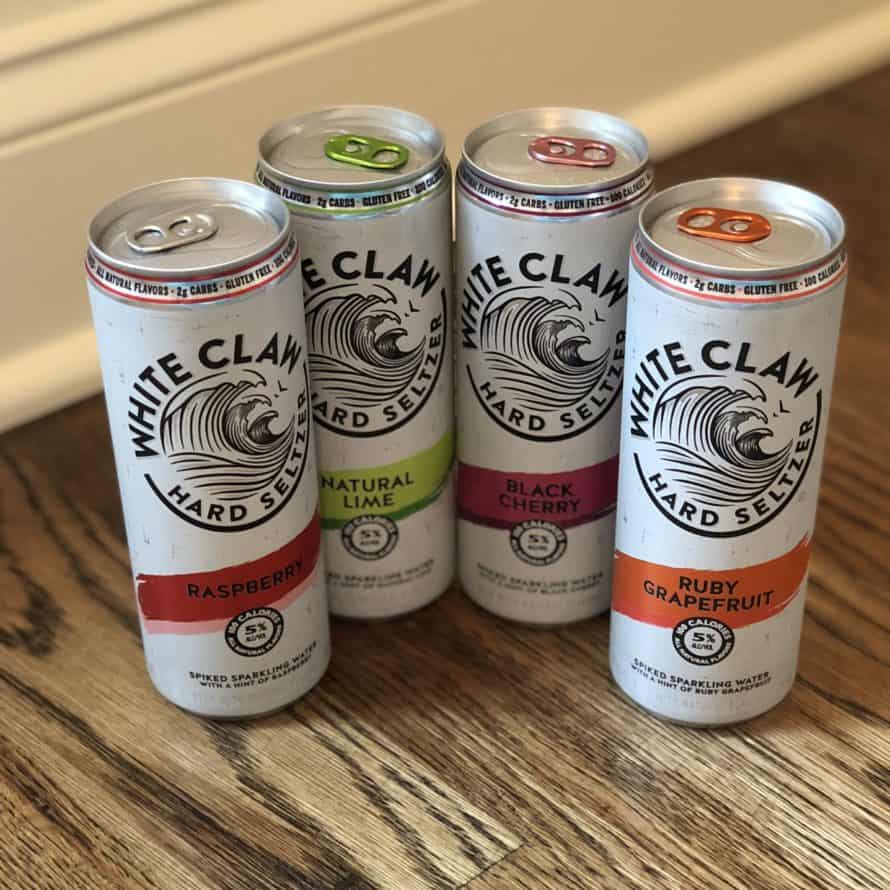 2nd Place: Smirnoff
Really – we are giving it 2nd place because so many OTHER people like it. It really wasn't our thing though.
As you'll be able to tell from our expressions – it's not our favorite. But we're chalking this up to trying the wrong flavor.
We also liked that Smirnoff's seltzer had a lot of flavor as well which made it our runner up!

3rd Place: Truly
Truly's came in third because they lacked flavor. What you could taste was good, but it was about like drinking a scratch-and-sniff sticker compared to the other 2.
What flavors does Truly Spiked & Sparkling Seltzer come in?
They have 2 variety boxes which are Citrus and Wild Berry.
You can also choose to get a flavor on its own as well.
Citrus Includes:
Colima Lime
Grapefruit & Pomelo
Lemon & Yuzu
Sicilian Blood Orange
Wild Berry Includes:
Raspberry & Lime
Blueberry & Acai
Pomegranate
Wild Berry
We tried the Citrus pack so the Wild Berry pack could have more flavor as well.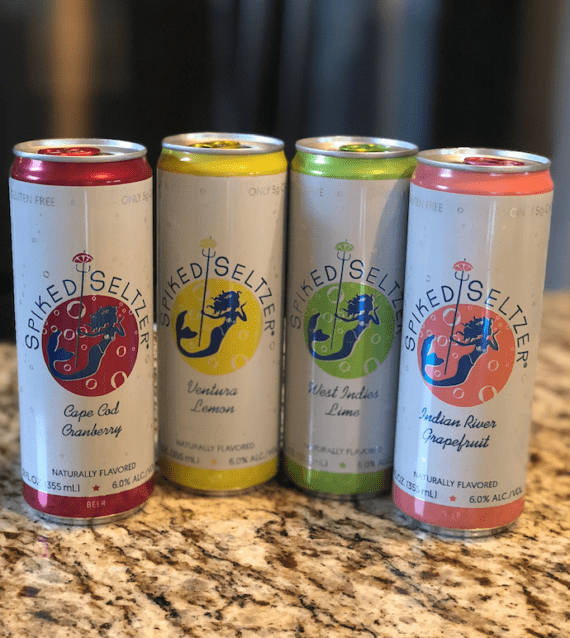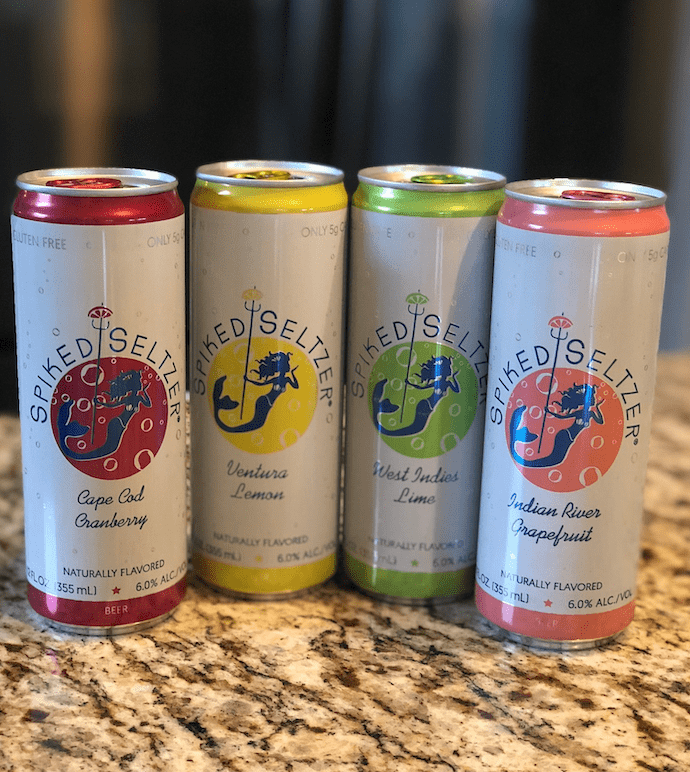 4th Place: Bon Iver Spiked Seltzer
Our last place winner was the brand, Bon Iver Spiked Seltzer, because it had a hoppy taste to all 4 of the flavors we tried.
With that said – our family actually chose Bon Iver over all of the other brands!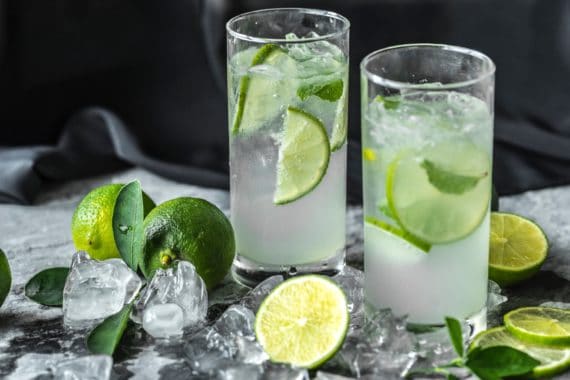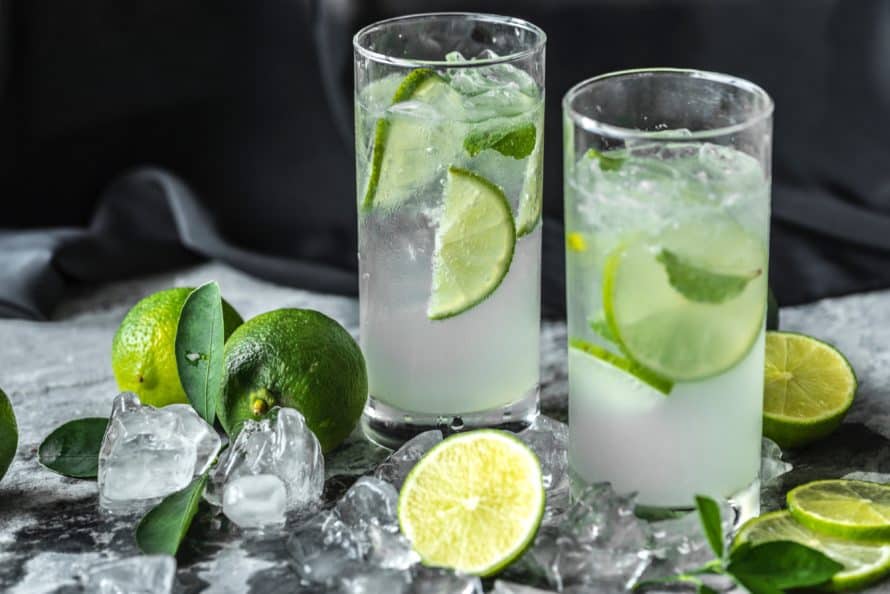 Can you make cocktails out of them?
Totally! You can mix in liquor or fresh fruit into seltzers!

How Much Alcohol is in Hard Seltzer Brands?
While Smirnoff Seltzer was the lowest in calories, it's also the lowest in alcohol at 4.5%.
White Claw and Truly are both 5% alcohol per can.
Bon Iver Spiked Seltzer is 6% alcohol per can.
Smirnoff, White Claw, and Truly get their alcohol from fermented sugars.
Spiked Seltzer (the brand) is technically a beer. The company combined brewing, winemaking, and natural flavors for their product.
Does spiked seltzer get you drunk?
Most of the brands contain 4.2% to 6% alcohol so you could get drunk by consuming multiple seltzers at a time. If you're trying to avoid getting drunk but still want an alcoholic beverage, hard seltzer could be a great option. It is lower in alcohol than wine or liquor, and the bubbles kept us from drinking it quickly.
Is spiked seltzer better for you than beer?
Spike seltzer contains less calories and carbs than most beers; however, they are comparable in levels of alcohol. Also, a light beer is still around the same 100 calories as a seltzer. Despite the rumors going around, neither spiked seltzer or beer will help keep you hydrated.
Hard Seltzer Price
All of the brands we looked at were approximately $10-15 for a 6 pack.
What's your favorite brand or flavor of hard seltzer?
We also drink wine occasionally – check out our Winc Wine Review or FitVine Tasting.
If you enjoyed this post, make sure to subscribe to our YouTube channel for more fun reviews!